Happy Valentine's Day! Who is ready for some pudding cake?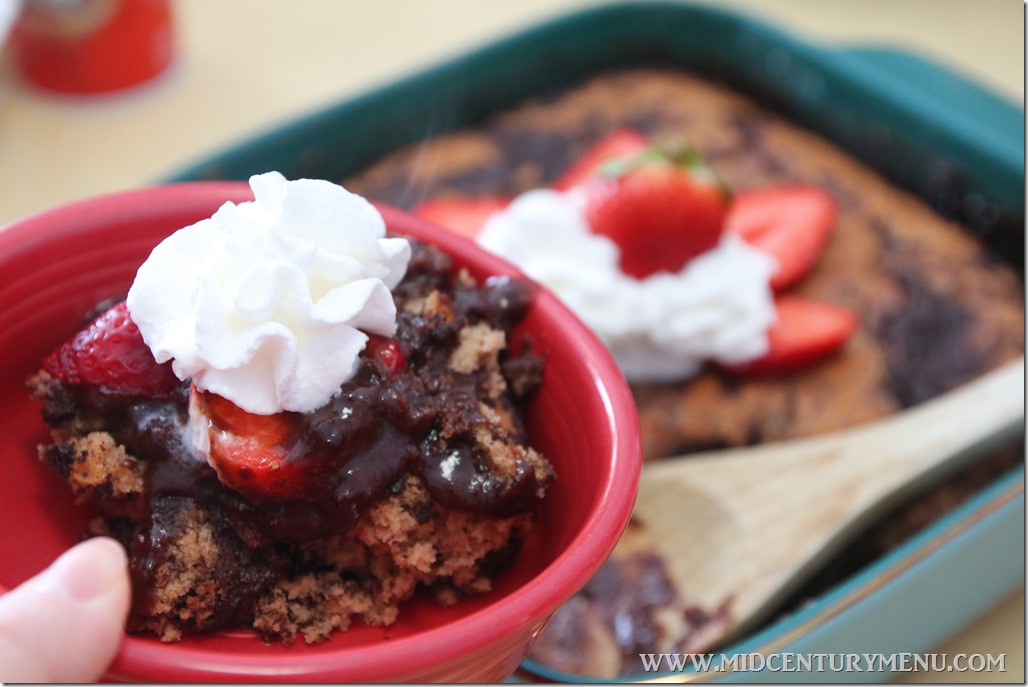 This is Loverboy Pudding Cake!

Loverboy Pudding Cake
Ingredients
1½ cups Bisquick baking mix
⅓ cup sugar
1 egg
½ cup water or milk (warmed)
2 oz semisweet chocolate, melted and cooled slightly
2 Tablespoons shortening
1 teaspoon vanilla
1½ cups water
⅔ cup sugar
6 oz semisweet chocolate pieces
Instructions
Blend baking mix, ⅓ cup sugar, the egg, ½ cup warmed milk or water, the melted chocolate, shortening and vanilla in a large mixer bowl on low speed for 30 seconds, scraping bowl frequently. Beat 4 minutes medium speed.
Pour batter into greased and floured 9x9 inch square pan.
Combine 1½ cups water and ⅔ cup sugar in saucepan. Heat to boiling, stirring occasionally. Remove from heat; stir in chocolate pieces until melted.
Pour chocolate mixture carefully over batter. Do not stir.
Bake 35 to 40 minutes or until cake tester inserted in the middle comes out clean. While hot, spoon cake into dishes, spoon pudding over cake.
This recipe comes from a fun set of pamphlets/cookbook inserts that Bisquick  put out in the 70's. The insert this recipe comes from is called "Two In The Kitchen" and it is full of easy recipes that you can make with a child or a significant other (which is basically treated as the same thing in a lot of vintage cookbooks), and I actually like the humor in these pamphlets. Especially when it is unintentional.
Anyway, we had a snow day earlier this week, and I needed something to do with Alex to keep her from crawling up the walls, so this was perfect.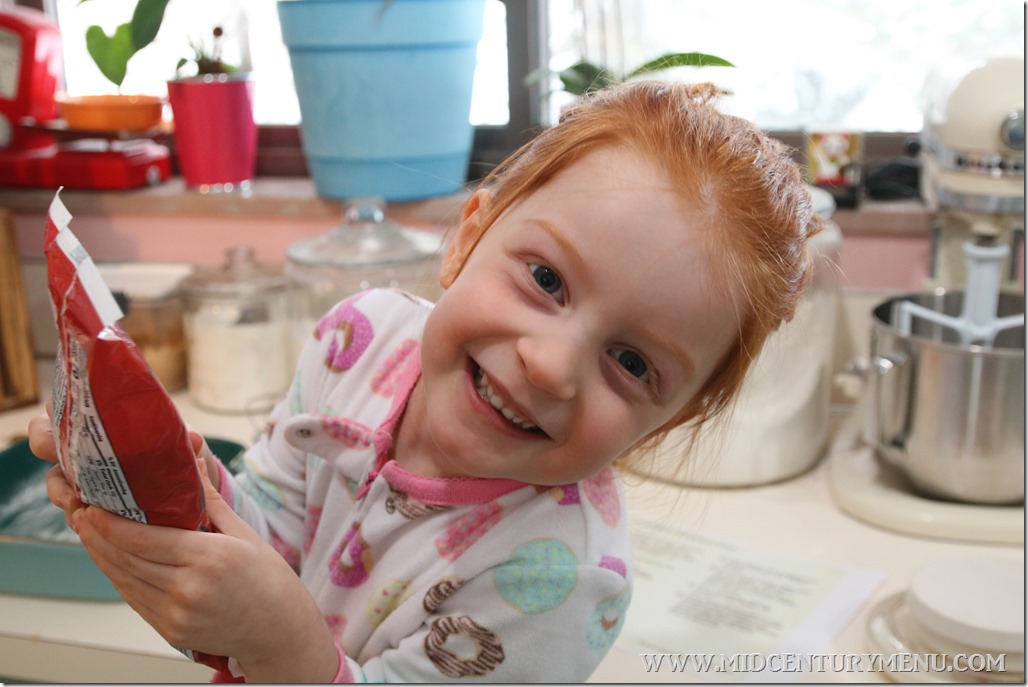 My little excited helper. She was thrilled with the idea that she would get pudding AND cake out of one recipe.
Sometimes we need a new perspective to help us appreciate how cool some of these vintage recipes actually are.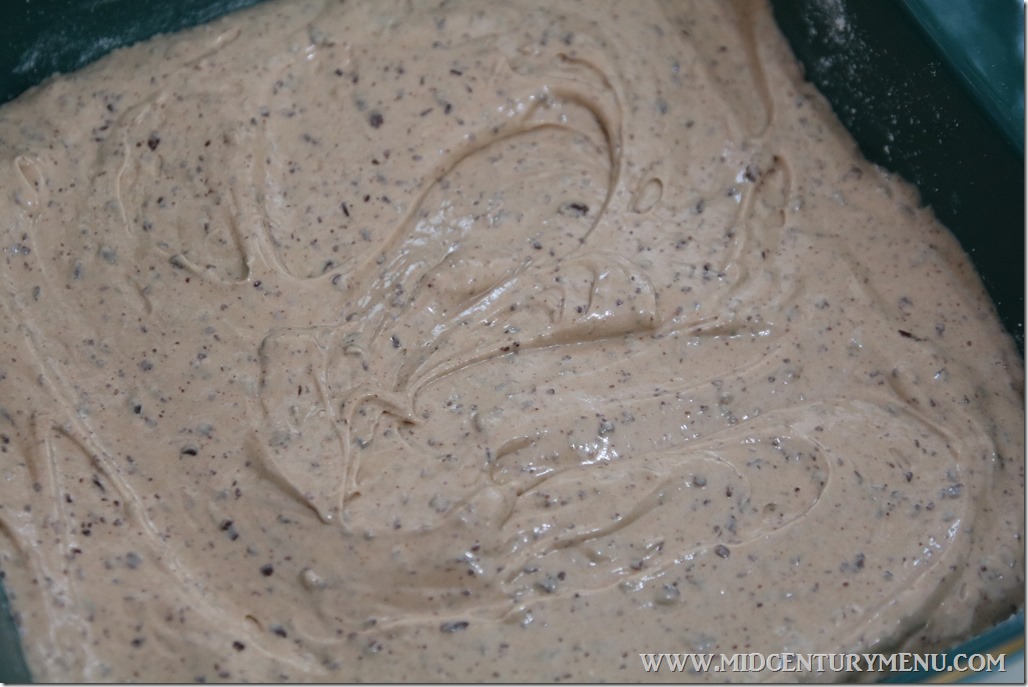 So, here is our mixed cake portion. It ended up a chocolate chip cake. It turns out that when you pour melted chocolate into cold milk in the mixing bowl, it turns back into chocolate chips. Alex was thrilled with this development, but if you want a more uniform chocolate look make sure you warm your milk up a little before adding it.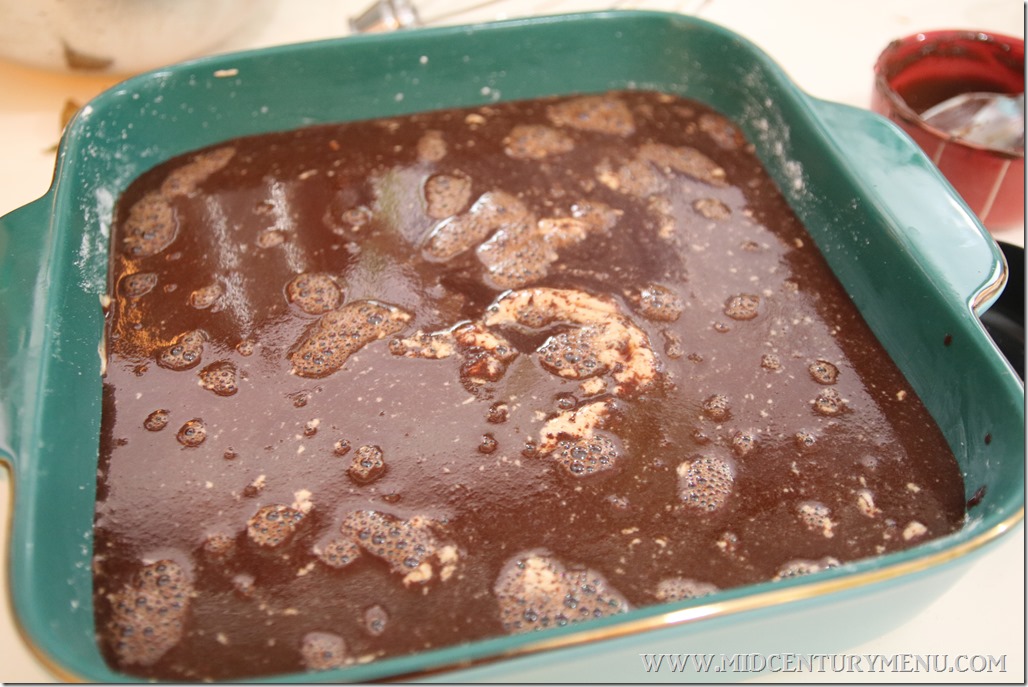 Swimming in a chocolate pool.
This is always my favorite part. Where you pour a bunch of liquid over batter and don't stir it in (like here). It looked as if we had totally ruined it, then…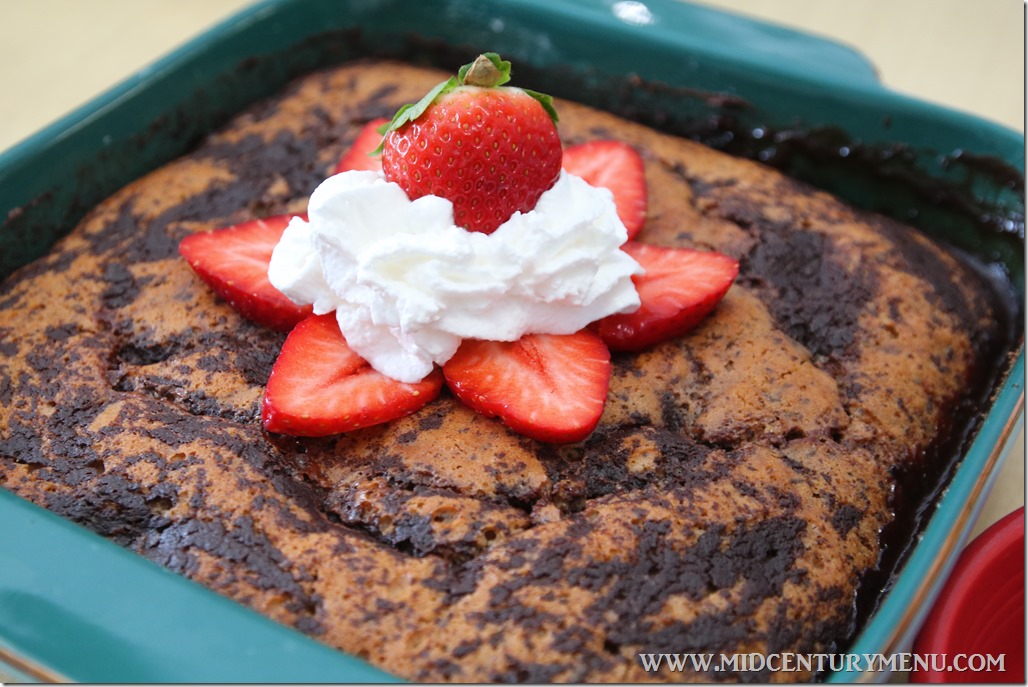 Ta-da! A perfectly beautiful chocolate-flecked cake with pudding on the bottom.
I know the chocolate flecks were a mistake, but it's really starting to grow on me.
"This is pretty good."
"It should be. It's cake covered in chocolate pudding."
The Verdict: Chocolate pudding
From The Tasting Notes –
Unsurprisingly, this was really good and fun to make. The little snafu with the chocolate chips actually ended up  rather well. I think I enjoyed the cake more with the chocolate pieces in it than if it would have all been mixed together. The cake ended up moist with sort of coarse texture that stayed together well on your spoon. The pudding had a good texture and chocolate flavor. It says in the recipe to serve it warm, but all of us preferred it straight from the fridge. (Probably because we come from the era of instant pudding, so no one is used to eating warm pudding anymore.) The chocolate flavor intensified after it was chilled, and the pudding at the bottom was still a good consistency even when cold. This got a huge thumbs-up from Alex, and I think it made up for making her eat cottage cheese gelatin two weeks ago. So, win-win!