So, talk about starting this year off with a bang. I bring you perhaps the most completely mid-century recipe we've made in a while. This one has it all: gelatin, hot dogs, lots of mayo and macaroni. AND it's in a loaf. So it's pretty much the complete mid-century package.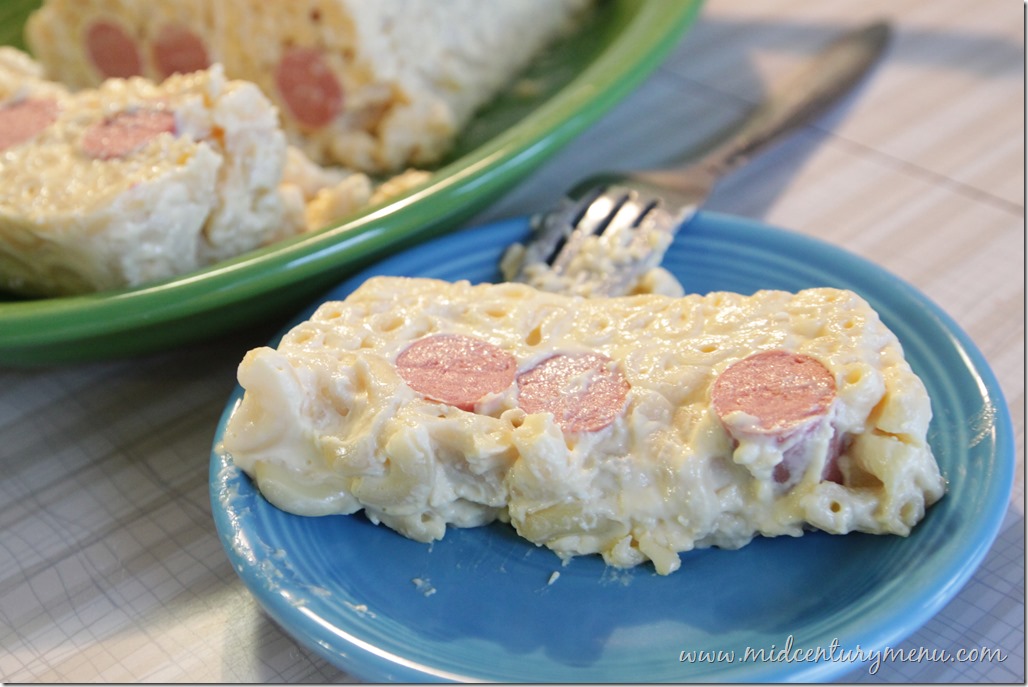 This is Frankfurter Macaroni Salad Loaf!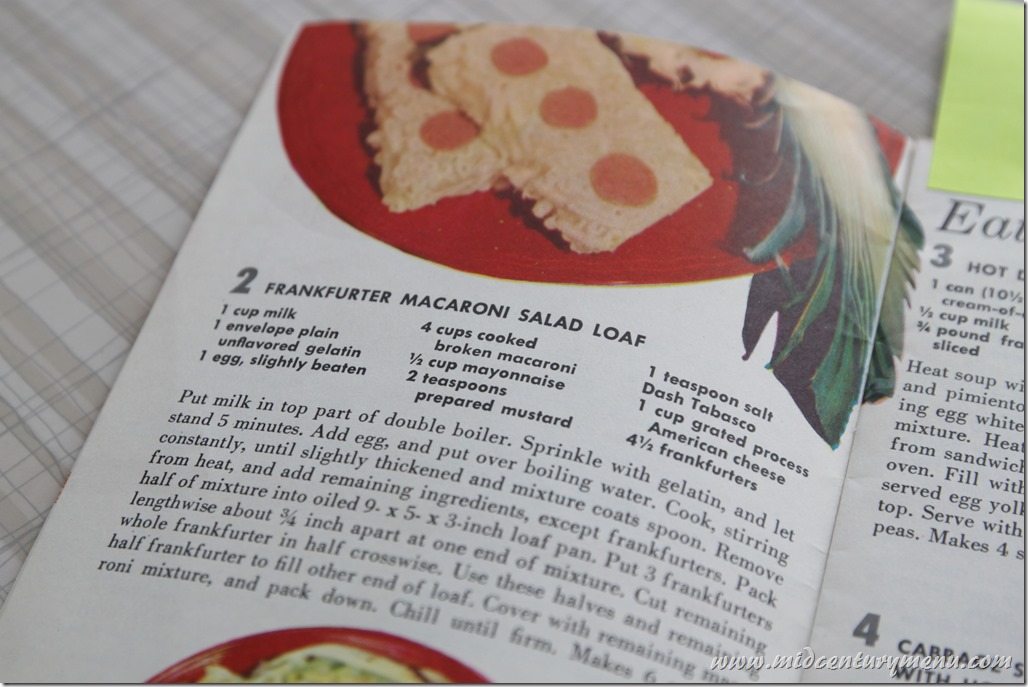 Frankfurter Macaroni Salad Loaf
Ingredients
1 cup milk
1 envelope plain unflavored gelatin
1 egg, slightly beaten
4 cups cooked macaroni
½ cup mayonnaise
2 tsp. prepared mustard
1 tsp salt
Dash Tabasco
1 cup grated process American cheese
4½ frankfurters
Instructions
Put milk in top part of double boiler. Sprinkle with gelatin and let stand 5 mins. Add egg, and put over boiling water. Cook, stirring constantly, until slightly thickened and mixture coats spoon. Remove from heat and add remaining ingredients, except frankfurters.
Pack half of mixture into oiled 9x5x3 inch loaf pan. Put 3 frankfurters lengthwise about ¾ inch apart at one end of mixture. Cut remaining whole frankfurter in half crosswise. Use these halves and remaining half frankfurter to fill other end of loaf. Cover with remaining macaroni mixture and pack down. Chill until firm.
A big soup-y macaroni mess.
As a side note, I thought this would smell like mac and cheese, but it actually smelled pretty horrible.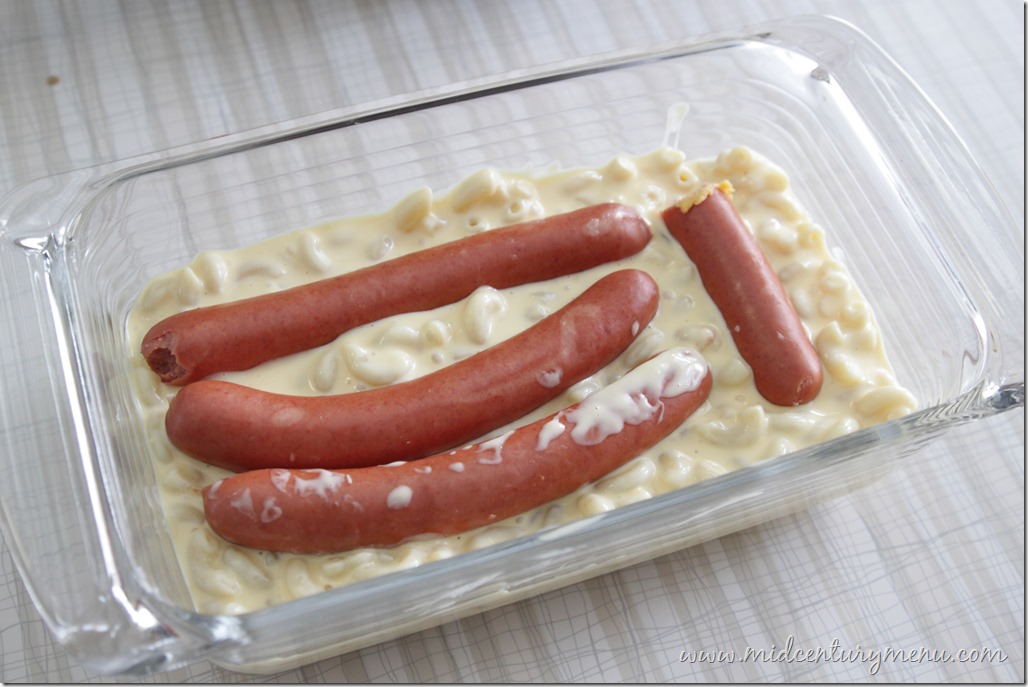 Hot dog placement is key!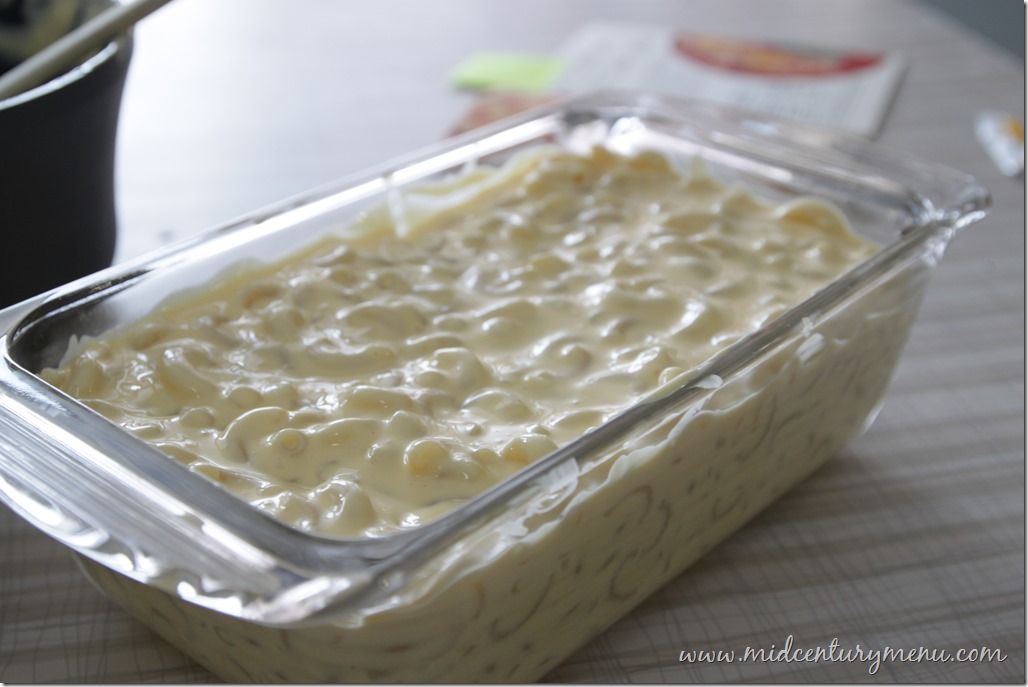 The finished loaf-shaped dinner.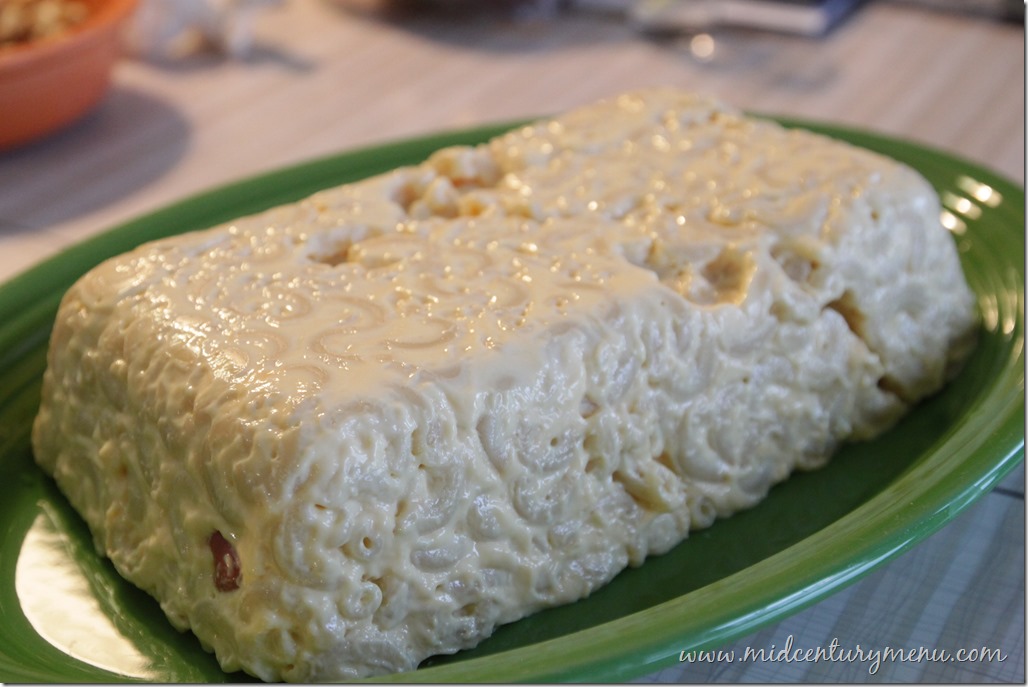 Can you see the structural crack? It split when de-panning. But the good news is it was so sticky I was able to just squish it back together.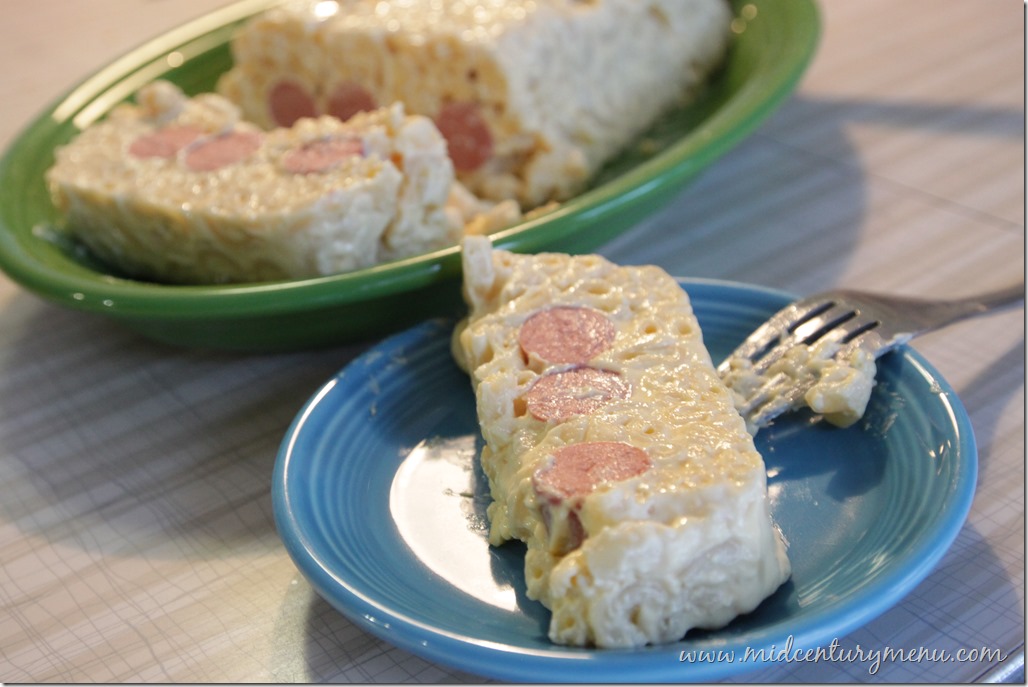 Okay that's….strange.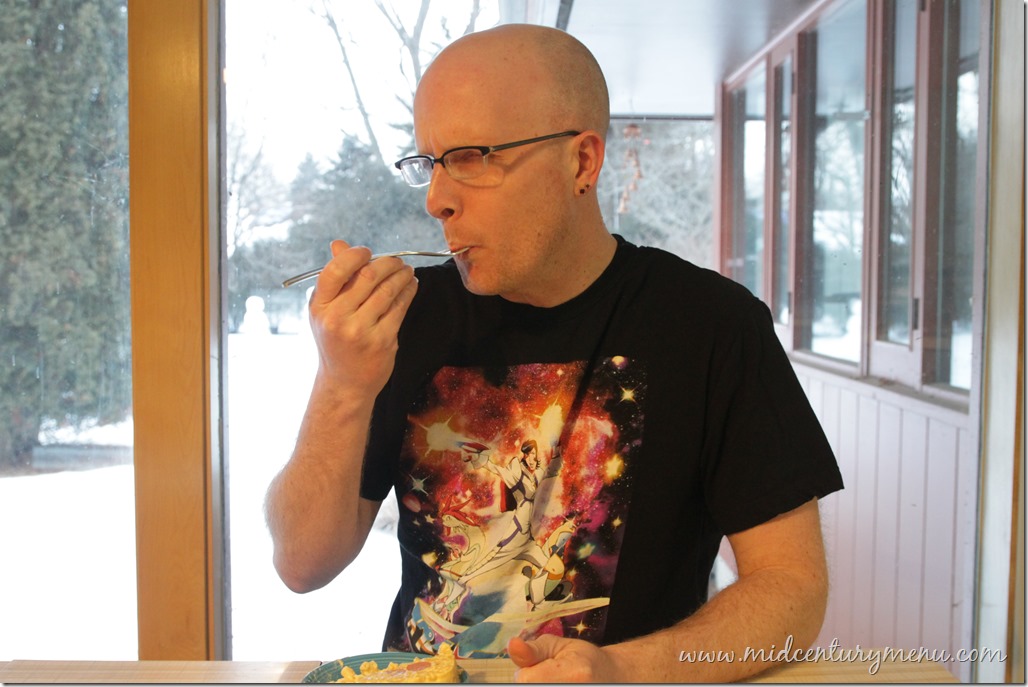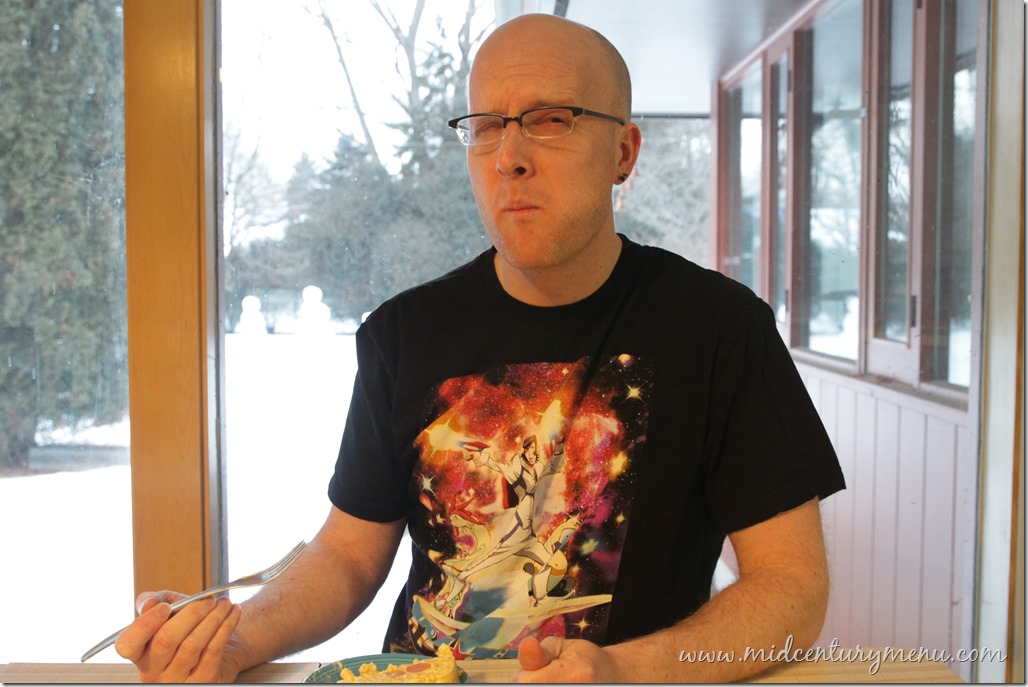 "What is that weird flavor?"
"Well, there's a lot of stuff in there."
"One thing in particular is really bad."
"Describe it."
"It's…horribly creamy."
"That would be the mayo."
The Verdict: Horribly Creamy
From The Tasting Notes –
It's really hard to come up with words to describe how wrong this was. Because you look at the ingredients and think, "This should be okay at least. I mean, there's no onion in it. And the gelatin is unflavored. It should just taste like cold macaroni and cheese." But no. It's bad. Really, really, really bad. The aftertaste of mayo is intense. It actually brings tears to your eyes.When I took a bite and chewed it, I actually twitched when the mayo flavor hit me. Imagine that you have an eject button in your mouth, and the flavor of mayo just saunters right up to that button and kicks it. Really hard.  It was an effort not spit my bite across the room, and swallowing it was an even bigger struggle. The creaminess and tang that most people love in mayo is actually the worst possible taste and texture for this dish, and it comes at the worst possible time in the tasting.

Vile, vile stuff.