If you have ever wanted to turn a Kraft Macaroni & Cheese Dinner into a summer salad, then this is the recipe for you!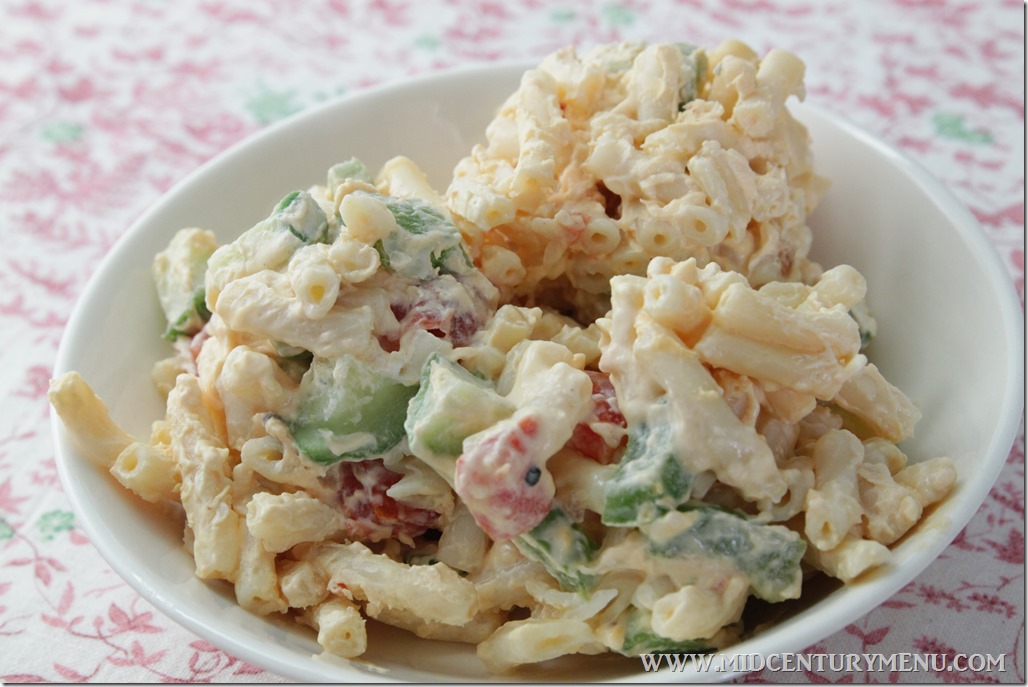 This is Swingin' Summer Salad!

Swingin' Summer Salad
Ingredients
1 pkg. Kraft Macaroni and Cheese Dinner
1 cup diced, peeled tomatoes
1 cup diced unpeeled cucumber
½ cup dairy sour cream
¼ cup Miracle Whip Salad Dressing
¼ cup chopped green pepper
¼ cup sliced radishes
¼ teaspoon salt
Dash of pepper
Instructions
Prepare dinner as directed on package. Add remaining ingredients; mix lightly. Chill.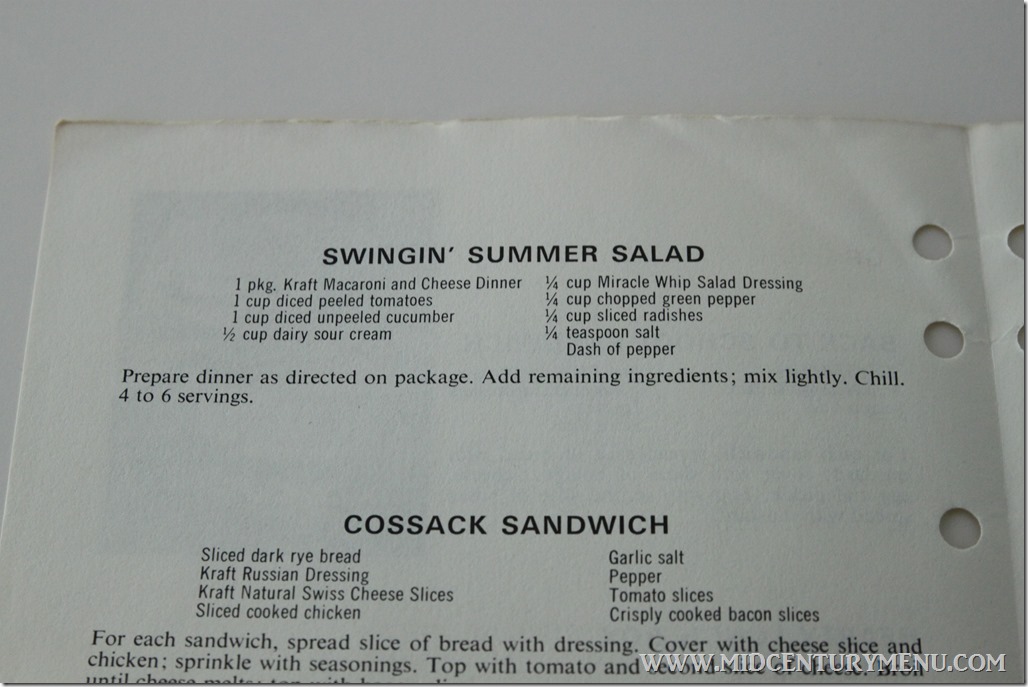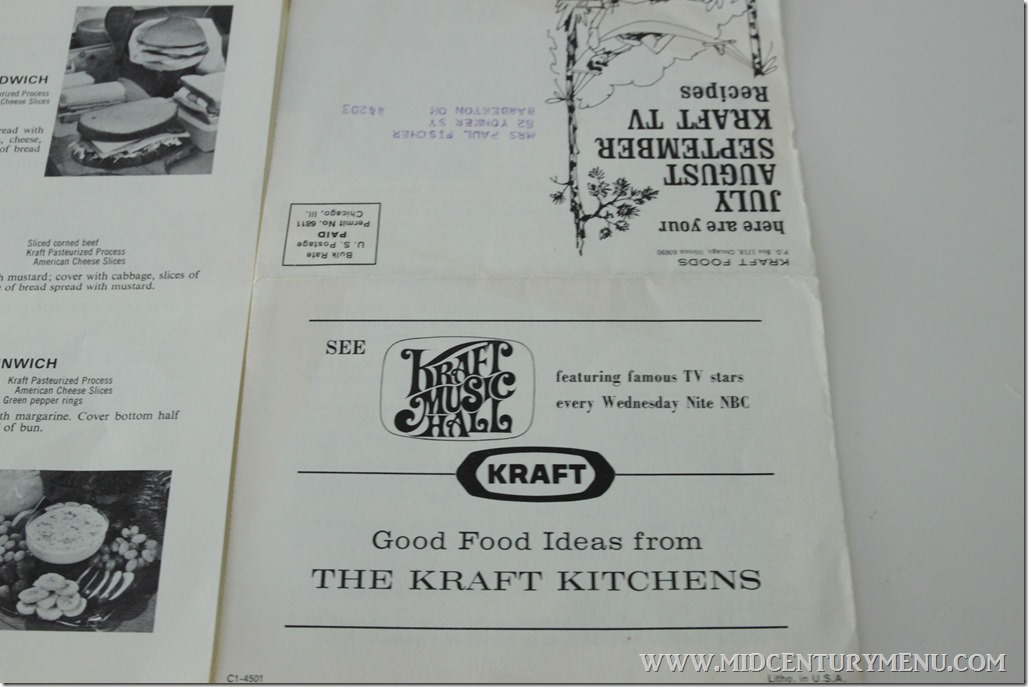 This lovely salad comes from a Kraft TV recipes mailer from 1971. I really, really love these, not just because they are crammed full of Kraft-product-packed recipes, but also because they showcase some of the stars that Kraft had appearing in their shows. This pamphlet had Jack Benny, Dom DeLuise, Perry Como and Bob Hope!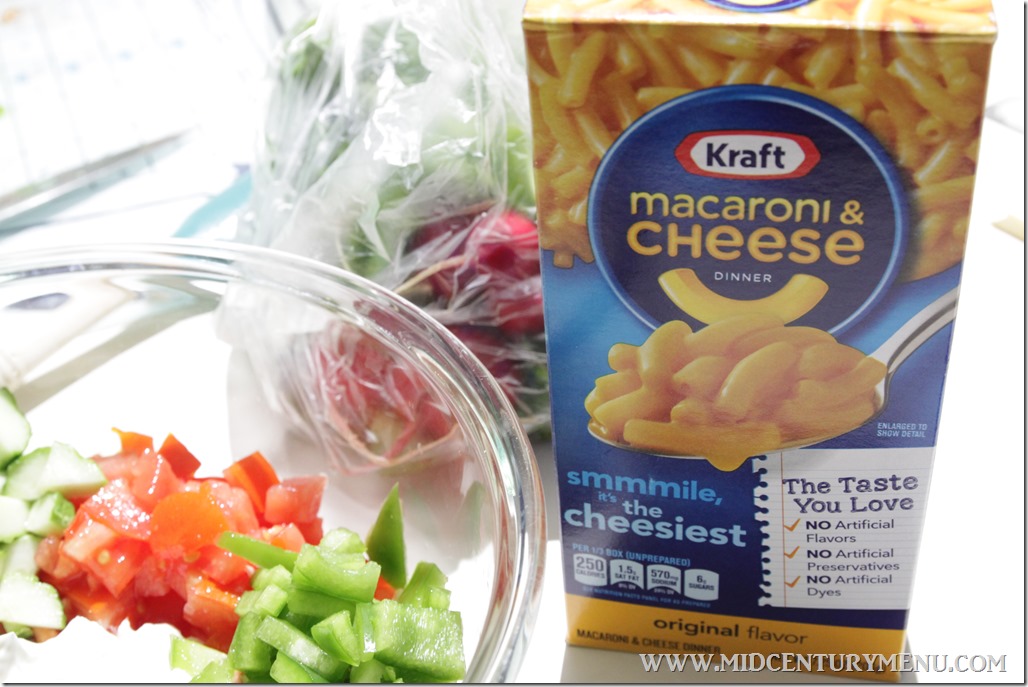 And Kraft Dinner! We can't forget about that!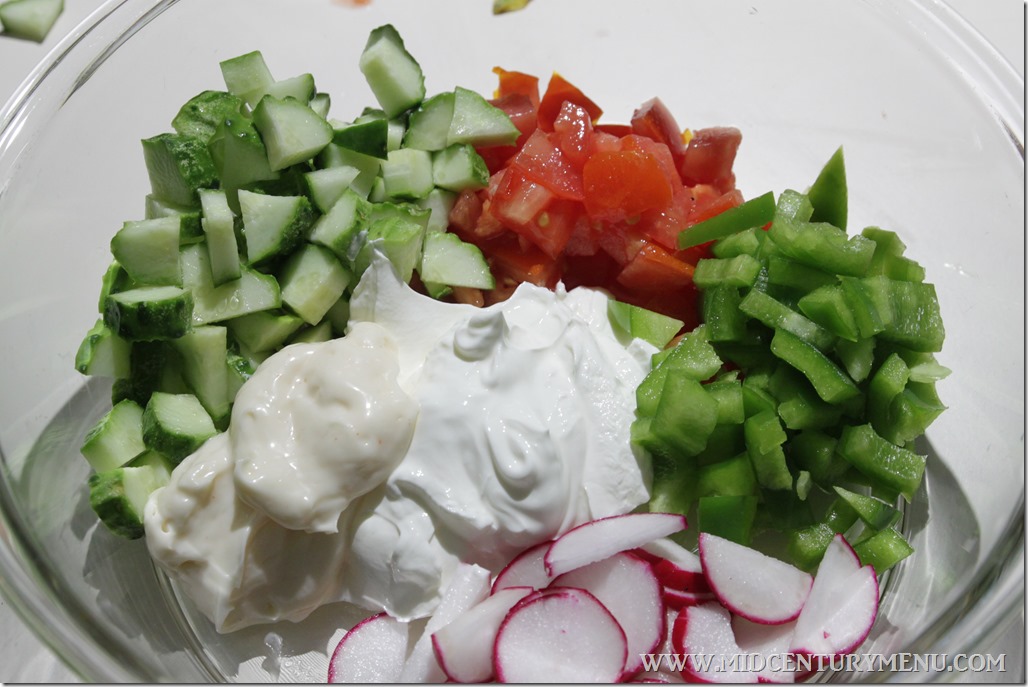 So, I came across two versions of this recipe recently. This one seems to be mostly veggie-based, and the other one had the same sour cream/Miracle Whip additions but instead of veggies had hard-boiled eggs and bacon. I have to admit that I was more curious about the veggies, because adding bacon to mac & cheese has already been proven to be a winning combo.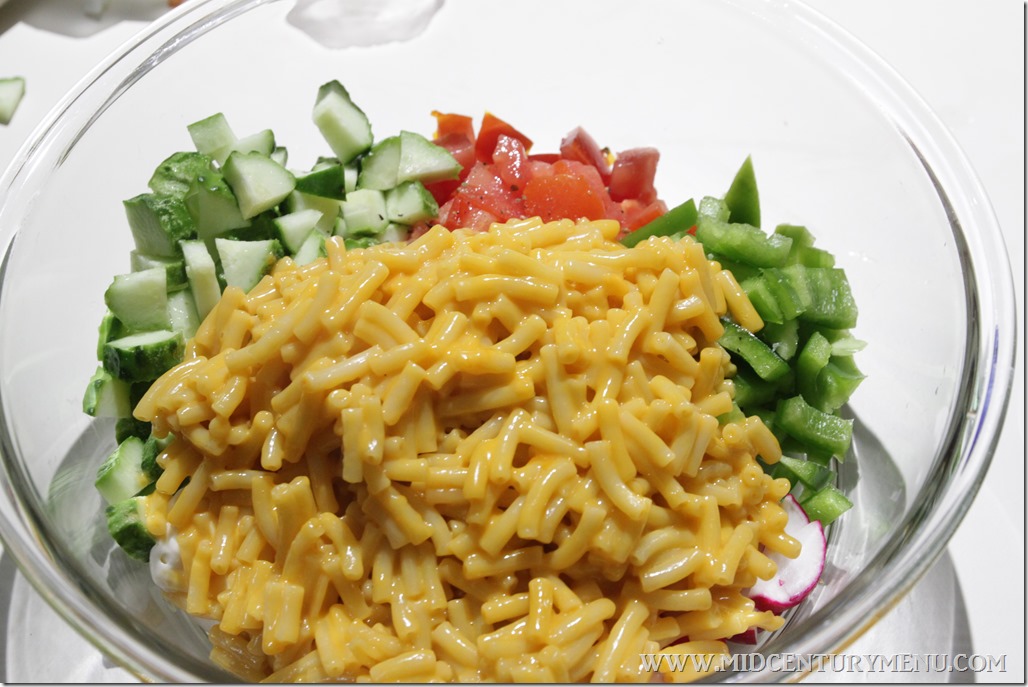 Just in case you are wondering, like I was, why you would bother to make a Kraft Dinner and then turn it into a cold salad rather than just serving it hot alongside a plate of cut-up veggies, never fear.  I have the answer: Kids. Specifically, three-year-olds.  Alex has never been more excited about a recipe than she was about this one. Even more excited then when I make cookies. As I was stirring it together she pulled a chair up next to me and practically started jumping on the counter.
"Mom, Mom, Mom! What are you doing to that mackernonin* & cheese?" (*Adorableness*)
"I'm making a salad with it."
"You're turning it into salad? Really? It's going to turn into salad?"
And so on, for about fifteen minutes. She was very excited.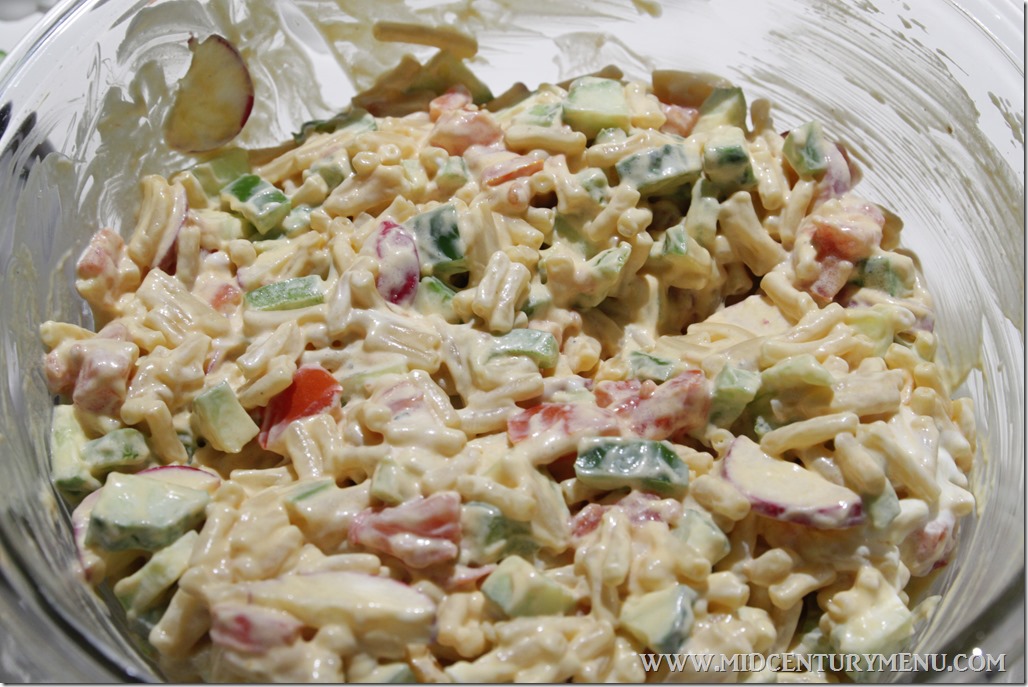 Boom. Done.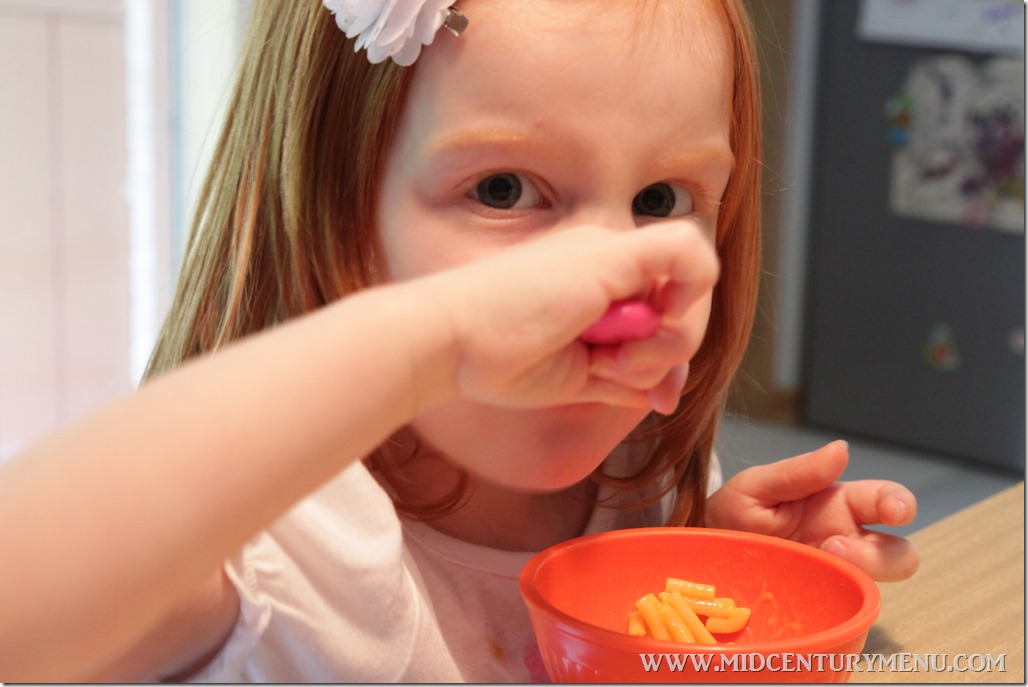 Of course, we had to taste-test a bit of the straight Kraft Dinner while we waited for Dad to come home and guinea pig.
"So, what did you guys do today?"
"I turned a hot Kraft Dinner into a cold salad."
"Oh. Goody."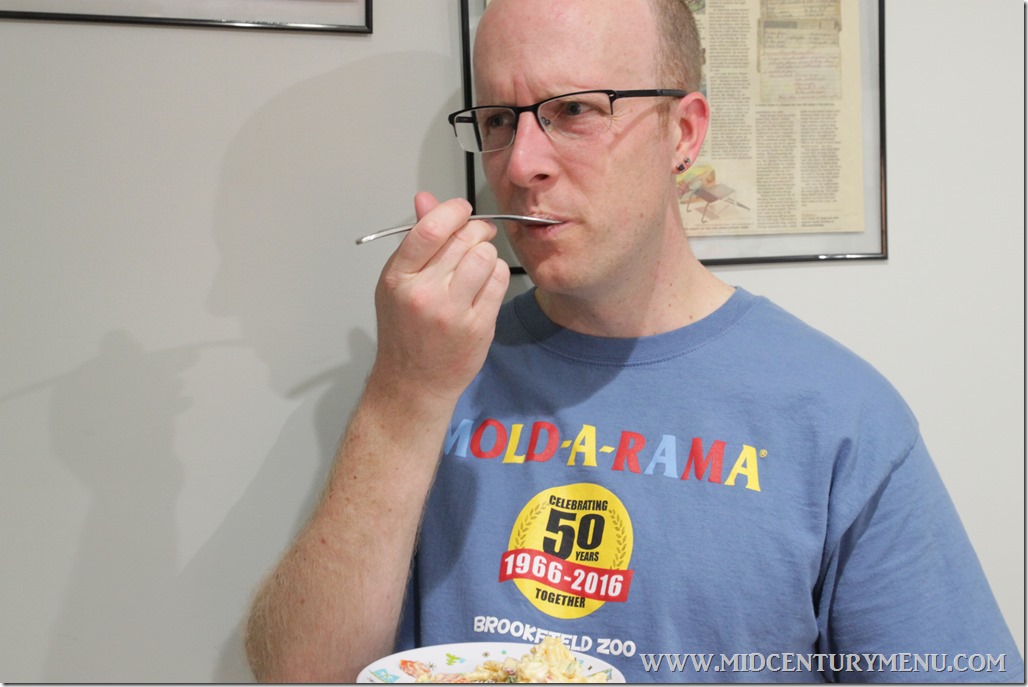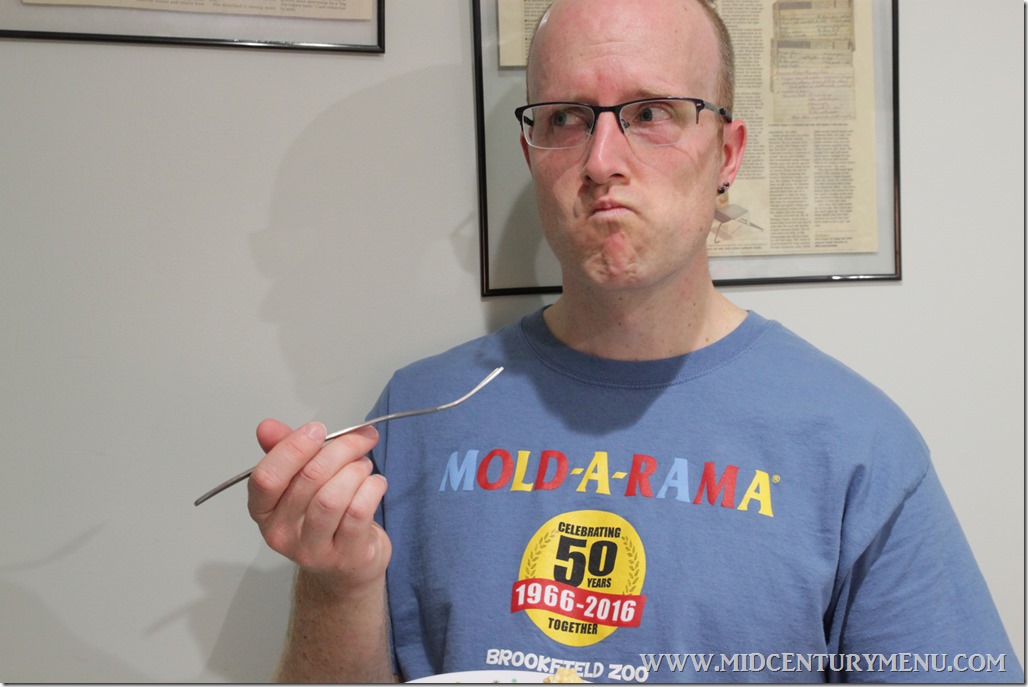 "So, how is it?"
"It tastes like you put veggies in mac & cheese instead of hot dogs."
The Verdict: Fine
From The Tasting Notes –
I have to admit I was expecting this to be amazing or disgusting, but there was nothing objectionable about this salad. Unless you object to having veggies in your Kraft dinner. And eating it cold. It wasn't spectacular either. The sour cream/Miracle Whip mess added a fun tang, but this pretty much just tasted like Kraft dinner. Alex, on the other hand, was over the moon with this and actually ate quite a bit of it. So if you have a kid who won't eat veggies you could try this one out on them. Overall, not bad, but not memorable either. Maybe I should have made the bacon version after all?