I've been getting a lot of questions and requests sent to me lately, so I thought I would start posting some of them to share with everyone. After all, we are all in this to learn about vintage cooking, right? Not just to see Tom eat gross food.
Well…maybe I'm in it to see Tom eat gross food.
Anyway, Michelle writes –
Hi! My mother had this PET (Instant Non-Fat Dry Milk Powder) recipe book and the chocolate puff pudding and sunshine sauce were our most favorite of all. Unfortunately, it disappeared sometime in the 80's and my mom and I have been trying to find a copy since! We are desperate for this recipe, can you send us a copy?
No problem, Michelle. Here you go!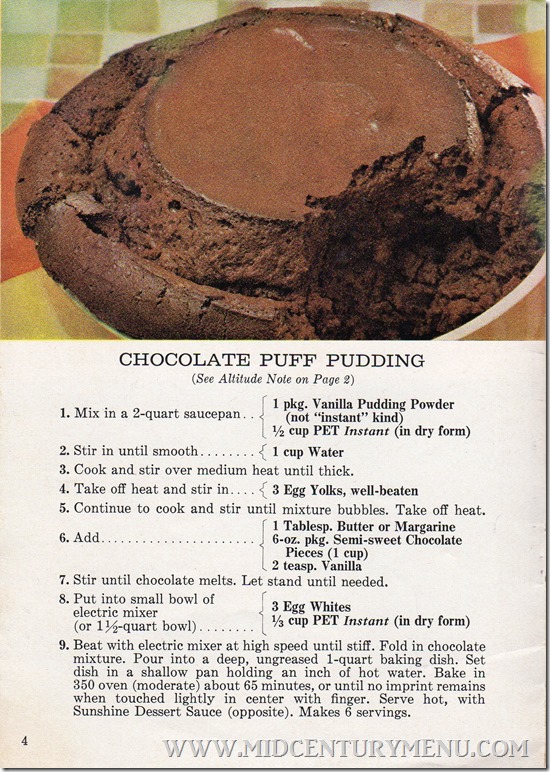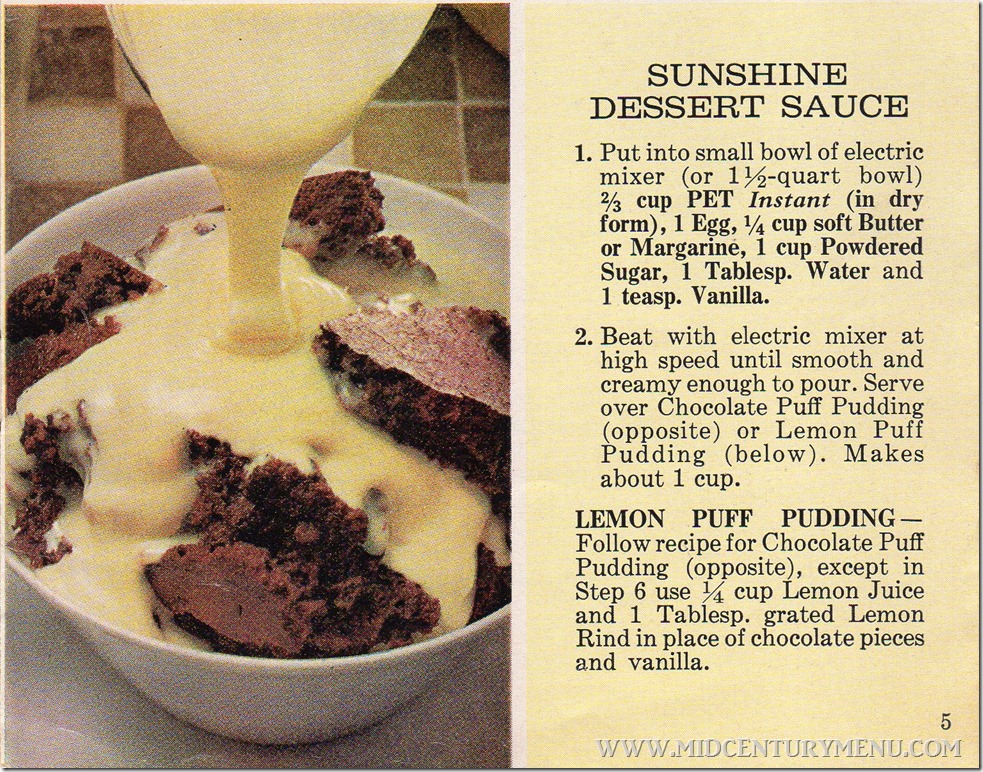 That is a really interesting recipe. I might just have to make this one soon! Thanks, Michelle!
Jillian writes –
Can you tell me where I can buy the Jiffy Fudge Frosting mix for the Tunnel of Fudge Cake?  Did you get yours online? I can't seem to find mine locally.
Hi Jillian! I usually find Jiffy mixes sold locally at Wal-Mart and Kroger.  But you can also order them directly from Jiffy here. The mix-and-match 12 pack is nice, because I also enjoy their muffins mixes.
Pillsbury also has a new line of mixes out called Purely Simple, and in it they have a chocolate buttercream frosting mix. I haven't tried it yet to see if it works in the Tunnel of Fudge Cake, but I am planning on taking it for a test run soon, so I'll keep you posted.
Thanks, Jillian!
If you have any questions or if you are looking for a certain recipe, please feel free to leave a comment, send me an email at ruth@midcenturymenu.com or contact me through our Facebook page and I will see what I can do for you!