This year I decided to shake things up and make a chocolate lamb cake.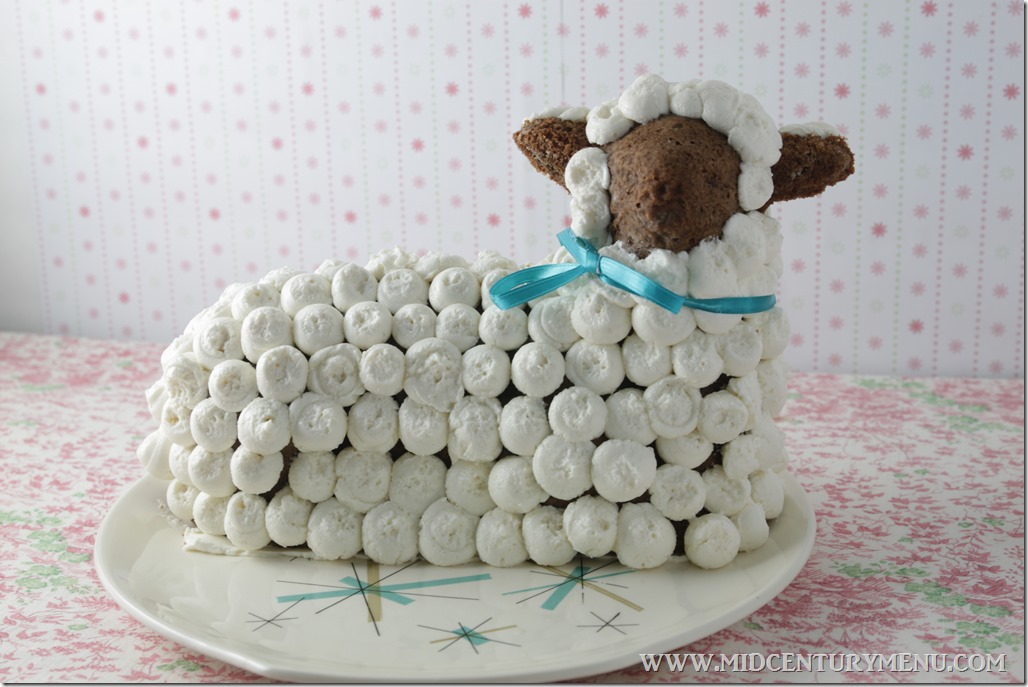 This is Chocolate Pound Cake Lamb!

Chocolate Pound Cake Lamb
Author:
Maid of Scandinavia Mail Box News, March 1967
Ingredients
2½ cups sifted all purpose flour
1 teaspoon baking powder
½ teaspoon baking soda
1 teaspoon salt
1 cup soft butter
1¾ cups sugar
3 eggs
2 teaspoons vanilla
3 ounces unsweetened chocolate, melted and cooled slightly
1 cup milk
Instructions
Preheat oven to 350 degrees. Prepare lamb mold.
Beat butter and sugar together until light and fluffy. Add eggs one at a time, beating after each addition. Add vanilla and chocolate and beat on low speed until blended.
Sift flour with baking powder, soda and salt. Add alternately with milk, beginning and ending with flour mixture and beating just until well blended.
Pour the batter into prepared pan and bake for 55 minutes.
(Follow directions in lamb cake tutorial to unmold.)
This recipe is from my beloved Maid of Scandinavia Mail Box News monthly newsletters. This recipe was intended for a bunny mold, a lamb mold or several Easter chicken molds. Which makes me very much want a chicken mold.
For detailed instructions on using your lamb cake pan, make sure to check out my Lamb Cake Tutorial!
This recipe yielded one lamb and 10 extra cupcakes, one of which was devoured by a toddler as a distraction while I unmolded my lamb.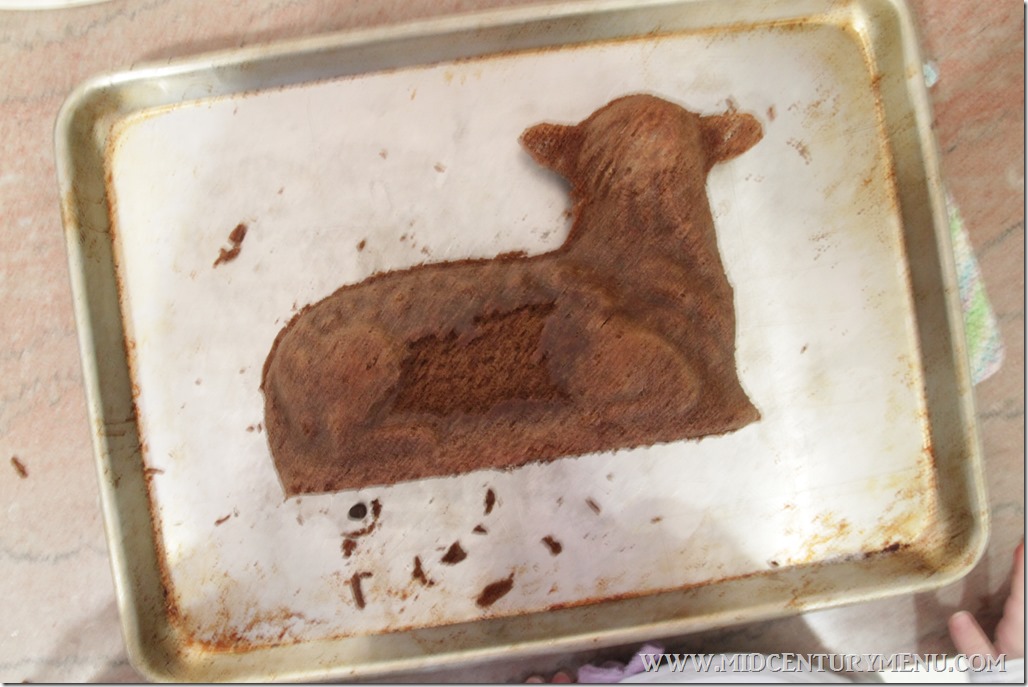 Whew. Unmolded with only a very slight mishap, and something that was easily covered with frosting.
And no, it isn't out of focus because I am sighing with relief.
I also tried out the recommended frosting recipe with this, which was Butter Cream Frosting.
Butter Cream Frosting (updated instructions)
1 egg white (I used pasteurized plus a pinch of cream of tartar)
1 cup granulated sugar
1 cup warm milk
1/2 cup shortening
1/2 cup butter
1 tsp vanilla
Warm milk in the microwave and let cool slightly. Beat egg white with mixer until very stiff. Add sugar very, very slowly until incorporated. Add the milk slowly while beating constantly. This will be very thin. Set this aside, and in another bowl beat remaining ingredients. Add the milk mixture to the second mixture slowly, beating well after every addition. Over time it will incorporate the milk and have a texture like whipped cream.
*Note – After a time the emulsion won't be able to take more milk, and you might not use all of the milk mixture. And if you have a bit of milk that won't mix into your frosting, add a bit more shortening until it beats smooth again.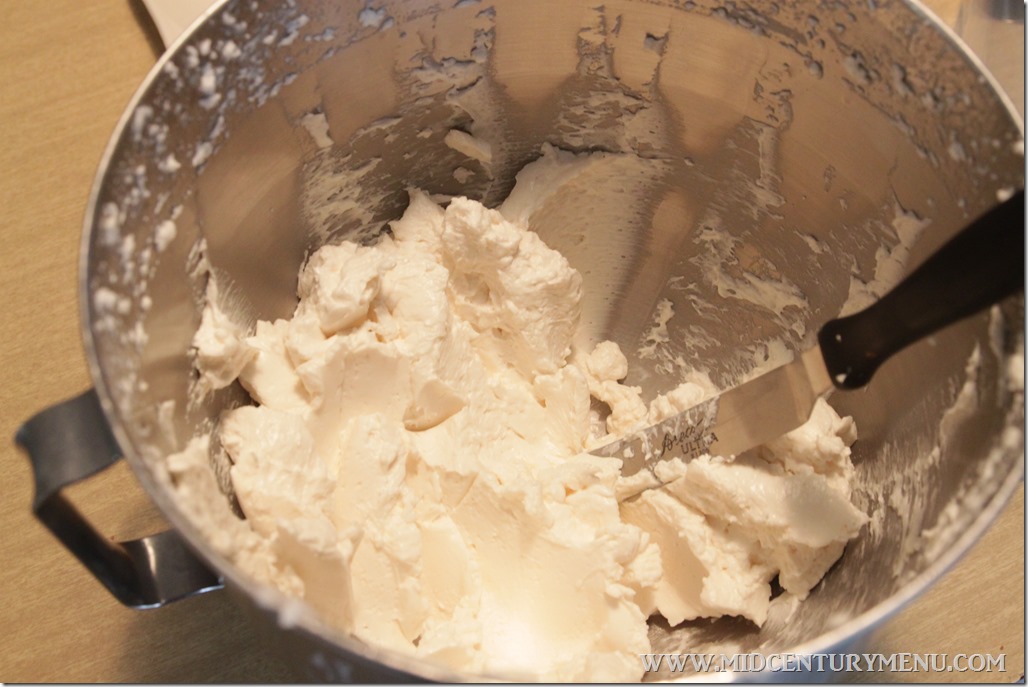 This was an odd frosting recipe, and I was dying to try it. According to the recipe it is originally from Louisiana.  It was a bit tricky to get together and a bit tricky to work with, so if you feel like using another frosting recipe, please feel free.
And now for a cross-cut of the lamb, so you can see the texture.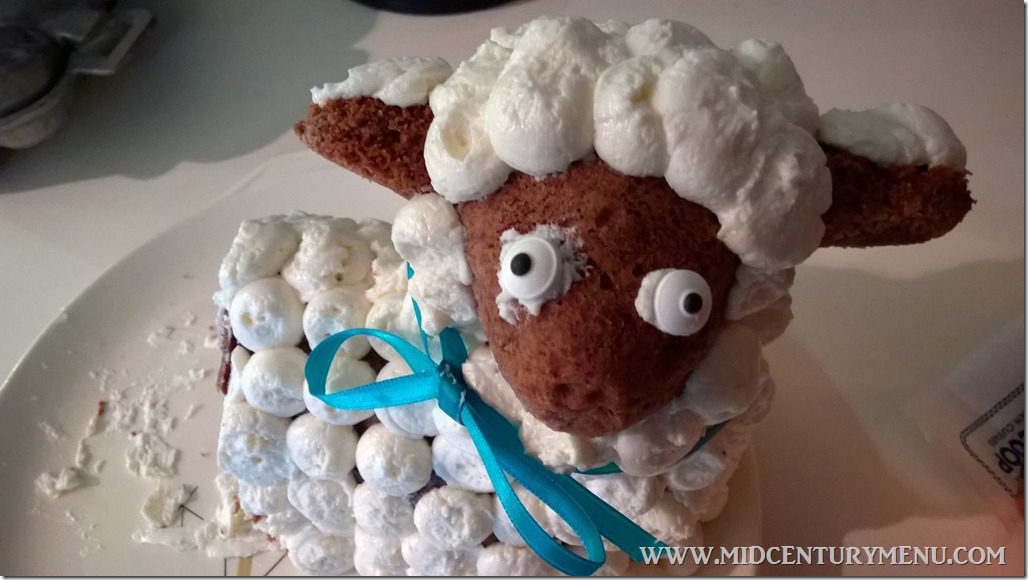 Oh, don't look so shocked.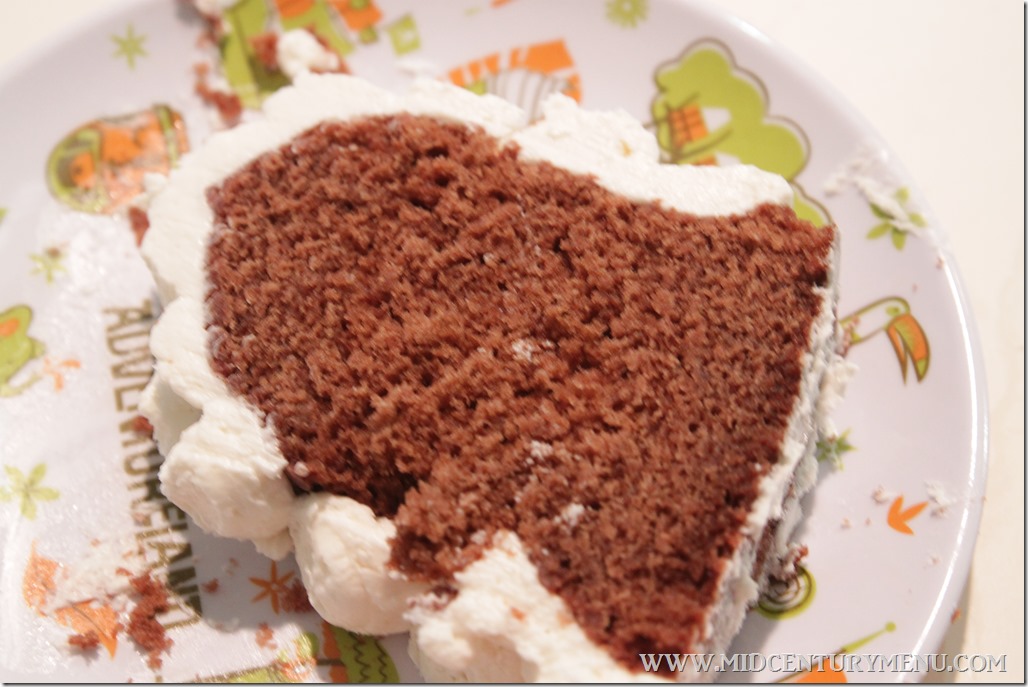 Sorry it's out of focus, but I was trying to fend off all the fingers that were itching to dig into this piece.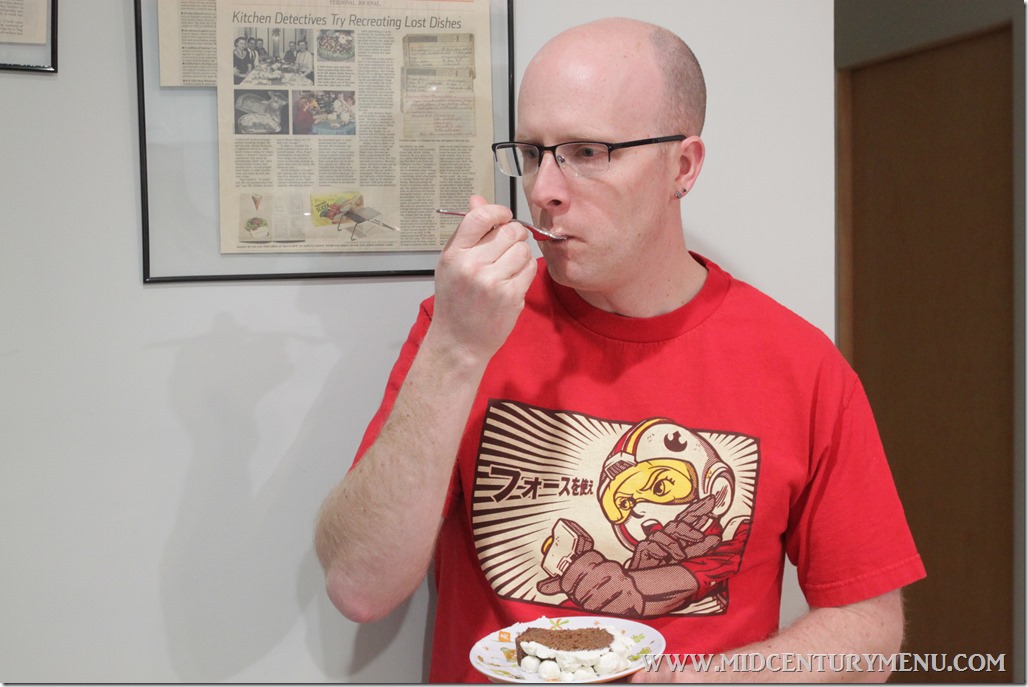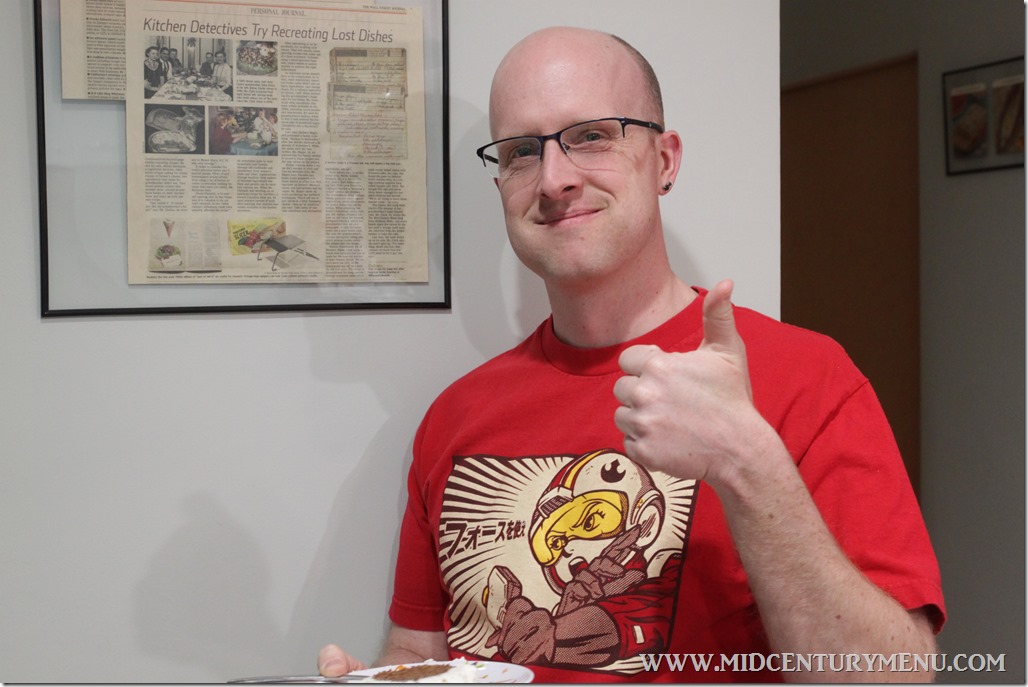 "What do you think?"
"Don't talk to me or look at me."
"So…does that mean it's good?"
"I'm going to eat this whole thing."
"Right now?"
"Right now."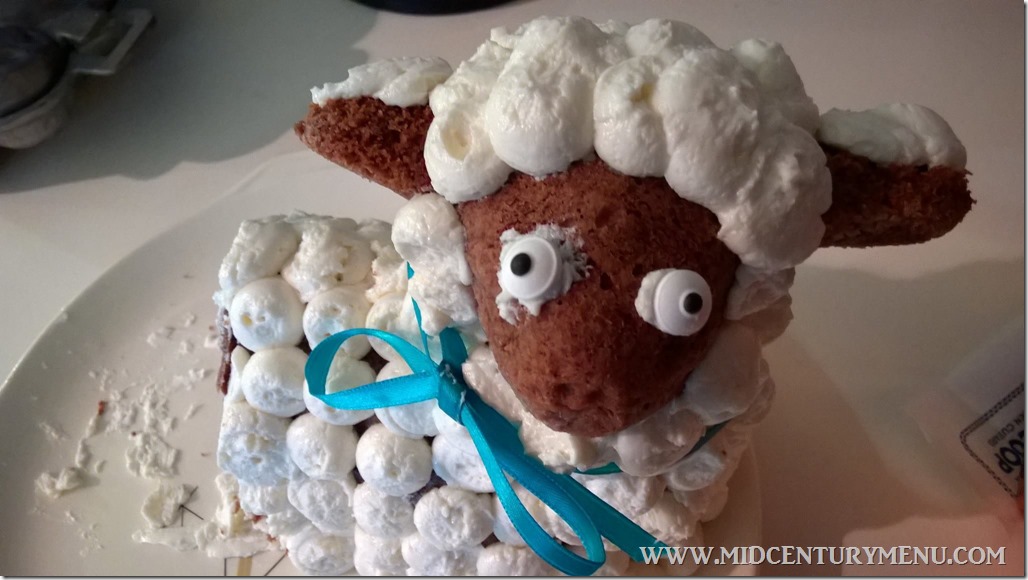 The Verdict: Delicious
From The Tasting Notes –
A good, dense, moist chocolate-y lamb cake. It was a bit on the sweet side, but overall had a good flavor. The crumb was densely packed and moist, and Tom said it actually reminded him of Fantasy Fudge a bit in flavor. Very much a pound cake, and it molded very well in the lamb pan. It was sturdy without being dry and unmolded very easily without a lot of sticking.

The frosting was interesting, and in flavor and texture reminded me of a cross between Italian Buttercream and whipped cream. It was light and difficult to pipe, so probably not the best for detail work. If handled too much it had the tendency to break down and curdle, so handle it as little as possible. Overall it was delicious, and Tom (who hates thick, powdered sugar/shortening frostings) loved it.
REMEMBER! Send me your finished lamb/bunny/chicken cake pictures! They will be shared on the blog in a gallery and then some contributors will be chosen at random to receive some vintage cookbooks! Share them on our Facebook page or email them to me at ruth@midcenturymenu.com . Also, feel free to email me questions or ask them in the comments below. Good luck with your lambs!