This week I have a special recipe test for all of you! It is sort of a guest test, but in another way it isn't.
This week, we all get to enjoy a recipe tested out by my mother!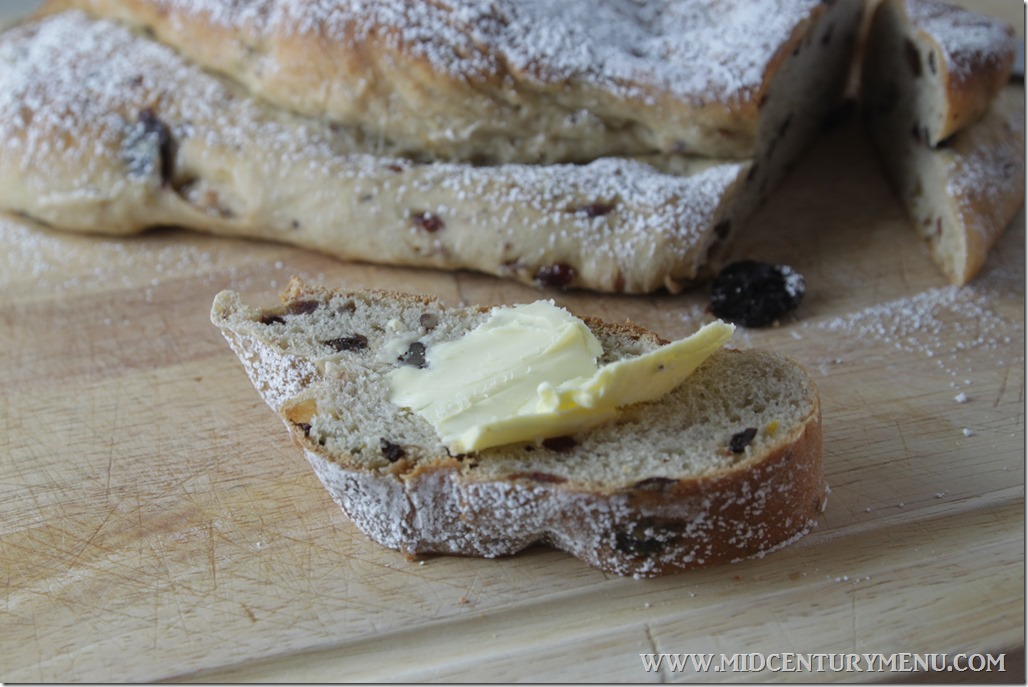 This is Stollen!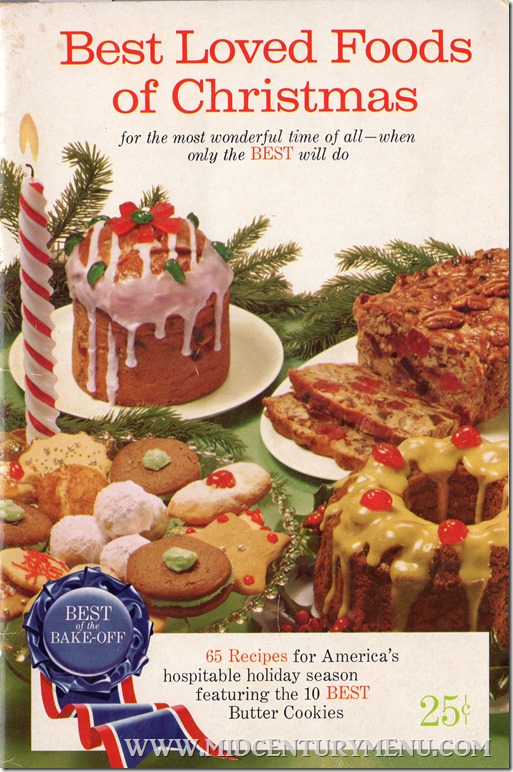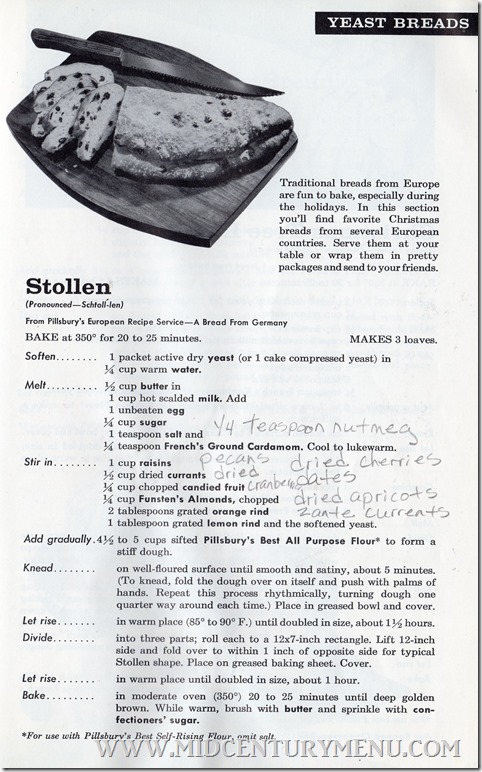 Stollen
Author:
Pillsbury, 1959 - Small additions from my mother!
Ingredients
1 packet active dry yeast
¼ cup warm water
½ cup butter
1 cup scalded milk
1 unbeaten egg
¼ cup sugar
1 teaspoon salt
¼ teaspoon nutmeg
¼ teaspoon ground cardamom
2 cups of mixed dried fruit (we used cherries, cranberries, dates, apricots, Zante currants)
¼ cup chopped pecans
2 Tablespoons orange rind
1 Tablespoon lemon rind
4½ to 5 cups of flour
Instructions
Add yeast to warm water.
Add butter to hot milk and stir until melted. Add sugar, egg, salt and spices. Stir and let cool to lukewarm.
In the bowl of a stand mixer, mix milk mixture and yeast. Add dried fruits and nuts. Gradually add flour until a stiff dough forms. (We used all 5 cups of flour)
Switch to dough hook and mix in your mixer OR turn out onto a floured surface and knead about 5 minutes or until satiny. Turn into a greased bowl and cover.
Let rise in a warm place until doubled in size. If it is chilly in your house, turn on your oven to the lowest setting for a bit, then turn off. Slide dough into slightly warmed oven to rise there, leaving the oven door open a crack if possible.
Divide risen dough into three parts and roll each into a 12x7 rectangle. These do NOT need to be perfect. Fold over long side to within one inch of the other side to shape.
Cover formed loaves and let rise again until doubled in size.
Bake in 350 degree oven for 20-25 minutes until deep golden brown. While warm, brush with butter and sprinkle with confectioners sugar.
Though this recipe mostly originated from the Best Loved Foods of Christmas, which was put out in Pillsbury, it was tweaked very slightly by my mother.
If you are wondering what stollen is, it's a yeast-raised coffee cake from Germany that is primarily made during Christmas. It is similar to many other European bread/cakes like panettone and three king's cake. If you've ever had a New Orleans King's Cake, you have an idea of what stollen is.
My father loves stollen. Loves it. And the stollen he loves most is his childhood stollen that was made by his aunt. And in the long tradition of good bakers, she never told anyone the recipe she used. So when she passed away, her famous stollen was gone as well.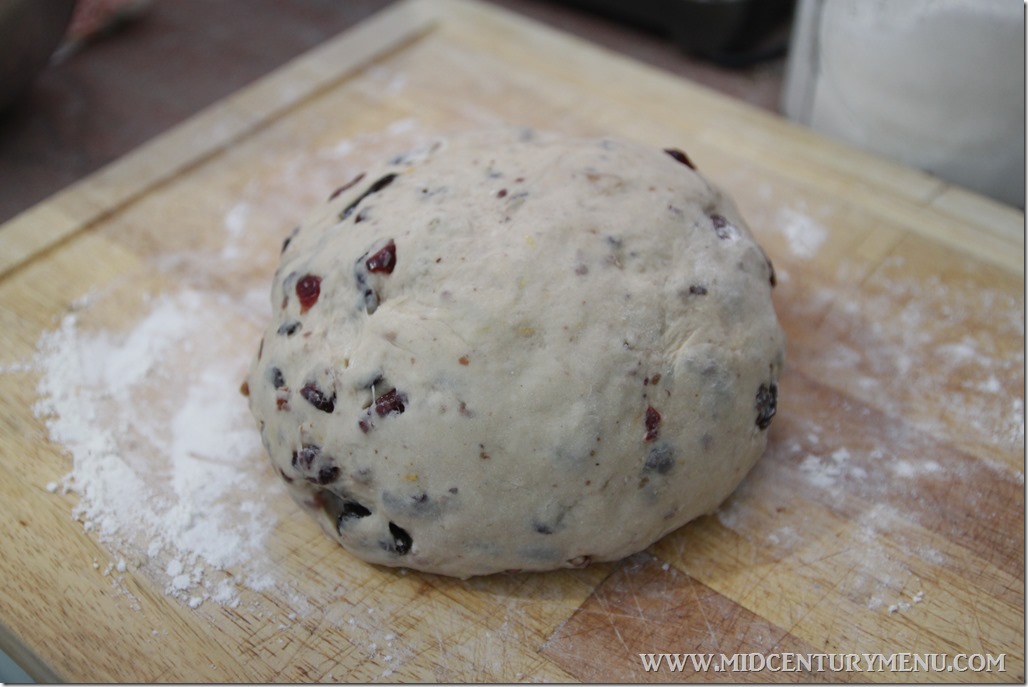 My father tells a story every Christmas, usually while we are eating that year's experimental stollen, about his aunt and what a generous woman she was. Every holiday she would make and donate dozens of stollen to their church bake sale, and every year people would go crazy over them. But she would always make a special one for my father, so heavy with fruit and nuts that lifting it, according to my father, it was like lifting a ham.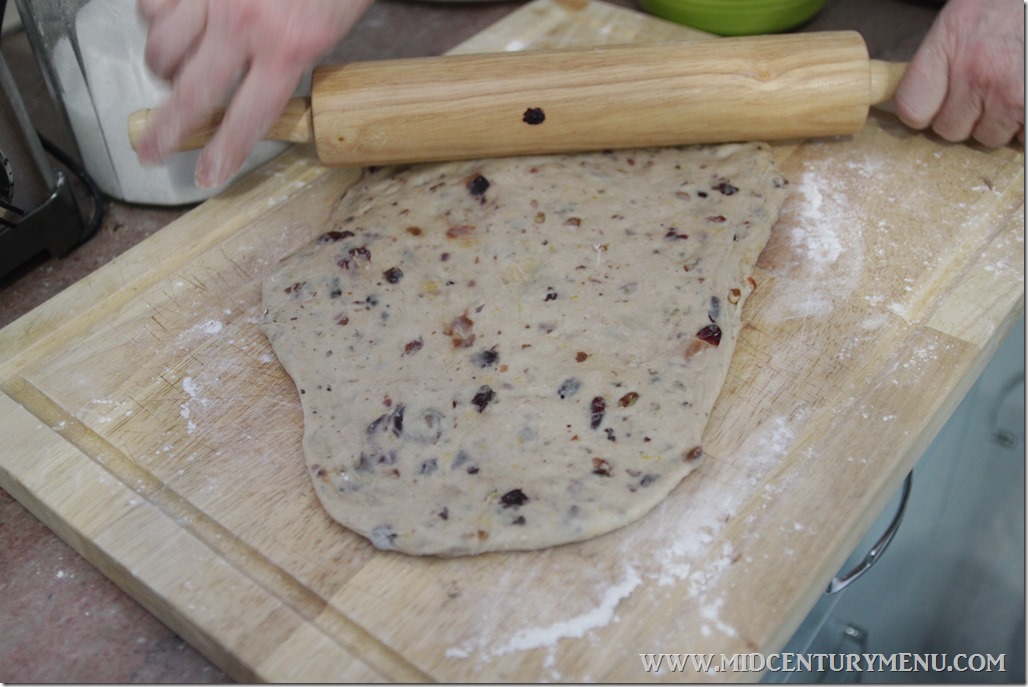 It shouldn't surprise anyone to know that my mother has been on a quest to reproduce this recipe for many years now. It turns out that the constant search for the perfect recipe IS hereditary (see my lamb cake quest). After her success remaking her mother's cheese ball, Mom and I have been working together to find a stollen recipe that would fit the bill for Dad. Since it turned out that my grandmother's cheese ball was actually a Kraft recipe, we decided to make our way through some of the well-known books of the time and look for stollen recipes. After all, many, many times beloved family recipes turn out to be brand recipes.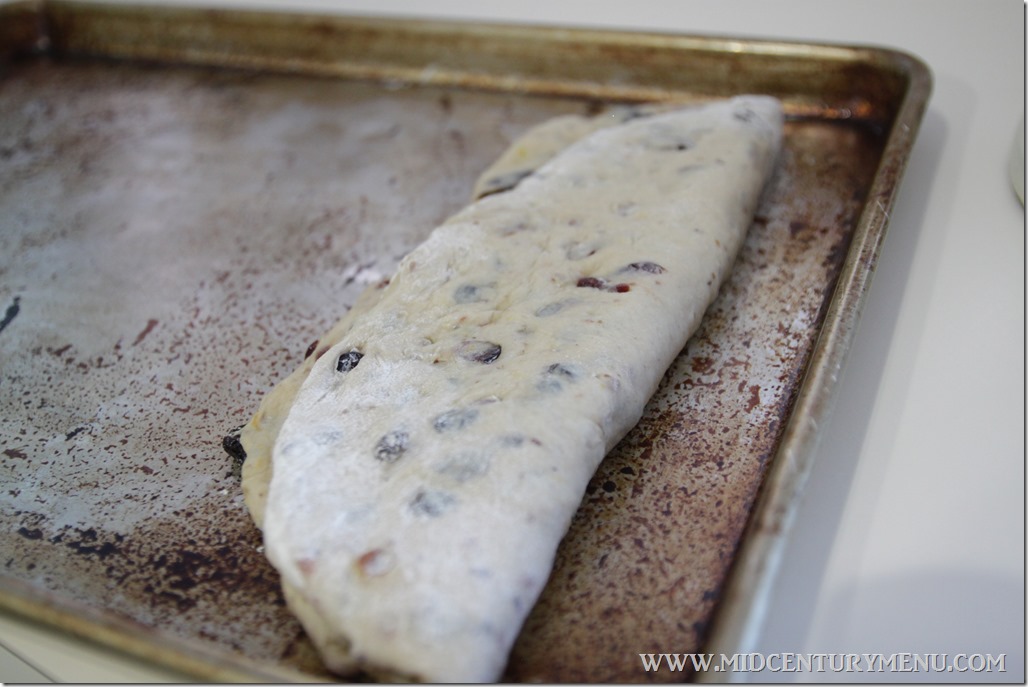 Mom finally hit right this year in a recipe from Pillsbury. We were thrilled with how simple it was and how well it came together. There weren't even that many tweaks. Mom used dried fruits instead of candied fruits and added a small amount of nutmeg.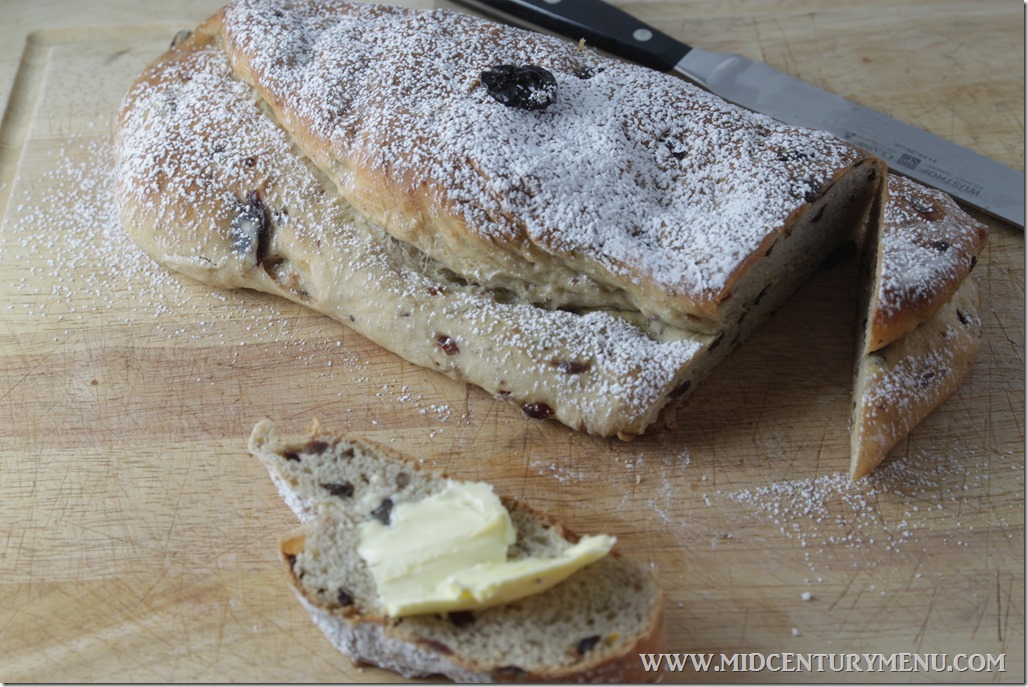 I wish I could show you a picture of Dad trying it, but we were so excited at our success that we forgot to snap pictures! The only reason I was able to take a picture of a full loaf is because the recipe made three whole loaves. And a day after Mom made these, this one was the only one left.
But here is Tom, wolfing down a slice for science.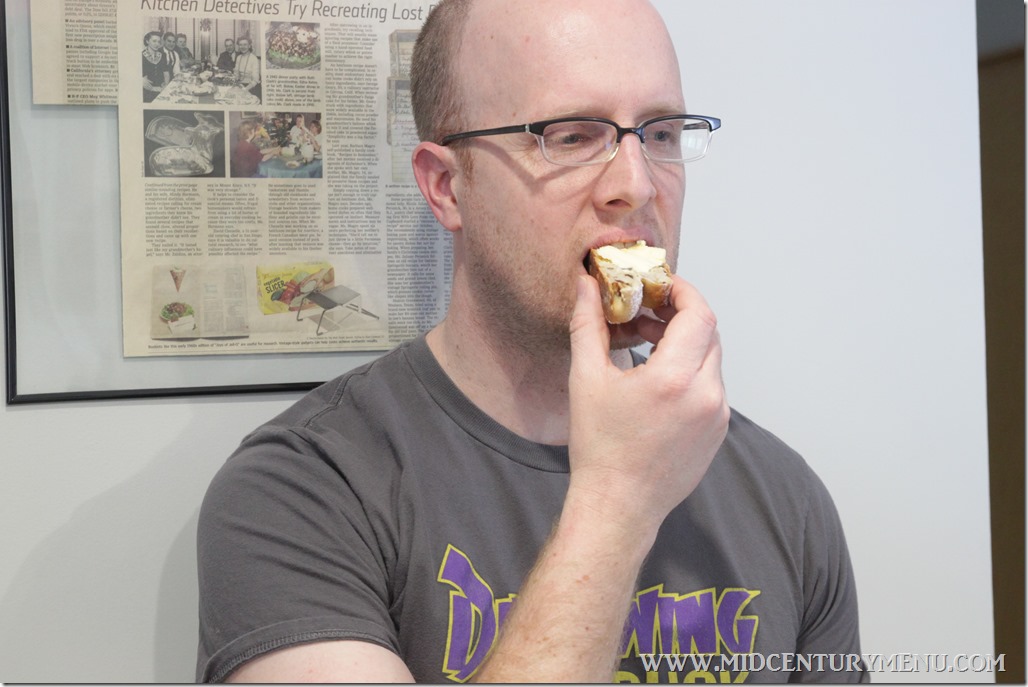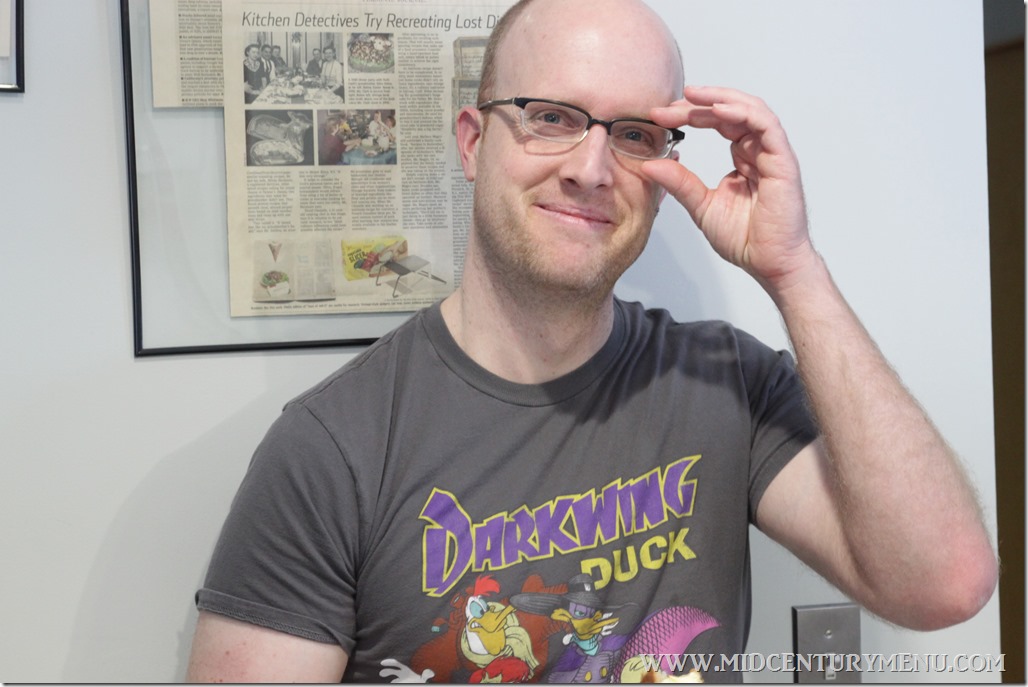 "I think this is the best thing your mother has ever made."
The Verdict: Perfect
From The Tasting Notes –
This is exactly the recipe my parents were looking for!  According to Dad, this is exactly the one his aunt made. It has a great flavor, a lovely texture and is simple to make. We definitely prefer using a mix of dried fruits over candied fruit, and the nutmeg is a must. Dad is very, very happy with this one!