The other day I asked Alex what she wanted for lunch. She said, "Rice, carrots and cheese."
"Okay. Do you want them separately, or all together?"
"All together. A casserole, please. A big casserole."
"I can do that." I said. "I'm sure there is a mid-century recipe for that."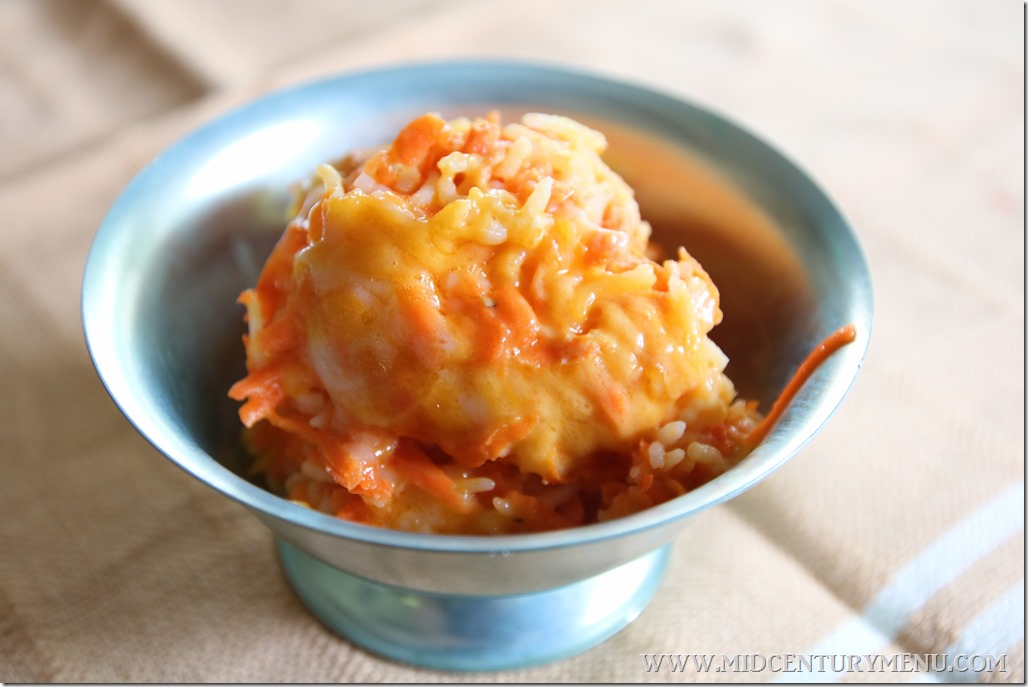 This is Golden Cheese And Rice!

Golden Cheese And Rice
Ingredients
2 cups cooked rice
3 cups shredded carrots
2 cups grated cheese
2 beaten eggs
1½ teaspoons salt
¼ teaspoon pepper (I added a bit more)
2 Tablespoons minced onion
½ cup milk
Instructions
Combine ingredients. Reserve ½ cup cheese.
Put into greased 1 qt casserole. Sprinkle remaining cheese on top. Bake at 350 for 35 to 40 minutes. (Mine took about an hour to cook)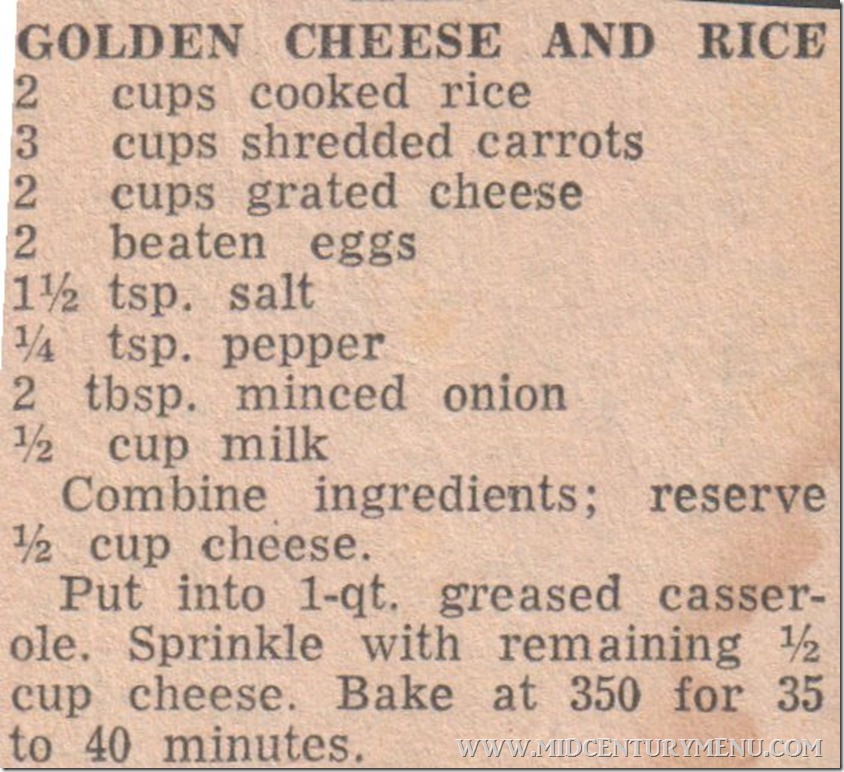 This recipe comes from my rather large collection of random newspaper clippings that I have kicking around. They kind of pop out of every drawer in our house, whenever you decide to look for something you come across a pile of these. Luckily, I needed a small screwdriver the week before to change some batteries in one of TJ's toys, and I had to lift this recipe up to get to the screwdriver. So when Alex asked for a carrot casserole I knew exactly where it was.
And people say I'm not organized.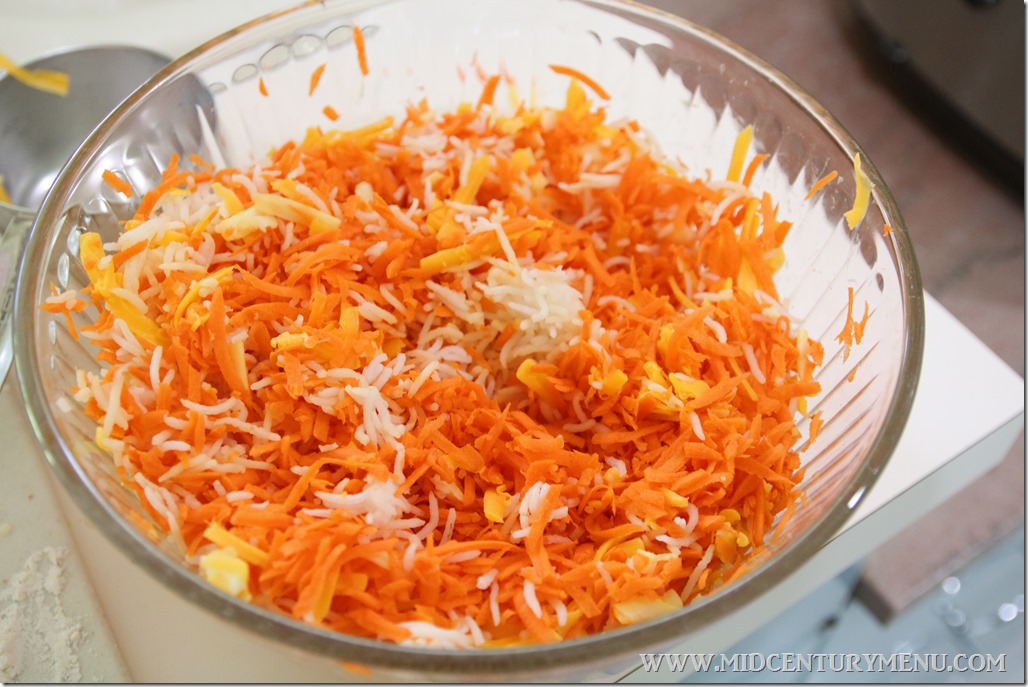 Since I already had some leftover rice, this came together pretty easily.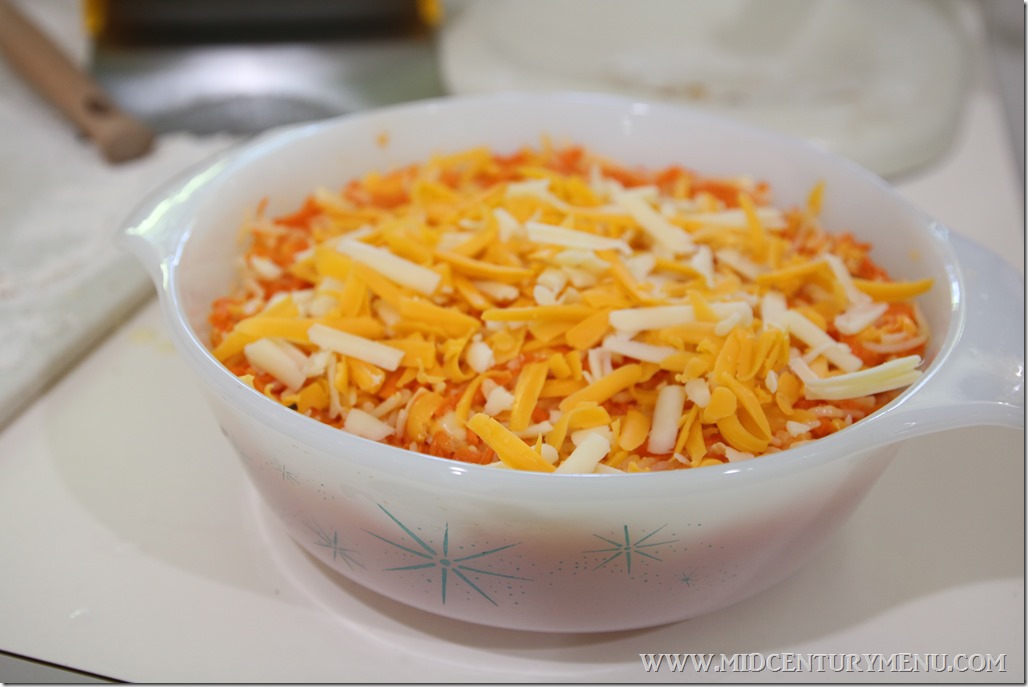 And it fit nicely into my little starburst dish!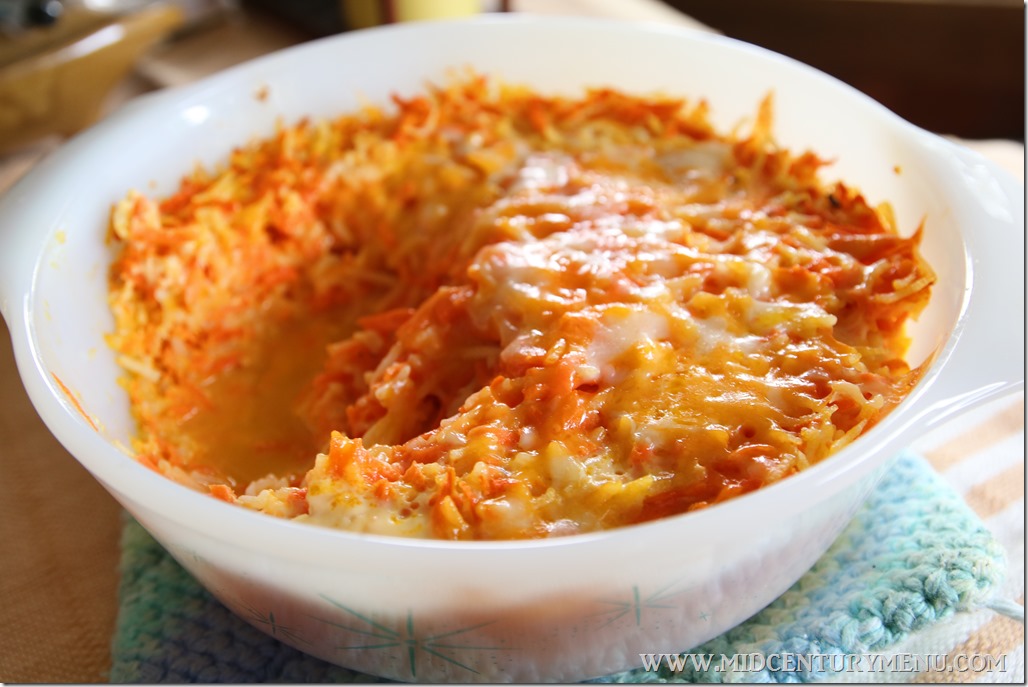 Here it is out of the oven, after I scooped a bit for the dish in the photo. I was a little concerned by the amount of liquid oozing around, though the casserole was very hot and seemed to have solidified nicely.
So, since I was concerned about the doneness, I gave it to my trusty guinea pig to try first.
I mean…husband. My beloved husband, Tom. Whom I love.
"How is it?"
"Cheesy. Really, really cheesy."
"Is it done?"
"It's close. The carrots are a little crunchy."
The Verdict: Cheese And Crunch
From The Tasting Notes –
This was actually pretty good, but the cooking time was not long enough. The carrots were still a bit on the crunchy side and it was liquidy, so make sure you press a spoon down in yours to check if all the liquid has been absorbed by the rice. That should be a good indicator if the carrots are done, too. I baked mine for  an extra 25 minutes, and that seemed to do the trick. So, this needs about an hour in the oven. Overall, it was a good, pretty standard casserole. The seasoning was okay and after it was cooked properly it had a good texture without being overly soft. It was a bit on the cheesy side, so if you would rather taste rice and carrots, ease back a bit on the cheese. But Alex and Tom both liked it and ate it up, even when it was leftovers!