This week we have some cake. Some cake that didn't quite work out.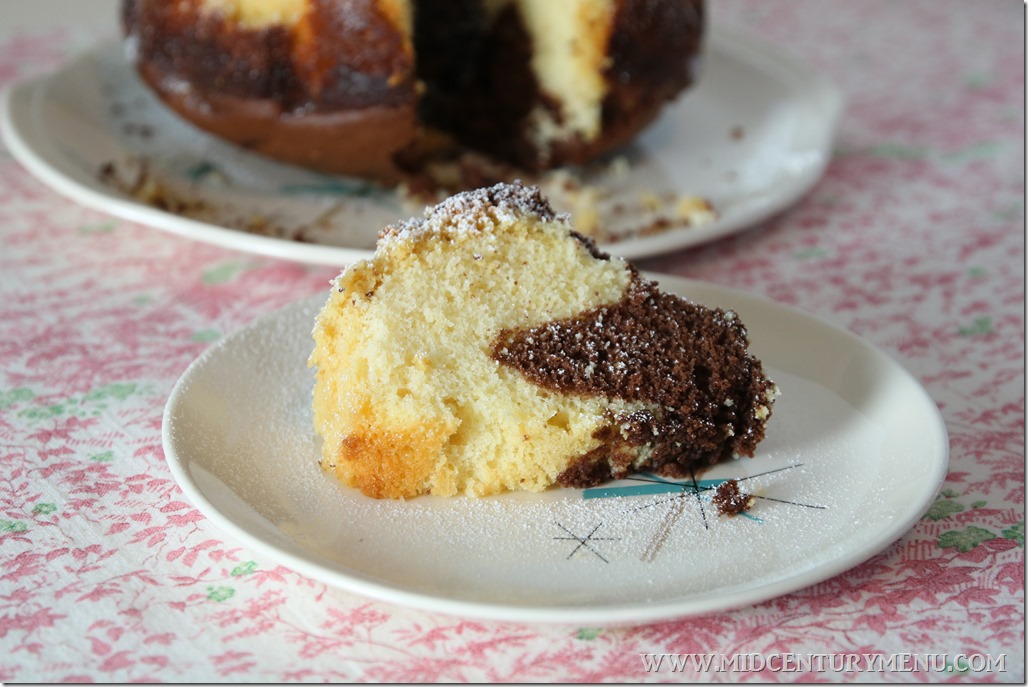 This is Neapolitan Pound Cake!

Neapolitan Pound Cake
Author:
Mrs. Janet Caprari, Pillsbury Bake-Off Cookbook, 1971
Ingredients
8 oz softened cream cheese
4 eggs
1 package (18.75 oz) white cake mix
¾ cup milk or water
¾ cup strawberry milk flavoring mix (add pink food coloring if you want a pink layer!)
¾ cup chocolate milk flavoring mix
1 teaspoon vanilla
Instructions
Generously grease and lightly flour a 10-inch tube or Bundt pan. In large mixer bowl, add eggs to cream cheese one at a time, beat until smooth. Add dry cake mix and milk. Blend until moistened, then beat as directed on package.
Divide batter into thirds. Add strawberry flavoring to one of the thirds, chocolate to another and add the vanilla to the last third. Pour vanilla batter into prepared pan, then pour strawberry over the vanilla, then add the chocolate over the strawberry.
Bake at 350 degrees for 45 to 55 mins or until a toothpick inserted in the center comes out clean. Cool upright in pan 15 mins; remove from pan. Cool completely and glaze or sprinkle with powdered sugar.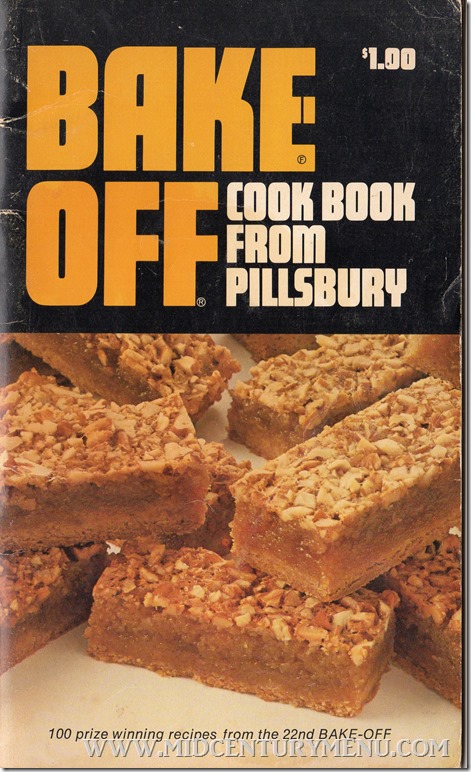 This cake is from one of my adored Pillsbury Bake-Off cookbooks. I'm telling you, if I had all the time in the world and it wouldn't cause me to double my body weight, I would love to make all of the Pillsbury Bake-Off recipes in chronological order. It would be amazing, probably because the Pillsbury Bake-Off books are a great source of information for unique recipes and some innovative ideas. They are also a fantastic way to track the culinary evolution of America. But enough about that.
Since I don't have all the time in the world, we are just going to have to settle for one recipe. And it's a cake. Of course.
This cake started out promising enough. It was actually kind of fun. It's not often I get to make cake with strawberry and chocolate Quik.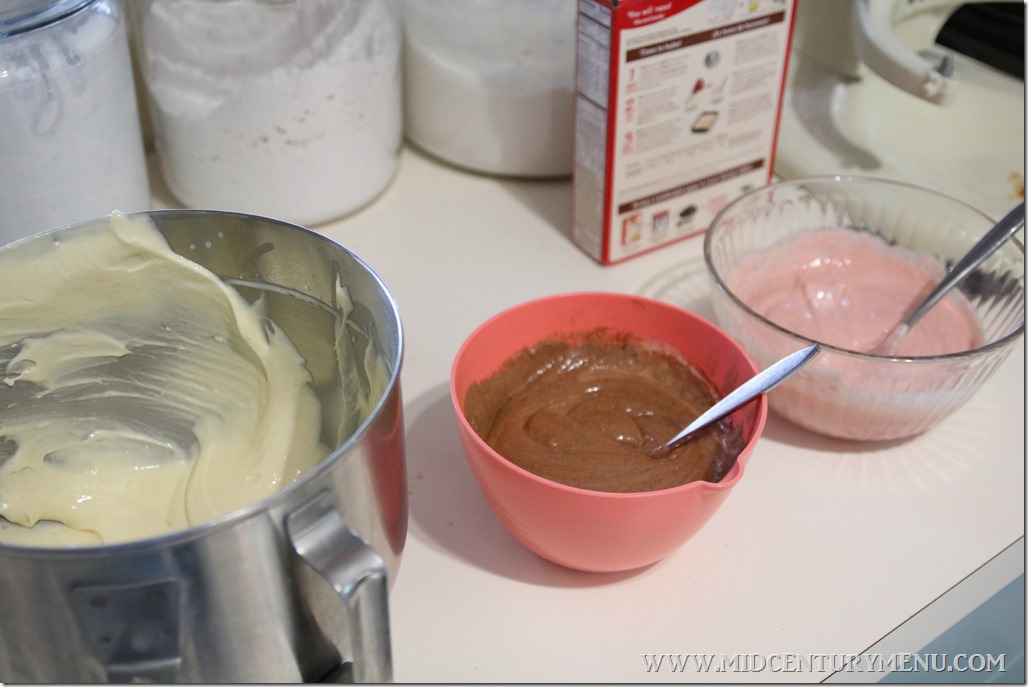 I have to admit, most of the reason I chose this cake is because every Easter people write in and ask if they can use a cream cheese "pound cake" cake mix method for lamb cake. I've never made it before, and Easter is fast approaching, so I thought that I would start some experimenting early. I found this recipe that adds cream cheese to a cake mix to make a "pound cake" and decided to test it. The mixing of Quik into the batter was just a bonus. Overall, it was a pretty easy, even with having to divide the batter.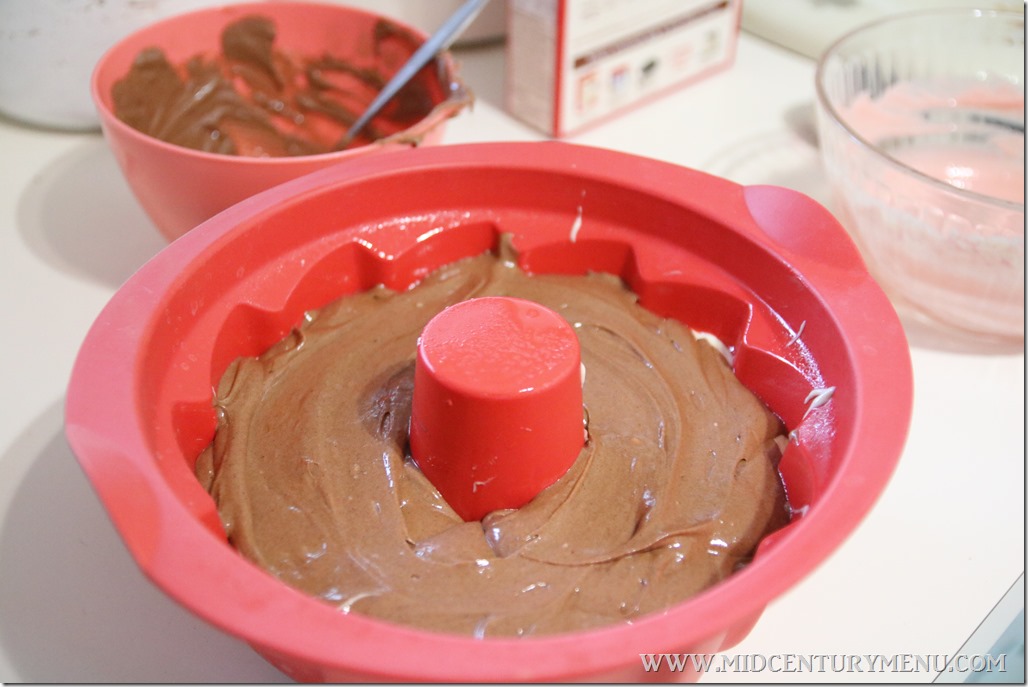 There! All layered!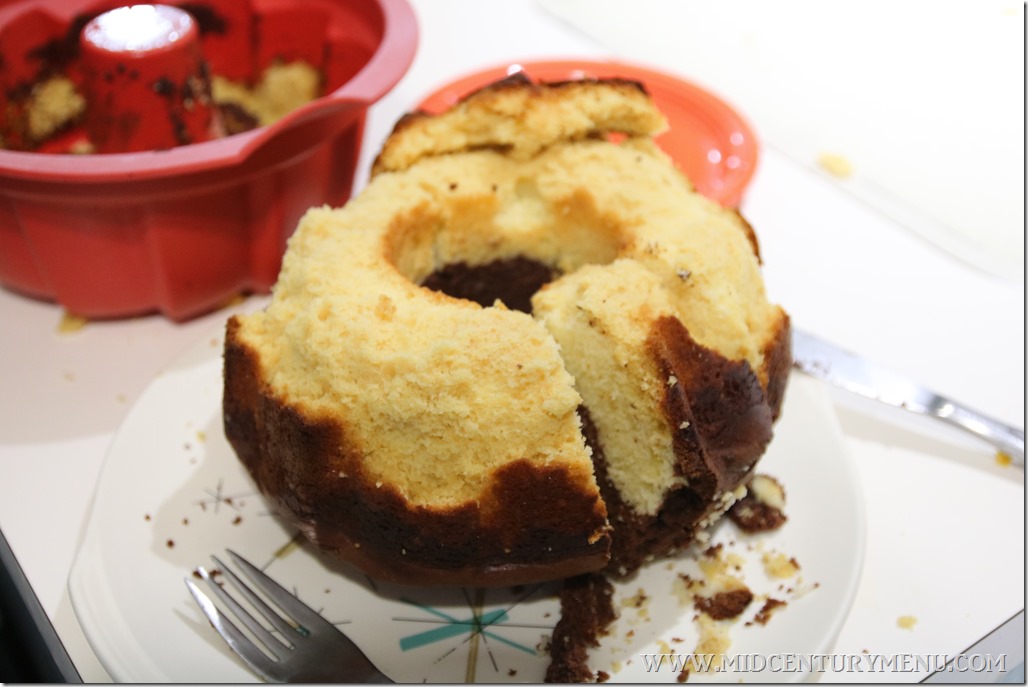 There! Failure!
I couldn't believe this. After I got over my complete shock, I figured out a few things:
1. I am throwing out this freaking pan. It also destroyed this gelatin, and I am starting to think it's the pan's fault instead of the recipe. And I just about drowned this thing greasing it with shortening. I'm going back to my classic Bundt pan, and this thing can go screw.
2. The strawberry flavored mix lost all of it's pink coloring. I am sure the modern recipe for Quik is completely different than the vintage product, but still. Completely gone. Maybe I should have added food coloring? Or some mashed strawberries?
3. Also, the extra-sweet (read: extra sugar) strawberry mix added to the cake batter caused the strawberry layer at the bottom of the cake to burn and stick to the pan, peeling most of it off of the vanilla layer. So maybe this needs to be layered in another order?
But Tom was still up for the test, mutilated cake and all.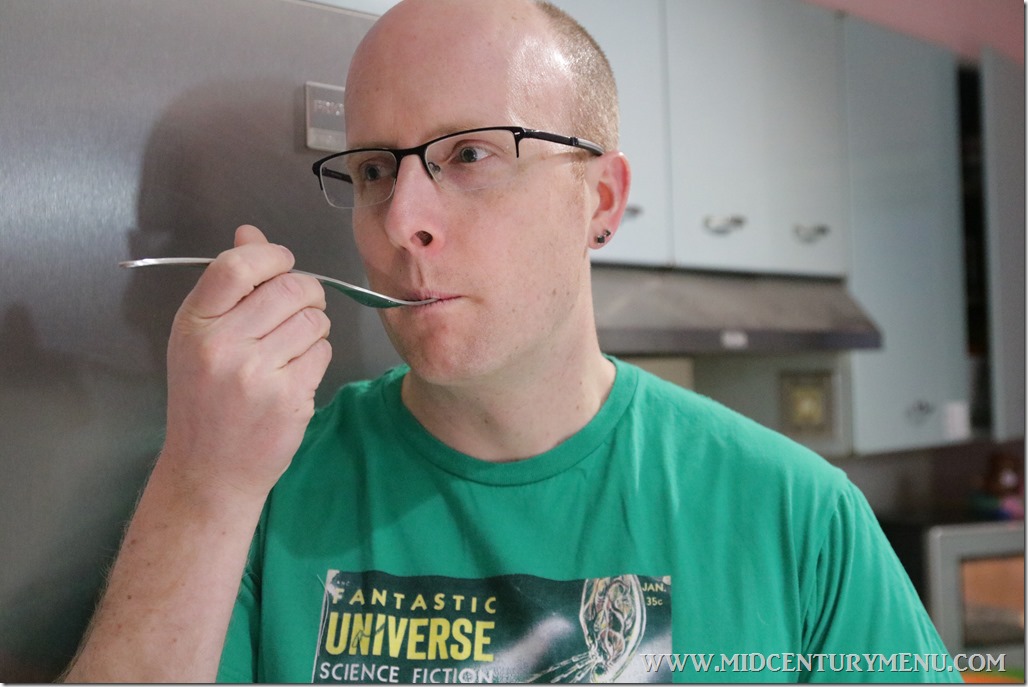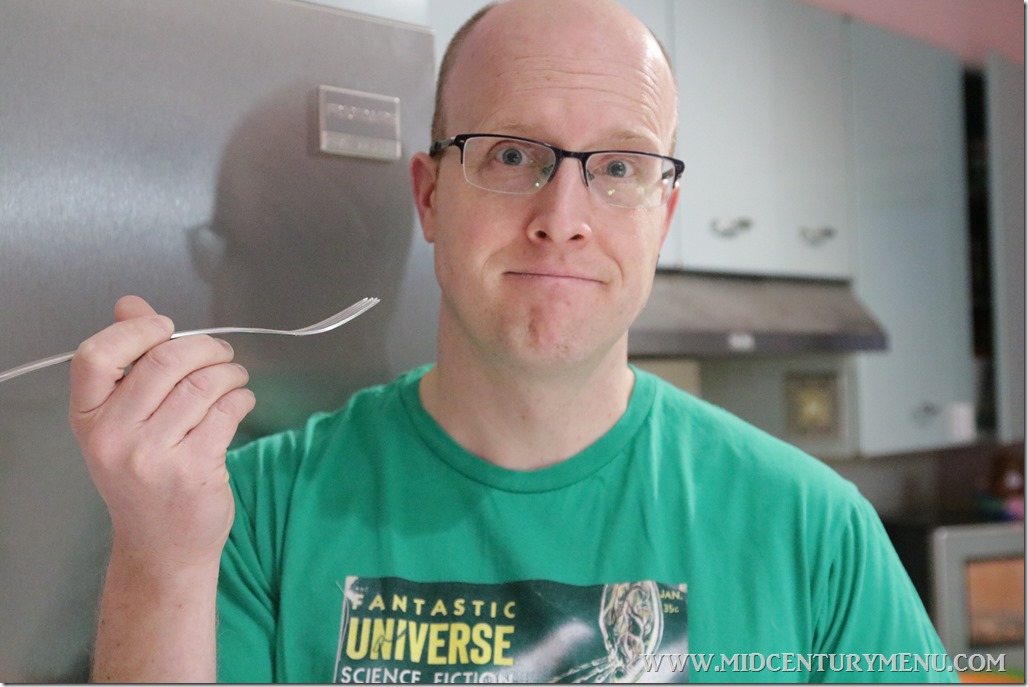 "How is it? Can you taste the strawberry?"
"No, but I can smell it. Really odd. But it's still a pretty good cake. Mostly I just taste lots of vanilla and chocolate."
The Verdict: Pretty Good
From The Tasting Notes –
Even without the strawberry layer, this was a good cake. Tom normally doesn't like cake mix cakes, but he said this one turned out tasty. It was a little dry, and the strawberry layer was a disaster, but the chocolate layer with the added Quik turned out well. It was very chocolate-malty tasting, but if you enjoy the taste of Quik, then you will like this. The vanilla layer was actually very much improved over the regular boxed cake flavor with the extra vanilla. If you decide to make this one, I would recommend putting the vanilla layer at the bottom, then following with strawberry and chocolate, just to cut down on the chances of sticking. I cannot endorse it for molded cakes yet because mine didn't turn out, but maybe if I left out the extra sugary Quik and used a different freaking pan it would be just fine. I'll have to do some further experimentation on that.
Oh, and we figured out a solution to the missing strawberry layer.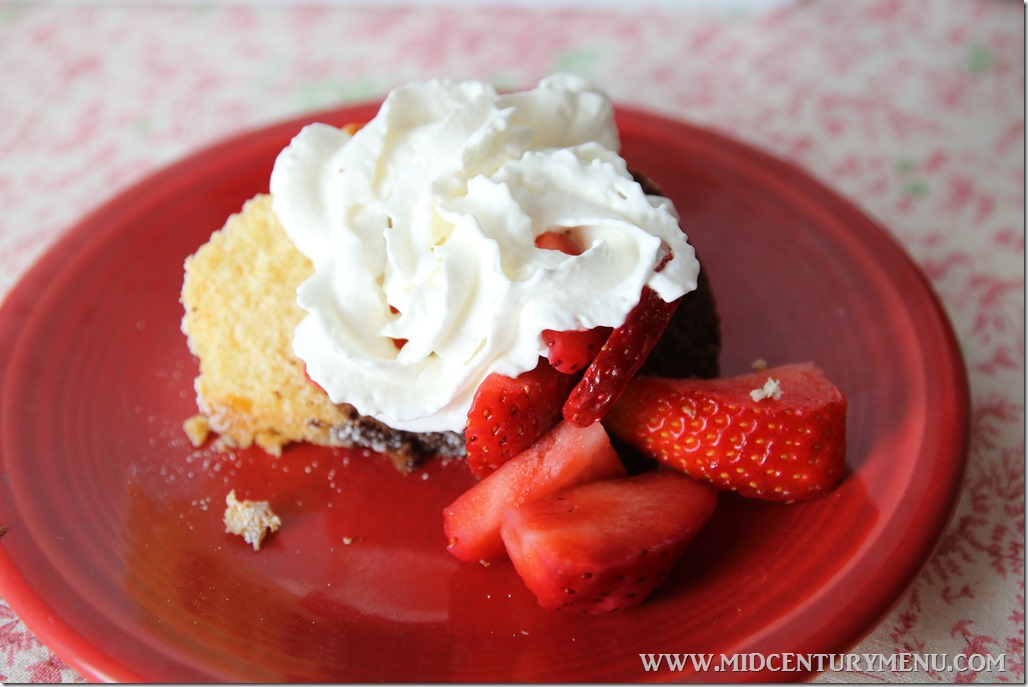 There. Fixed.