Whew, welcome back after my two week absence! I had to have some surgery done on my jaw, and let me tell you it wasn't pleasant. But, thanks to our parents and lots of Carnation Instant Breakfast, I am back on track and ready to bring you another hilarious, and somewhat mushy, recipe.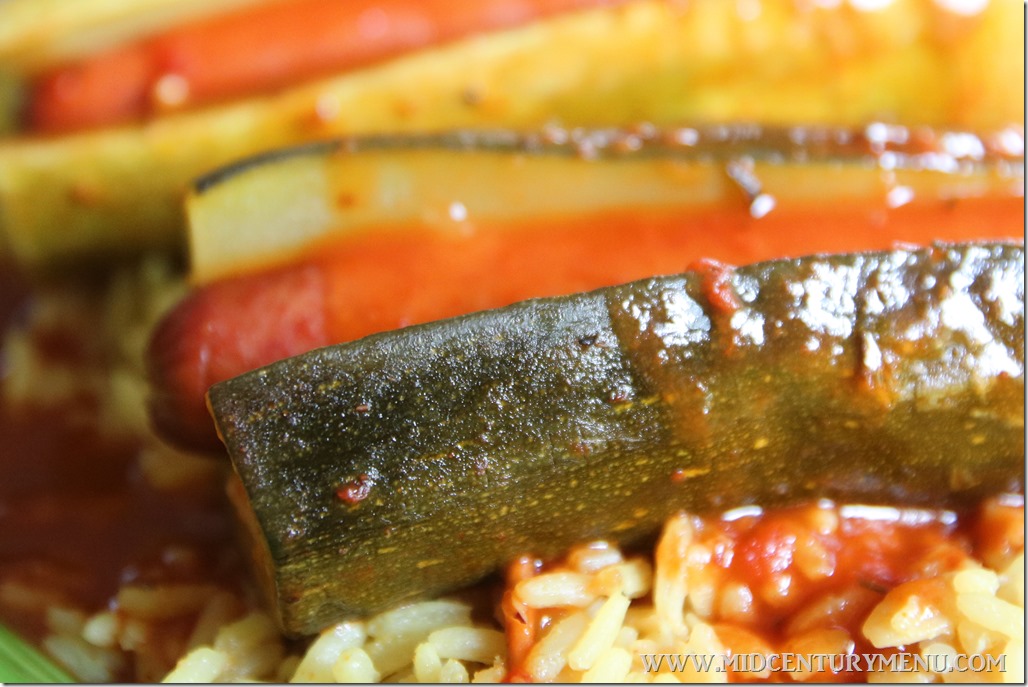 Zucchini Weenie
Author:
Sunset Kitchen Cabinet Recipes, Volume II
Ingredients
5 or 6 small zucchini
5 or 6 sausages (hot dogs, Italian, Polish, Bratwurst or Hot Link. If the sausage is raw, pre-cook it)
A can of tomato soup
Rice or Noodles to serve
Salt & pepper
1 teaspoon thyme (garlic, onion and bell pepper may also be added)
Instructions
Hollow out the zucchini. You can cut off the end and use and apple corer, or just split lengthwise and hollowed out with a spoon and fasten the stuffed zucchini with toothpicks. Stuff each zucchini with a weenie or a sausage. Place in a saucepan. Pour over stuffed zucchini a can of tomato soup (undiluted) and season to taste. Simmer until tender (about 20 minutes, depending on how big your zucchini are) adding water if the tomato soup begins to stick.
To serve, put zucchini on a platter and pour the soup over them like gravy. Serve with rice or noodles. (We liked them with rice pilaf.)
This is Zucchini Weenie!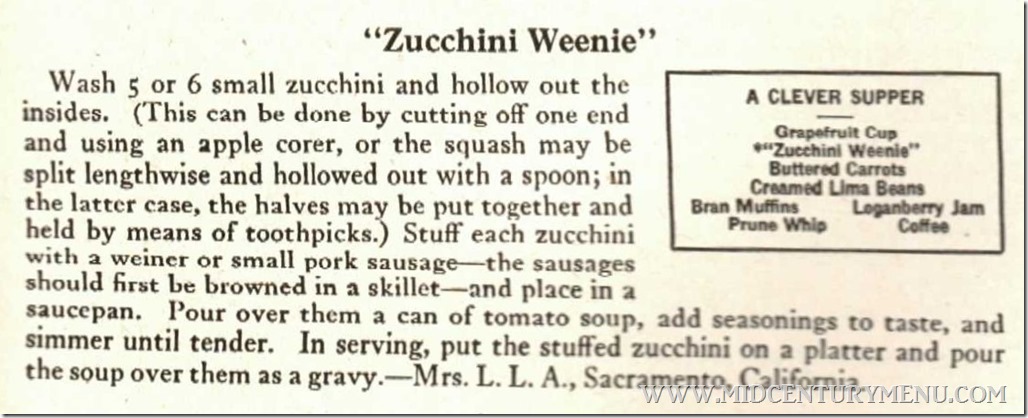 This recipe is from the Sunset Kitchen Cabinet Recipes Volume II, which covers the recipes published in Sunset Magazine from 1934 to 1938. These are unique books, not just because of the interesting recipes, but because many of the recipes are illustrated by the cutest illustrations of 1930's housewives preparing the recipes.
And I would like to say that I picked this recipe for some academic reason, or even because we are up to our knees in zucchini over here. But no. I picked this recipe simply because I loved saying the name. "Zucchini Weenie. Zucchini Weenie."
I love it.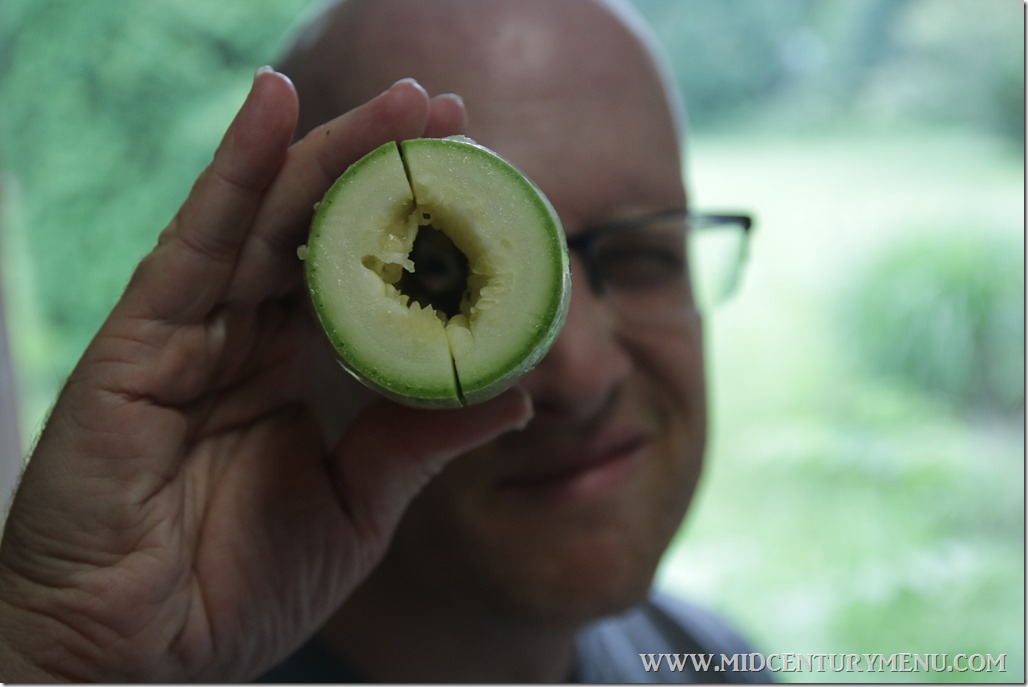 That picture actually turned out kind of creepy.
Anyway, if you can't tell already, I needed help cooking this recipe because I am still taking some pretty heavy duty meds, and can't be trusted with things like heat and knives and weenies, so Tom and Alex stepped in to prep dinner for me.
They were pretty fun helpers. Alex insisted she could still see through it with the hot dog inside.
At the third Zucchini Weenie, Tom ran out of patience and threw down his knife. "That's enough. There is no possible way we are going to eat more than three of these things anyway."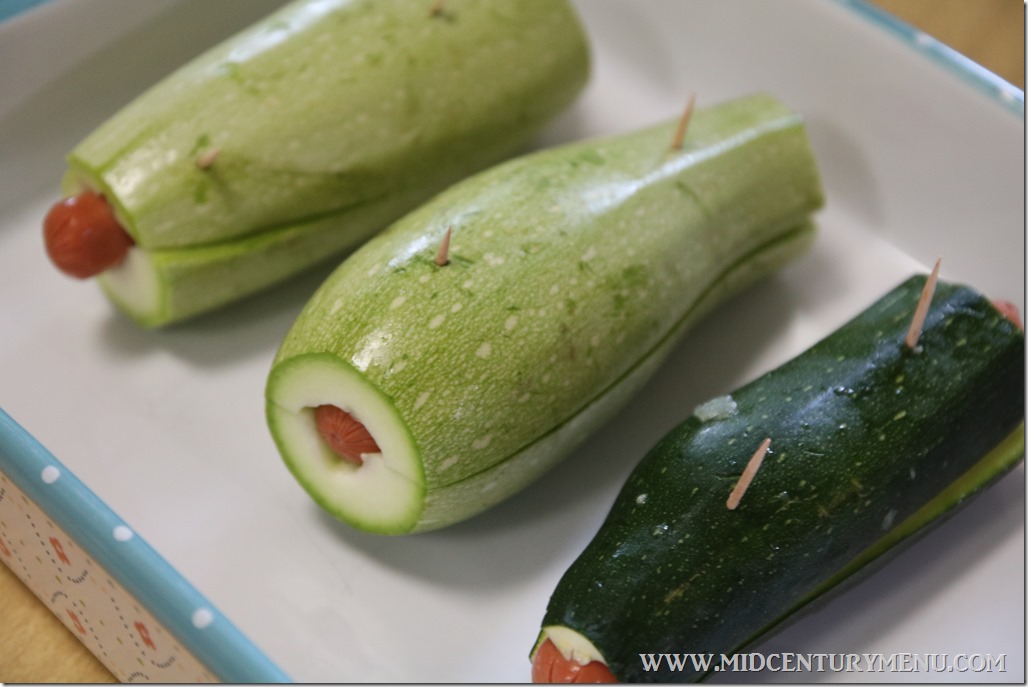 Since we were only making three, I decided the pan I used was too large.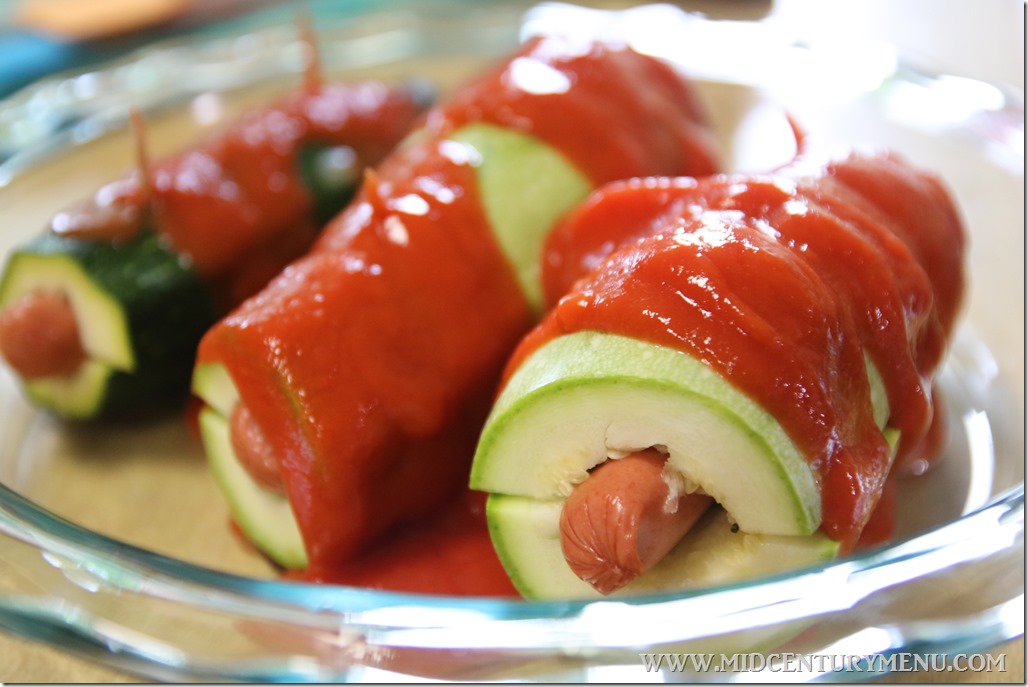 So I moved them to a smaller pan. Then, after I read the recipe more closely, I realized that I didn't need a pan for the oven at all. They were supposed to be cooked on the stove!
Which is why I couldn't be trusted to make anything. Ahh…medication.
Here they are after being simmered for about 25 minutes. That's probably more than they needed, but I wanted them to be on the mushy side since I can't really chew right now. I had to add some water about halfway through to keep the tomato soup from sticking to the pan. We served them over rice pilaf, which seemed like the right thing to do in my vintage-cooking heart. But I'm sure you could take your cue from this recipe and serve them over noodles.
"How does it taste?"
"Good. Like a weenie inside a zucchini."
The Verdict: Surprisingly Delicious
From The Tasting Notes –
I don't think anyone had any doubts that these would turn out edible. But we were surprised to find out they actually were quite good. We ate all of our portions, and then we were sad that we didn't have more. The zucchini turned out a bit smokey and spicy (we used Nathan's bun-length hot dogs, so about half a step up from Oscar Mayer) and the tomato soup actually cooked enough that it lost the canned taste and was actually very good over the rice pilaf. If you aren't a hot dog person, you could easily sub an Italian or Polish sausage or a hot link for the weenie and I am sure it would be delicious. There was actually quite a bit of garlic, bell pepper and onion in the rice, so if you are going to make these you might want to add these either to what you serve these on or to the sauce of the weenies themselves. Overall, a hit!