This week we have some Rice Krispies and some dates baked into pudding form. Because why not?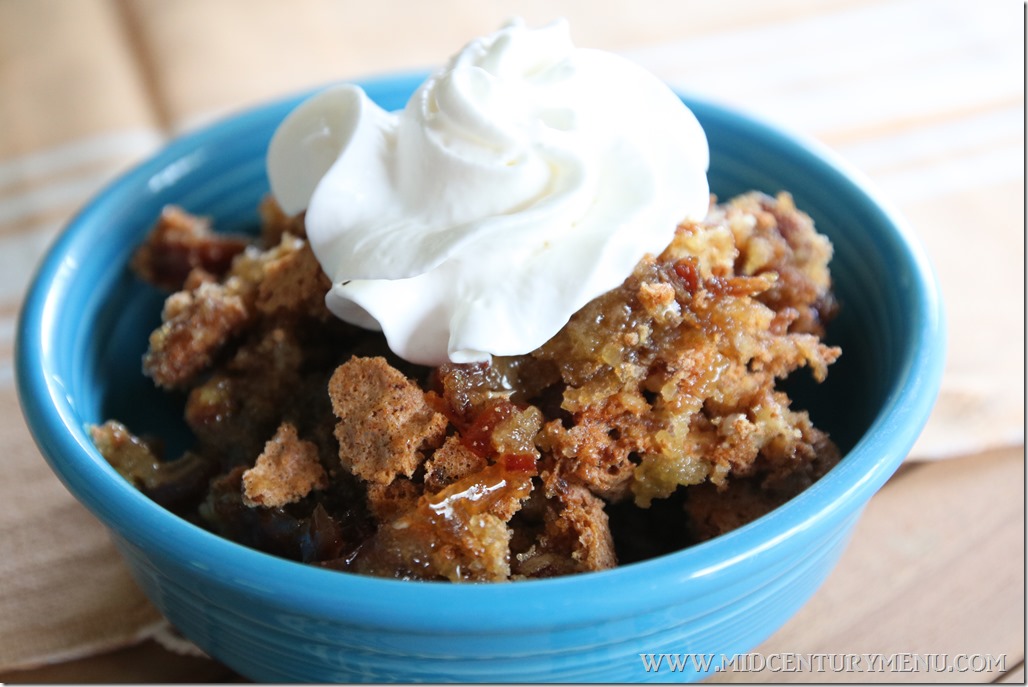 This is Rice Krispies Date Pudding!

Rice Krispies Date Pudding
Ingredients
2 eggs
1 cup sugar
4 teaspoons milk
1 teaspoon baking powder
1 cup Rice Krispies, crushed
1 cup chopped nuts (I used pecans)
1 cup chopped dates
Instructions
Beat the eggs, and add the sugar and milk. Mix the baking powder with the crumbs and add to first mixture together with nuts and dates. Put into a small buttered baking dish and set in a pan of hot water in a 375 degree oven. Bake 40 minutes. Serve cold with plain or whipped cream. (Is also great with ice cream and yogurt!)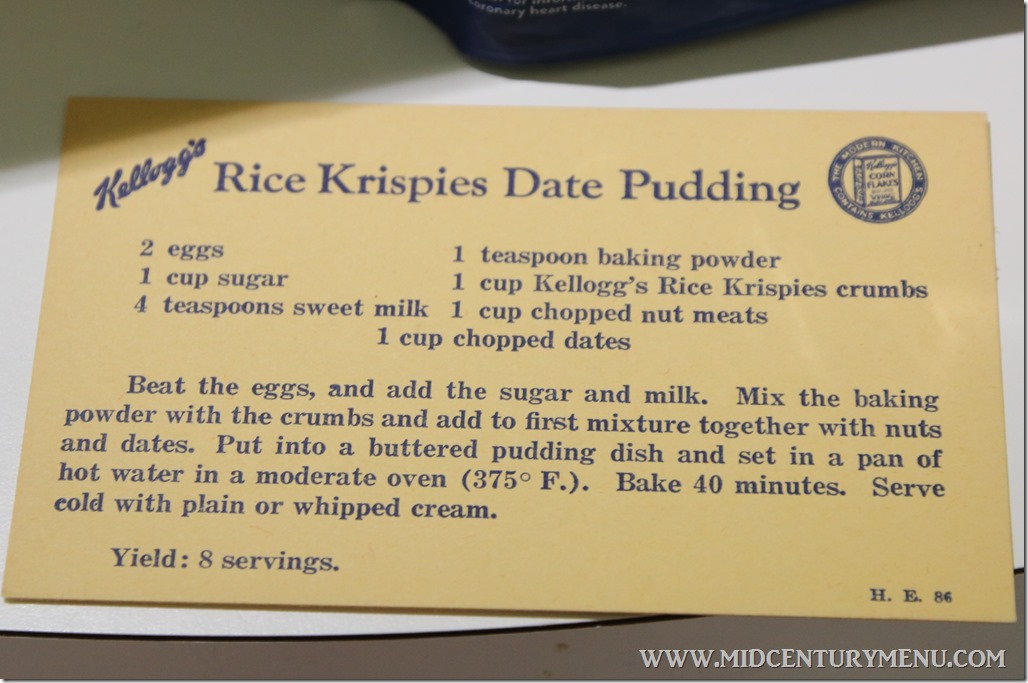 We are going back in time a bit farther than normal this week to the 1920's.  I had some extra Rice Krispies that needed to get used up before they expired, so I scoured my recipe collection for something simple that Alex and I could whip up while T.J. was napping.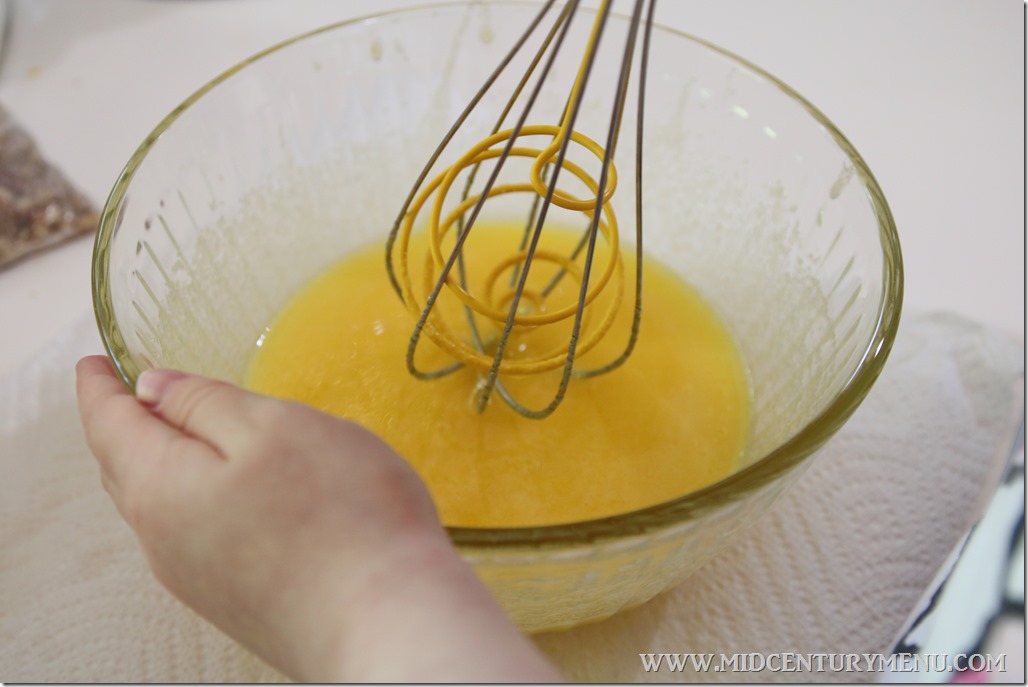 I found this great recipe in some Kellogg's promotional recipe cards from the 1920's. I am always intrigued by vintage dessert "puddings", but hardly ever have an excuse to make one.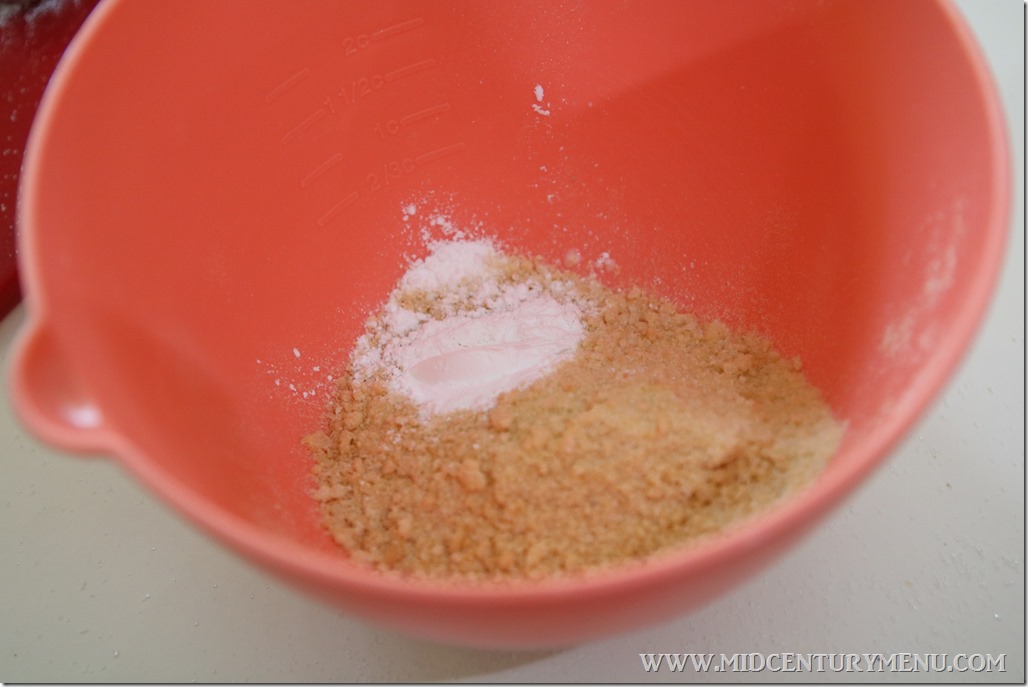 This one was lots of fun and came together really fast.  I had Alex crush up the Rice Krispies and nuts while I cut up the dates. And then we both mixed for a bit and it was together!
If you are wondering, Rice Krispies actually crush superfine very quickly. Alex didn't even need any extra help.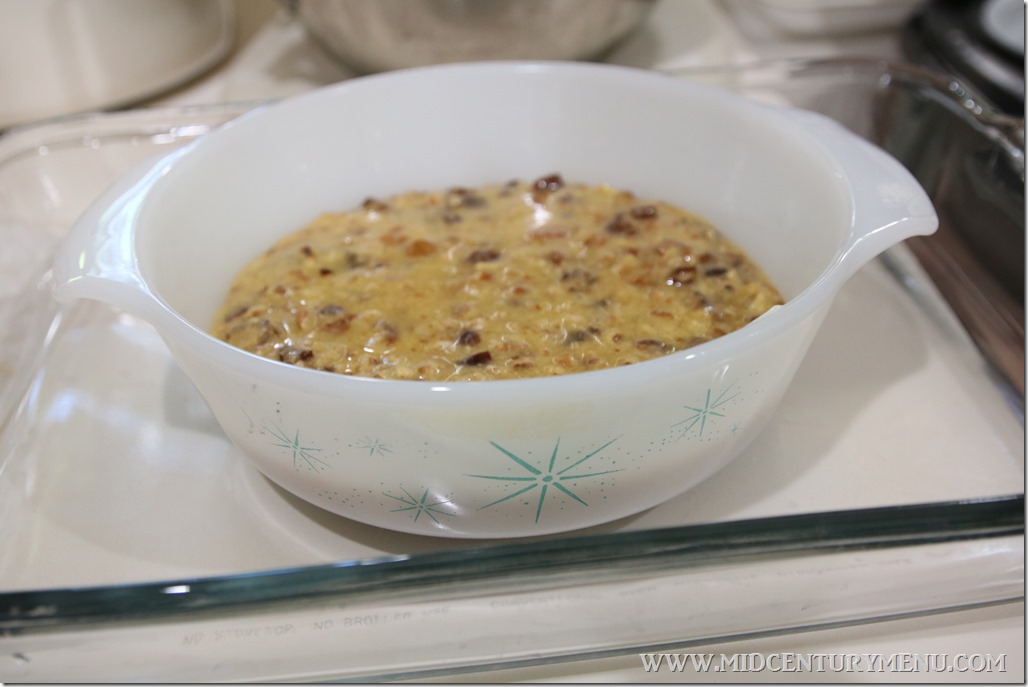 At this point I started to get excited. It smelled and looked really, really good.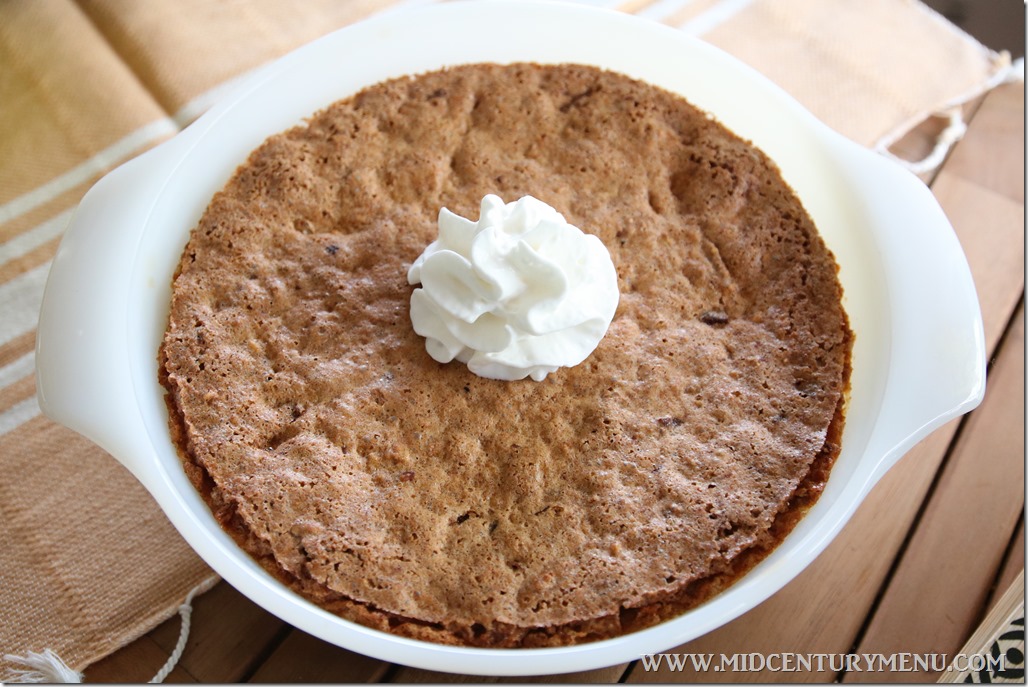 And baked up perfectly!
I was amazed at the texture! I hope this picture can give you a good idea of that it was like. It was a ultra-crunchy crust on top with a thicky, gooey center. It reminded me a lot of soda cracker or Ritz cracker pie (mock apple pie, angel pie, etc.) except with the texture of pecan pie, and you don't have to mess with separating the eggs.
"How is it?"
"Good. This is actually surprisingly good. It tastes like a pecan pie Rice Krispie Treat."
The Verdict: Surprisingly Good
From The Tasting Notes –
A very interesting dessert! I love it when vintage recipes surprise you like this. Overall, this was a sticky, sweet dessert that reminded us both a lot of pecan pie. The great thing was there was no corn syrup in this, the sticky-sweet gooey parts were brought to us by the dates, which I liked a lot because I love dates. (If you are a date-hater, I would probably steer clear of this one.) The flavor of Rice Krispies was there, but wasn't overpowering or even that noticeable. It was the first thing you tasted when you put a bite in your mouth, but it didn't linger. It was there and gone. And as the dessert chilled overnight in the fridge it lost a lot of the Rice Krispie flavor. It also reminded me a lot of a macaron in texture, with a crunchy crust that hid a layer of lovely gooey melty-ness inside. This is going to be a keeper in our house, it's a great quick and easy dessert, especially when we have that last cup of leftover Rice Krispies rattling around in the cereal box!
Update: I put a scoop of this on my morning yogurt instead of granola, and it was amazing!