This week I felt like making something sparkly and pretty, so I remade this Ginger Ale Salad recipe that I originally tested for Glory Days Magazine. Because what's more sparkly than a gelatin?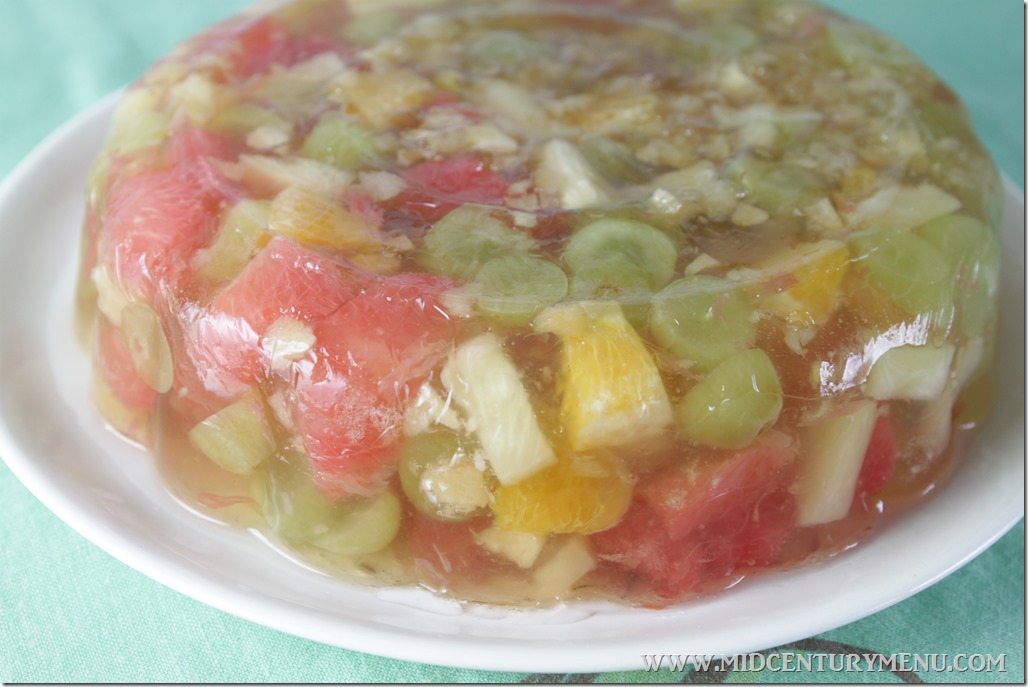 This is Ginger Ale Salad!

Ginger Ale Salad
Author:
Joy of Cooking, 1946
Ingredients
1 envelope (.25 oz or 1 tablespoon) of unflavored gelatin (use 2 if you would like a harder-set gelatin)
4 tablespoons cold water
½ cup boiling fruit juice (the juice from the canned pineapple can be used)
½ cup sugar
⅛ teaspoon salt
2 cups of ginger ale or ginger beer
Juice of one small lemon
1 cup seedless green or red grapes, sliced in half
1 orange, peeled, sectioned and roughly chopped
1 pink grapefruit, peeled sectioned and roughly chopped
½ cup canned pineapple tidbits
½ cup crystalized ginger, chopped finely
Instructions
Soak gelatin in cold water until it blooms. Add sugar to the boiling fruit juice and stir until mostly dissolved, then add the bloomed gelatin to this mixture, and stir again until it is dissolved. Add the salt, ginger ale and lemon juice. Stir lightly to avoid losing the carbonation in the ginger ale. Chill until partially set.
Add grapes, orange, grapefruit, pineapple and candied ginger. Stir and pour into a 5 cup gelatin mold. Refrigerate until firm.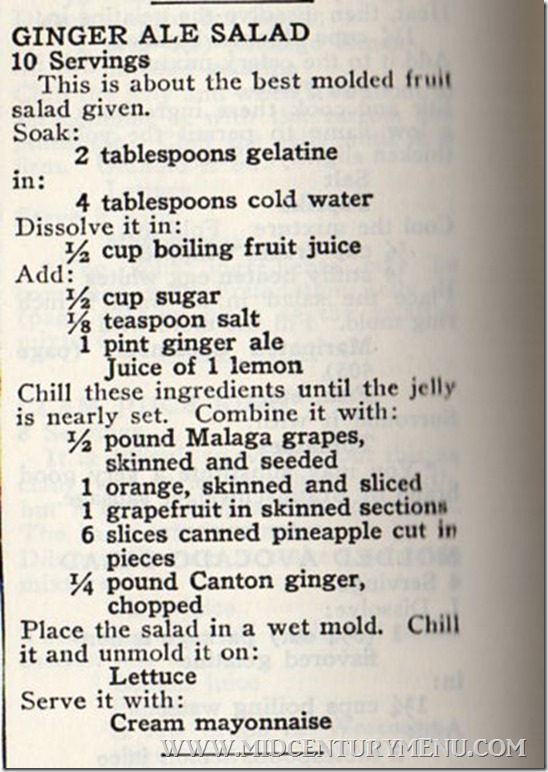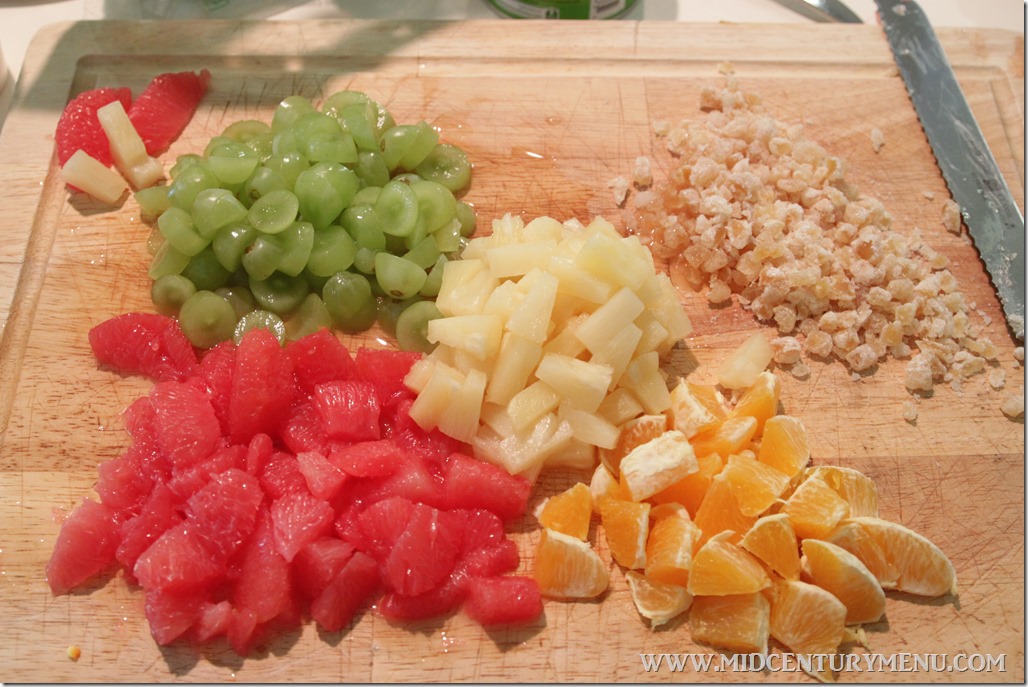 This is a classic salad that introduced the idea of adding carbonated beverages to gelatin salads, which is quite possibly one of the greatest ideas for a sweet gelatin salad since the idea of adding fruit. Though in the books that I've read Fannie Farmer is credited with this original idea, this particular recipe is from the 1946 edition of the Joy of Cooking, which referred to this salad as, "about the best molded fruit salad."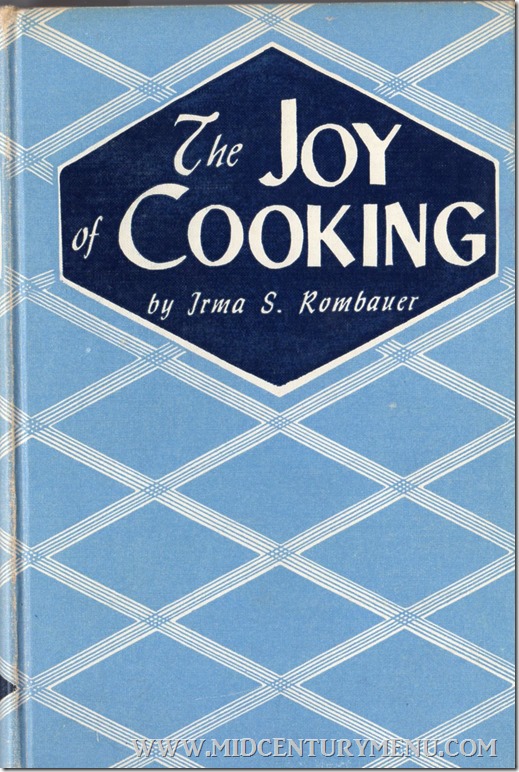 I love the cover of this edition!
The original recipe called for "Canton ginger", which was high-quality crystalized or candied ginger, and recommended that this salad be served on lettuce with a cream mayonnaise garnish. We skipped the mayo, but hey, if you like mayo with your fruit I'm the last person to judge. In this book's defense, it mostly likely refers to a homemade mayo, which was probably very good.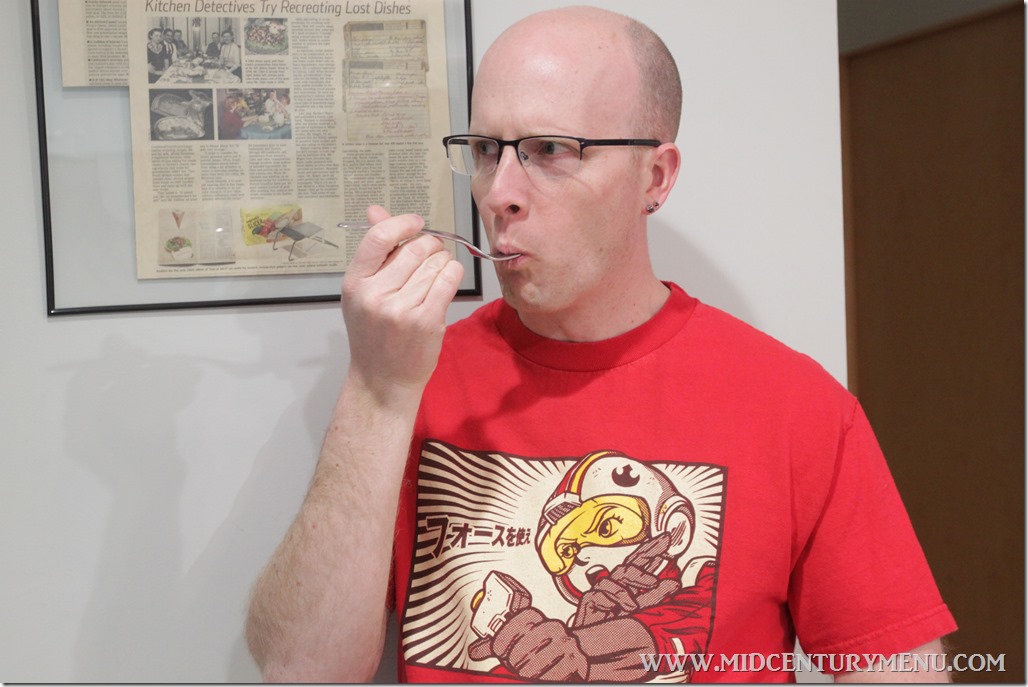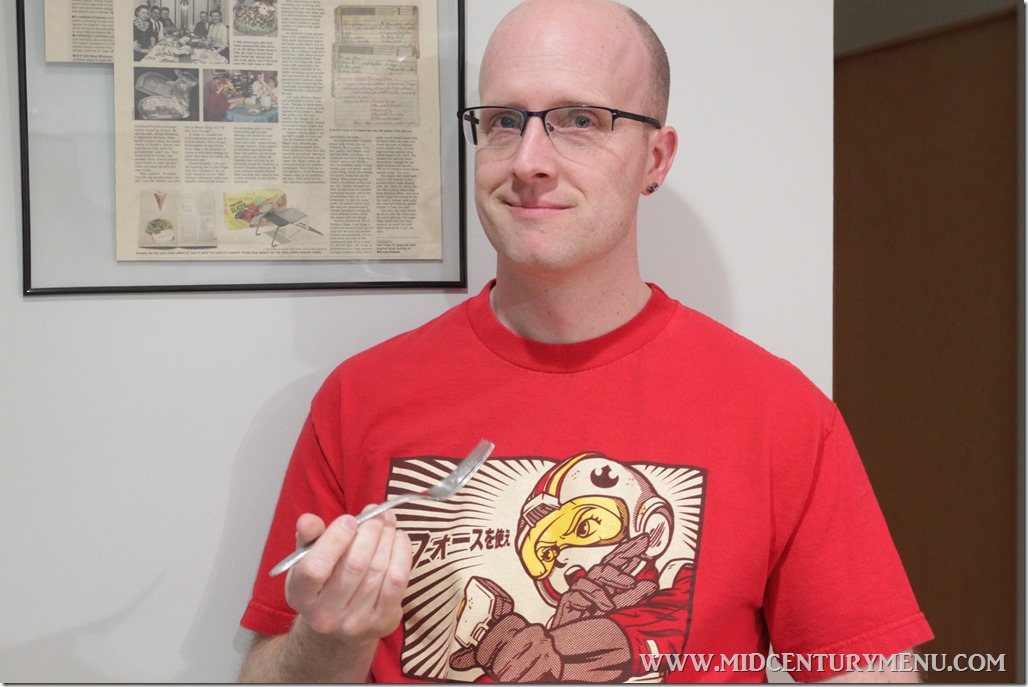 "It's so sparkly. It's fizzing while I'm eating it."
"I know. I was in the mood for some sparkle."
The Verdict: Delicious
From The Tasting Notes –
This is a really fun gelatin. I love the fizzy sparkle of ginger ale and the spiciness of the candied ginger. The mix of canned and fresh fruit is also a nice touch. This thing was packed with fruit, so if you like a little more wiggle in your gelatin, feel free to reduce the fruit. Otherwise really good. Nothing really to complain about here!