This week we have a very exciting recipe installment from the Master of Horror himself, Vincent Price.
These are Crab Puffs!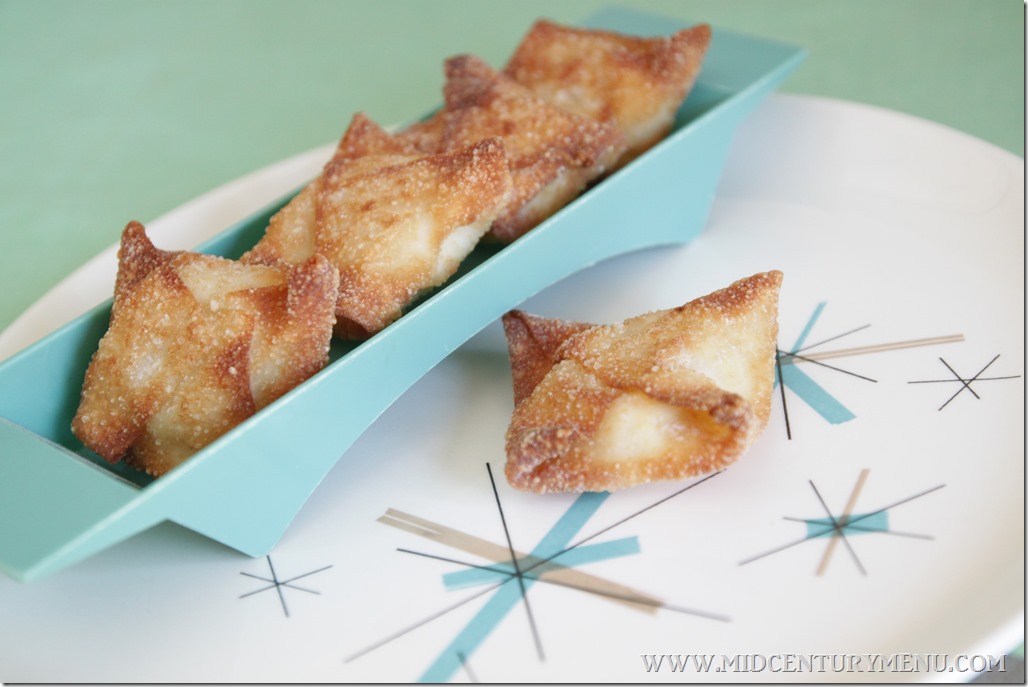 Bwahahahahah!!!!
That's…supposed to be an evil laugh. Not nearly as good as Vincent's!
Crab Puffs
Author:
A Treasury of Great Recipes - from The Hana-Maui Hotel, skightly updated by Mid-Century Menu
Ingredients
frozen Won Ton Skins
cream cheese
crabmeat
soft bread crumbs
sesame oil
oil
Chinese Mustard
Instructions
Combine 8 ounces cream cheese, 7 - 8 oz crabmeat (fresh or from a pouch or plastic container) 2 tablespoons soft bread crumbs, ¼ tsp seasame oil.
In a skillet, heat one inch oil to 370 degrees.
Put 1 teaspoon of filling into a won ton skin. Fold over one corner to center. Moisten other corners with cool water and fold into center, one by one. Press edges to seal.
Deep fry about 3 minutes or until lightly browned and puffed. Turn after 1½ minutes.
Drain on absorbent paper and serve hot with Chinese mustard.
Now, I know that Halloween was last week, but the lovely Jenny from Silver Screen Suppers contacted the members of our blogger food daredevil group not that long ago to inform us that one of the greatest mid-century cookbooks of all time,
The Treasury of Great Recipes
by Vincent & Mary Price, is being reissued for it's 50th anniversary.
And that we were invited for a Cookalong
. To say that I was excited about this was an understatement.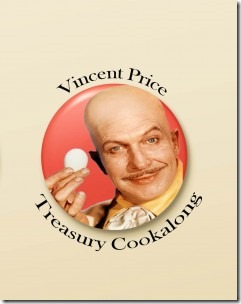 Besides being a fantastic and completely-convincingly creepy actor, Vincent Price and his wife Mary were renowned gourmands who put out a number of really great cookbooks. If you remember, I actually participated in a Vincent Price Cookalong a few years ago, with great success. (I still add bitters to my meatloaf!) Since then, I have kind of been obsessed with my copy of Great Recipes. For those of you not lucky enough to own a copy yet, (I say "yet" because the anniversary reprint should be on your Christmas list if you have any interest in vintage movies, food or restaurants!) this book is more that just a cookbook. Most of the recipes in the book are from restaurants around the world, which are a fantastic glimpse into fine dining (and some regular old good eats) at the time. Especially because it includes actual copies of the menus from these restaurants! Some of them even have prices. Check out this amazing example from the book, the breakfast menu from the Santa Fe Super Chief passenger train. A menu from a train.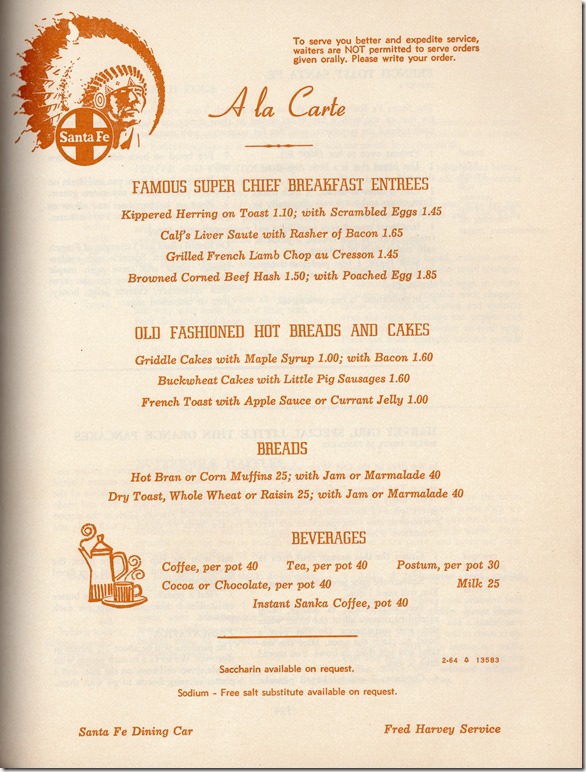 As a lover of food history, I found the menus to be fantastic reading. And then to be able to make some of the dishes on those menus? It's pretty much food-nerd heaven. On top of that, the introductions to the recipes that Price wrote are just as interesting as the recipes themselves. Put all this fascinating food history together with color (!) photos of dinners and lavish food spreads, and you have one of the best mid-century cookbooks ever. And that isn't an exaggeration. When this book was out of print it was very hard to find, and copies usually commanded a pretty penny unless you lucked out and found one while thrifting.
It was a hard choice, but the recipe I picked was Crab Puffs from The Hana-Maui in Hawaii.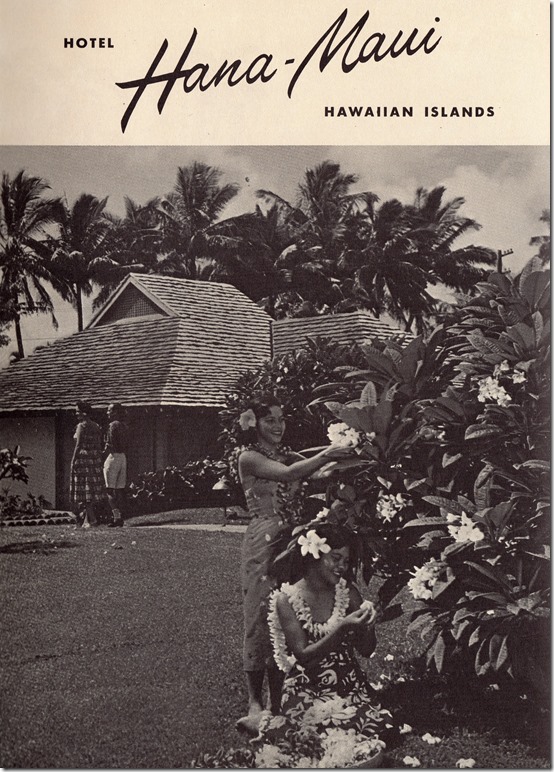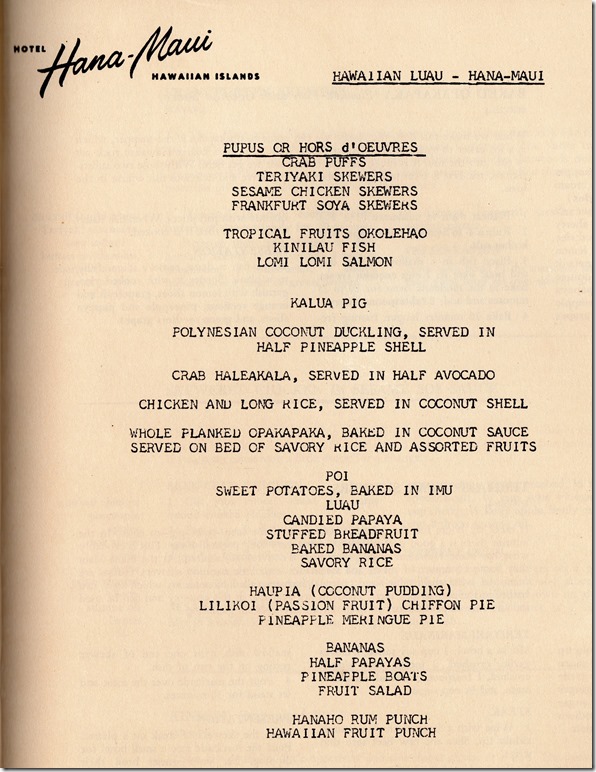 And yes, this photo and menu are from the book!
I am a big Crab Rangoon/Crab Puff/Crabmeat Cheese appetizer eater. Crab is some of my favorite seafood, and I always order Crab Rangoon appetizers at Asian restaurants, so I have to admit I mostly picked this one for myself.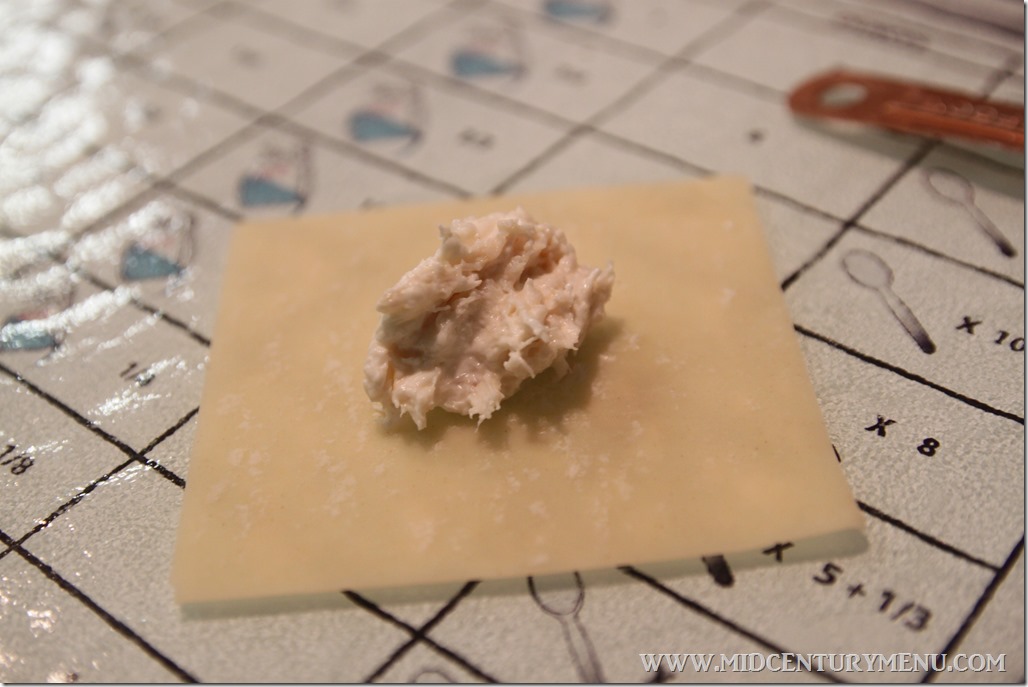 I was intrigued by the simplicity of this recipe. Normally I add a bunch of seasonings and extras when I make something like this at home, so I was interested to see what they were like without all the extras.
Though, I have to point out that I left out the MSG that was suggested in the recipe.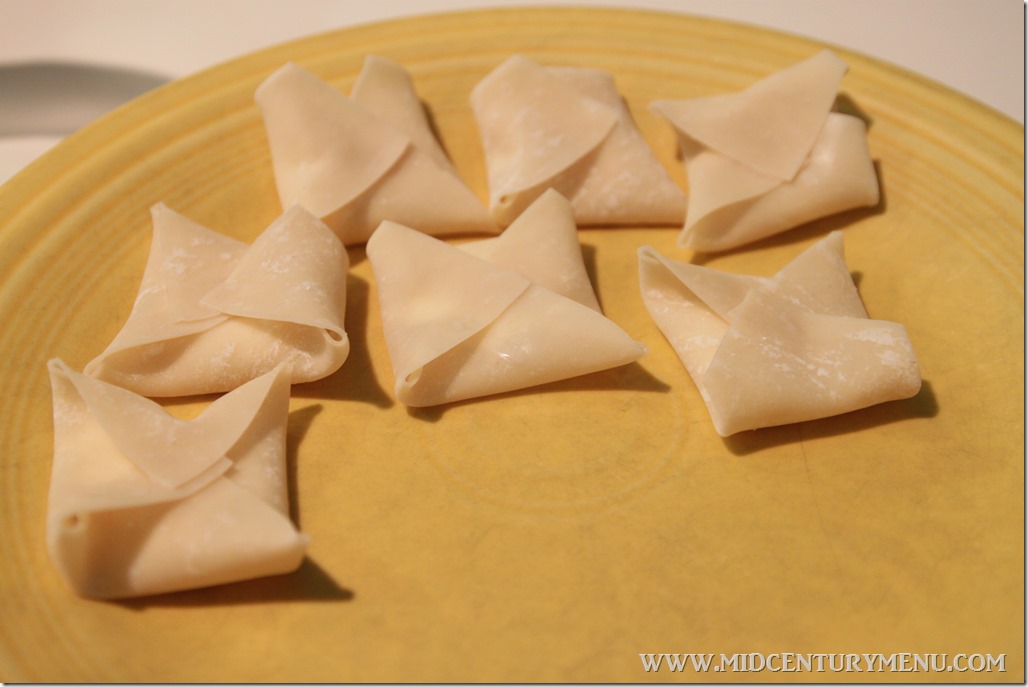 Neat little crab pockets. Cute, aren't they?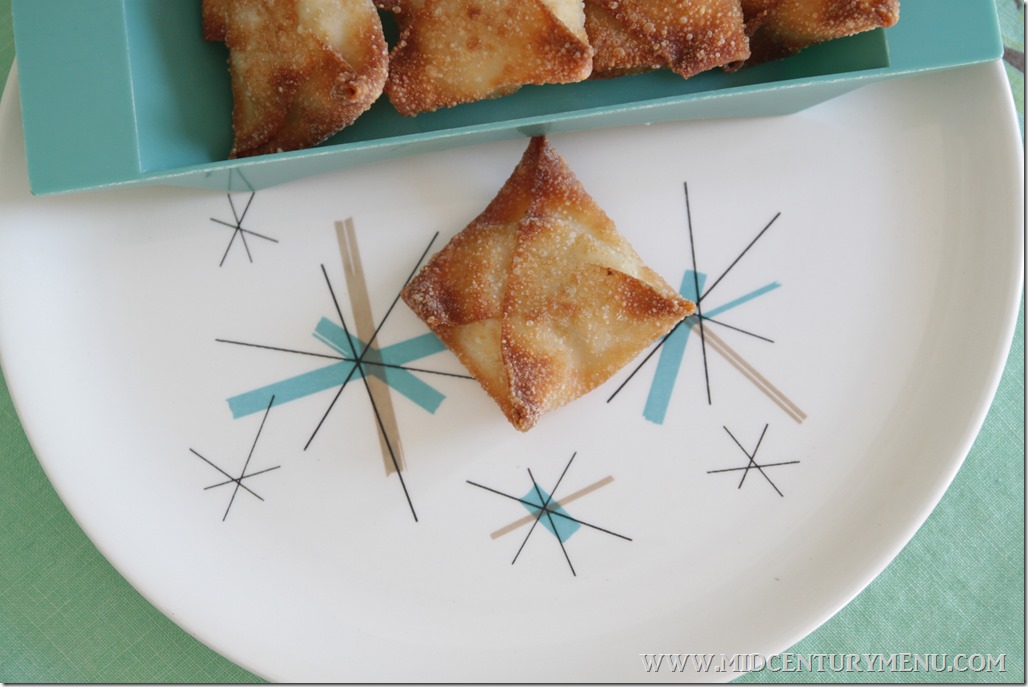 Done!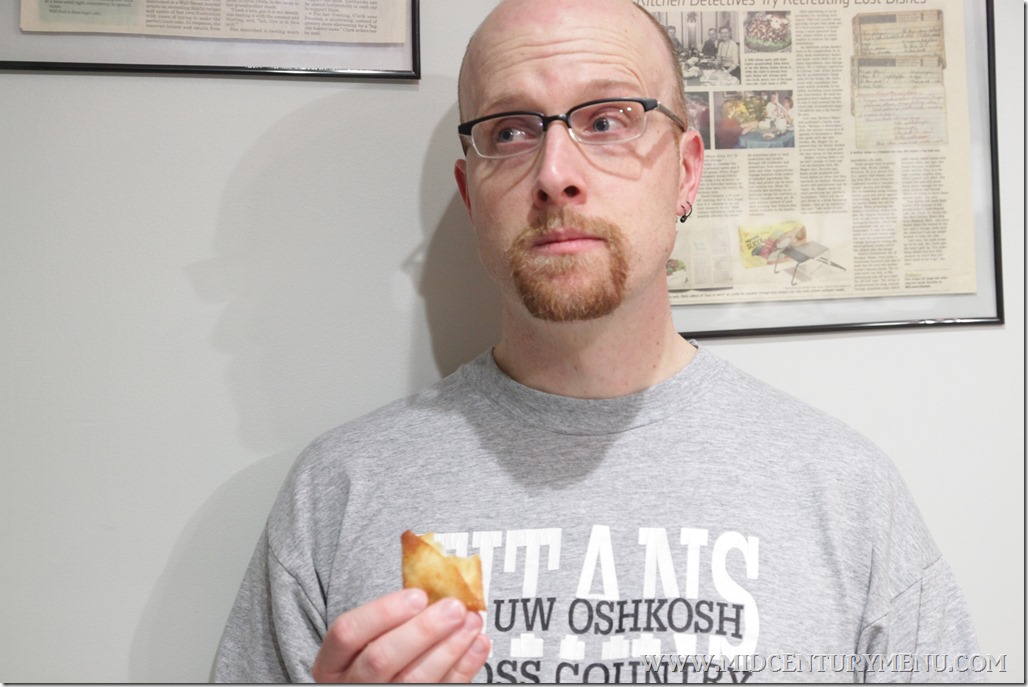 "So, how are they?"
"Good! Very crab-y. They have fewer spices that I am used to, but I think I like it."
The Verdict: Simple but Delicious
From The Tasting Notes –
These were very good. I thought I would miss all of my extras and spices, but since the thing I like most about these sort of appetizers is the crab, it ended up being a good thing. So if you like the taste of crab, then these are for you. That being said, if I were going to make these again, I don't think I would use canned crab meat. In the 50 years since this book has been published, the average grocery store has improved their offerings of fresh fish and seafood, so next time I think I am going to splurge and buy the best crab meat I can. Also, these were not very sweet, so if you are looking for that sweet restaurant taste, these are not for you. These would be good paired with a curry or cilantro-type dipping sauce (I think crab and cilantro are a great combo!).
Thanks so much to Jenny from Silver Screen Suppers for organizing this great Cookalong. These Vincent Price-themed shindigs are some of my favorite!
Follow along with more fun here:
Vincent Price Treasury Cookalong with Silver Screen Suppers
Cooking With Vincent Website – for details of celebratory events in the USA
Vincent Price Legacy Tour – for details of celebratory events in the UK
Amazon Page for the 50th Edition of A Treasury of Great Recipes
Treasury of Great Recipes Facebook page
Silver Screen Suppers Facebook page
Mid-Century Menu Facebook page   [maxbutton id="1″]