If you like sugar (and I mean really, really like sugar) then have I got a pie for you!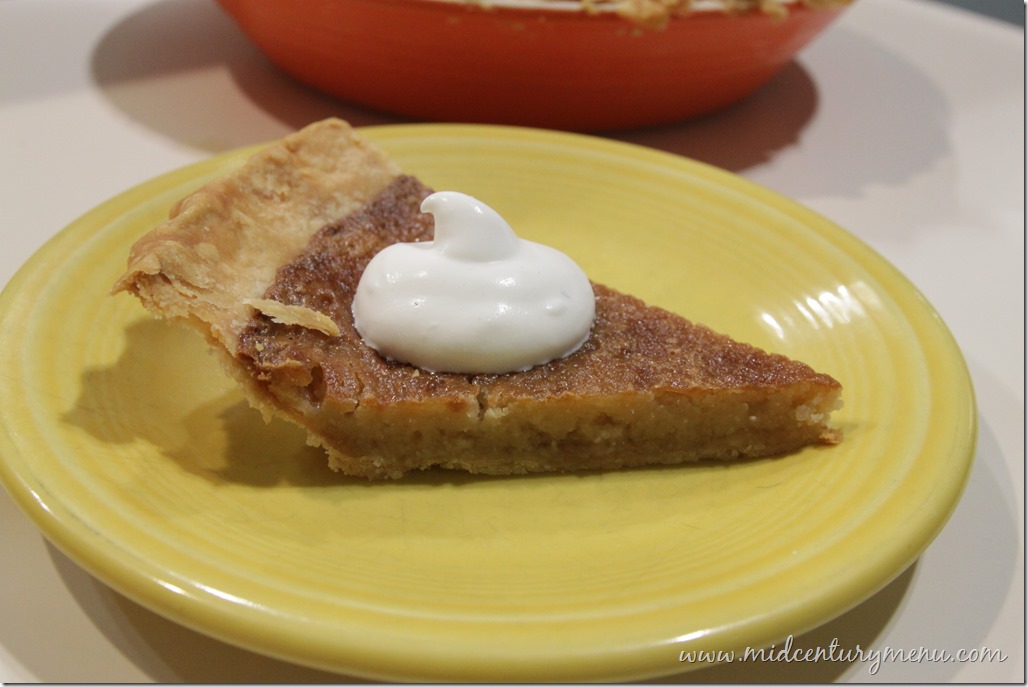 This is Maple Sugar Pie!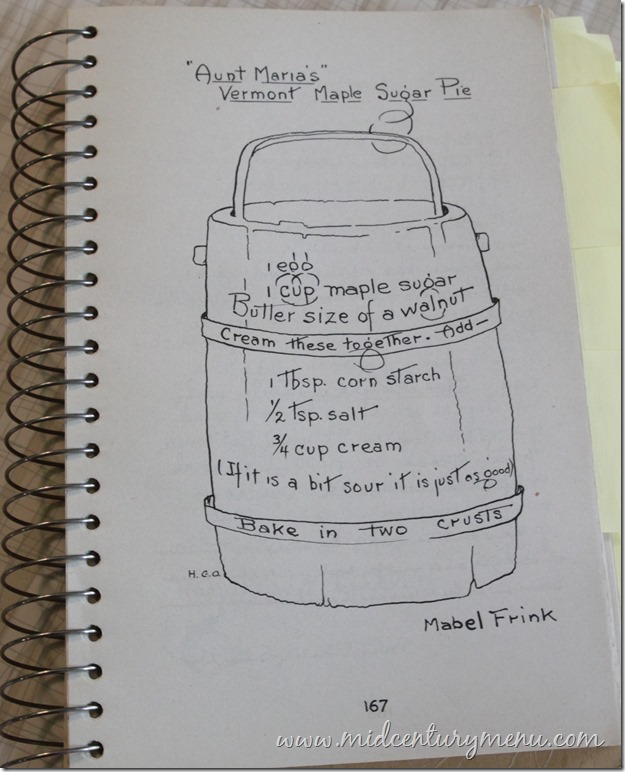 Aunt Maria's Vermont Maple Sugar Pie
Author:
Mabel Frink, 1945
Modernized Version!
Ingredients
1 egg
2 Tbls unsalted butter
1 cup maple sugar
1 Tbls corn starch
½ tsp salt
¾ cup cream
One unbaked pie crust
Instructions
Cream together maple sugar and butter. Add egg and continue beating until lightened in color.
Add corn starch, salt and cream. Beat until combined.
Pour into unbaked pie shell and bake at 350 degrees for 45 minutes or until center is set. The degree of doneness is up to your personal taste. For a darker, more caramelized pie, bake longer. For a light-colored, barely set pie, decrease the heat to 325 degrees and bake until set.
This recipe come from one of my all-time favorite cookbooks, From Ridgewood Kitchens, which was published in 1945.  It's a church cookbook (you know how I feel about those!) and many of the recipes have great illustrations to go along with them.
Speaking of recipes, how great is this recipe? "Butter the size of a walnut"? No temperature or baking time mentioned? Classic, classic American recipe format. I love it!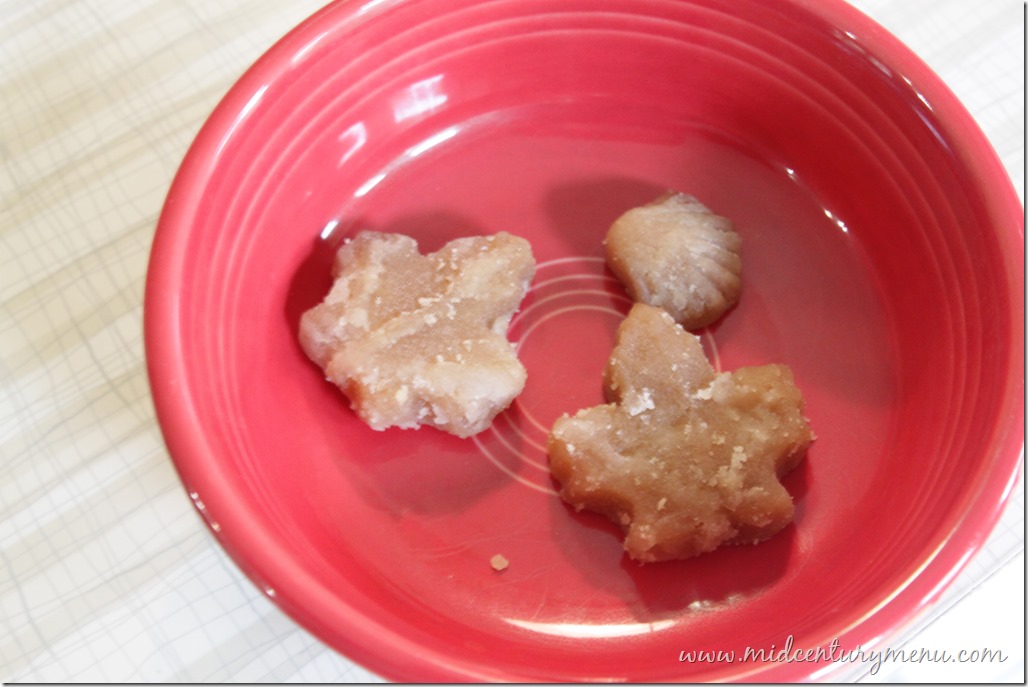 In case you are wondering, maple sugar is NOT brown sugar. It is sugar made by boiling down maple syrup, and most often you will find it molded into little maple leaves. Maple sugar is also very, very sweet! I tasted some straight and it was far sweeter that brown sugar. We bought ours at our local farmer's market, but it is also for sale in specialty shops and some mega marts.
Ours was also a little hard, so I microwaved it for a few seconds before creaming it with the butter. (I took the butter straight from the fridge so it wouldn't melt due to the warm sugar.)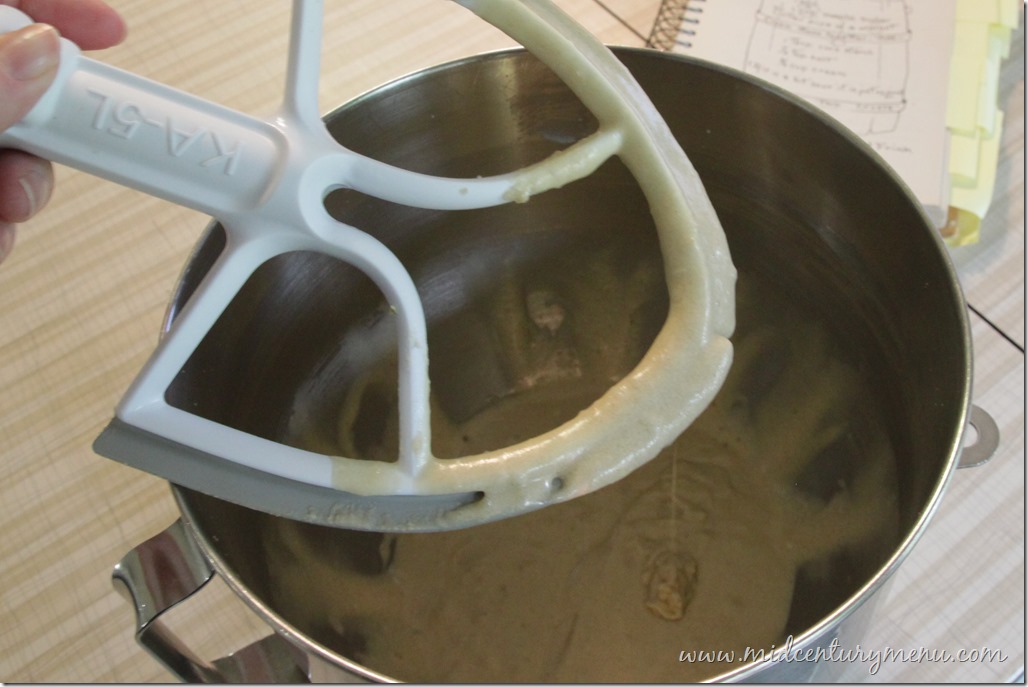 This is how the filling looked before baking! It smelled heavenly.
I did a little bit of research on this pie because, well, it seemed like a really interesting pie! I found out that this is actually a favorite in Quebec. Though most of the pie recipes I found were made with maple syrup rather than maple sugar, so maybe the maple sugar version is the Vermont version??? In any case, on to the baking!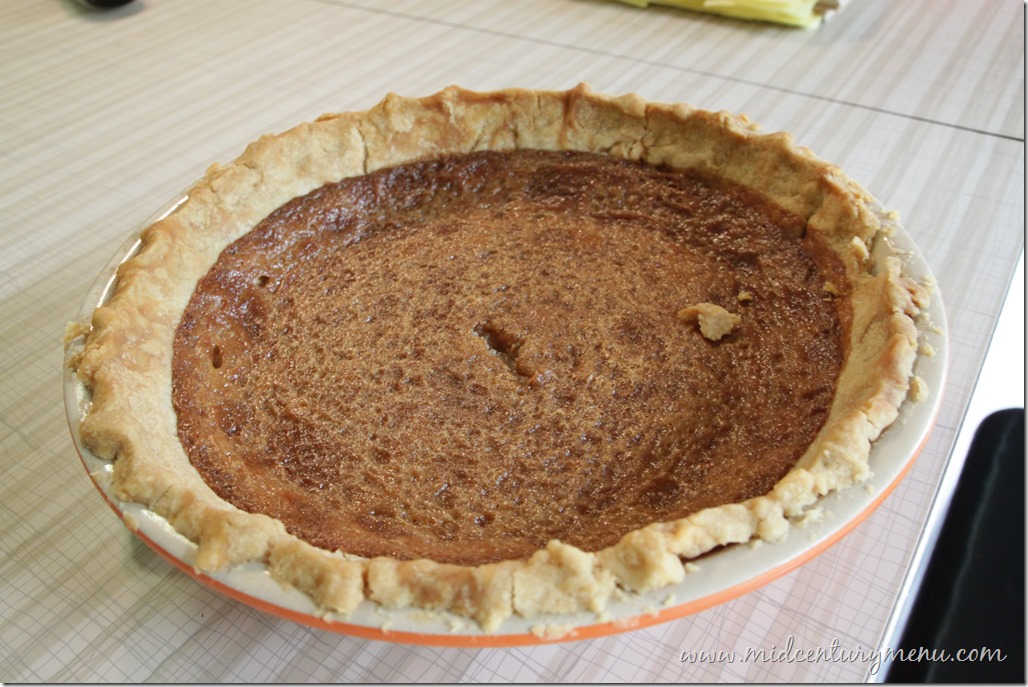 Just look at this thing! So brown and gooey!
Funny story – the original recipe says to bake it in two pie pans, so I was assuming that I could use a deep dish pie plate and bake it all together and get a deep dish Maple Sugar Pie. Which worked, kind of. I was easily able to fit it in the deep dish shell because there wasn't that much filling at all. This recipe would be just fine in a regular pie shell and NOT split into two pies. So I made a pie with a bit of extra crust at the top, which isn't a problem. Everyone loves crust!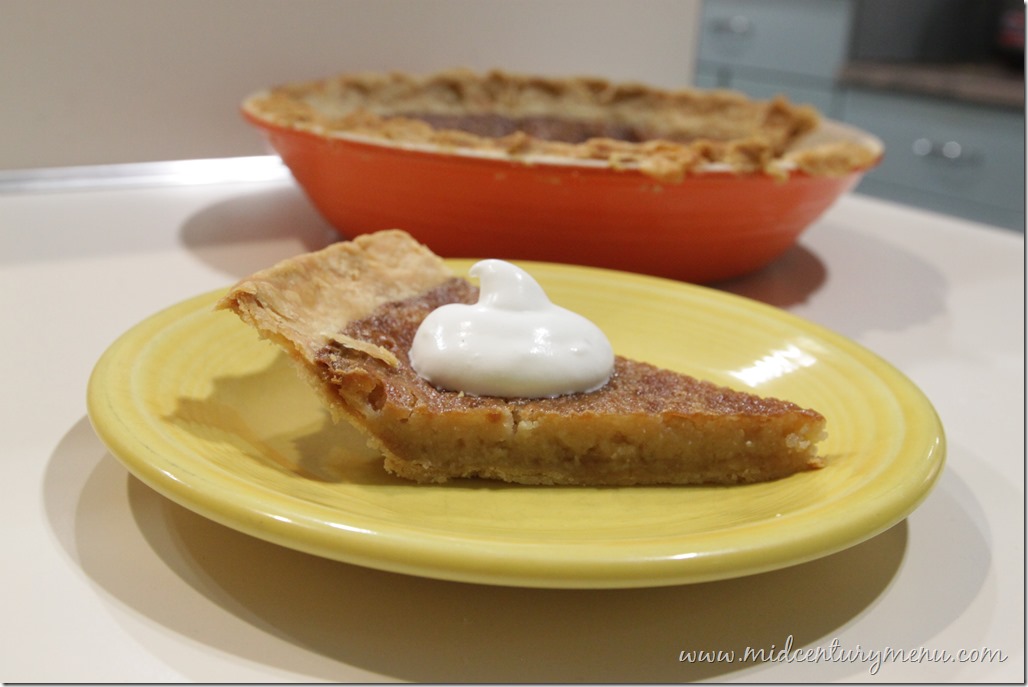 Isn't that little bit of whip cream cute? Tom and I whipped it BY HAND. Why? Because we are insane. As Clarissa from Two Fat Ladies would say, it was pure masochism.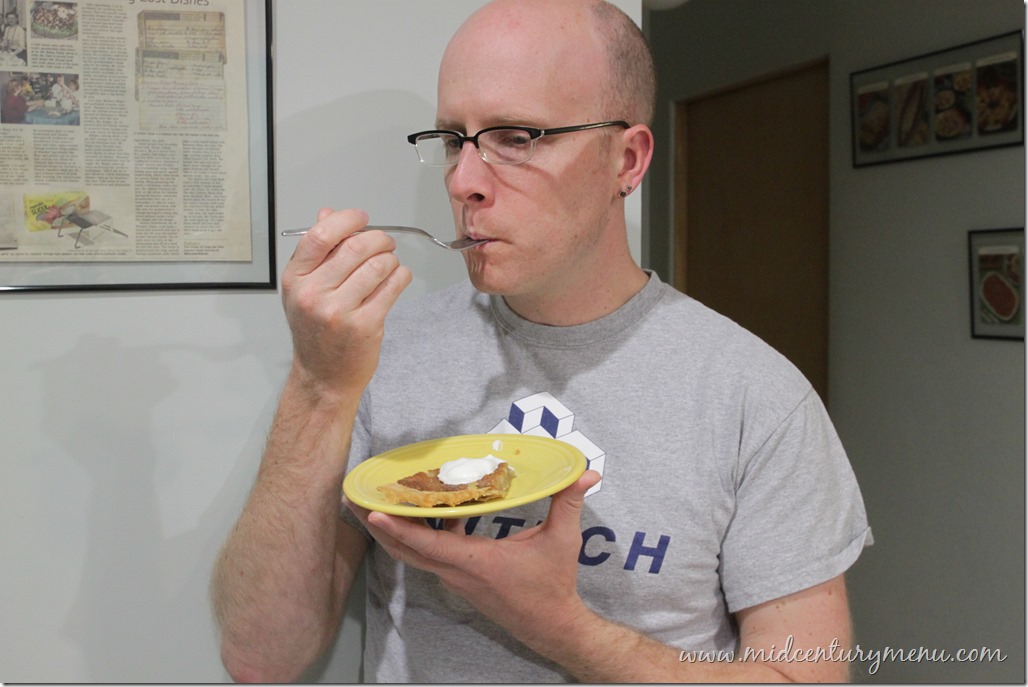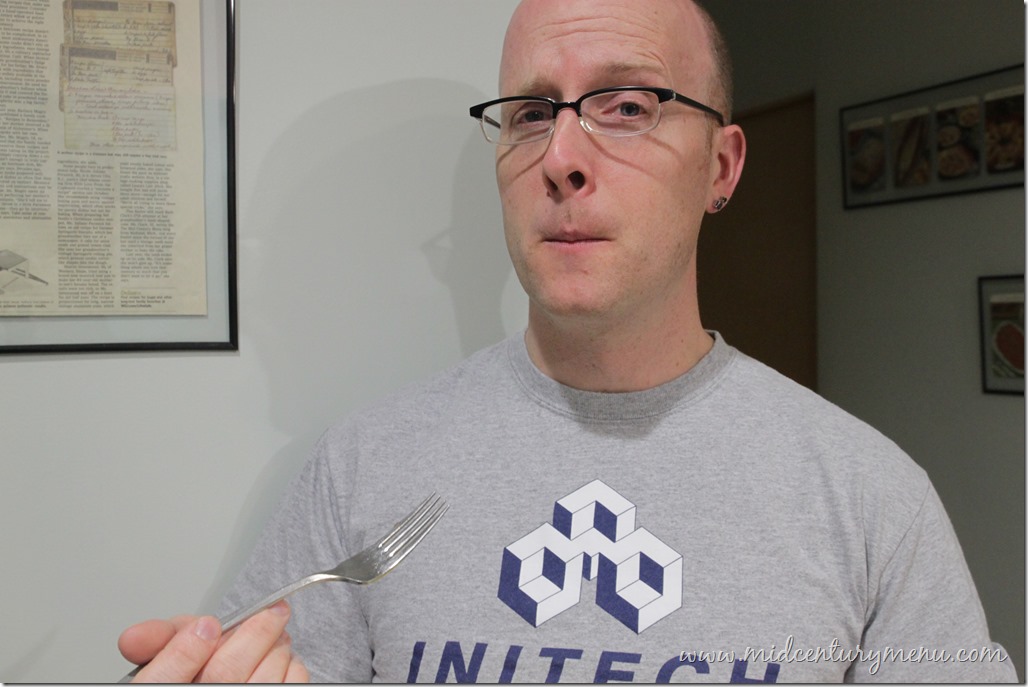 "So…sweet…"
"Is it bad."
"No, not at all. It's just…concentrated maple deliciousness. In pie form."
The Verdict: Deliciously Concentrated Maple Pie
From The Tasting Notes –
If you like toffee, or butter pecan ice cream, or ANYTHING where sugar and butter have been browned to their utmost deliciousness, then this pie is going to make you get down on your knees and weep. It was seriously that good. The pie was dense and thick, kind of like a cross between pecan pie without the pecans and buttermilk pie.  The flavor was equal parts maple and caramel. It was also incredibly rich and sweet and if you aren't big into sweet then this may not be the pie for you. It was great with whipped cream and probably would be fantastic with ice cream. And if you put pumpkin spice ice cream on this thing, it will probably be one of the most intense dessert experiences of your life.