If you are looking for a lovely lamb cake with a soft, light texture and a great crumb, then I suggest this cake!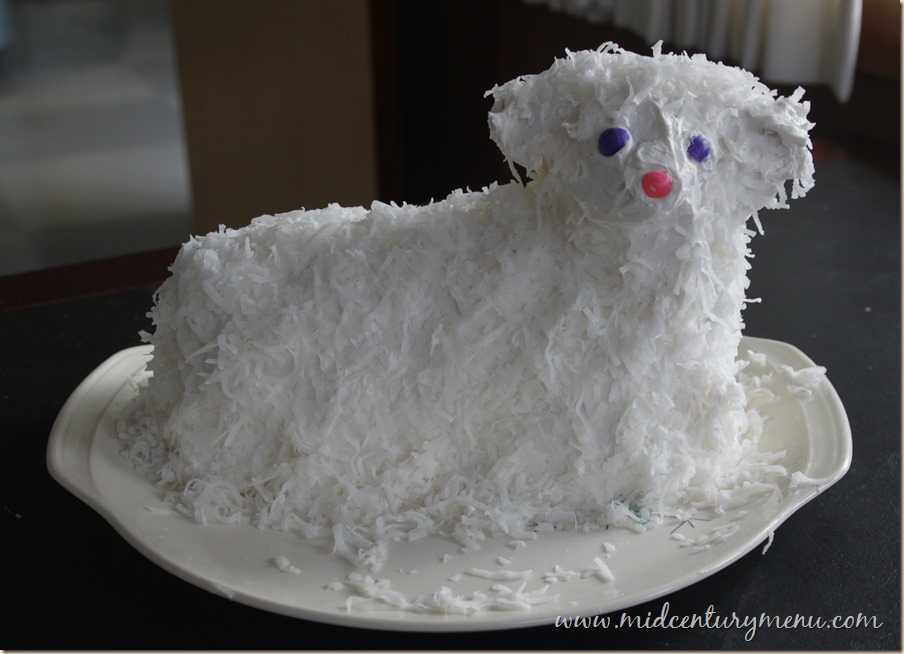 This recipe came from a 1968 issue of Mail Box News from Maid of Scandinavia, and it is excellent.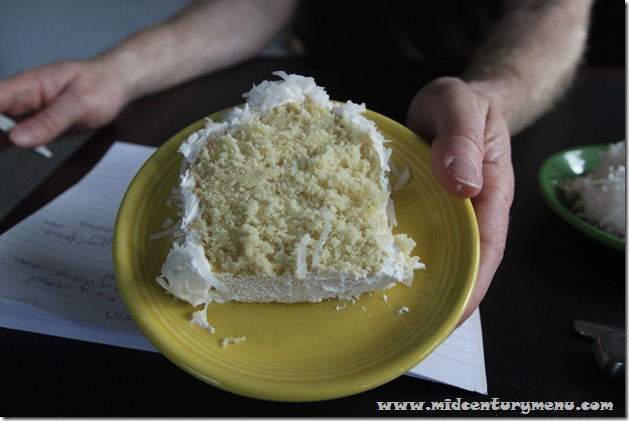 Look at how delicious this looks! The cake is moist with a good level of sweetness. It is also the  most "cake-like" of all the lamb cakes we made.

Nun's Golden Butter Cake
A great lamb cake with a lovely soft texture, moist and light. Good level of sweetness. The most "cake-like" of all the lamb cakes we make.
Ingredients
1 cup butter
1½ cups sugar
3 egg yolks and 2 whole eggs
3 cups AP flour
2½ tsp baking powder
½ tsp salt
¾ cup whole milk
2 tsp vanilla
½ tsp almond extract (optional)
Instructions
Blend butter, sugar, eggs and egg yolks until creamy.
Sift together dry ingredients, add them to the batter alternately with milk mixed with flavoring.
Bake in lamb mold for 55 mins at 350 degrees. Bake extra cupcakes at 350 degrees for 25 mins.
Notes
This recipe makes enough for one vintage lamb cake plus 6 cupcakes
This paired very well with Fluffy Frosting, which is a sort of shortcut buttercream. You can see above how fluffy the frosting turned out, and it went really well with coconut, even though you could totally serve it without. If you use unpasteurized egg whites for the frosting, make sure you cook your frosting to 160 degrees before you remove it from the stove.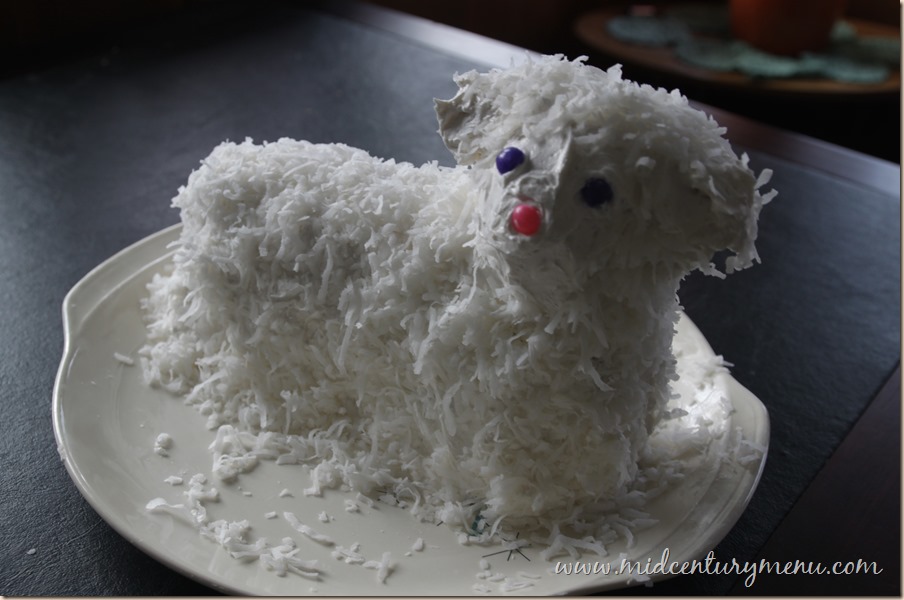 Very good and not too sweet. Pairs well with cake and wouldn't need any coconut.
Ingredients
5 egg whites (raw shell or pasteurized egg whites in the carton)
2 cups sugar
1/2 tsp cream of tartar
6 T cold water
2 cups shortening
2 tsp vanilla
2 tsp butter flavoring (optional)
Instructions
Place egg whites, sugar, cream of tartar and water in top part of double boiler and beat until very thick. (If using raw shell eggs, make sure mixture reaches 160 degrees) Take off water and place aside, covering bowl with a damp, cool cloth.
Place shortening, vanilla and butter flavor (if using) in large mixing bowl. Beat until fluffy. Add the cooled egg white mixture, about 1 1/2 cups at a time, and beaut until nice and creamy. if you want a stiffer frosting, add 2 cups of powdered sugar before adding egg white mixture.
Makes enough to frost 2 lamb cakes.
Notes
Since the egg whites do not get hot enough in this recipe to cook to the safe temperature, when you make this you have to be sure to cook the frosting to 160 degrees or use pasteurized eggs whites from the carton.
http://www.midcenturymenu.com/2013/03/best-lamb-cake-nuns-golden-butter-cake-with-fluffy-frosting/
2012 The Mid-Century Menu - http://www.midcenturymenu.com