I am bringing you an early post this week, because I made a pink Valentine's Day cake!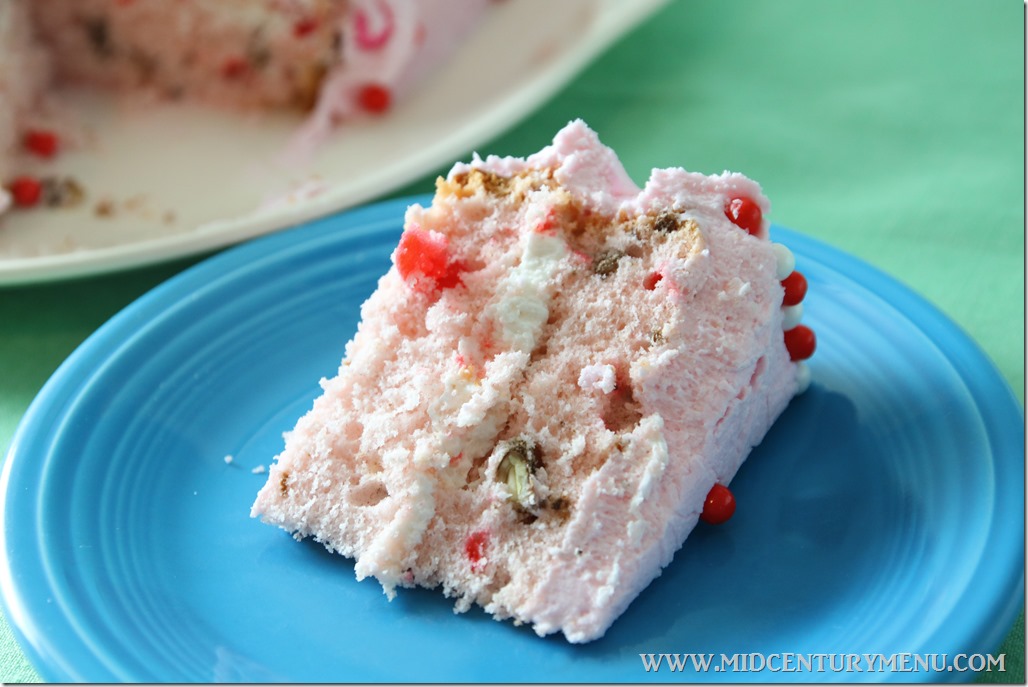 This is Sweet Story Cake!

Sweet Story Cake
Ingredients
For Cake:
2½ cups sifted cake flour
1½ cups of sugar
3½ teaspoons baking powder
1 teaspoon salt
½ cup shortening
¾ cup milk
¼ cup maraschino cherry juice
1 teaspoon vanilla
2 teaspoons almond extract
4 egg whites, unbeaten
18 maraschino cherries, well drained and finely chopped
½ cup walnuts or pecans, finely chopped
For Frosting: (I doubled this)
2 Tablespoons shortening
2 Tablespoons butter
1 teaspoon vanilla
½ teaspoon almond extract
½ teaspoon salt
4 cups sifted confectioner's sugar
9 Tablespoons scalded cream
Red or pink food coloring
Instructions
For Cake:
Sift flour, sugar, baking powder and salt into mixing bowl. Drop in shortening. Combine milk and maraschino cherry juice and add ¾ cup of this liquid. Add flavoring extracts and mix with mixer on low for 2 minutes (100 strokes by hand).
Add remaining liquid and egg whites and beat for another 2 minutes. Fold in cherries and nuts. Bake in two 9-inch pans or two heart-shaped pans at 375 degrees for 20 to 25 minutes. (If you pour all the batter in one pan, bake at 350 degrees for 45-50 minutes)
When cool, cut layers with heart shaped pattern, if you didn't use a heart-shaped pan. Spread with frosting, and outline a short Valentine's message with a toothpick and fill in letters and outline of cake with sugar pearls.
For Frosting:
Combine shortening, butter, flavorings and salt and blend well. Beat in ½ cup sugar. Add hot cream alternating with remaining sugar, beating well after each addition. Add only enough cream to make a nice spreading consistency. Add a few drops of red or pink food coloring to tint frosting a delicate pink before spreading on cake.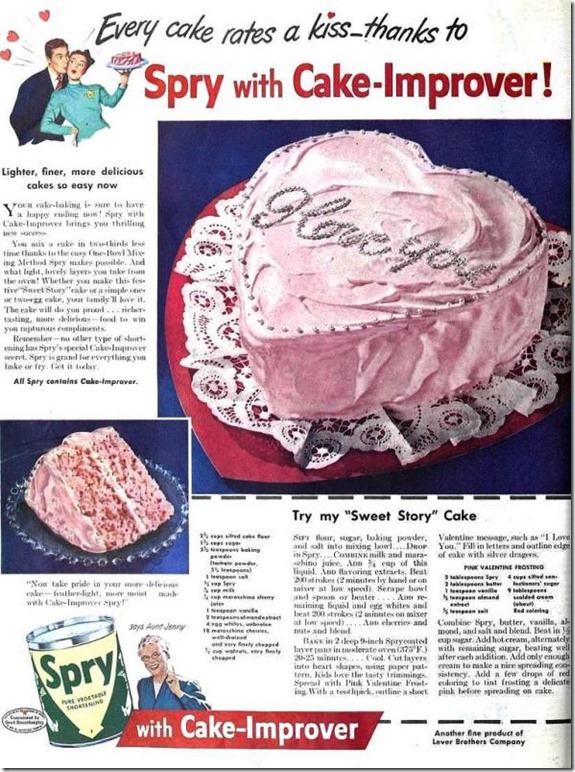 This is a really fun cake, and I was excited to give it a try. I was doing some research on this cake, and I kept turning up all of these references to it being a couple's cake, one that was made for wedding and anniversary cakes as well as Valentine's Day. One recipe note even said they had for their wedding, and then made it every anniversary for 40 years!  I think this particular cake first appeared in this Spry ad for Valentine's Day in 1948, but while I was digging through all my vintage Spry goodies and pamphlets, I saw a lot of early versions in Spry's advertising leading up to this cake, including one that had a similar cherry-flavored cake but added some cherry-flavored frosting as well.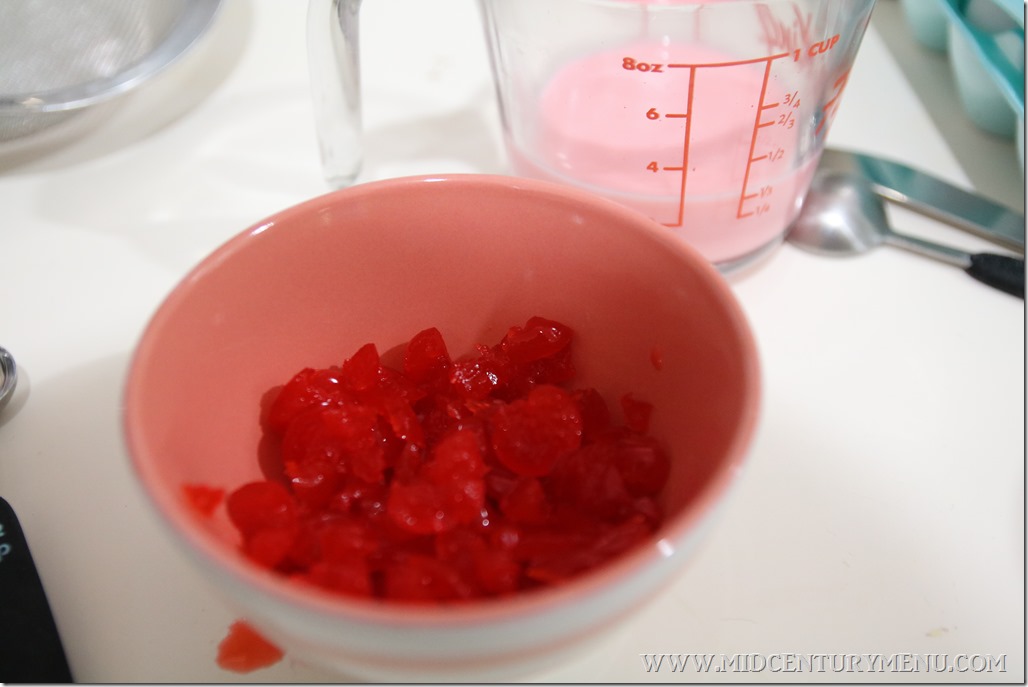 In any case, I originally ran across this recipe in a Maid of Scandinavia Mail Box News magazine, where someone had written in to request this recipe in the 1960's after they had misplaced theirs. The reader response to the request was huge, and so many people sent in a response that they didn't even have room to mention everyone by name who sent the recipe in. I thought that was so neat that it was such a memorable and well-loved cake. It must have been a hugely popular cake in it's time.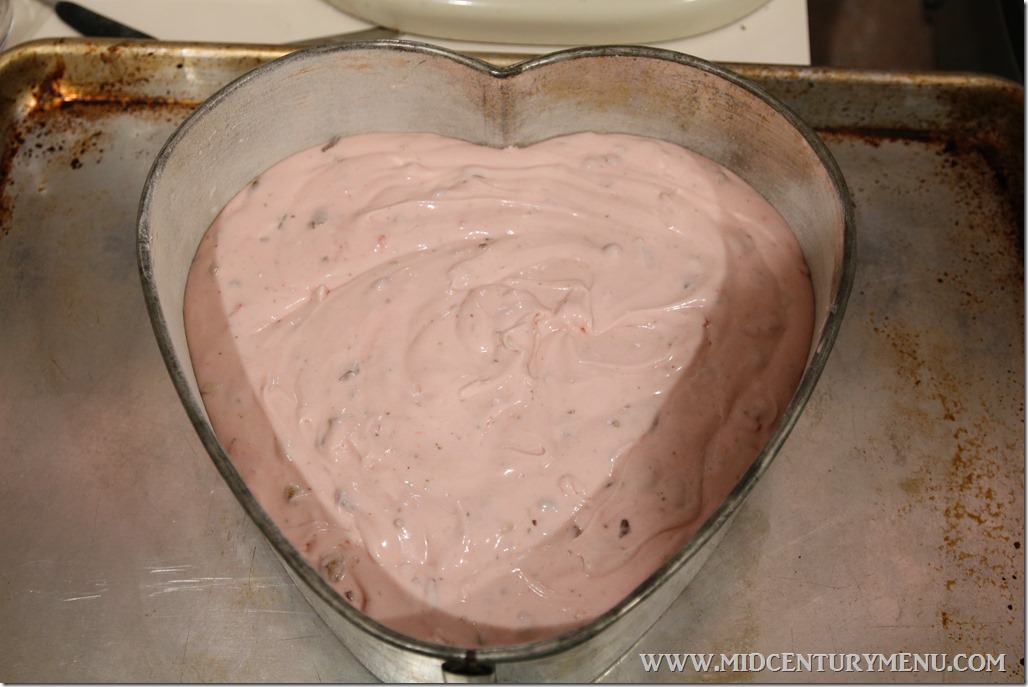 Just a quick note about pans: The original recipe calls for baking in round pans and then carving out heart-shaped layers. The Mail Box News version calls for two heart-shaped pans.
I am lucky enough to own a spring form heart pan that I inherited from my grandmother. You can barely see it at the bottom of the above photo, but the two sides come together and then a clip slides over the raised edges of the two separate sides to make a pretty excellent and fool-proof heart shape.
Plus, I like to think about all the heart-shaped cakes my grandmother probably made my grandfather with this pan when I use it.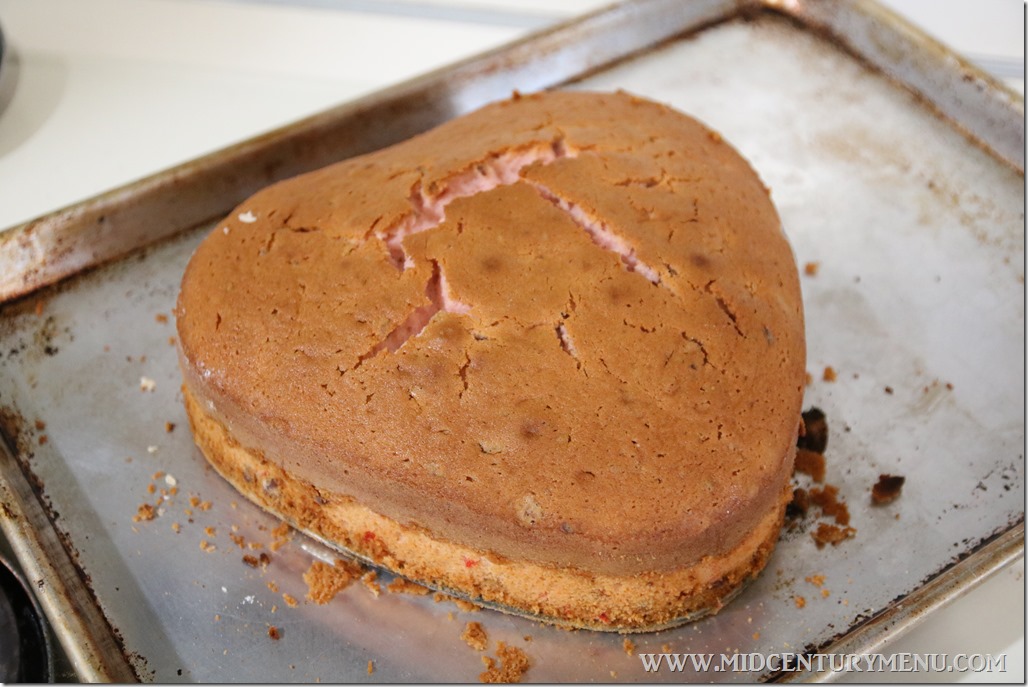 I poured all my batter in at once and baked it for a total of 48 minutes. It popped out of the pan like it was ready to go.
I've made a couple of these Spry cakes before, with the non-creaming "Spry"  method, and I have to say that they do have a very fine, soft texture. But they can be a bit on the dry side, depending on the flavor of cake you are making. The chocolate ones tend to be a bit dryer, for some reason. If you are a regular baker, I would suggest giving these cakes a good brushing with simple syrup. If you have no idea what simple syrup is, try to get the frosting on your cake as soon as it is cool enough. After you cut it, make sure that you press some plastic wrap up against the cut side and try to keep the cake under a cake dome if you can to keep it from getting too dry. If you put it in the fridge, it will dry out faster.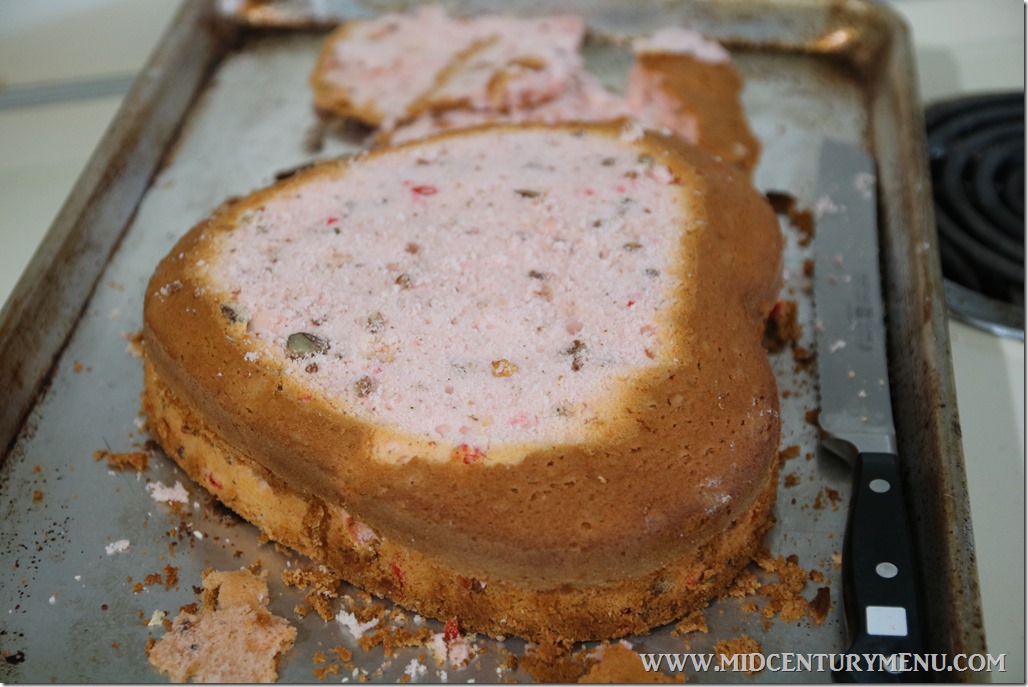 A little leveling and layer-splitting and we were ready for frosting!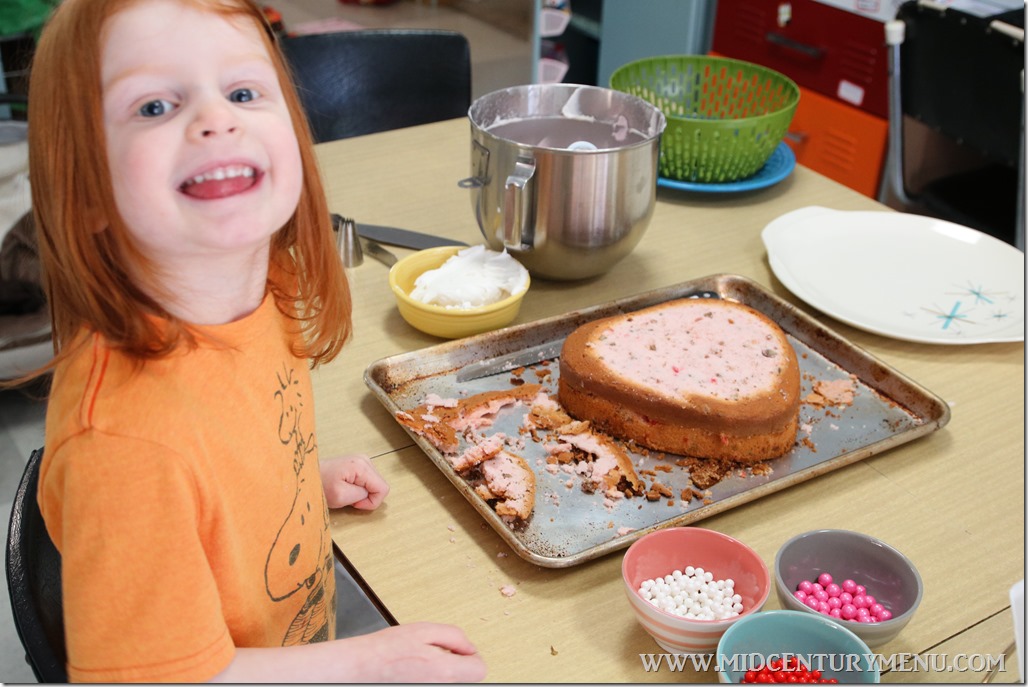 And a three-year-old! Notice the bowls. I couldn't find silver dragees in any of my grocery stores, so we had to make do with what I could find – some sugar pearls and some pink Sixlets candy.
Oh, and I doubled the frosting recipe. I thought I would use the extra for piping on top, but I have a heavy hand with frosting and I think my heart pan is on the larger side, because I ended up with only a small amount of extra frosting from a double batch.
And it was mysteriously eaten when my back was turned.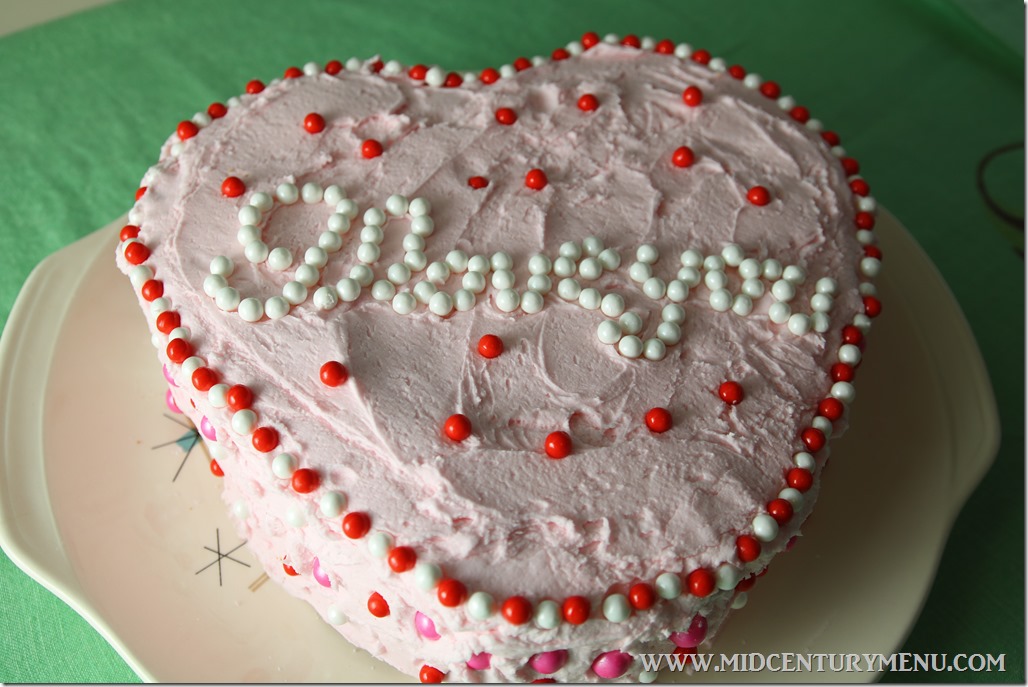 I'd give us a good, solid "C" for effort. My advice to you is to forget about the little silver dragees, or pearls, or Sixlets, or what have you and just hit it with a piping bag and some extra cherries. Or, if you have no piping skills, you could put the frosting in a ziploc bag, cut off the tip with scissors and then just shoot the frosting directly into your mouth. Or your kids' mouths, or your husband's. You know, whatever you want. It's your Valentine's Day.
But seriously, writing on top of the cake would be much easier.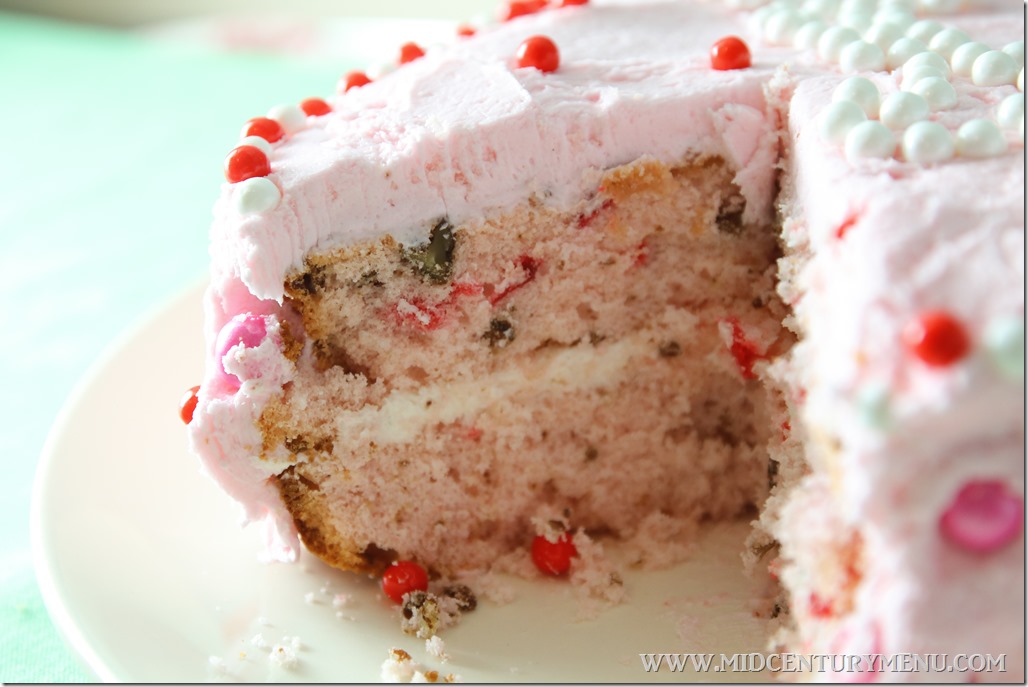 I digress. And Tom wants his cake.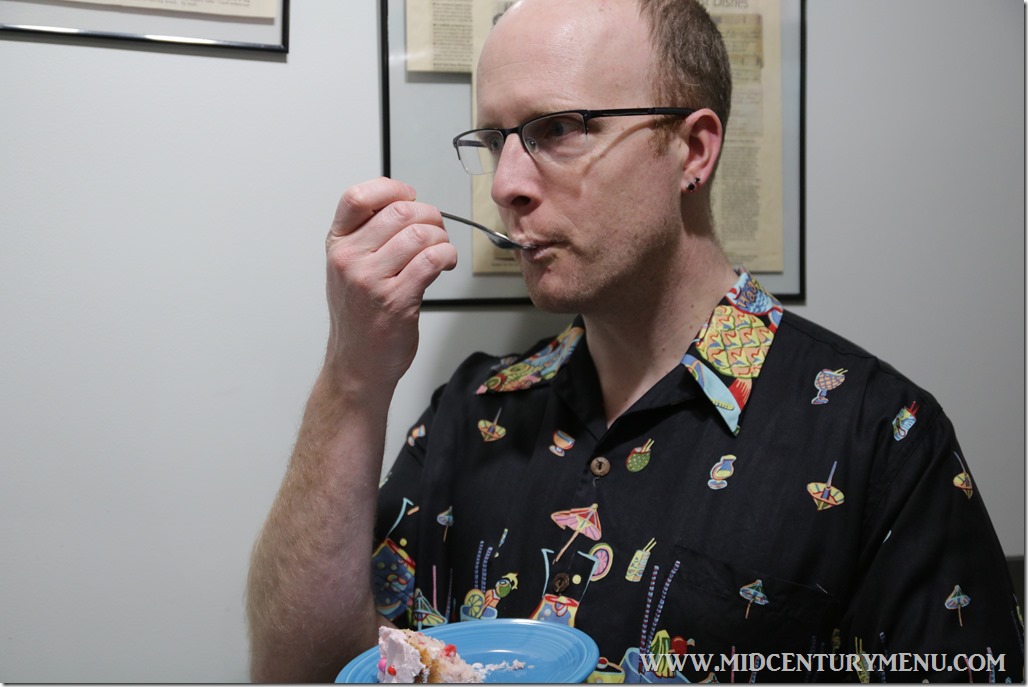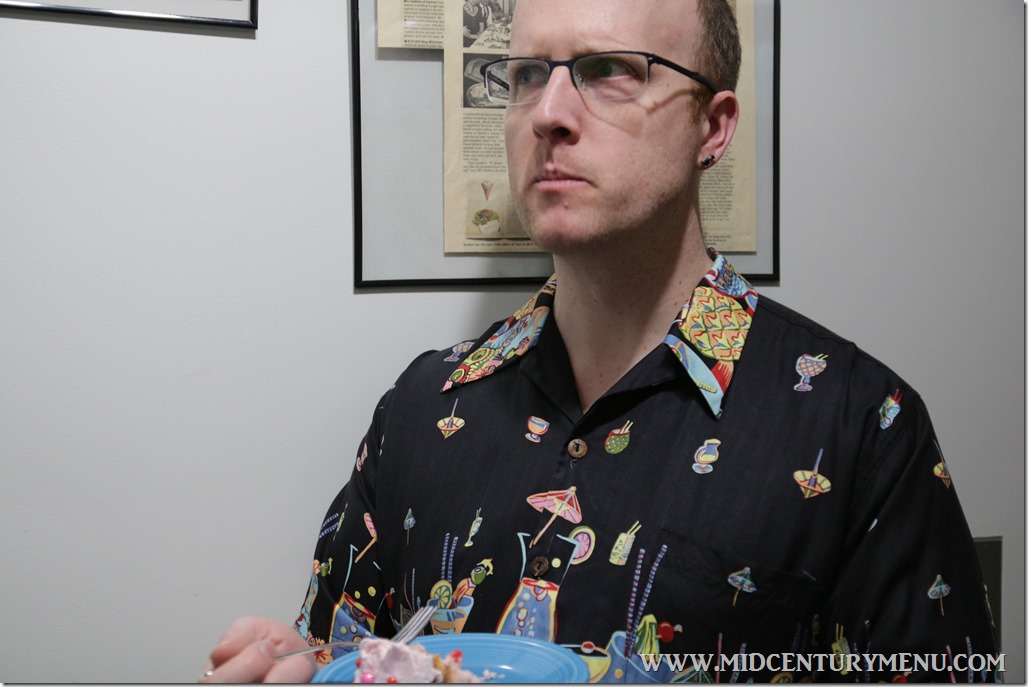 "So, what do you think?"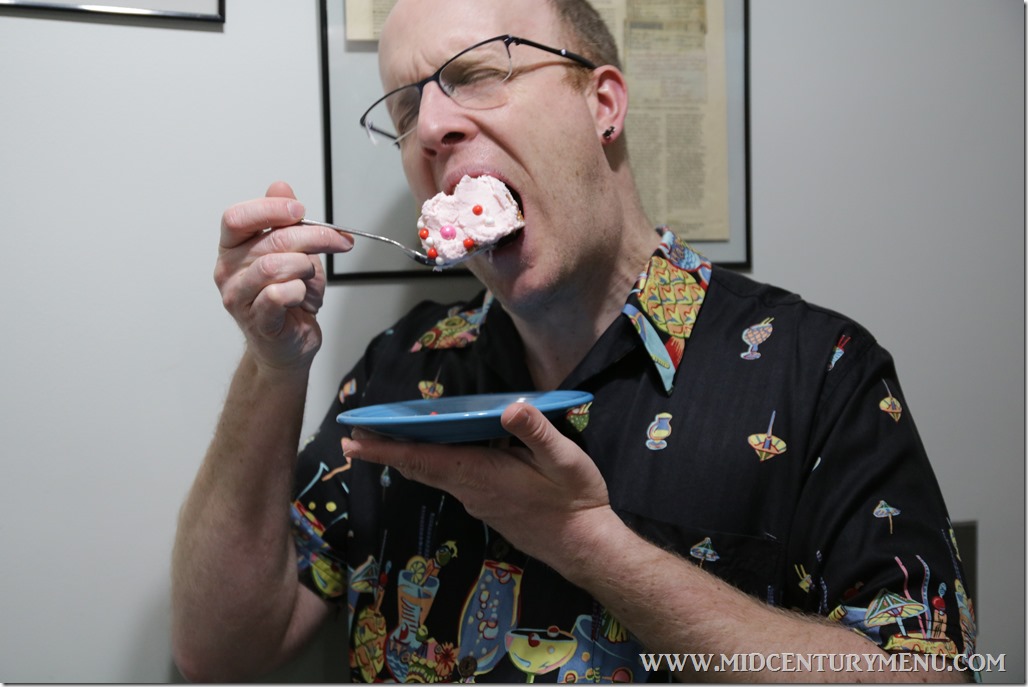 "Get that cake out of your mouth and say something!"
"It's fun. I love it."
The Verdict: Eat It All
From The Tasting Notes –
This cake was good. I had my doubts that 1/4 cup of cherry juice would flavor and color the whole cake, but it totally did its work and then some. This cake was NOT lacking in flavor. The cake itself had a strong maraschino cherry and almond flavor, which was good and unique. It was a very fun cake. Both Tom and Alex were charmed by it, and spent a lot of time talking about how cool it was. It had a light, soft texture. Not too moist, but not dry either. The frosting was tasty as well. I thought for sure it would be too salty, but it actually ended up being a very good compliment to the sweetness of the cake. The hot cream helped dissolve the grit that is usually in straight buttercream frosting. Tom even said he liked it, and he is very picky about frosting. Overall, this cake totally rated a kiss!
"There's a lot of this cake left. It was huge."
"It was so good."
"I know. You ate three pieces."
"Put the cake away while I put the baby down. I can't look at it anymore."
"Why? Are you sick?"
"No, if I see it again I'll eat all the rest of it."