Hmmm…maybe I should change the name to Vintage Beverage Friday, because this week we have another non-alcoholic cocktail!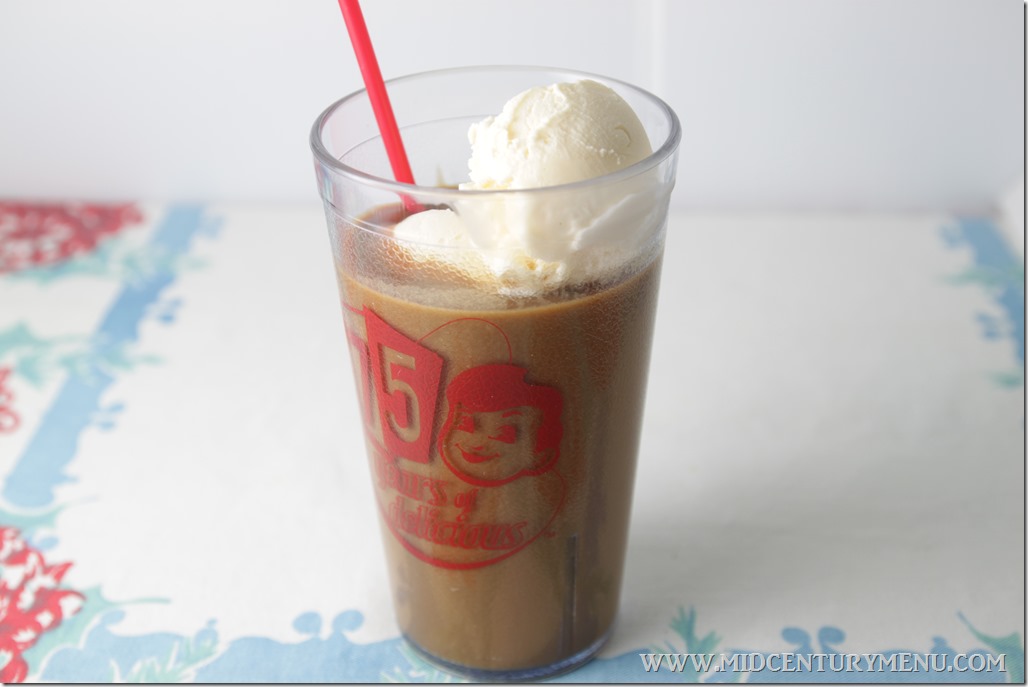 This is Coffee Float!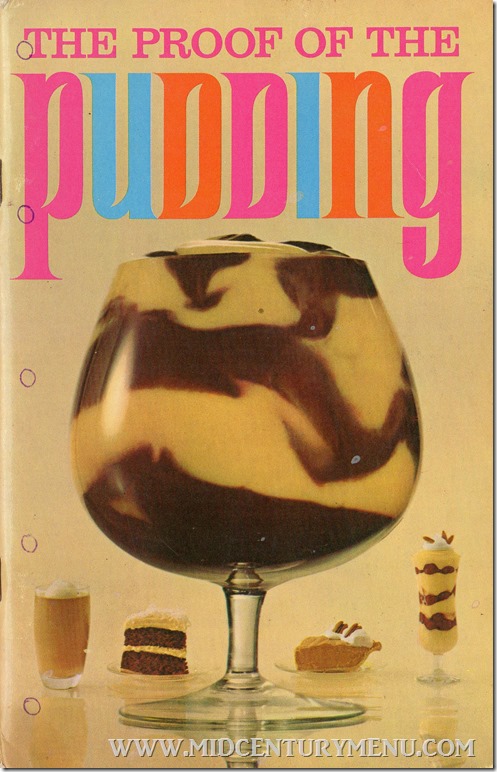 This week's drink is from the fabulous "The Proof of the Pudding" from 1965, which was put out by General Mills to sell instant pudding. The book suggests that instant pudding is the "Dessert Insurance" you need when food emergencies pop up during your "wild profession of homemaking."  For example, if you need a quick dessert drink when a neighborhood meeting at your house goes long.

Coffee Float
Author:
The Proof of the Pudding - General Mills, 1965
Ingredients
1 - 4 serving size package vanilla or Butterscotch instant pudding
¼ cup prepared instant coffee
5 cups milk
Whipped topping, sweetened whipped cream or ice cream
Instructions
Combine pudding mix and instant coffee in a large bowl. Add ½ cup of milk; stir to blend thoroughly.
Slowly add remaining milk; blend well. Then beat with rotary beater for 1 minute. Chill.
Stir just before serving. Serve in tall glasses with whipped topping, whipped cream or ice cream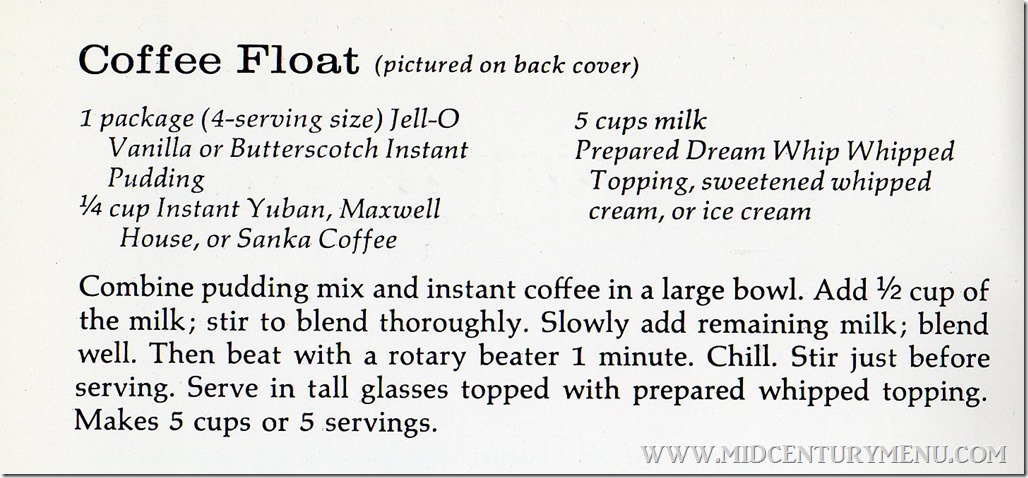 Although, calling this a drink is really a stretch. Even with the extra milk it's just pudding with a straw in it. Butterscotch pudding, in our case.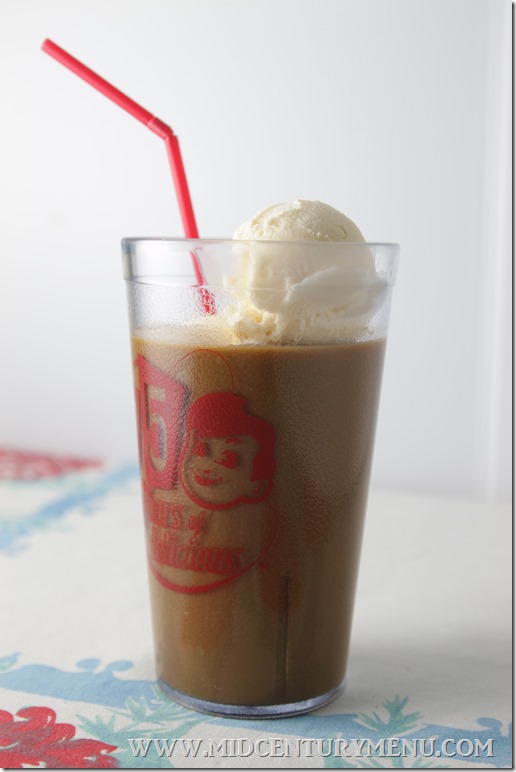 Another picture, just to admire our Big Boy glass.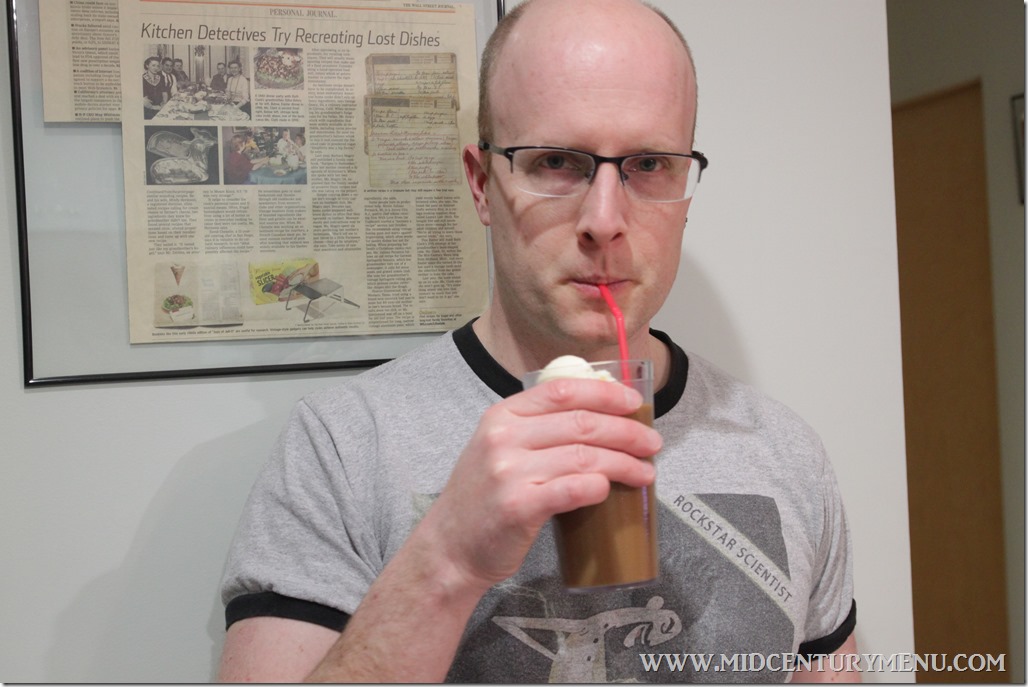 "This isn't coming through the straw."
"Try harder. It's pudding"
"This is…really bitter."
"Yeah, there is a lot of instant coffee in it. I mean…a lot. Like three cups worth." (*NOTE: Oops!)
"Holy crap."
"You might want to stir in that ice cream."
"Wow, yeah. That's much better."
The Verdict: Strong
From The Tasting Notes –
NOTE: Thanks for the suggestions! It was late last night, and instead of 1/4 cup granules I should have just used a 1/4 cup of prepared instant coffee! That would have totally improved the flavor. Ha!

After that it was actually good. It was thick, of course, because it was basically just pudding with a straw in it, but it ended up being an okay dessert drink. If you have these things lying around your house I would suggest making this, but I wouldn't go out of my way to buy the stuff to make these.