The Fourth of July is almost upon us, so I thought I would give you all the gift of cake. Rocket-ship cake.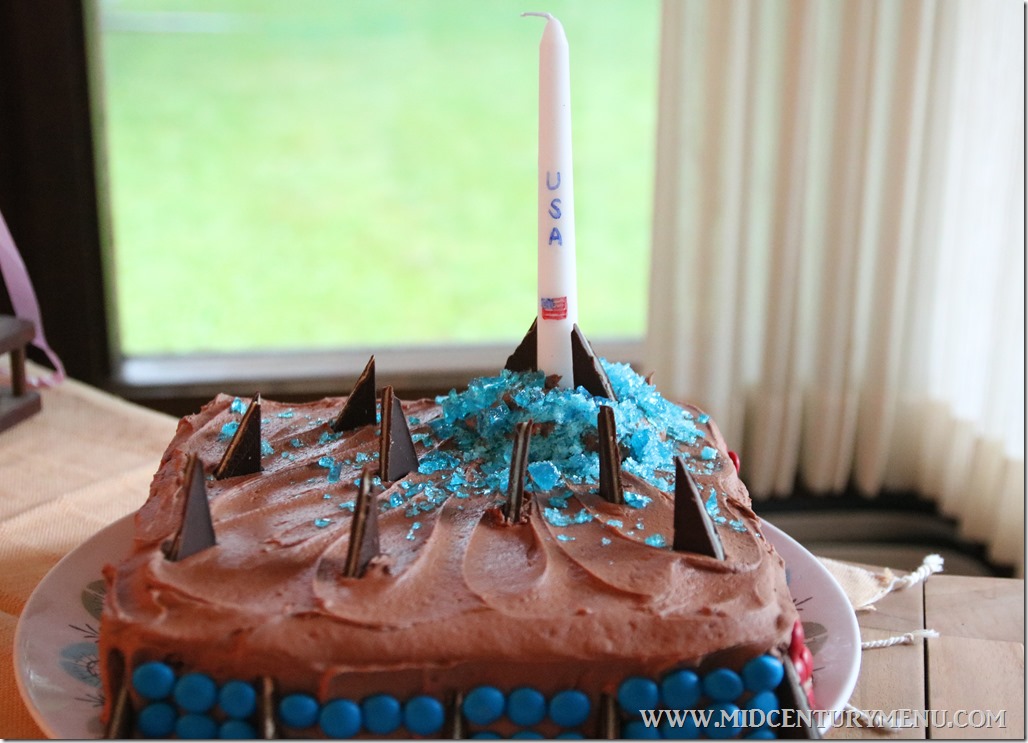 This is Cake Canaveral!

Cake Canaveral
Author:
Birthdays And Family Celebrations, 1963 - Better Homes & Gardens
Ingredients
Devils Food Cake
⅔ cup shortening
2¼ cups sifted cake flour
2 cups sugar
1 teaspoons salt
1 teaspoon soda
1 teaspoon baking powder
1¼ cups milk
3 eggs
3 ounces unsweetened chocolate, melted and cooled slightly
1 teaspoon red food coloring
For Frosting:
6 ounces softened cream cheese
½ cup soft butter
6½ cups sifted powdered sugar
¼ teaspoon salt
1 teaspoon vanilla
4 ounces melted chocolate, cooled slightly
4 Tablespoons of milk
Instructions
Stir shortening to just soften. Sift in dry ingredients. Add ½ cup of the milk; mix till all flour is dampend. Beat vigorously 2 minutes. Stir in remaining milk, the eggs, melted chocolate and 1 teaspoon red food coloring. Beat vigorously 2 minutes longer. Bake in paper lined 8x8x2 inch square pans in 350 degree oven for 35 to 40 minutes or until done. Cool 5 minutes and remove from pans. Fill and frost with Chocolate Cream Cheese Frosting. Garnish with halved chocolate mints, walnut halves and a large candle for the rocket.
For Frosting:
Cream butter with softened cream cheese. Add powdered sugar and beat well. Add salt, vanilla and chocolate. Add milk until spreading consistency. (I used all 4 tablespoons)
So, my friend Carolyn (of the Aspic Aquarium) and I decided to make something on the crazy side for the Fourth of July. We were originally planning on doing some sort of gelatin thing, but then I was paging through the Better Homes & Gardens cookbook Birthdays And Family Celebrations when I came across this beauty: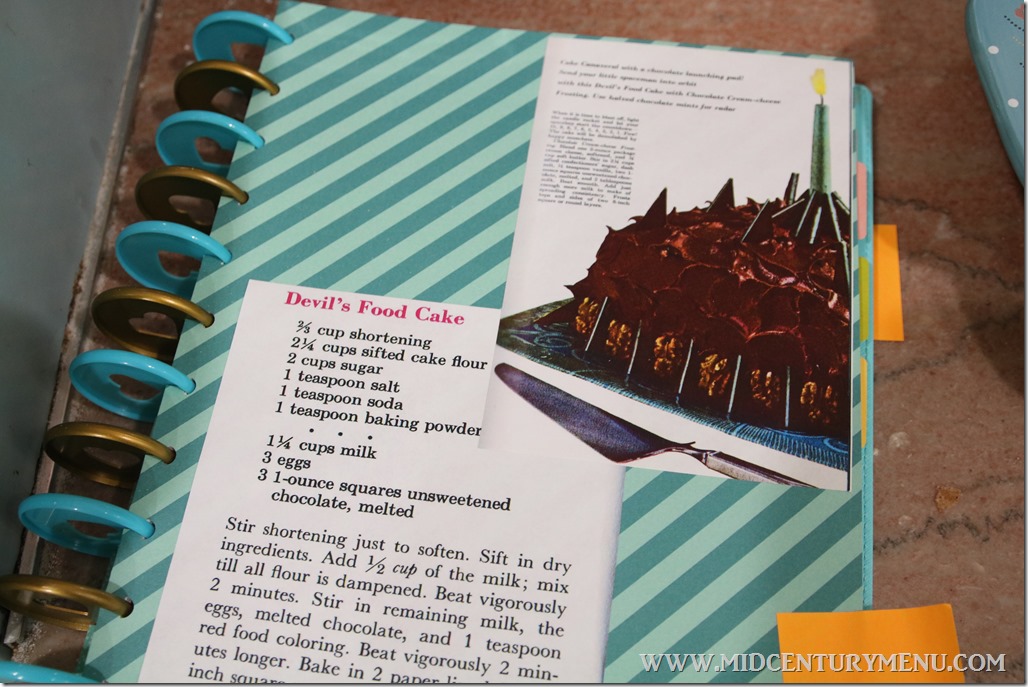 It was entitled "Cake Canaveral". I was immediately sold. How could I not with a name like that?
So Carolyn and I figured out a way to tweak the decorations to make it a little more patriotic, and we were golden.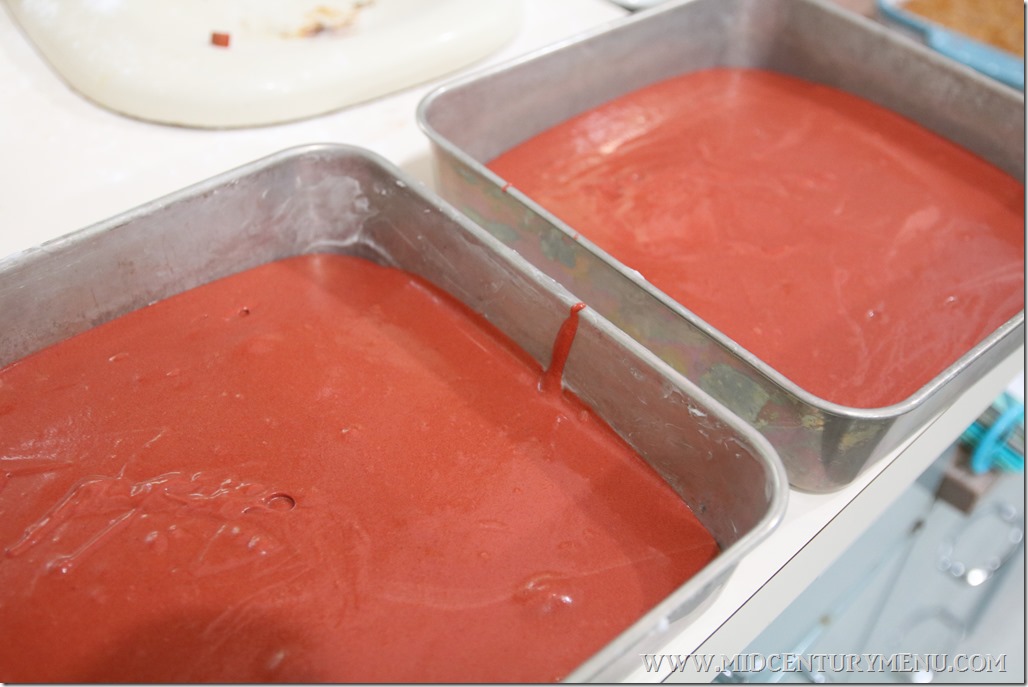 Or red, as the case may be.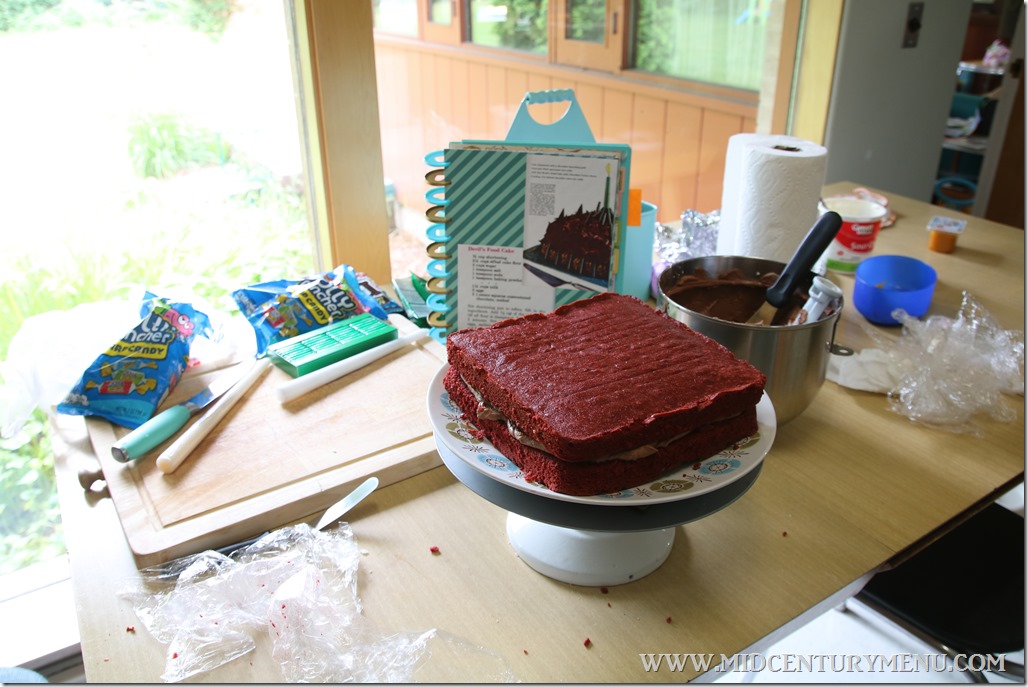 Here we are at go time. You can see the feverish joy in this photo. Also, the roll of paper towels in case something goes horribly wrong.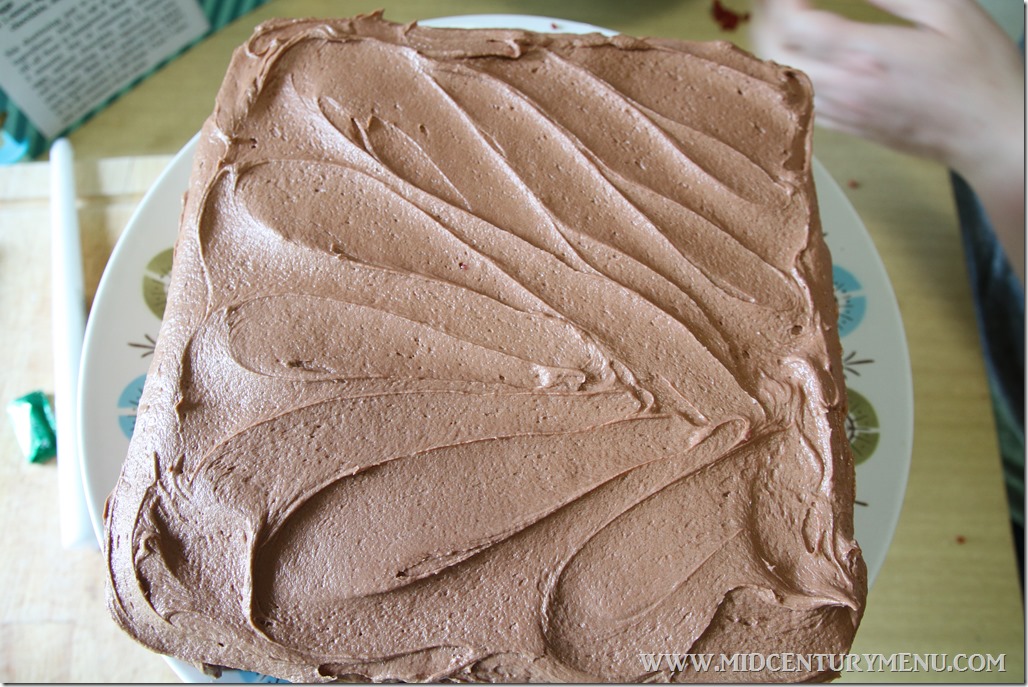 Chocolate cream cheese frosting. That is all.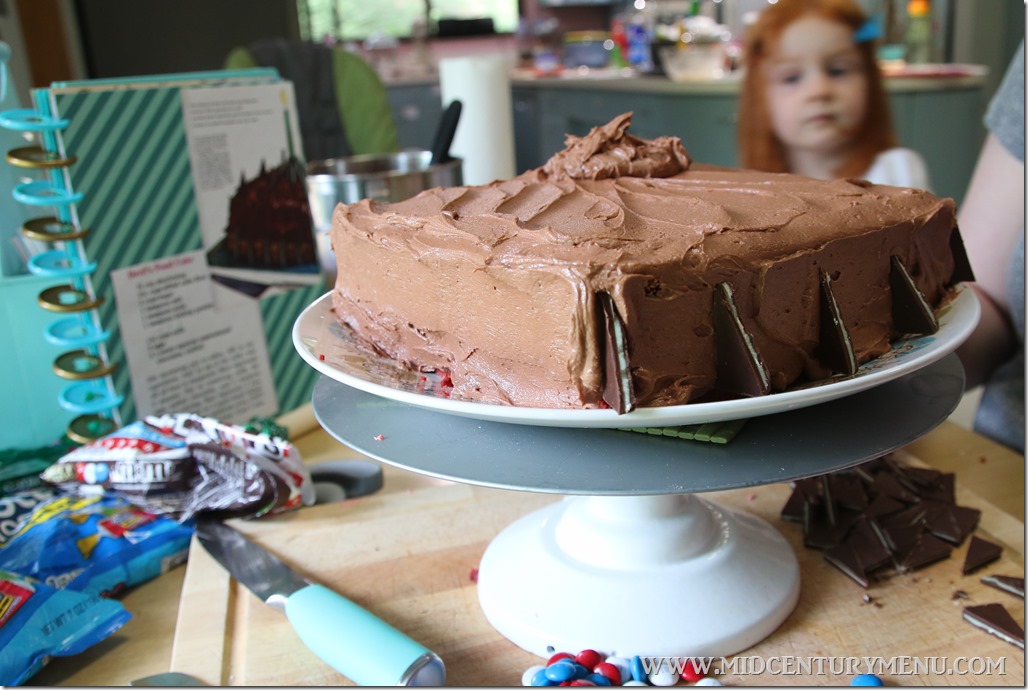 It is actually harder than it looks to split Andies Candies into little shark fins. I got my biggest knife straight out of the hot dishwasher, and that seemed to do the trick. But there were many casualties along the way. Luckily, we had lots of little kids around just ready to eat up mistakes, so nothing went to waste.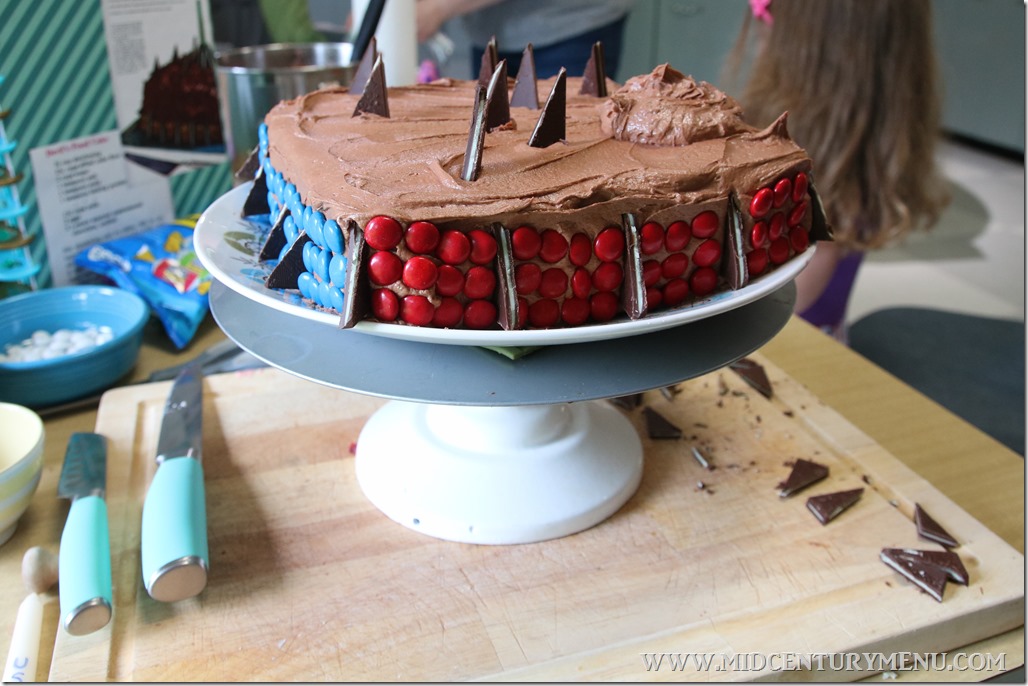 Partially complete. At this point, it became impossible to hold off the children from eating the candy, so we gave them a job to do.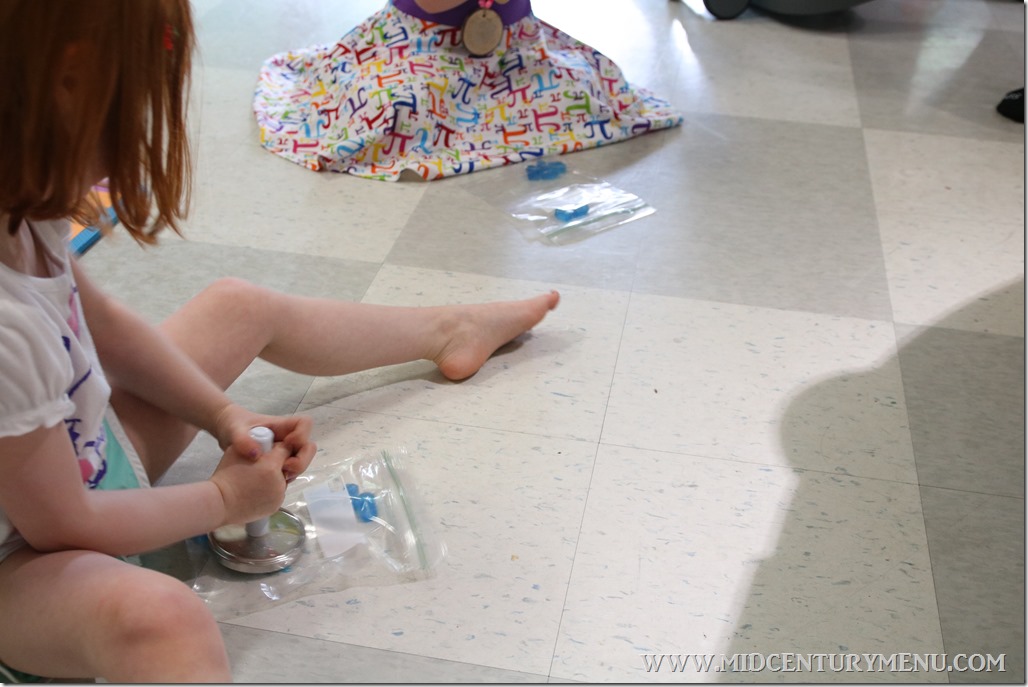 Here they are crushing Jolly Ranchers. It kept them pretty busy while we finished up with the precise M&M placement.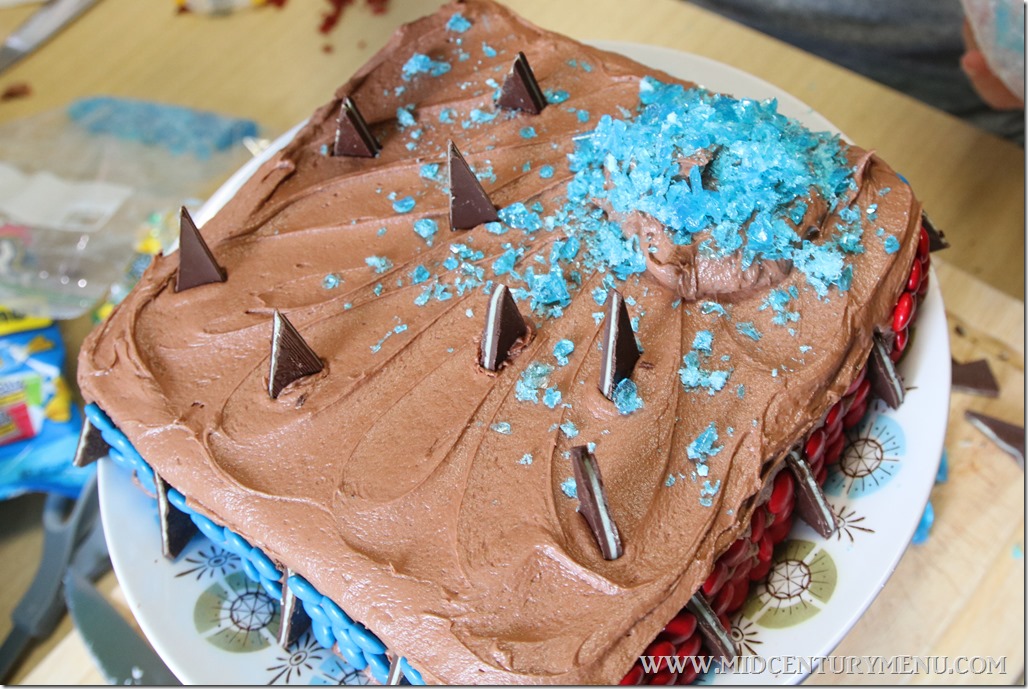 Without the candle it looks a bit like sharks in the water.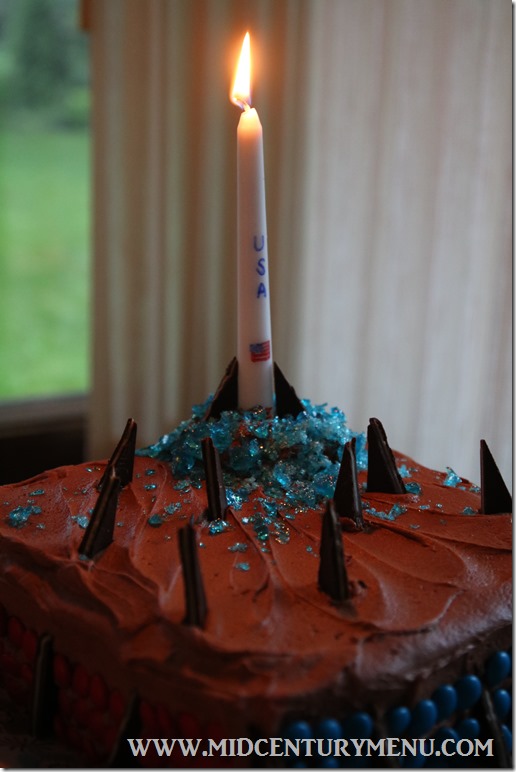 Interesting fun fact: Carolyn and I both started inexplicably humming the Superman theme song while I placed the candle. It was magical.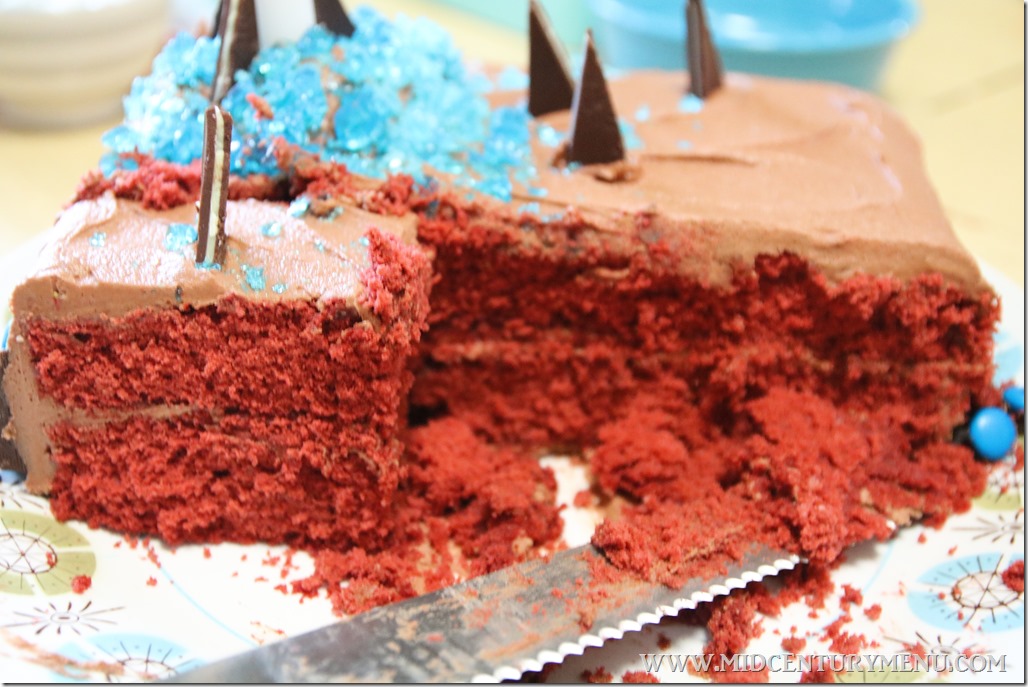 A ravaged cake.
"How does it taste? Is it out of this world?"
"Well, the frosting might be."
The Verdict: Frosting
From The Tasting Notes –
Surprising absolutely no one, chocolate cream cheese frosting is freaking delicious. The cake itself left something to be desired. It was dense and on the dry side. It had a sandy texture, but the chocolate flavor throughout was very good. If you have a standard red velvet or red devil's food cake, don't leave it for this one. The absolute best part of this was the cake decoration, which was so, so fun. I think we had more fun than the kids did and probably way more fun than adults should. Which is kind of what holidays are all about.

Cake. Canaveral.

Just had to get that in there one last time.