This week Alex wanted to help with our tested recipe and I had a bunch of ripe bananas, so we decided to make a quick little dessert.
These are Banana Marshmallow Squares!

Banana Marshmallow Squares
Author:
Pillsbury Bake-Off Cook Book, 1972 - Mrs. Joe Hubbell
Ingredients
1 package yellow cake mix
½ cup butter, softened
2 eggs
1 cup chopped nuts (I used pecans)
3¼ cups miniature marshmallows
1 - 4 serving size instant vanilla pudding
2 ripe bananas, mashed
Instructions
Preheat oven to 350 degrees. Grease a 13x9 pan.
In a large bowl, combine first four ingredients until well blended. Press half of dough into pan, reserve the rest for the topping.
In heavy saucepan (or in microwave), melt marshmallows until smooth. Combine dry pudding mix and mashed bananas, add in melted marshmallows. Spread evenly over dough in pan.
Crumble remaining dough over filling. Bake 20 to 25 minutes or until a light golden brown (mine took 30 minutes). Cool.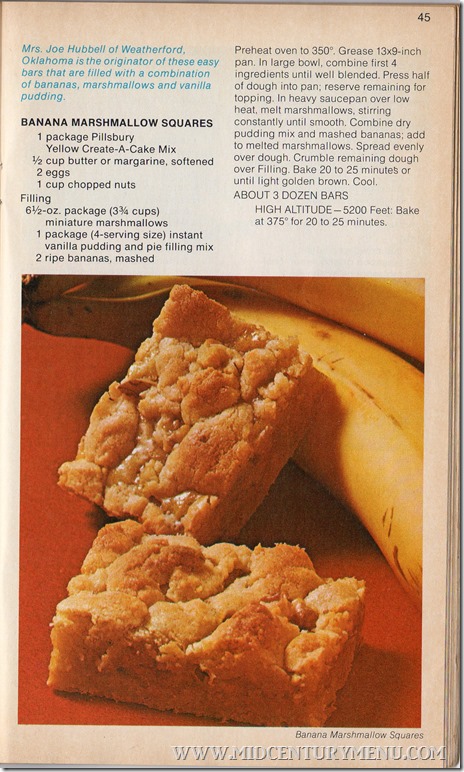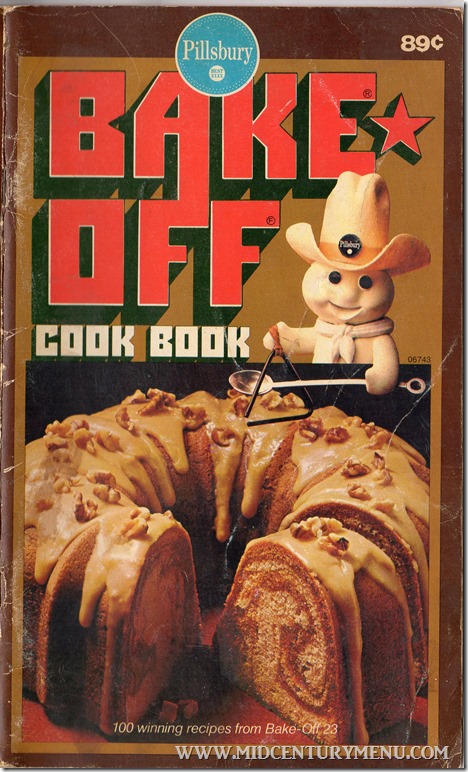 I'm not sure what it is with the Pillsbury Bake-Off books lately, but I've really been digging in deep and pulling out some interesting stuff. I was curious to see how the whole dry pudding/banana/marshmallow layer would turn out in these.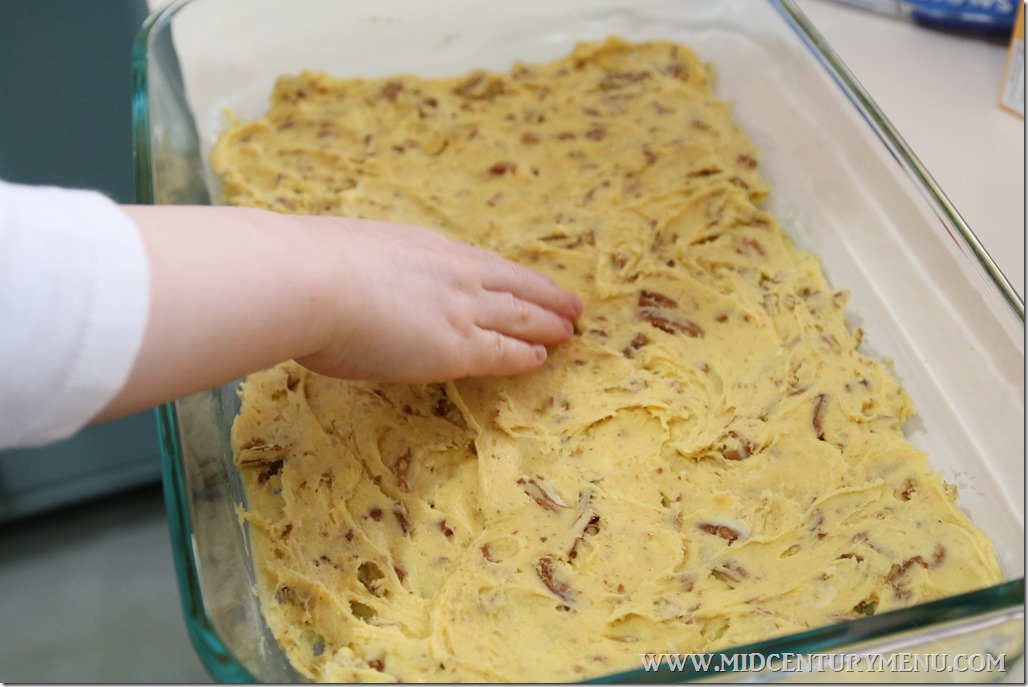 Plus they were easy enough for Alex to do the bulk of the work. Which she was very excited about.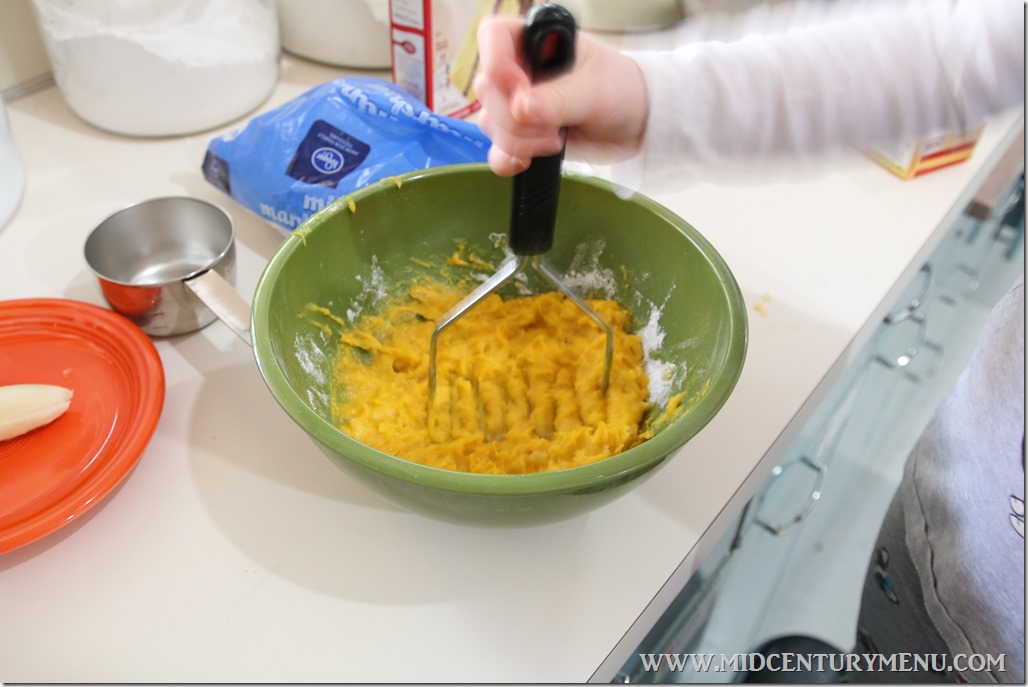 Though I think the ton of bananas and marshmallows she consumed while we were making these might have contributed to her excitement and happiness.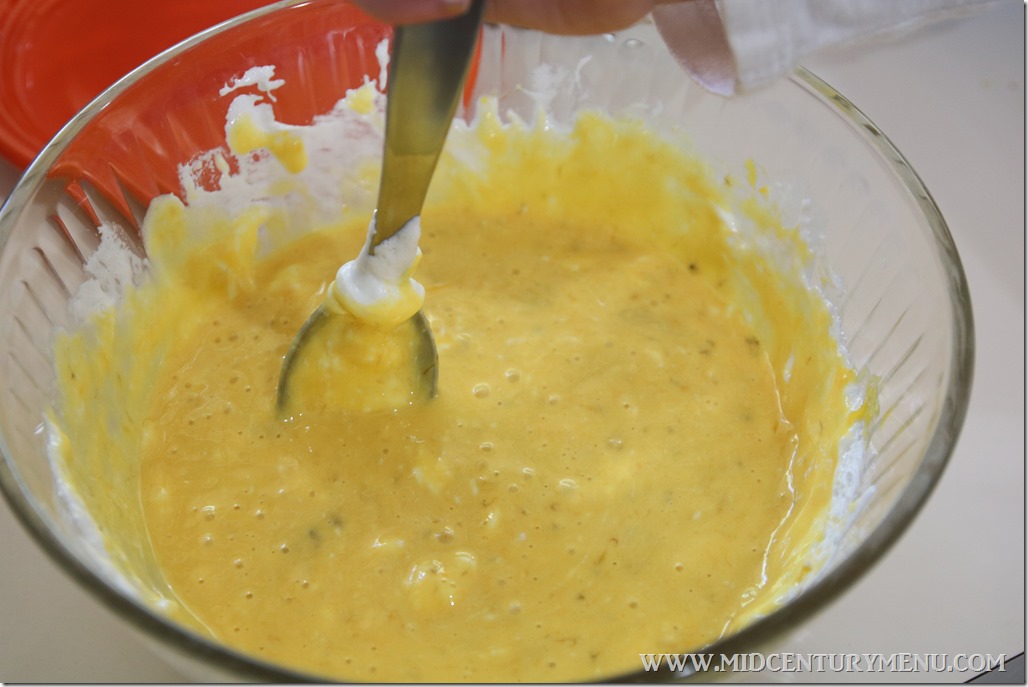 Here is the finished filling. It was actually a bit on the liquid side, so I had no idea what was going to go down.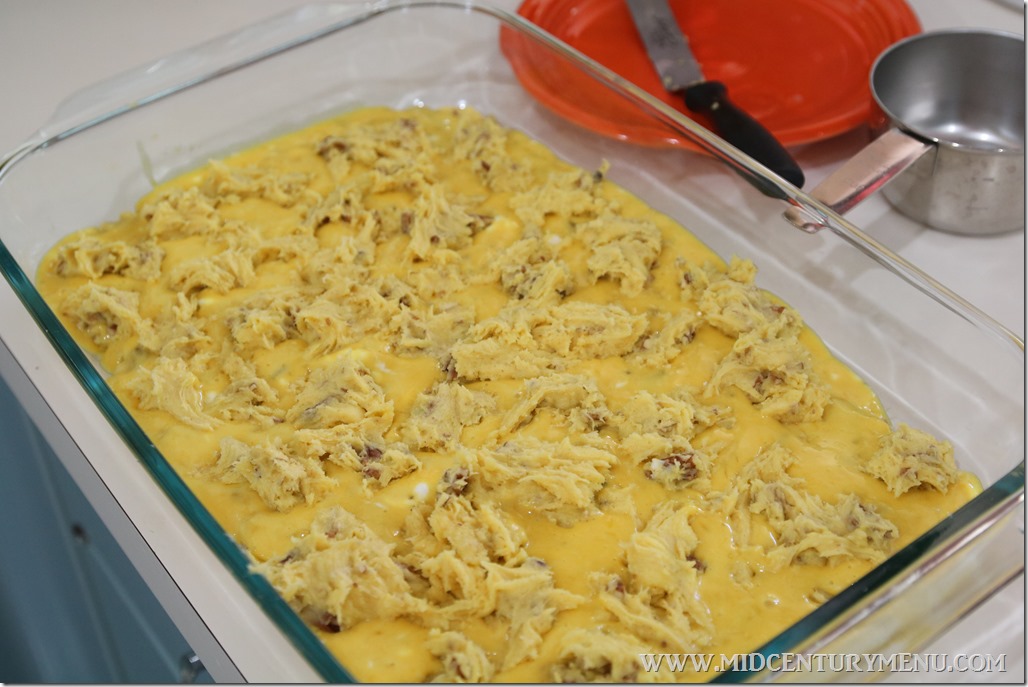 In a side note, the cake mix crust/topping was incredibly sticky.  So we didn't crumble it on top, but rather ended up flinging globs of batter at the filling. It was fun.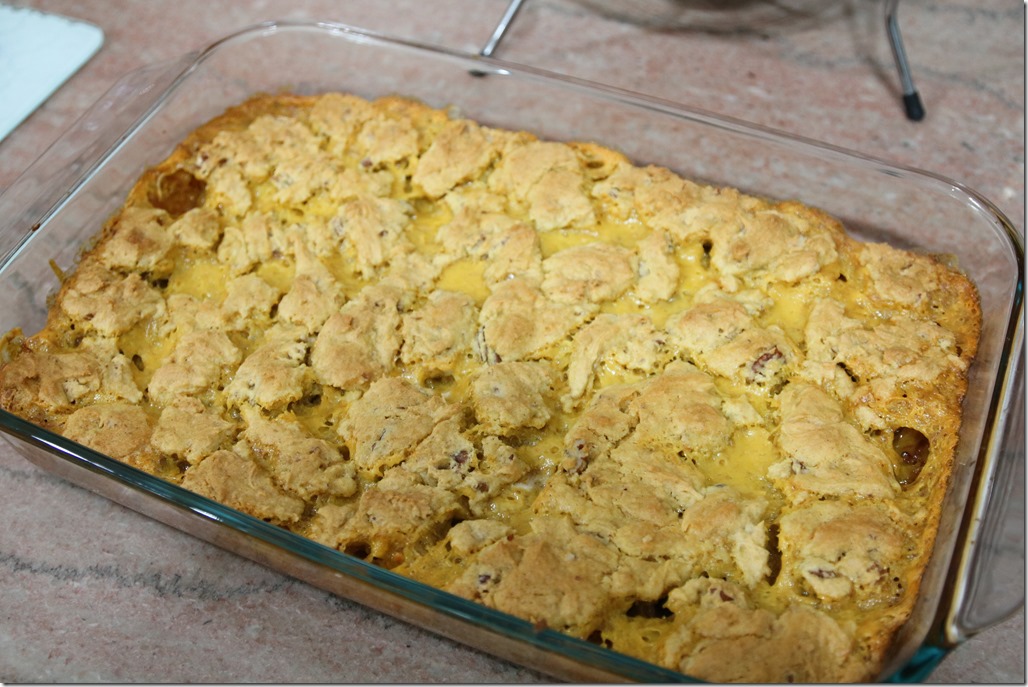 This actually baked up pretty well, only about an extra 5 minutes beyond what the recipe recommended to get them to a light, golden brown.
"What's that face for?"
"What an interesting texture you've discovered."
"What? Really? What's wrong?."
"Nothing. This is the best banana baked good I've ever had. Crunchy. Flavorful. Slimy."
"Slimy?"
"Oh, so slimy."
The Verdict: Slimy
From The Tasting Notes –
Aside from the fact that the filling had the texture of something a slug left behind, these were tasty.  They were, of course, intensely sweet. But they had a good banana flavor, kind of like a very buttery banana bread. The cake mix crust had a good, buttery crunch to it and the nuts were a great addition. The filling was so, so slimy. Not gooey, or underbaked, but actual snotty slime. It was kind of jarring when you bit into it. I wonder if a good fix for this would be to mix together the pudding and the bananas, spread that on and then sprinkle the marshmallows on top of that rather than melting and folding them in? Maybe that would help. Maybe fewer marshmallows? Or maybe just leave the marshmallows out all together? Maybe chocolate chips instead? Either way, Alex and Tom both loved the taste of these, but I just couldn't get onboard with the slime.