Since we are having some fun, festive snacks for Christmas Eve, I thought I would re-run this sandwich with the hopes that this will spark some Christmas memories out there for some reader. Tell us, is this Christmas Eve food? I'm guessing it was, but I would love to hear from you if you can remember eating this beauty. Have a great Christmas!
December is here and Christmas is coming up fast, so I thought I would make a little something to get us all into the holiday spirit. Because nothing says "Christmas" to me more than ground bologna on an English muffin!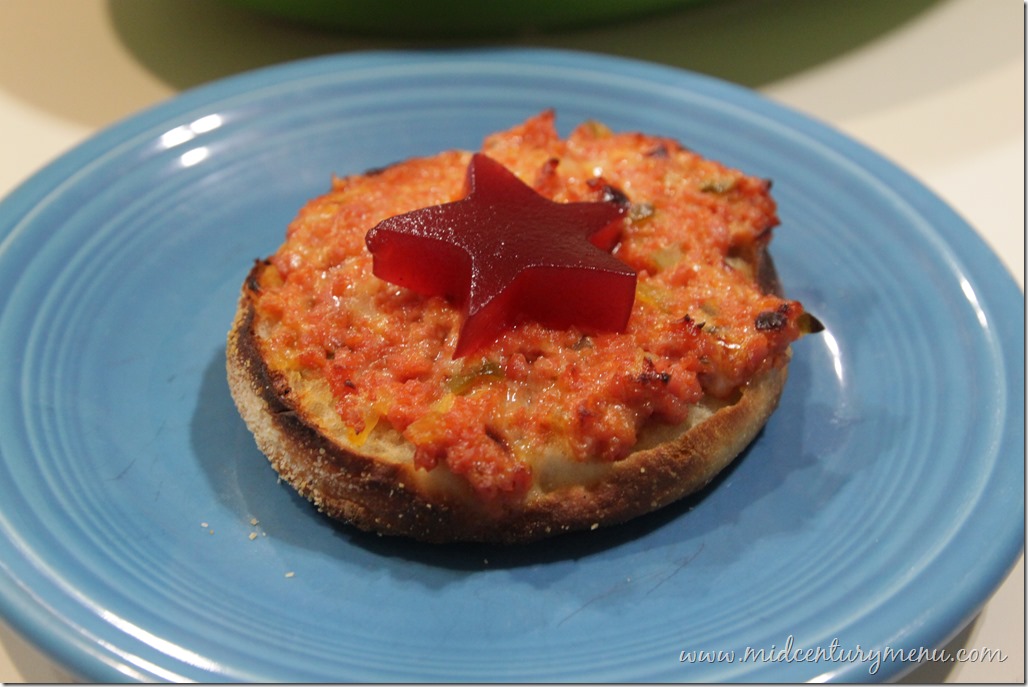 This is Christmas Sandwich!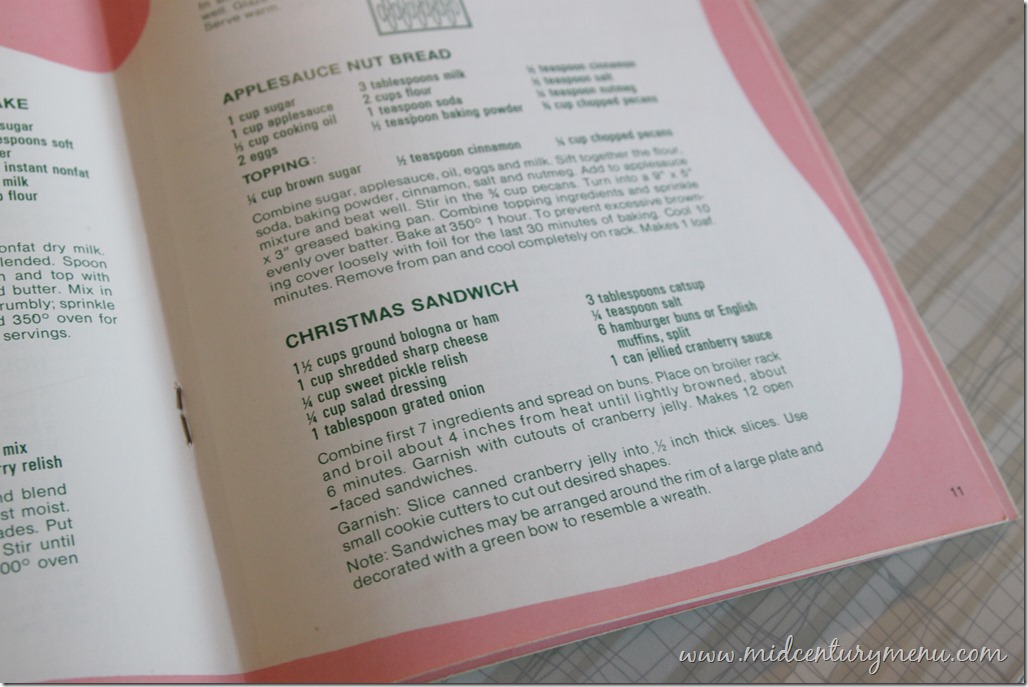 Christmas Sandwich
Author:
Christmas Recipes from Consumer's Power, 1972
Ingredients
1½ cups ground bologna or ham
1 cup shredded sharp cheese
¼ sweet pickle relish
½ cup salad dressing
1 T grated onion
3 T catsup
¼ tsp salt
6 hamburger buns or English muffins, split
1 can jellied cranberry sauce
Instructions
Combine first 7 ingredients and spread on buns. Place on broiler rack and broil about 4 inches from heat until lightly browned, about 6 minutes (*Ruth's note: Mine took 3 mins). Garnish with cutouts of cranberry jelly.
Garnish: Slice canned cranberry jelly into ½ inch thick slices. Use small cookie cutters to cut out desired shapes.
Note: Sandwiches may be arranged around the rim of a large plate and decorated with a green bow to resemble a wreath.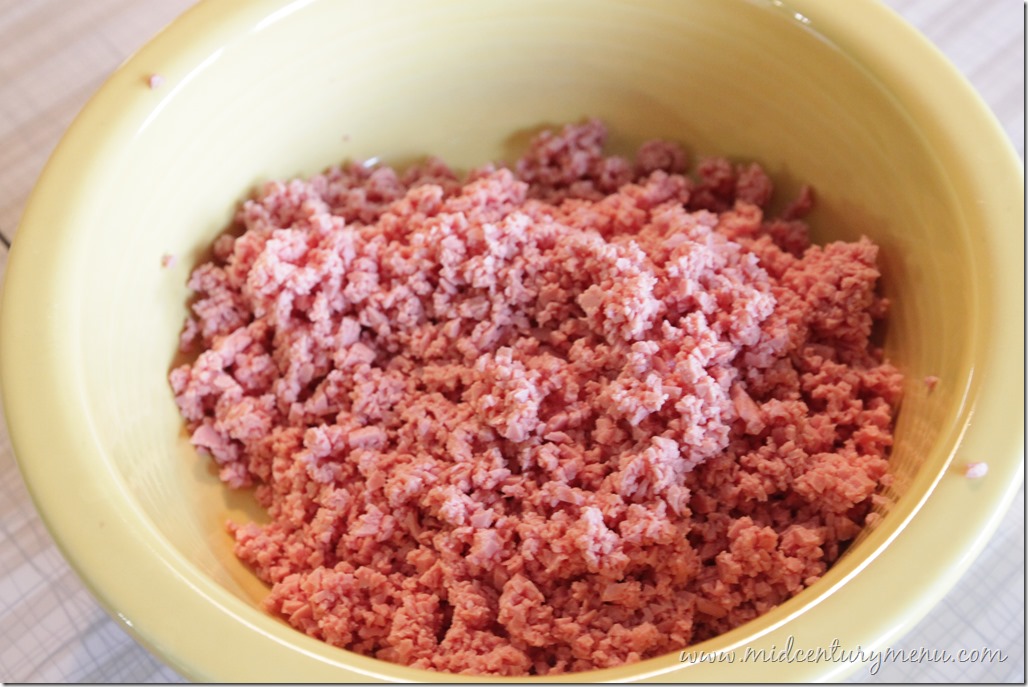 Of course, I chose the bologna over the ham. Ham would have been a bit more Christmas-y, but since I already know what ham salad tastes like I decided to skip it. I was interested in seeing what "bologna salad" would taste like.
And I wanted to see if it felt more or less festive eating bologna rather than ham.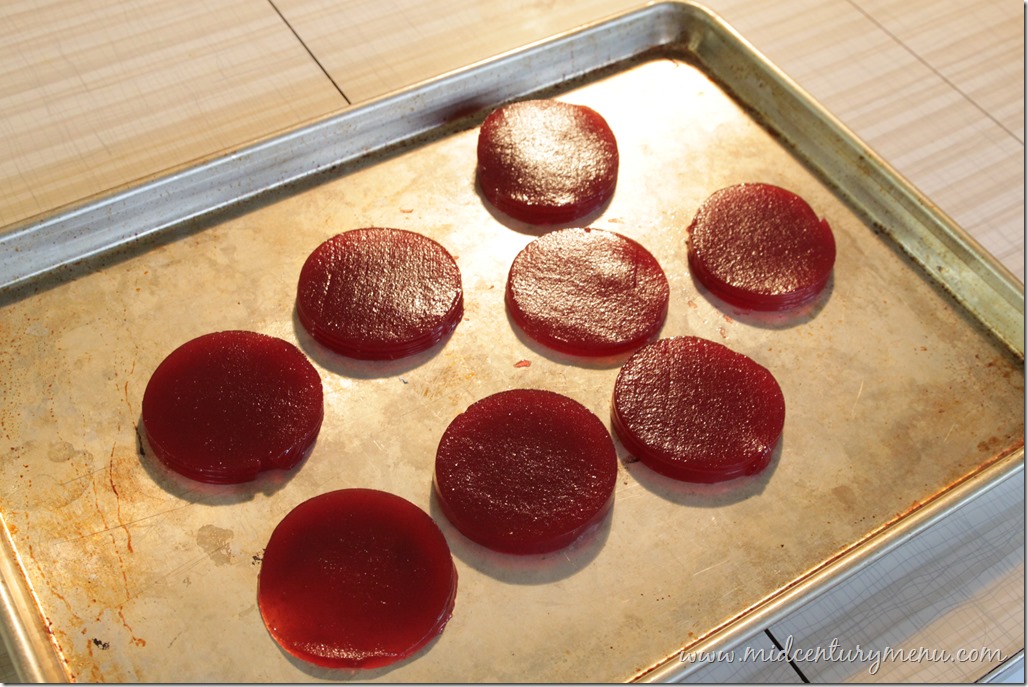 And this is the part that was the biggest pain in the butt. Do you know how long I had to dig through my cabinets to find appropriate-sized cookie cutters? But at least it gave me time to think about the sandwich. I mean, really think about it. Things like: Is it supposed to be party food, like an appetizer? It is something you are supposed to feed your family while they are waiting for Christmas dinner? Is it supposed to be a Christmas Eve snack?
Or is this supposed to be an After Christmas sandwich, to use up leftovers?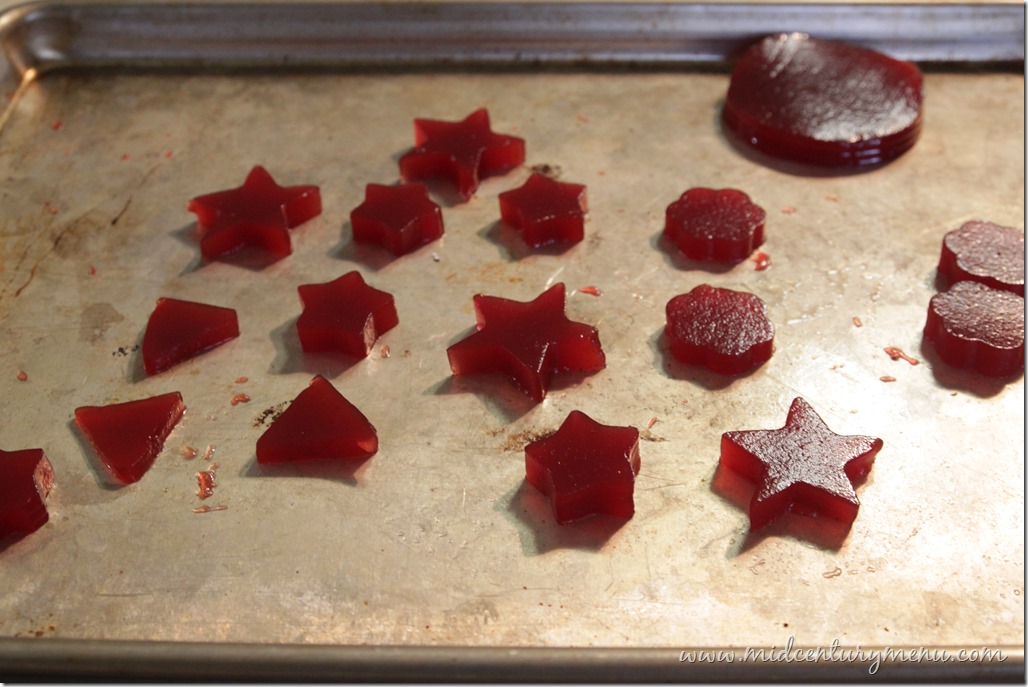 In the end, I didn't come up with any answers, but  I came out with some pretty okay cranberry shapes.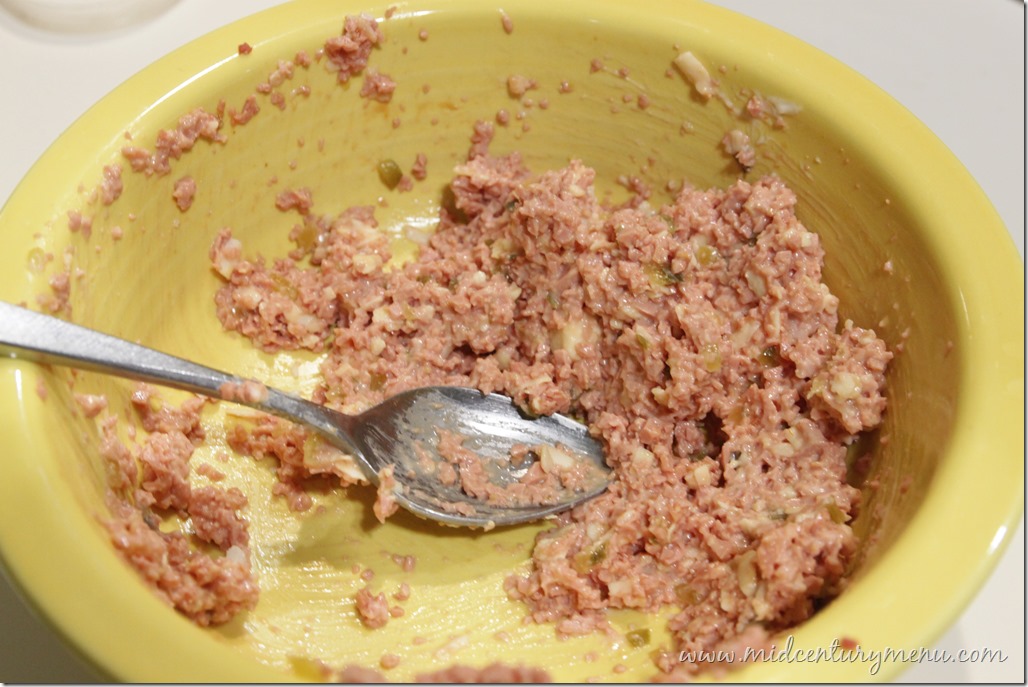 I forgot to take a shot of the pre-broiled sandwiches due to a hungry toddler running around my legs and begging for food, but this shot of what was left in the bowl should give you a pretty good idea of what they looked like.
So, like dog food on a bun.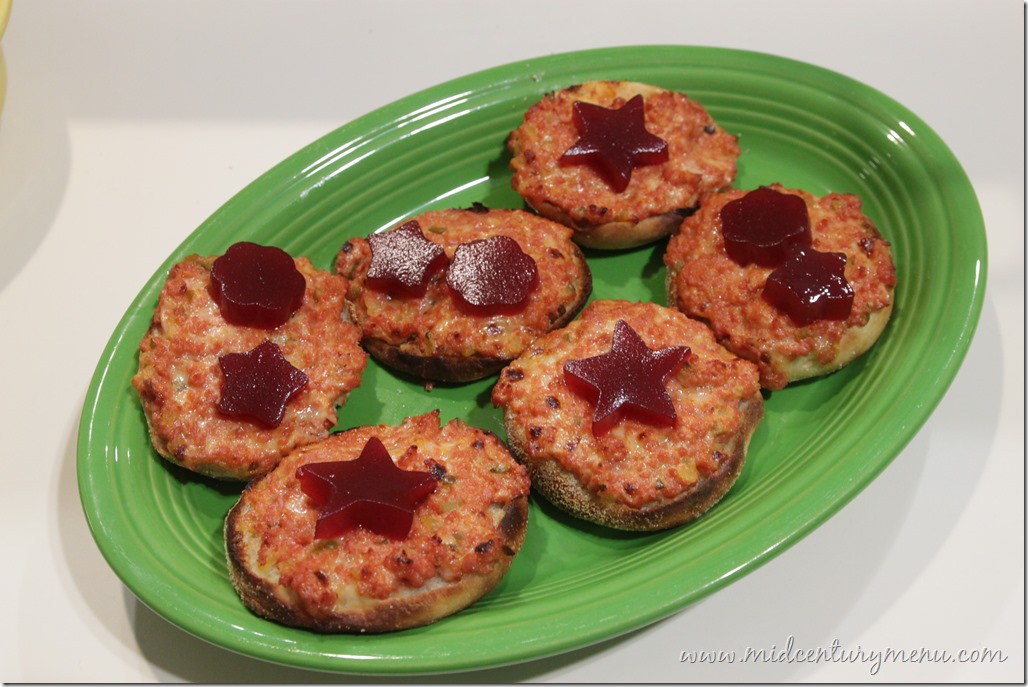 All finished! What do you think? Festive?
Okay, maybe if you cut the cranberry sauce smaller so the sandwiches look like ornaments and then put them in the shape of a wreath on a large plate they might look like holiday-appropriate food.
Maybe.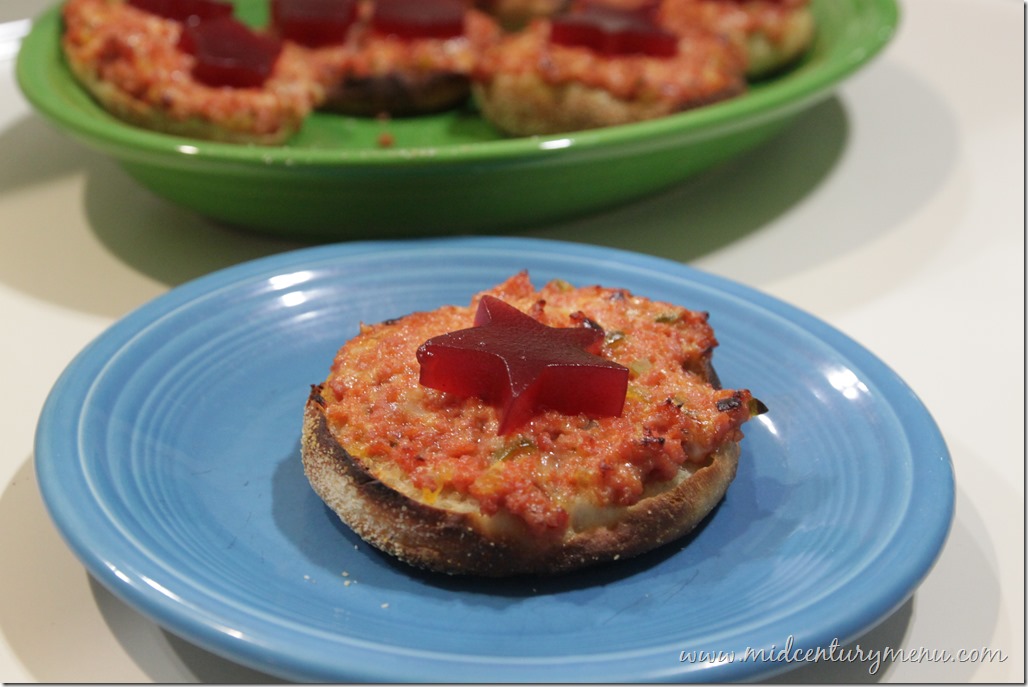 They kinda just look like pizza with a star on it to me.
Merry Christmas, Tom! Have a pizza star!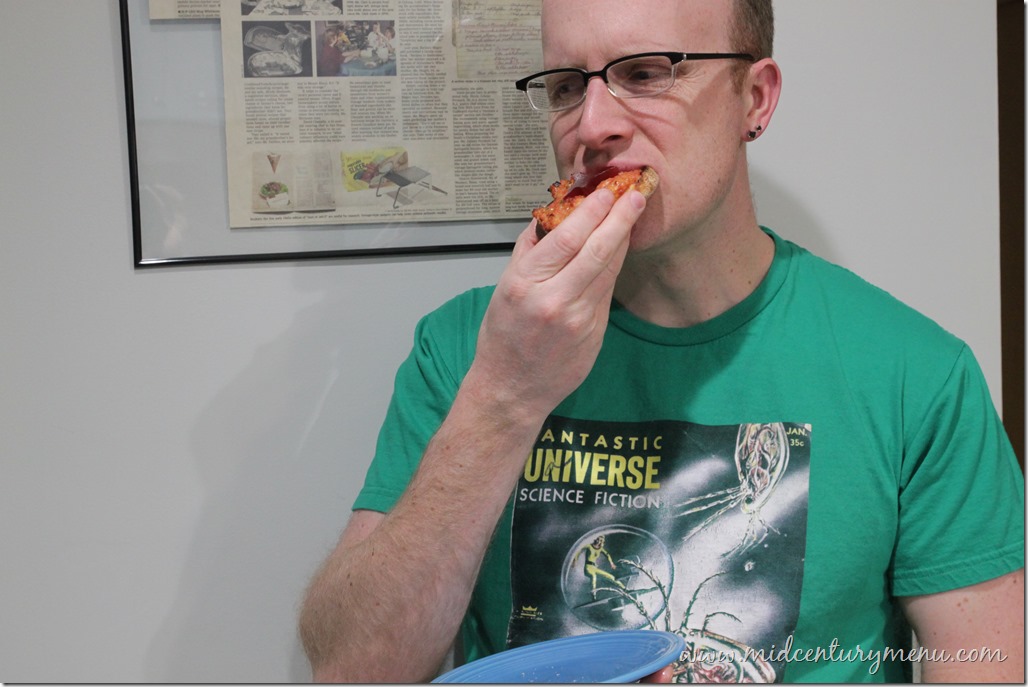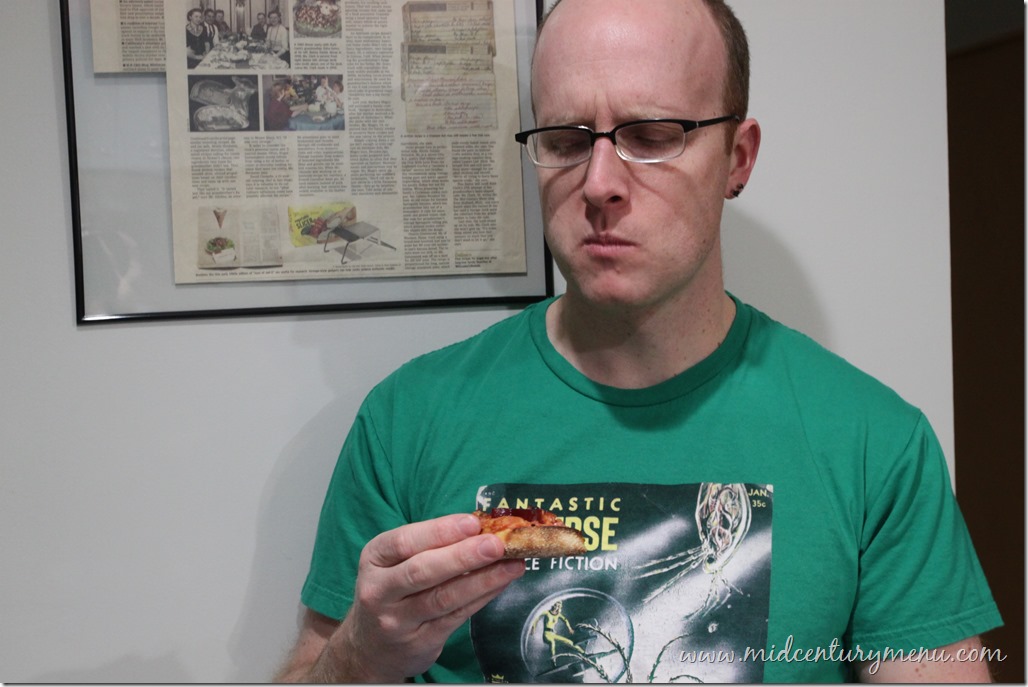 "How are they?"
"Sweet."
"Are they bad?"
"Not bad, just sweet."
The Verdict: Not Bad
From The Tasting Notes –
The filling on these was surprisingly edible, especially if you like everything you eat to taste like sugar. The best part was actually the broiled English muffin, and since the base was good the rest of this could probably be saved with some tweaks. To make this less sweet, I would suggest using ham instead of bologna, mustard instead of ketchup, mayo instead of Miracle Whip and cranberry relish instead of cranberry sauce.