It's coming up on turkey time, so it's time to bust out the vintage recipes! I am re-running my most favorite vintage Thanksgiving recipes this month, you lucky readers. It's very exciting! And we are going to start it off with some gelatin. Because of course we are. This is a very highly-requested recipe in our house, mostly because Tom can never get enough cranberry. Enjoy!
Who is ready for some fluffy topping?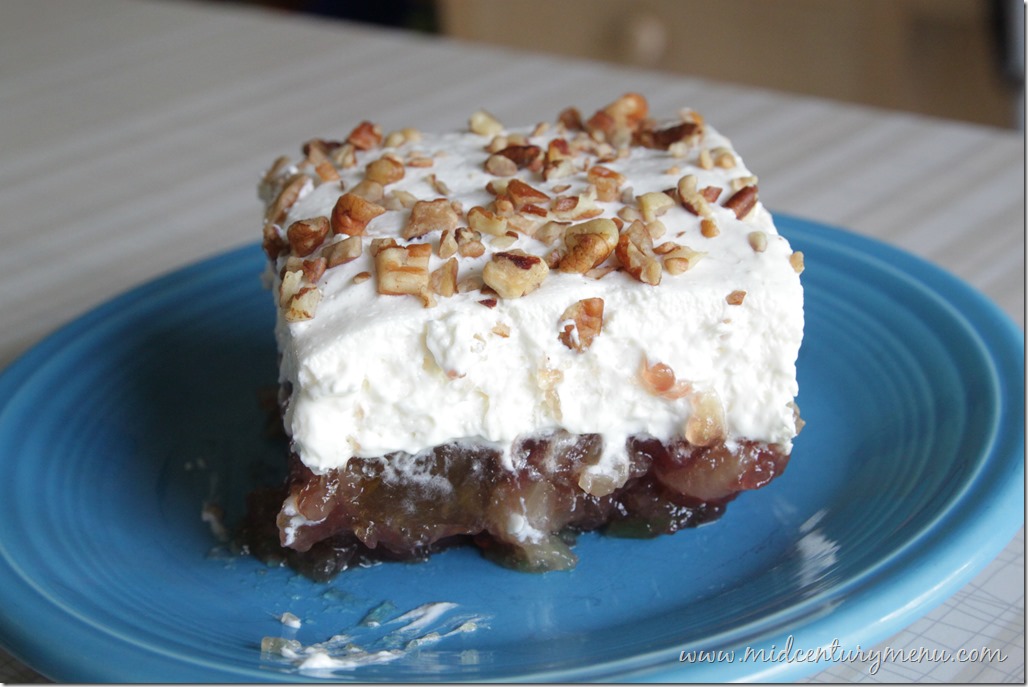 These are Frosted Cranberry Squares!
Frosted Cranberry Squares
Author:
Mrs. Lorry L. Mudge, 1965
Ingredients
1-13.5 oz can (1⅔ cups) crushed pineapple
2 small (3 oz) or 1 large (6 oz) package of lemon-flavored gelatin
1-7 oz bottle (about 1 cup) ginger ale
1-1lb can (2 cups) jellied cranberry sauce
1-2 oz package dessert topping mix (*Ruth Notes: Use 1 envelope Dream Whip or one tub of Cool Whip)
1 8oz package of cream cheese, softened
½ cup chopped pecans
Instructions
Drain pineapple, reserving syrup. Add water to syrup to make 1 cup; heat until mixture is boiling. Dissolve gelatin in hot liquid; cool. Gently stir in ginger ale; chill until partially set.
Meanwhile, blend drained pineapple and cranberry sauce; fold into gelatin mixture. Turn into 9x9x2 inch dish (*Ruth Notes: I used an 11x7 dish); chill till firm.
Prepare dessert topping according to package directions. Fold in cream cheese; spread over set gelatin.
Toast pecans in 1 T of butter or margarine in moderate oven (350 degrees) about 10 mins; sprinkle over top of salad. Chill.
These are doubly appropriate for us, since we are from Michigan and the recipes author, Mrs. Lorry L. Mudge, was from The D!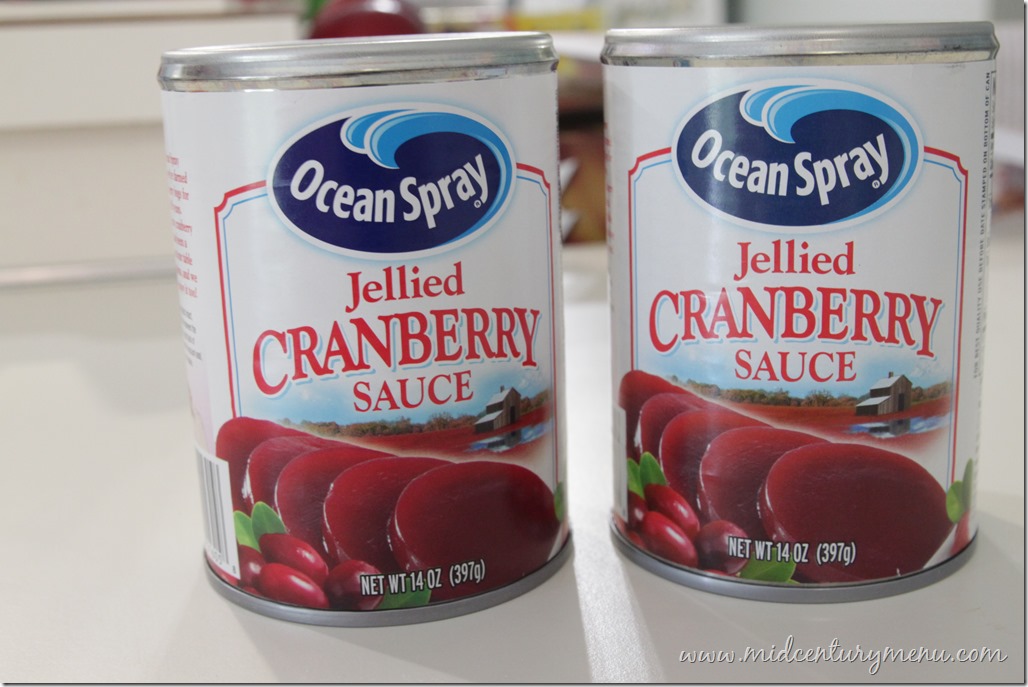 It isn't Thanksgiving without cranberry sauce shaped like a can!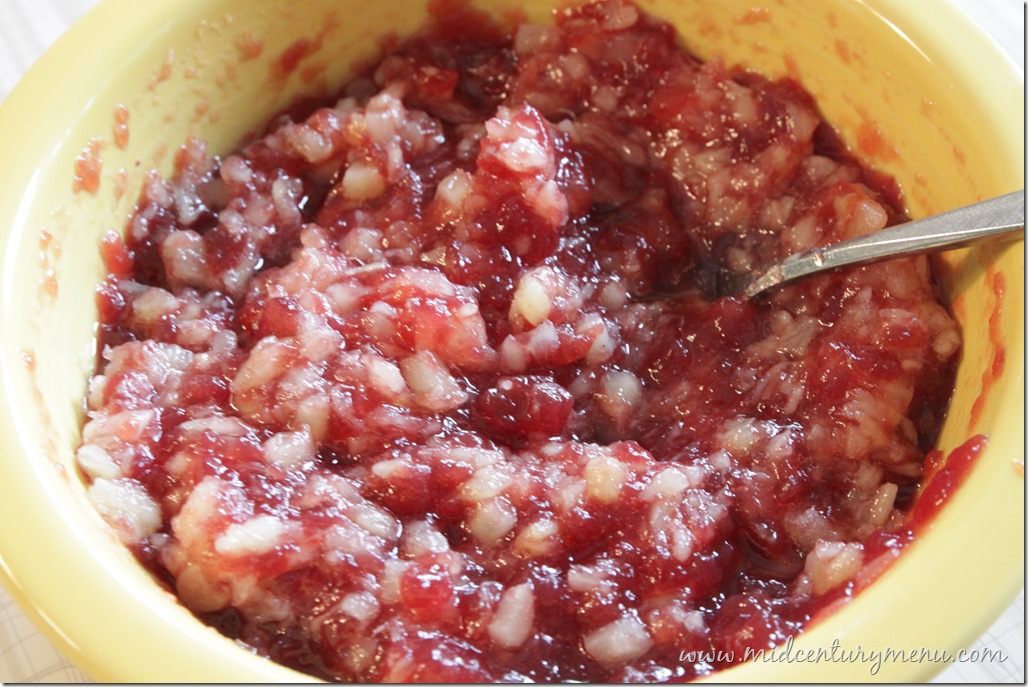 Especially at our house. Tom loves cranberry sauce. Loves it! So I usually make a giant, towering, shuddering cranberry gelatin mold every Thanksgiving. Normally I serve canned sauce along with a homemade one.  I just buy fresh cranberries, cook them down and add them to some raspberry gelatin or plain gelatin and then go to town with apples and oranges, so I thought this would be a fun change because it has lemon and pineapple in it.
And, you know, cream cheese. Because cream cheese.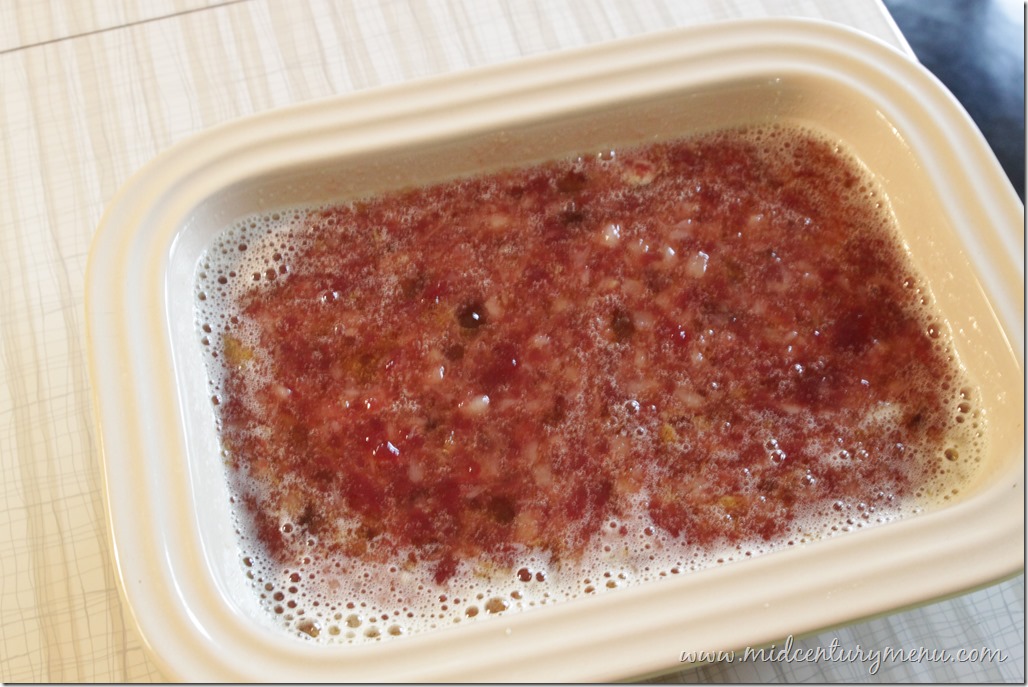 Not attractive!
But that's okay, because these get frosted with a lovely poof of white.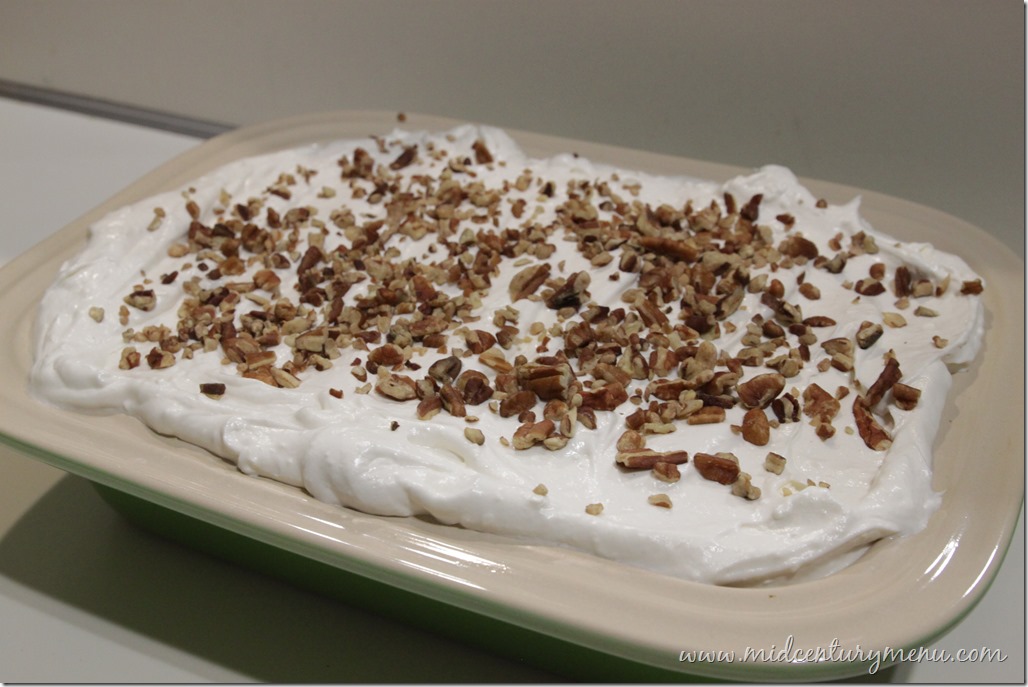 Wait…that's too much poof.
So, I think I might have made too much topping for this. The recipe calls for a 2 ounce package of dessert topping, and a box of Dream Whip mix weighs 2.4 ounces and holds two envelopes of topping mix. I tried to be accurate to the weight measurement and so I made both envelopes, but I don't think you need them.
I was scraping off topping when Tom caught me.
"Wait, what are you doing?"
"This is too much topping."
"What!?! It's just fine!"
"It doesn't need this much."
"It ALWAYS needs that much."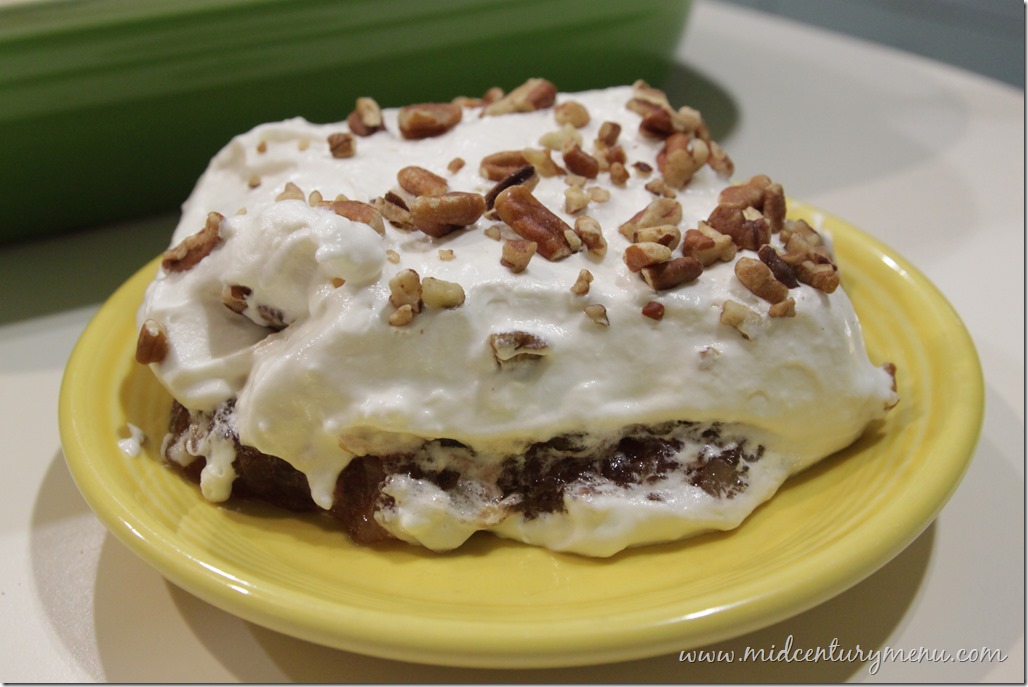 It's too much.
Also, if you are planning on making this for Thanksgiving, make it the night before. The piece above I cut four hours after I made it.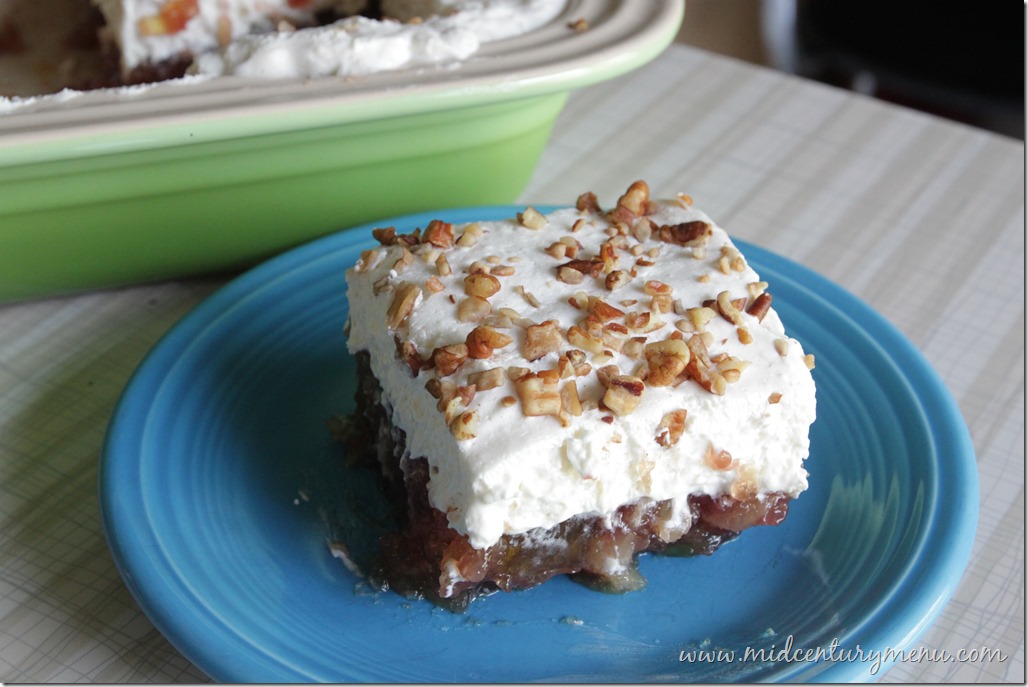 This piece was cut after it chilled overnight, and it is a big difference!
And I still think there is too much topping, but Tom was very excited.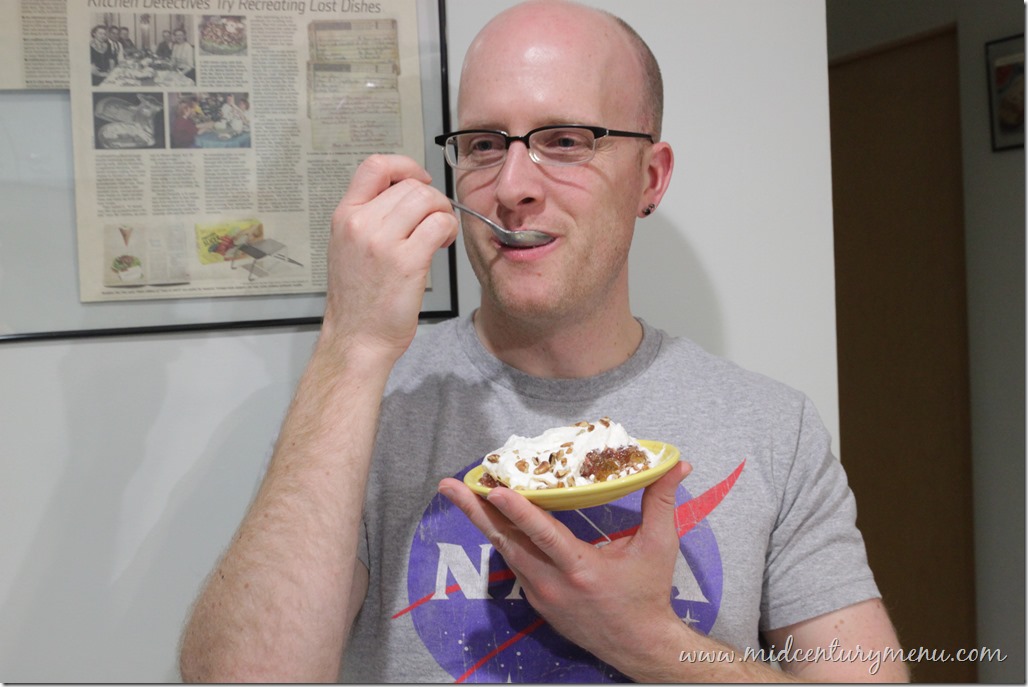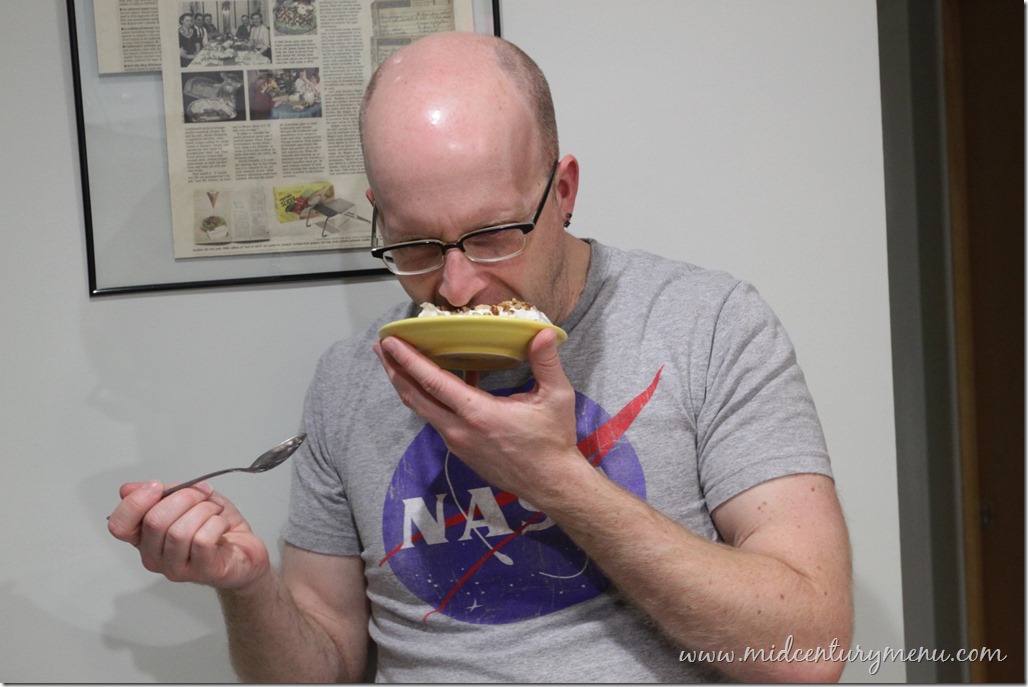 "This is so good."
"Ha! Really? I hadn't noticed."
"I love cranberry sauce, and this is like cranberry sauce on the next level. It's like cranberry crack."
"I don't think I can use 'cranberry crack' as the verdict."
"Do it."
The Verdict: Cranberry Crack
From The Tasting Notes –
Excellent. The cranberry gelatin is good even on its own. It's sweet, flavorful and the ginger ale gives it a little bubbly kick at the end that was really fun. But with the topping??? It was over the top good. Even the crunchy nuts on top added a great texture. It went straight past dinner and into the dessert category. Plop a piece of pumpkin pie on top of this and people won't even care about eating the turkey.