Today we have a charming little luncheon dish for you.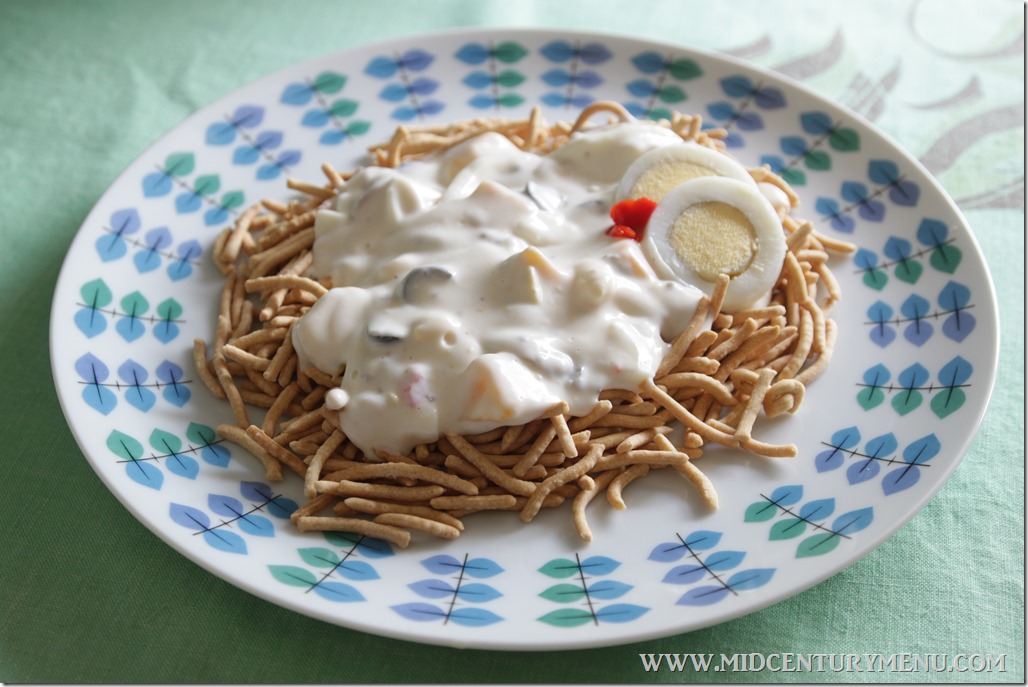 This is Woodcock!

Woodcock
Author:
The Guild Cookbook/Mrs. F. Arthur Schack, 1972
Ingredients
1 tsp minced onion
1 Tbsp melted butter
3 Tbsp flour
2 cups milk
8 oz cream cheese
1 can mushrooms
1 can condensed cream of mushroom soup
sliced olives
mango (this possibly means bell pepper!)
pimento
4 hard-boiled eggs
1 large chow mein noodles
Instructions
Make a cream sauce of the first four ingredients. Add cream cheese, stirring until smooth; then add mushrooms, mushroom soup, olives, mango and pimento for color and to taste.
Mix all together over low heat, add eggs just before serving. Serve over nest of chow mein noodles.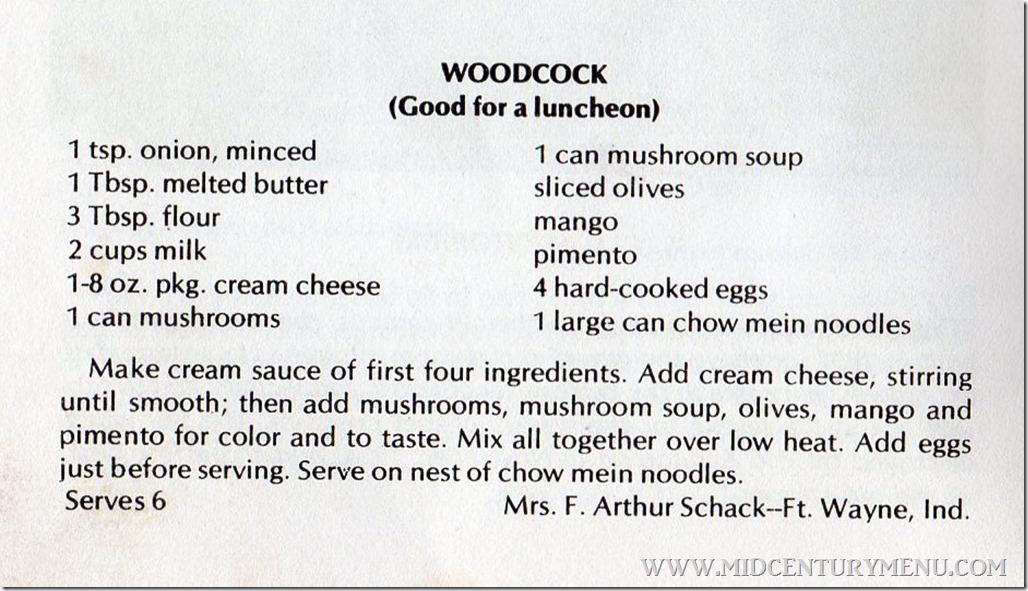 *I have been informed in the comments that "mango" can sometimes refer to bell pepper in parts of the Midwest. Which makes a lot more sense for this recipe! Thank you, Debbie!
This recipe comes from the 1972 edition of The Guild Cookbook, which was a charity/community cookbook put out by the National Valparaiso University Guild. It doesn't have a lot of explanation or information about this recipe, so we are just going to go with it. It has…mangoes in it.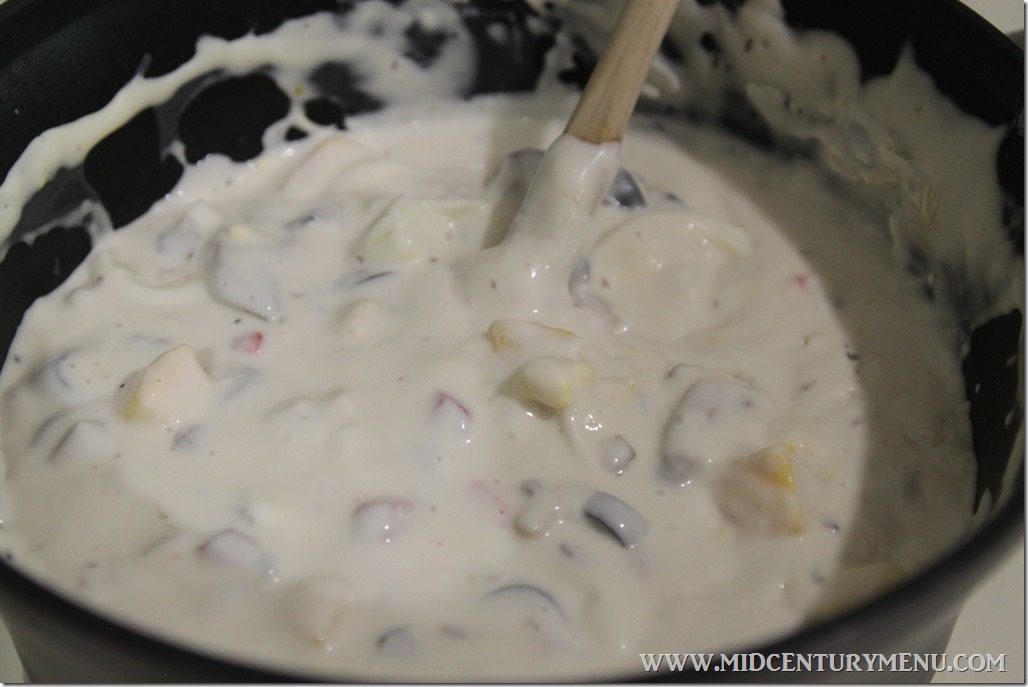 Glorp. And yes, those are mangoes floating around in there.
Interestingly, there were a couple of recipes similar to this in this book, with the white sauce/cream cheese base and then different additions and called for serving them over different things like rice or shells. Maybe this dish was a big deal on the Valpo Guild circuit?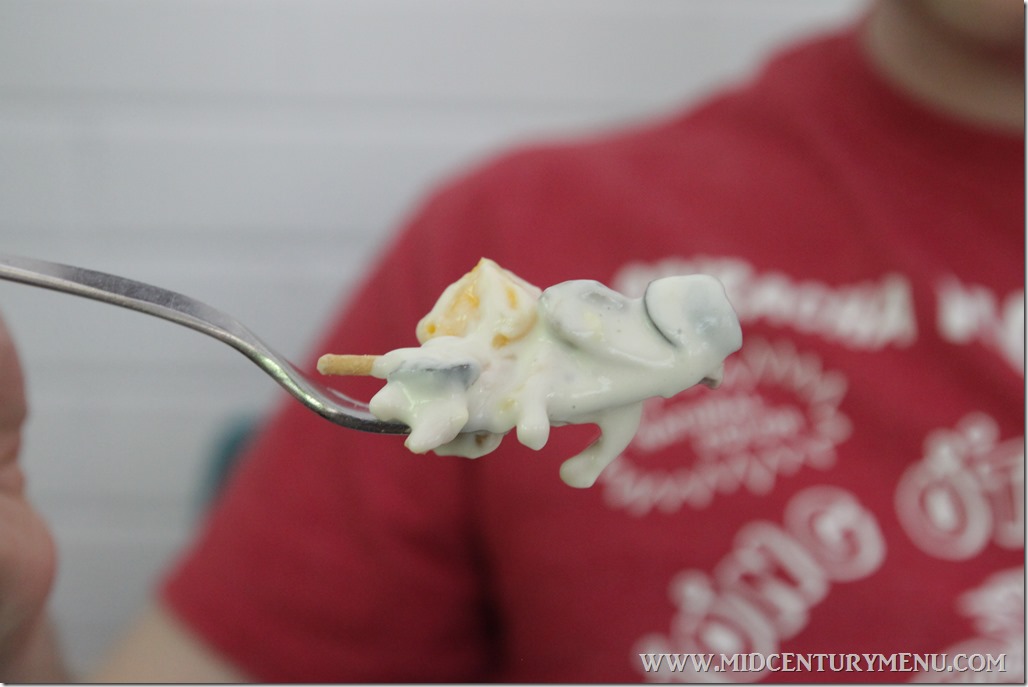 And on Tom's forkful.
"What….the. What is this?"
"It's Glorp. I mean…it's Woodcock."
"Really? Woodcock? That's what it's called?"
"Yep."
"Do you think it's a typo?"
"Maybe. This whole thing seems a little strange."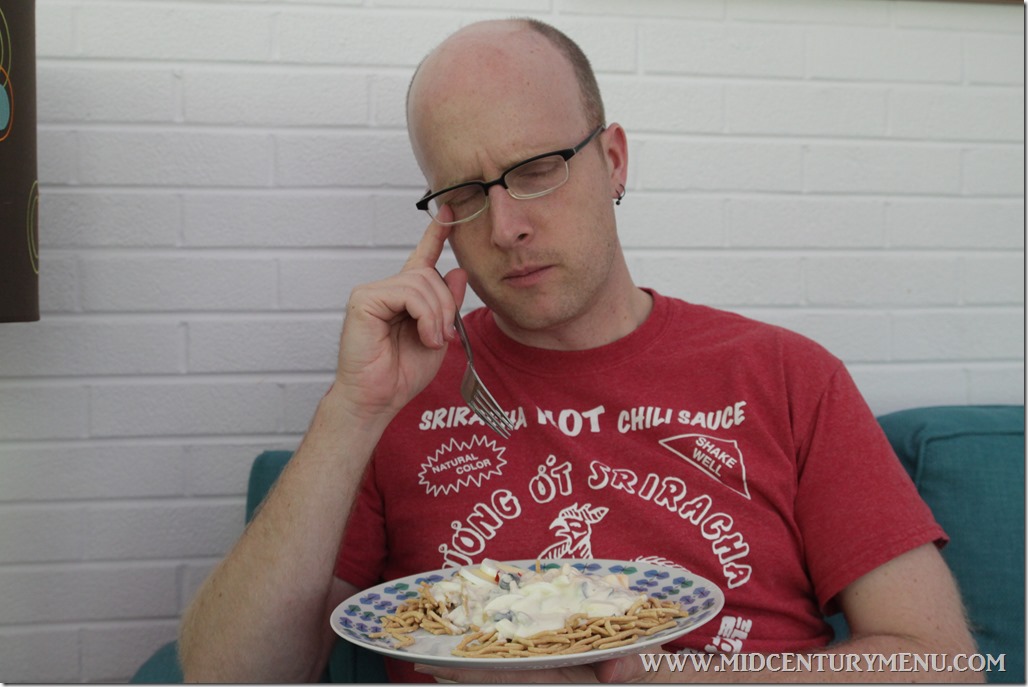 "I don't know what I'm eating here."
"There are mangoes. And olives."
"I like it, but it's not delicious."
The Verdict: Likeable
From The Tasting Notes –
Very, very bizarre. This was creamy, tasted buttery and was very, very heavy. The texture coated your mouth and did not want to let go. It doesn't taste like anything we've ever eaten or made before. Strangely, the closest taste we could come up with was…movie theatre popcorn. And not good stuff either, but the taste after it's gone cold. Not horrible by any means, this actually tasted….I hesitate to say good. It tasted semi-pleasing and was edible. Something that would probably taste better the second time you've had it. As long as you leave out the mangoes. I don't know that that was all about.