It's here! It's here! The Second Annual Pieathalon is finally here!
I am pretty excited to see how everyone's pies turned out, especially the pecan pie with ketchup in it that I submitted.  But, as happens every year, the pie I was assigned ended up being just as challenging as the one I sent.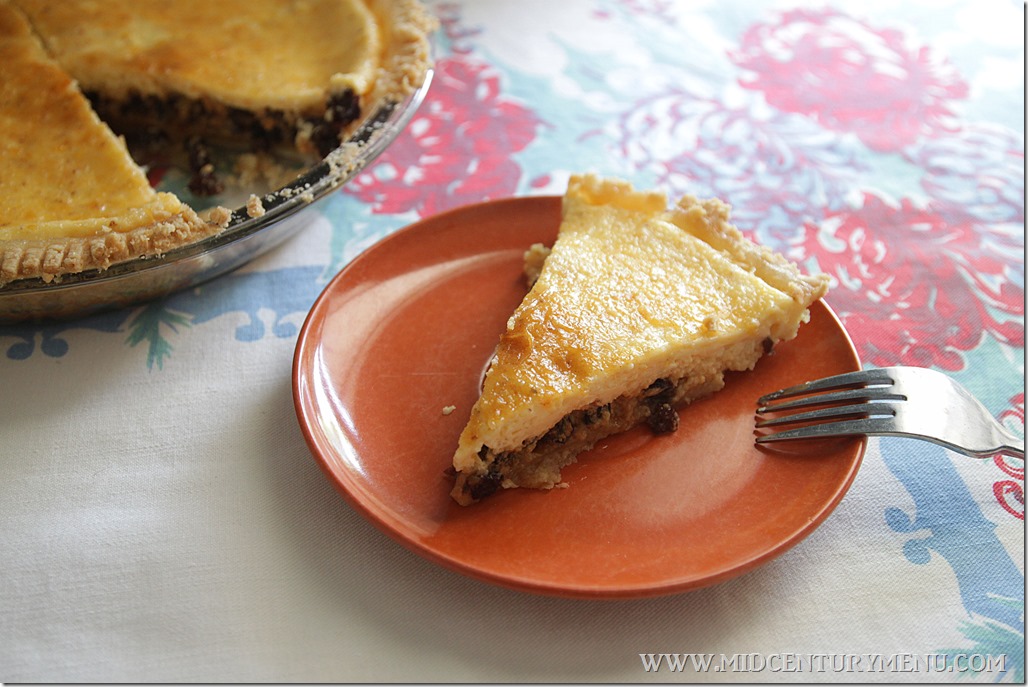 This is Cheese Pie!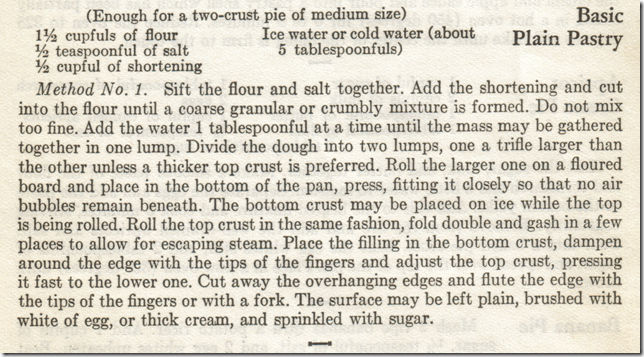 This pie was submitted by Poppy Crocker from Grannies Pantries.  Poppy writes:
This is "Cheese Pie" from My Better Homes and Gardens Cook Book (copyright 1930, but mine is the 14th printing, 1936). No authors are listed; it's from "The Tasting-Test Kitchen" at Better Homes and Gardens. The book doesn't have any recipe pictures, so I couldn't include one. I thought it would be fun to send such an old recipe, so I hope the age will make up for the lack of a picture. (I added the only picture I could find– the test cooks.) The recipe calls for "a rich crust," but the book doesn't actually have a recipe for one. I've included the basic crust recipe if the recipient wants it, or they can try something else.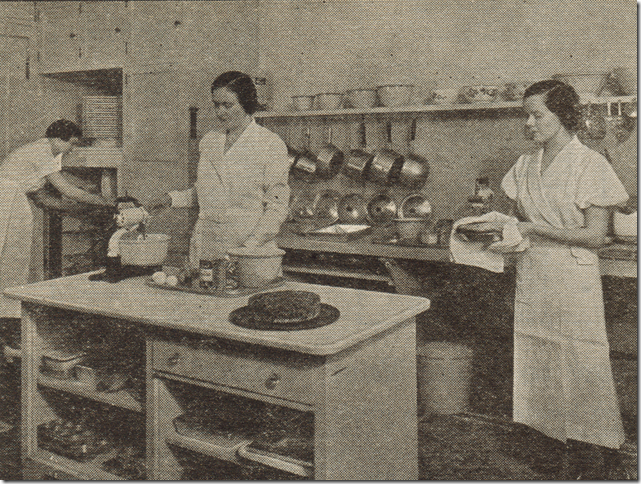 As far as vintage recipes go, this one pretty much has it all. Obscure ingredient, weird ingredient, missing recipe, and best guesses.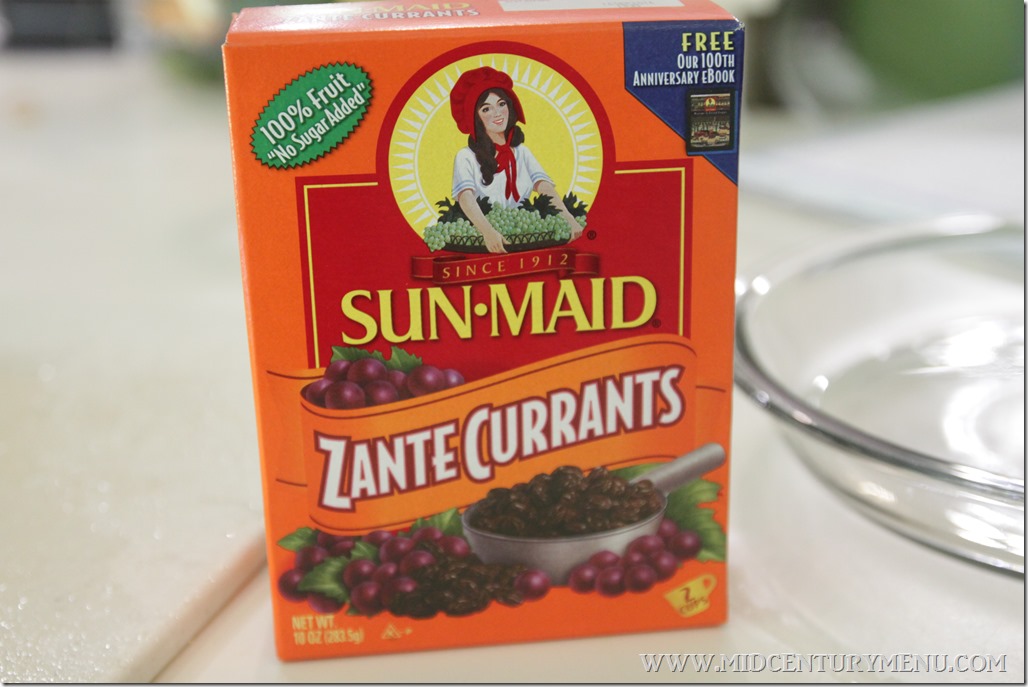 Here is the obscure ingredient: dried currants. I suppose that it doesn't actually specify dried currants, so you could use fresh currants in this pie (if you can find them). Currants and dried currants aren't actually the same thing, though.  Dried currants are seedless grapes. Since putting raisins in pies is a common thing in vintage recipes, I opted for the dried currants over the fresh.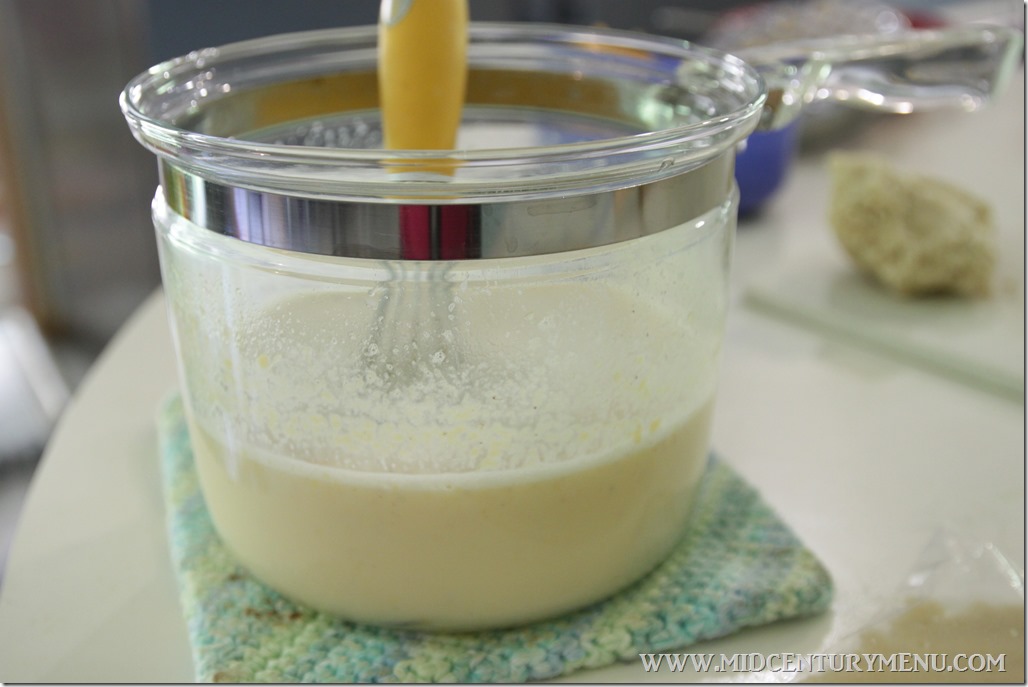 The next issue was the cheese. I used cheddar cheese in this pie. I used CHEDDAR CHEESE. I couldn't believe it either, but when you eliminate everything else, cheddar really is the only cheese that makes sense. It calls for a cheese you can grate, which eliminates cottage cheese, cream cheese and farmer's cheese.  I suppose if you found a dry enough farmer's cheese you could grate it, but most of the time the drier farmer's cheese just crumbles.
I sent Poppy an email, pleading with her, hoping that she would give me an alternative, but she came back with cheddar as well. It really is the only cheese that you can grate that would make even the smallest bit of sense in a pie.
Another issue: 1/2 nutmeg? So, half of a whole nutmeg pod? I assumed it was a misprint, and only added 1/2 a tsp.
For the rich crust, I took a page out of my copy of My New Better Homes and Gardens Cookbook, and used their recipe for Rich Biscuit Dough and modified it into pie form. I ended up adding 2 T of sugar, subbing butter for half of the shortening and adding an egg yolk.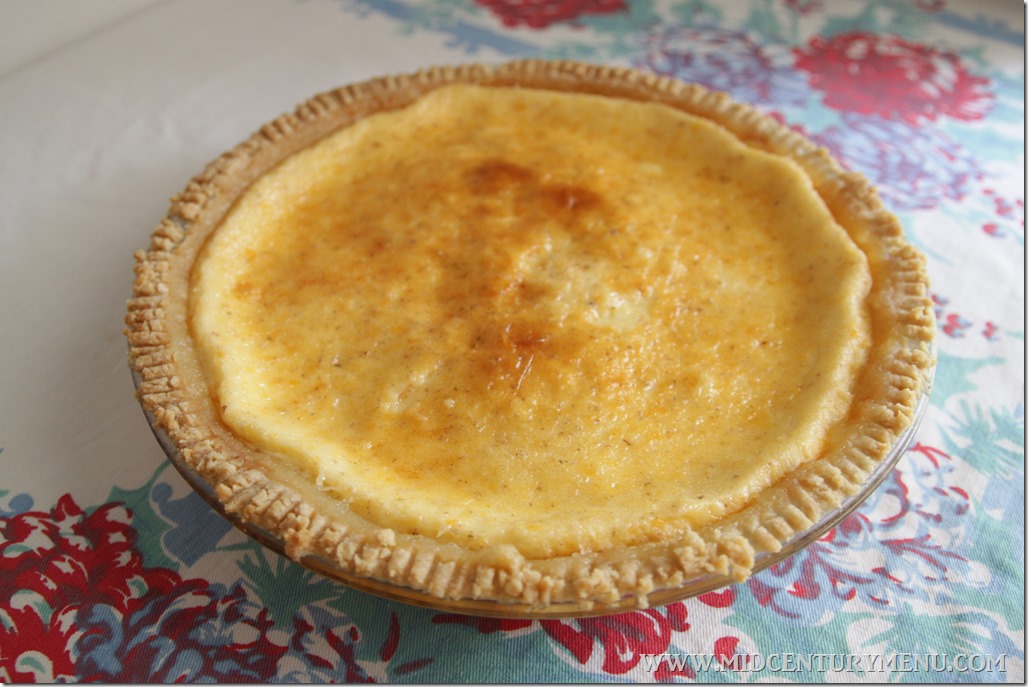 Behold! Cheese pie!!!
This pie behaved a lot like pumpkin pie in the oven, and the 45 mins they recommented wasn't nearly long enough baking time. Mine ended up taking about an hour and 15 minutes.
Enter Tom.
"Oh, god. Is this that pie thing again?"
"Yes."
"What kind did we get this time."
"Cheddar cheese."
"I hate all of you."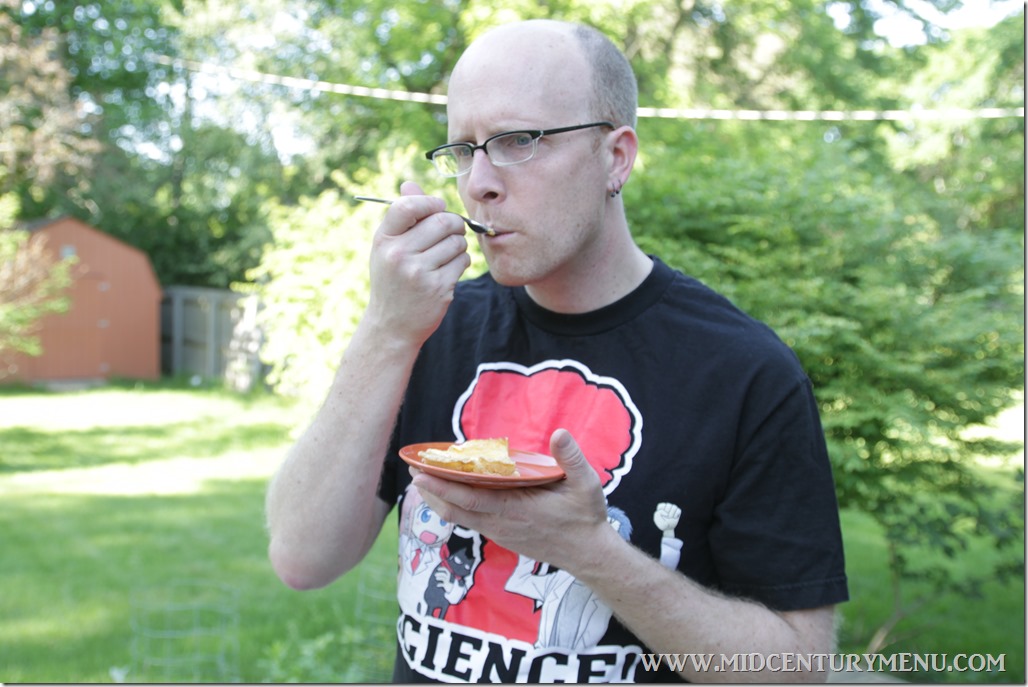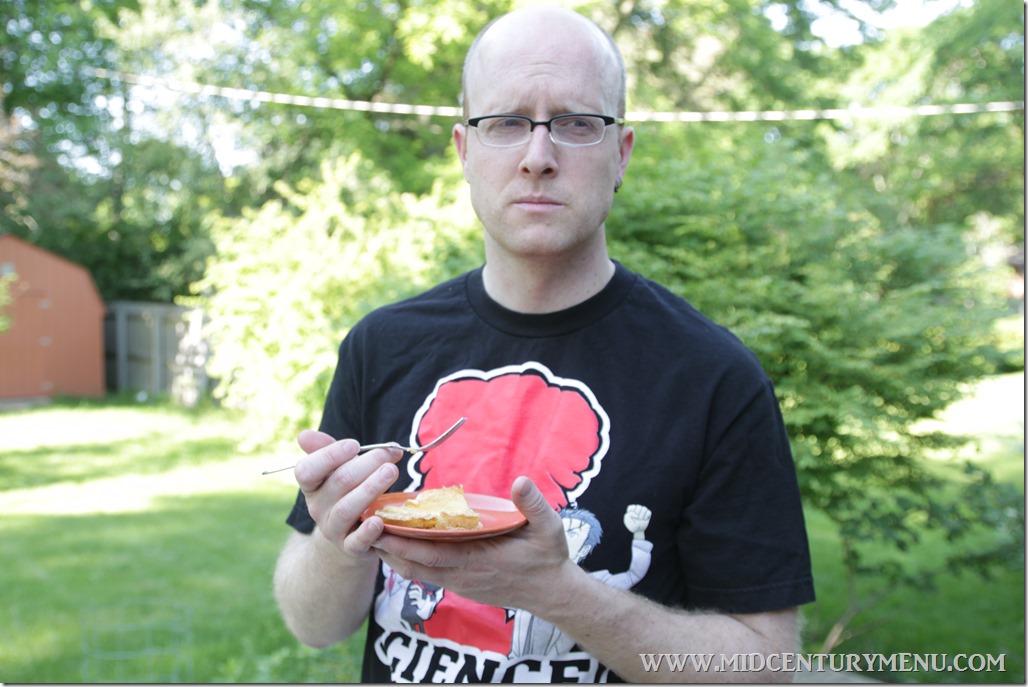 "How is it."
"Meh. Not awful. It doesn't taste like cheddar cheese at all."
The Verdict: Not Awful
From The Tasting Notes –
Thankfully, this did NOT taste like cheddar cheese. It tasted…strange and sweet and a lot like fig newtons in pie form. It wasn't bad at all, but wasn't something I would consider delicious. It actually resembled a quiche in texture, but sweet. The crust ended up being just fine, for something I made up.
Thanks, Poppy, for this recipe! It was really fun playing kitchen detective this week and trying to piece this recipe together!
Make sure you check out what everyone else made for the Pieathalon!
Yinzerella Dinner is Served 1972 made Melton Mowbry Pie from Vincent Price!
The Velveteen Lounge Kitsch-en Web Series made Swiss Pie With Hot Dogs
Saucy Cherie at cookbookcherie.wordpress.com made Prune Whip Pie!
Dr. Bobb of Dr. Bobb's Kitschen made Mincey Peach Pie!
Ashley at A Pinch of Vintage made my submission: Pecan Pie (Pssst…there is ketchup in it!)
Bittersweet Susie made Blueberry Cream Pie!
Battenburgbelle made French Onion Pie.
Kelli from Kelli's Kitchen made a White Christmas Pie!
Erica Retrochef from Retro Recipe Attempts made Steak and Mushroom Pie!
Taryn from Retro Food For Modern Times made Belgian Onion Pie
Jenny of Silver Screen Suppers made Magic Cream Pie!
Clara at Heritage Recipe Box made Cottage Cheese Apple Pie
Poppy of Grannie Pantries made Brandy Alexander Pie
S. of A Book of Cookrye made TWO pies! Rhubarb Raisin and Strawberry.
Sarah of Directionally Challenged made Peach Almond Fiesta Pie
Yesterday's Menus made Pasta Cheese Pie