Need to take an easy appetizer to that potluck holiday party?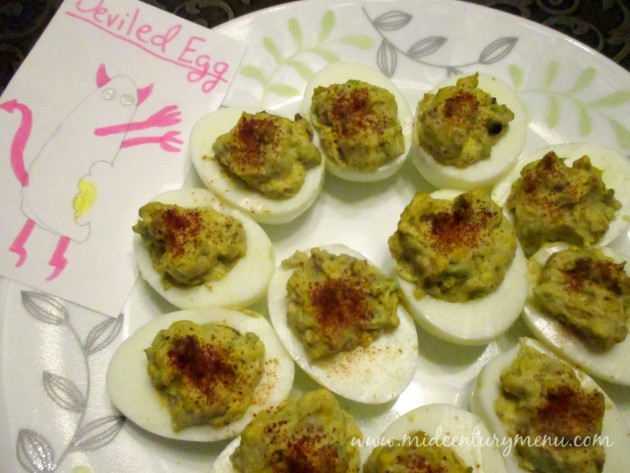 Try a fancier twist on a classic: Avocado Deviled Eggs.
Avocado Deviled Eggs – Mid-Century Recipe Guest Test Sunday
Ingredients
6 hard-cooked eggs, halved lengthwise
3 slices bacon, cooked and crumbled
1 tablespoon mustard
¼ teaspoon paprika
⅛ teaspoon salt
⅛ teaspoon pepper
3 tablespoons mayonnaise
1 medium avocado, peeled, finely chopped
Paprika, pimiento strips, and parsley sprigs for garnish (optional)
Instructions
Set aside hard-cooked egg whites. Sieve or mash egg yolks.
Combine egg yolks, bacon, mustard, ¼ teaspoon paprika, salt, pepper and mayonnaise; mix well.
Fold in avocado.
Refill egg whites with yolk mixture.
Sprinkle with paprika. Garnish with pimiento and parsley. Chill until ready to serve.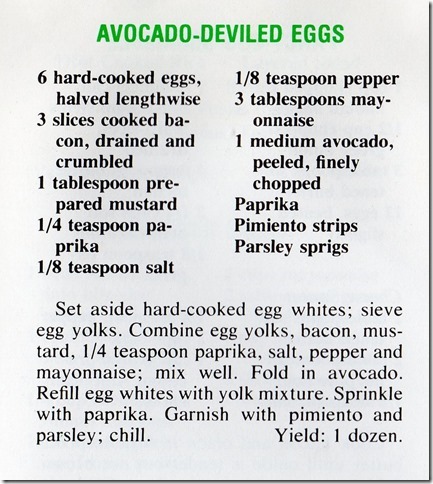 I have to confess right now, that despite managing to buy an avocado, I completely failed to buy pimiento or parsley.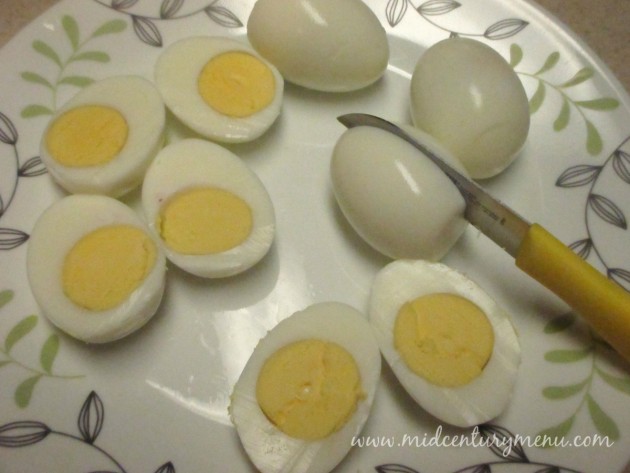 My family enjoys eating avocados in many forms (like mixed with tuna fish!), but I've never tried them in a deviled egg before.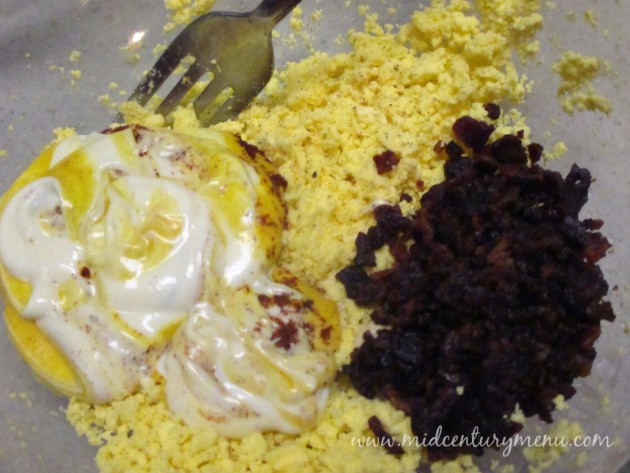 But deviled eggs themselves? Oh, yes. Mayo and mustard and egg yolk, oh my. They're one of my favorite thing to find at potlucks, and they're also easy enough that most people can produce delicious ones.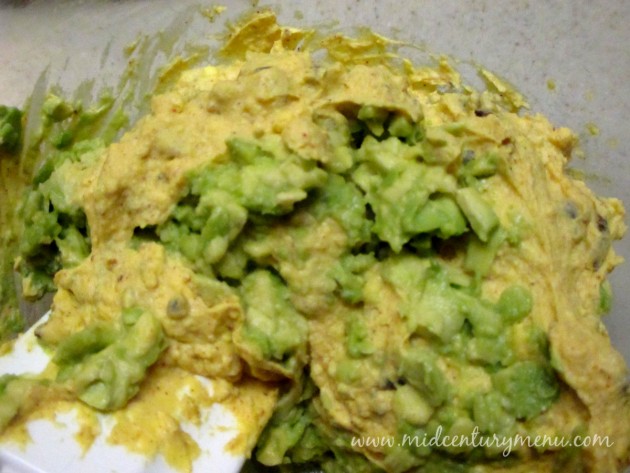 Sadly, the bacon chunks and the delicate pieces of avocado in this recipe meant that I didn't want to pipe the yolk mixture back into the whites. It's possible to make very pretty little appetizers, but in this case it would likely just end with a clogged piping bag (and perhaps swearing and tears).
So these were simply scooped back into the whites, with a touch of paprika sprinkled on top.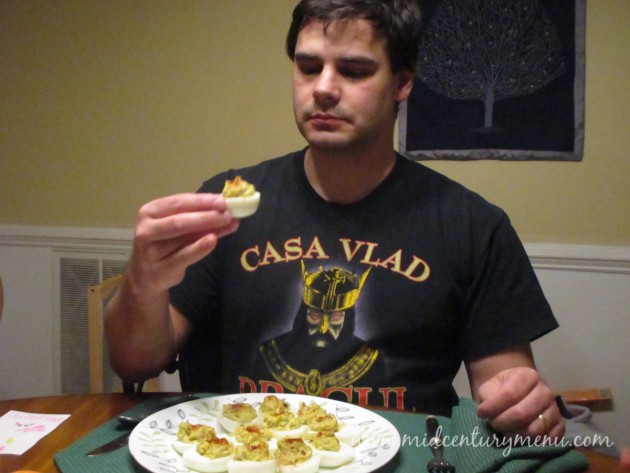 "Ah, the Dracul shirt. Appropriately devilish, I guess."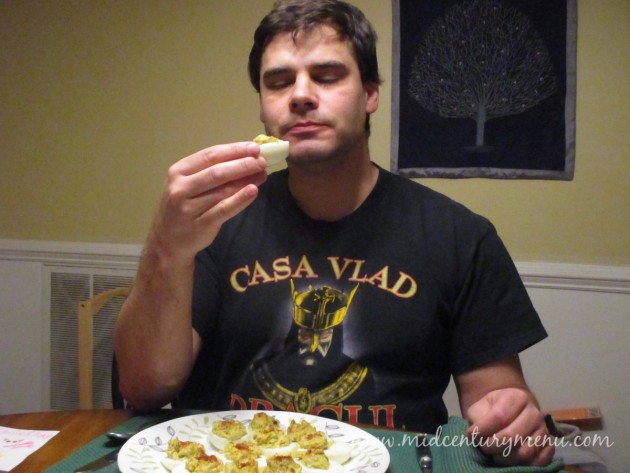 "Oh, these are gooooood."
A contemplative pause, as he took another bite, and then said:
"I can't really taste the avocado, though."
Verdict: Delicious.
From the tasting notes:
The avocado is pretty subtle with all the other strong flavors (mustard, mayo, paprika, bacon… mmm bacon.) It helps make the texture more creamy, although the bacon pieces make up for that.
One caveat: Like many dishes with avocado, these are prone to browning (oxidation) if left to sit for too long, whether refrigerated or not. Luckily, they're delicious and should disappear quickly.