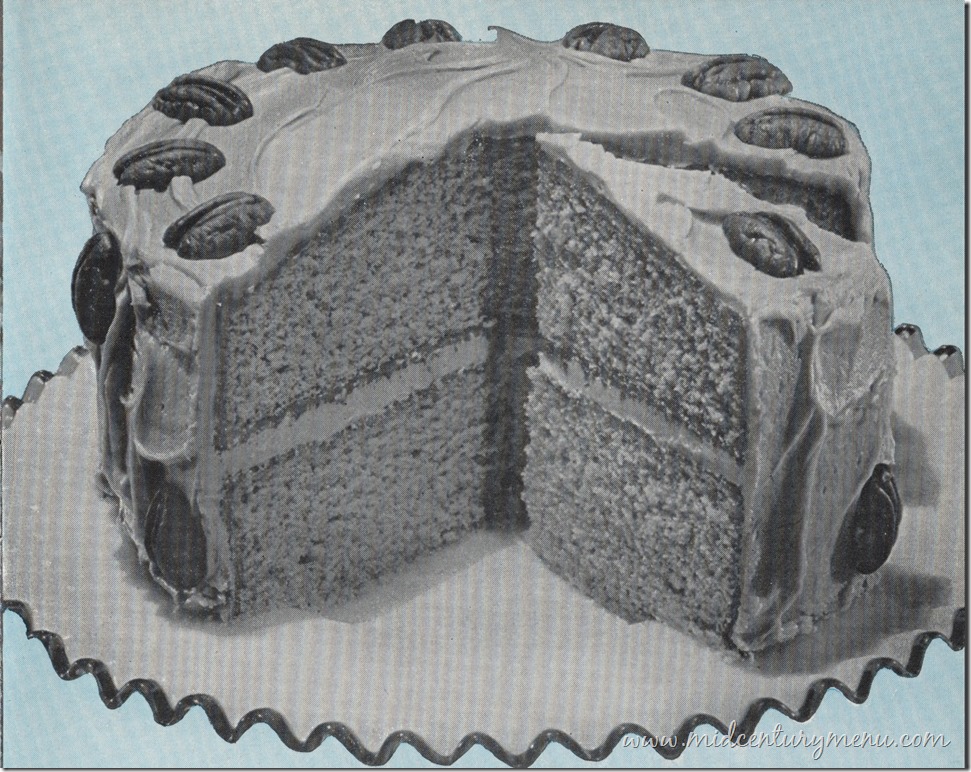 Bonnie Butterscotch Cake, 1952 – The Vintage Cake Corner
Ingredients
Preheat oven to 375 degrees Fahrenheit
Mix
1 c. light brown sugar, firmly packed
¼ c. butter
¼ c. milk
in saucepan, bring to boil over low heat, stirring constantly. Boil gently until 250 degrees Fahrenheit (hard ball stage), stirring often. Remove from heat.
Add
1¼ cups scalded milk – stir into brown sugar mixture gradually. Cool.
Sift together
2-3/4 c. cake flour
1 c. light brown sugar, firmly packed
3-1/2 t baking powder
¾ t salt
Add
⅔ cup shortening
¾ of cooled, cooked butterscotch mixture
1 unbeaten egg
1 teaspoon vanilla
Beat on low speed in mixer for 2-1/2 minutes, scrape bowl.
Add
Remaining butterscotch mixture
2 unbeaten eggs
Beat 2-1/2 minutes
Pour into 2 greased round 9″ x 1-1/2″ baking pans
Bake until cake tests done, about 25-35 minutes
Frost with Butterscotch Frosting. Sprinkle frosting with ¼ cup chopped pecans between layers, decorate with pecan halves.
Butterscotch Frosting
In saucepan, mix
2 cups light brown sugar, packed firmly
1 cup granulated sugar
2 tablespoons light corn syrup
¾ cup milk
¼ cup shortening
¼ cup butter
¼ teaspoon salt
Bring slowly to a full rolling boil, boil briskly 2 minutes (2-1/2 minutes if humid/rainy)
Cool to lukewarm, add 1 teaspoon vanilla, and beat until creamy and thick enough to spread.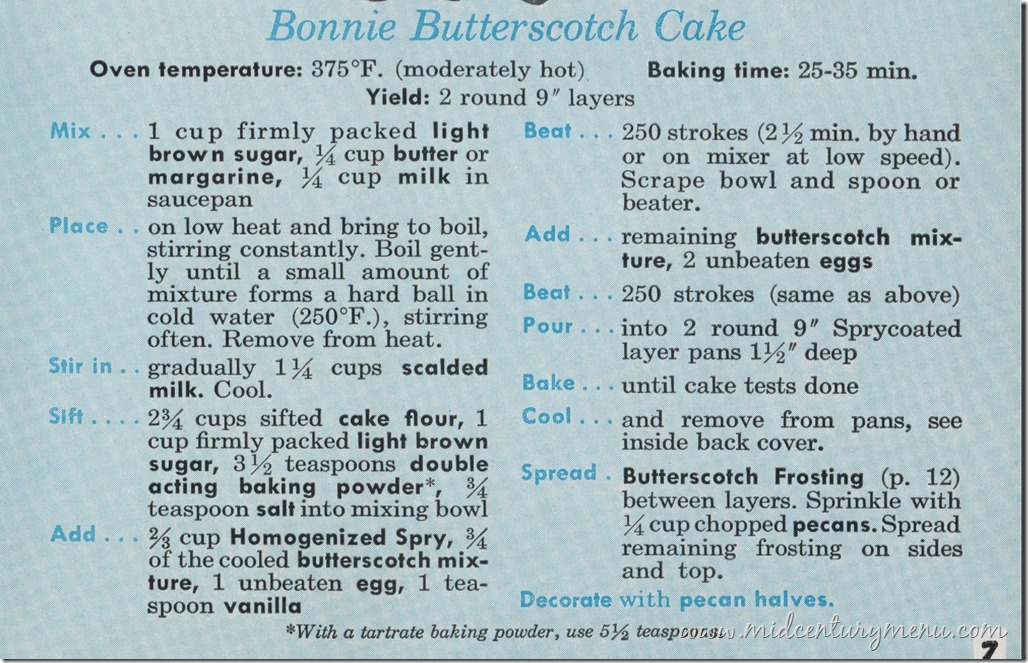 From 10 Cakes Husbands Like Best, 1952