By RetroRuth
I hope everyone had a good Memorial Day Weekend! Our weekend was filled with cleaning, yard work and, of course, gelatin. What weekend would be complete without gelatin?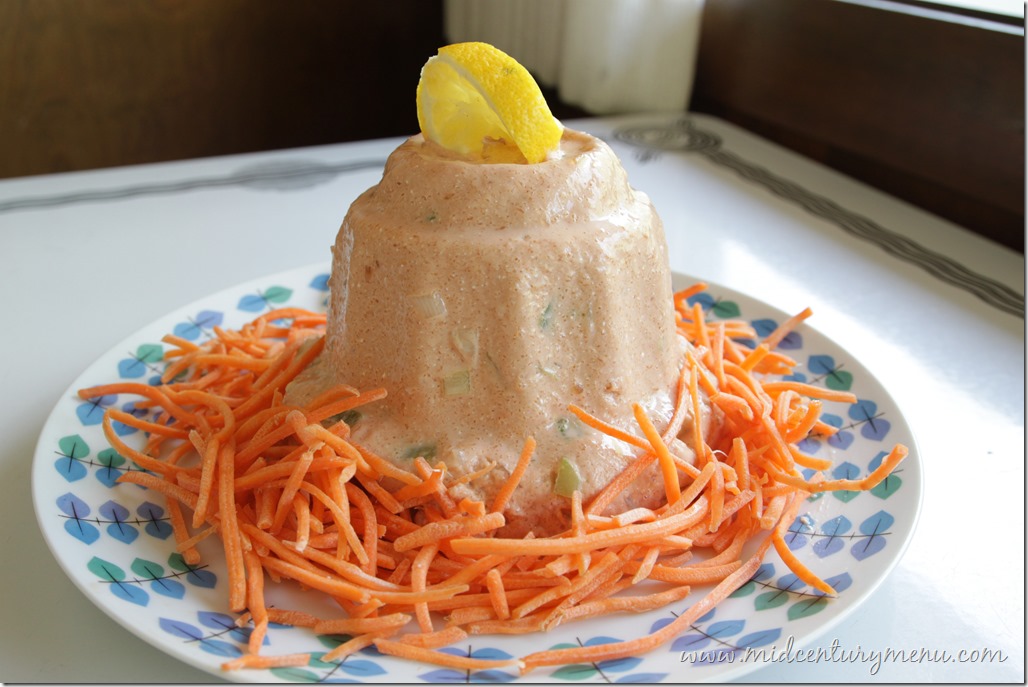 This is Gazpacho Gelatin Salad!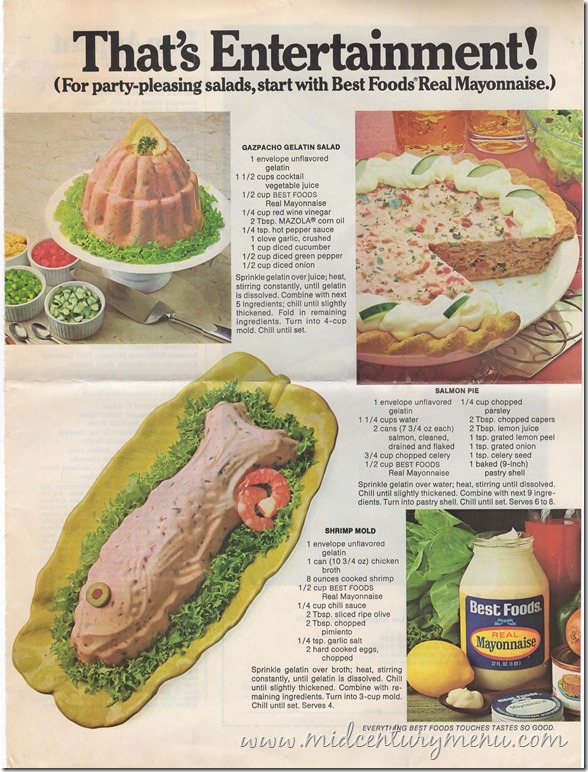 Gazpacho Gelatin Salad
Ingredients
1 envelope unflavored gelatin
1½ cups cocktail vegetable juice
½ cup mayonnaise
¼ cup red wine vinegar
2 T Mazola corn oil
¼ tsp hot pepper sauce
1 clove garlic, crushed
1 cup diced cucumber
½ cup diced green pepper
½ cup diced onion
Instructions
Sprinkle gelatin over juice; heat, stirring constantly, until gelatin is dissolved.
Combine with next 5 ingredients; chill until slightly thickened.
Fold in remaining ingredients and turn into 4 cup mold. Chill until set.
For those of you who have been reading the blog this week, this gelatin mold should be pretty familiar to you! After all, last Sunday Erica posted the un-inspiring and bland
Salmon Pie
, and the heroic Betty Homemaker post the disgusting-beyond-words
Shrimp Mold
.
This post was originally supposed to go live last Wednesday, but last weekend our house was hit by a sudden and devastating attack of stomach flu that rendered us unable to do anything but drink Gatorade and Pedialyte for days. So as soon as I could look at the advertisement without gagging, I set about completing our epic trilogy of gelatin.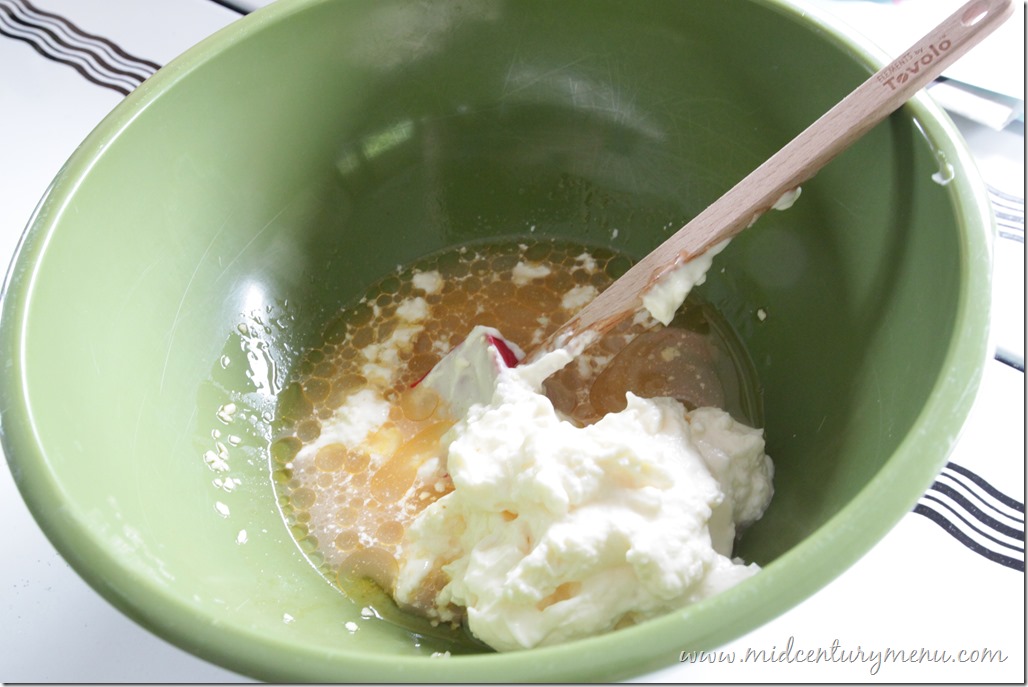 I wish that my creation was as hilariously horrible as Betty Homemaker's Shrimp Mold, but it really wasn't . I mean, there was a lot of mayo (of course), but other than that it was just veggies.
But while I was making this, our trilogy of gelatin experiences with this one ad got me thinking about movie trilogies for some reason, mostly Star Wars. And I started wondering, could gelatin molds be considered similar to Star Wars? Maybe.
A New Hope – Introduces characters and ideas, good bit of adventure but nothing too crazy, Luke Skywalker too sweet.
Salmon Pie – Introduces basic ingredients (gelatin and mayo), slightly different than normal but nothing too crazy, crust too sweet.
Empire Strikes Back – Dramatic and shocking with crazy plot twists that make everyone gasp, mutilation, failure and Yoda.
Shrimp Mold – Dramatic and shocking ingredients that make testers cry and gag, too much chili sauce, failure and shrimp.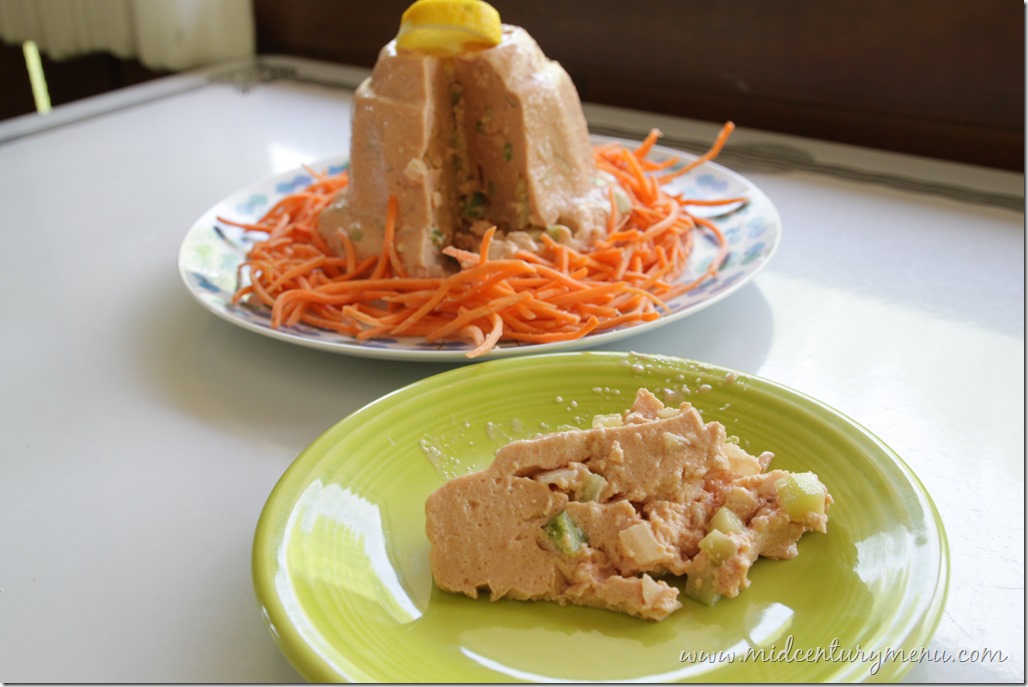 Return of the Jedi – Luke is on his GAME, everyone is rescued, the Dark Side is destroyed, Darth Vader is burned, and then Ewoks.
Gazpacho Gelatin Mold – We miraculously recover from the flu and Lysol everything in the house, there is no seafood in our gelatin, the combination of onion and vinegar reeks to high heaven, and then Tom.
Yeah. Seems like pretty much the same thing to me.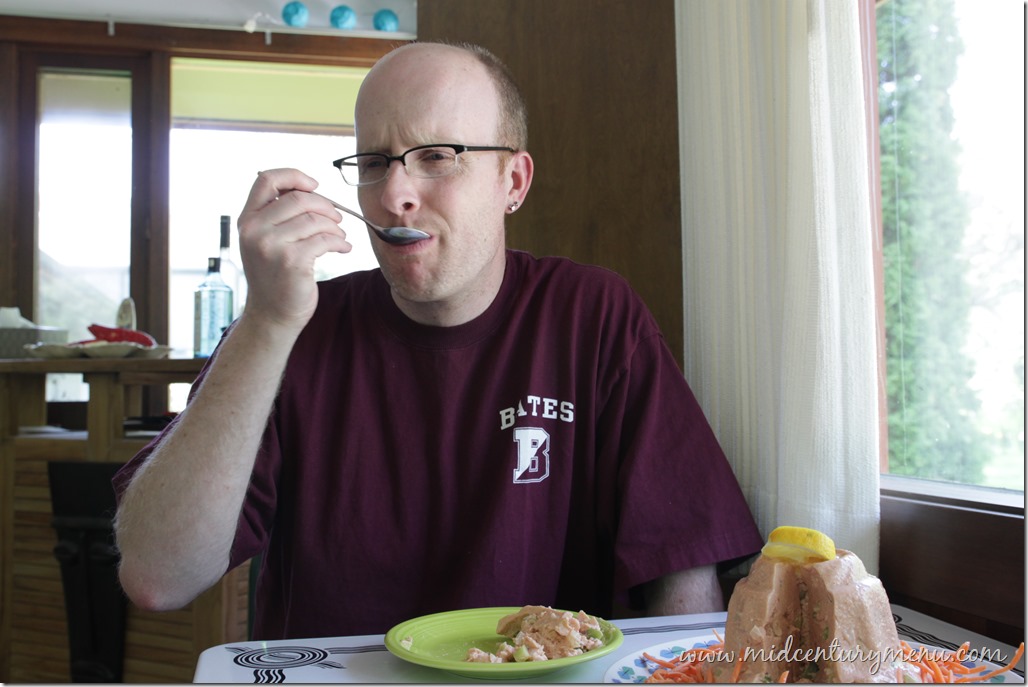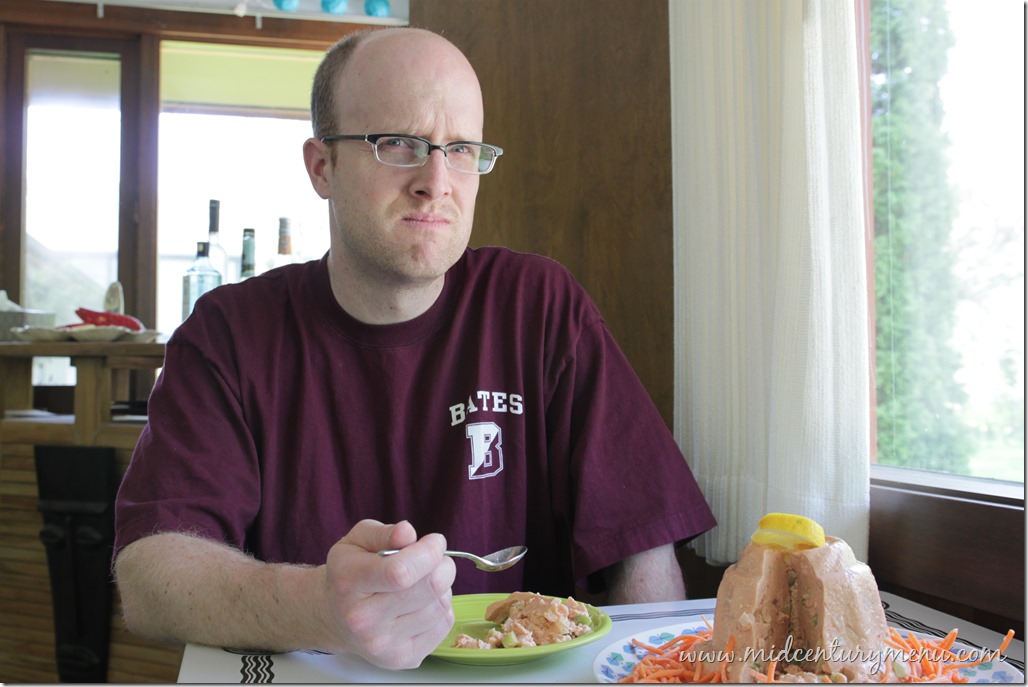 "This is nasty."
"You think? Is smells to high heaven."
"It's not just that. There is something really unsettling about the texture in this thing."
"Yeah, and there are no Ewoks."
"What?"
"Nothing, I just…nevermind."
The Verdict: Unsettling
Not the worst gelatin dish we've ever eaten, but nothing really redeeming about this. It smelled like the garden full of wild onions that we had pulled up that morning (so, rotten onions) combined with green pepper, tomato and the sharpness of the vinegar. The veggie flavor wasn't so bad, but the mouth feel of this thing was unsettling, mostly because the mayo and veggie juice gelled to a weird texture. Overall, not good.
It's The Pieathalon!
We are recruiting bloggers, retro cooks and fans for our 1st Annual Vintage Pie Recipe Swap – The Pieathalon! If you have a crazy/awesome/gross/delicious vintage pie recipe and you would like to be included in this, please email Yinzerella from Dinner is Served, 1972 at embrungo@yahoo.com with your recipe by this Friday 5/30 . To be included in Pieathalon, you have to have a blog and your recipe has to come from your own recipe collection, not from Pinterest, FB, Google Images, Flickr or anything like that. Recipes need to be posted to your blog on 6/30, so if you want to join make sure you can post on that date!
Hope to see you at the Pieathalon!