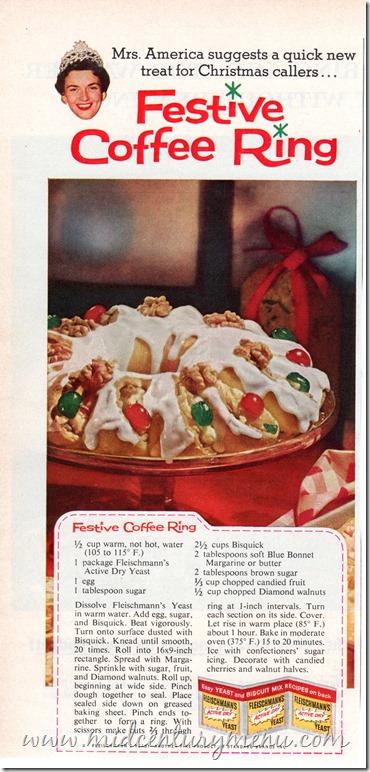 Festive Coffee Ring
Author:
Fleischmann's Yeast, 1959
Ingredients
½ cup warm, not hot, water (105-115 degrees F)
1 pkg Fleischmann's Active Dry Yeast
1 egg
1 T sugar
2½ cups Bisquick
2 T soft Blue Bonnet Margarine or butter
2 T brown sugar
⅓ cup chopped candied fruit
½ cup chopped Diamond Walnuts
Instructions
Dissolve Fleischmann's Yeast in warm water. Add egg, sugar, and Bisquick. Beat vigorously.
Turn onto surface dusted with Bisquick. Knead until smooth, 20 times.
Roll into 16x9 inch rectangle. Spread with Margarine. Sprinkle with sugar, fruit and Diamond walnuts.
Roll up, beginning at wide side. Pinch dough together to seal. Place sealed side down on greased baking sheet. Pinch ends together to form ring.
With scissors, make cuts ⅔ through ring at 1-inch intervals. Turn each section on its side.
Cover. Let rise in a warm place (85 degrees) about an hour.
Bake in moderate oven (375 degrees) 15-20 minutes. Ice with confectioners sugar icing. Decorate with candied cherries and walnut halves.
From Better Homes & Gardens, December 1959