Technically I suppose these ended up being more of a gingerbread cupcake that a molasses cupcake, but when I started out messing with the recipe for the Molasses Layer Cake I was really focused only one thing: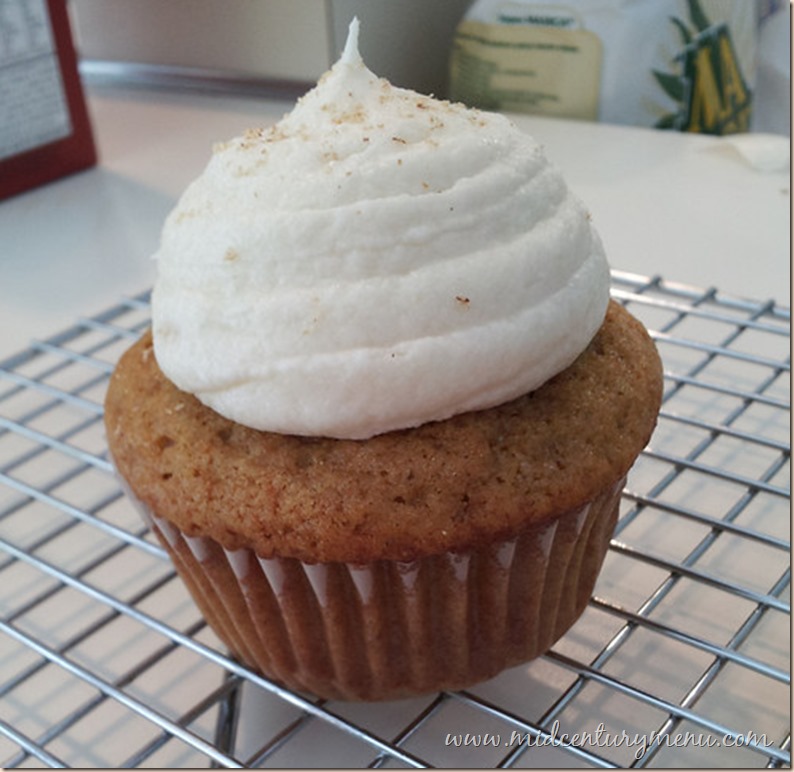 Cupcake.
Cupcake, cupcake, cupcake!
So in the end, adding the extra spices really wasn't that big of a concern for me as long as they worked in a cupcake wrapper!

Molasses Cupcakes with Candied Ginger Mascarpone Frosting
Author:
www.midcenturymenu.com
Ingredients
1 stick butter, softened
½ cup granulated sugar
½ cup brown sugar, packed
⅓ cup molasses
1 large egg
2 cups flour
1 tsp. baking soda
1 tsp. cinnamon
1 tsp. ground ginger
½ tsp. nutmeg
¼ tsp. ground cloves
½ tsp. salt
1 cup buttermilk, room temperature
For Frosting:
½ cup butter (1 stick), softened
8 ounces mascarpone cheese, softened
2 ounces cream cheese, softened
1 tsp. vanilla extract
4 cups confectioners' sugar, sifted
¼ cup finely chopped crystallized ginger
Instructions
Cream sugars and butter. Beat in egg and molasses.
Sift together flour, baking soda, salt and spices. Add sifted ingredients to creamed mixture alternately with buttermilk in three batches, starting and ending with buttermilk.
Portion batter into lined muffin pans with ¼ cup scoop, or fill liners ⅔ full. Bake in a 350 degree oven for 20 minutes, or until cupcakes spring back when touched in the center. Cool on wire racks.
Frost with Ginger Mascarpone Frosting and top with freshly grated nutmeg. Yields about 18 cupcakes.
For Frosting:
Cream together butter and cheeses until smooth. Add in vanilla extract and confectioners' sugar, and beat until well-combined and no longer gritty, about 5 minutes.
Stir in crystalized ginger, and use to frost cooled cupcakes. This recipe yields enough frosting to thickly frost 18 cupcakes. If you prefer less frosting, halve recipe.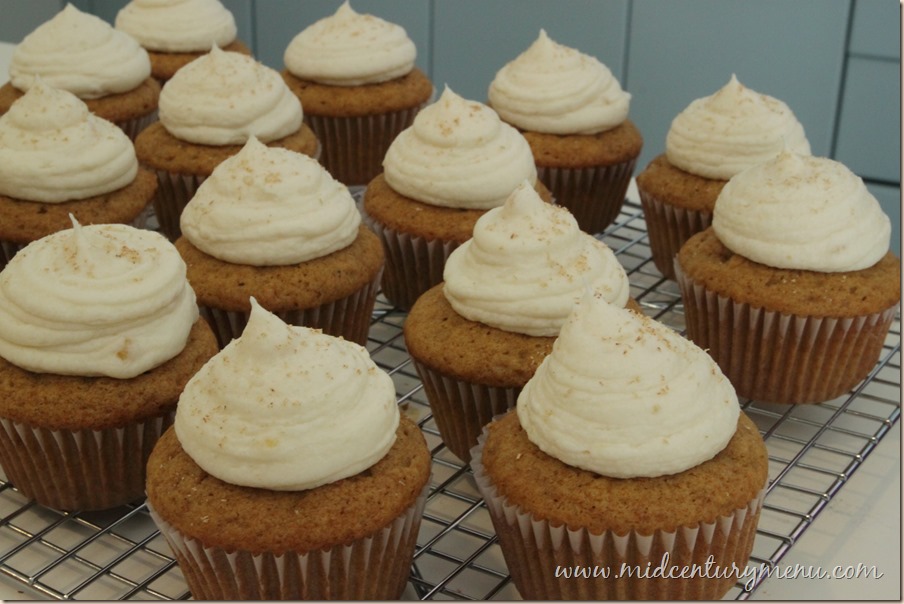 Tom ended up loving these so I thought I would share them with you guys, too! This is the first time I've experimented with mascarpone frosting, and it turns out that I like cream cheese frosting a lot better. But I threw some candied ginger chunks in there and it all ended up tasting yummy in the end. The cupcakes are moist and soft without being too light, and I think they are a good match with the frosting. I am actually really excited about making these for Thanksgiving, and maybe even Christmas as well!