Let's just get right down to it.
I apologize for doing a horrible job on this gelatin.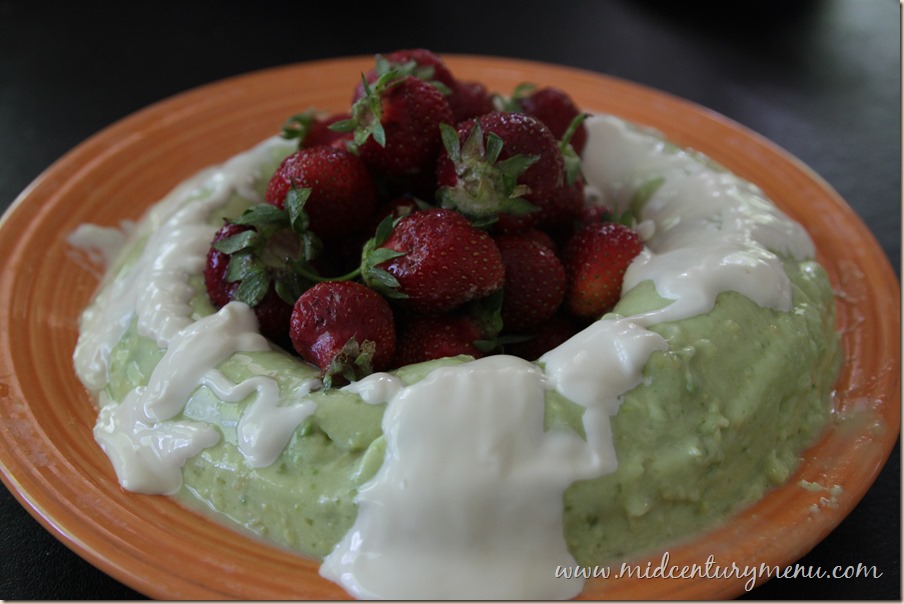 I'm sorry, I'm sorry.
I am so, so, so sorry.
This has GOT to be the absolute worst plating of all time. I don't know what I was going for here, but "edible" doesn't seem to be it. Good lord, that's an UGLY gelatin. What can I say? I was tired, my gelatin mold listed to one side in the fridge, I tried to drizzle the sauce over the top and…well…this is how it ended up.  I tried to pretty it up with some strawberries, but I think I just made it worse.
And the honey cream dressing looks like…well…it looks bad. Let's say it just looks bad and we will leave it at that.
My sincere apologies to Elise, who submitted this recipe almost a year ago for our Gelatin Contest. Elise writes:
Hi Ruth & Tom!

My latest cookbook find is The General Foods Cookbook, a fabulous tome with menus for every occasion. And no recipe is offered on its lonesome, they're all part of some incredible menu. I offer a few of the best ones that made my stomach flip. I'm not a fan of jell-o. The texture makes me… shudder. So I appreciate you taking the opportunity, sacrificing yourself for your readers' enjoyment. Good luck!
Jellied Avocado Ring with Strawberries and Honey Cream Salad Dressing
Author:
The General Foods Cookbook
This is for 4 servings--the recipe handily offers measurements for 20 servings as well, if you're so inclined! It's to serve a few friends from the Garden Club, "on a beautiful midsummer day, when your garden's at its blazing best."
Ingredients
1 package lemon-flavored gelatin
¼ tsp salt
1 c hot water
¾ c cold water
1 tbsp lemon juice
1 very ripe avocado, peeled, pitted & mashed
3 tbsp mayonnaise
1 pint fresh strawberries
Instructions
Dissolve gelatin and salt in hot water. Add cold water. Chill until slightly thickened.
Pour lemon juice over avocado [ETA that I'd do this as soon as you've cubed it]. Stir mayonnaise and avocado into gelatin, blending well.
Pour into a 3-cup ring mold. Chill until firm.
For dressing (I halved it, as suggested, for the smaller amount of avocado mold): Combine well: ¼ c heavy cream, 1 tbsp honey, ¼ tsp lemon juice and 1c mayonnaise.
Slice strawberries. Unmold avocado ring and fill center with berries. Serve with dressing.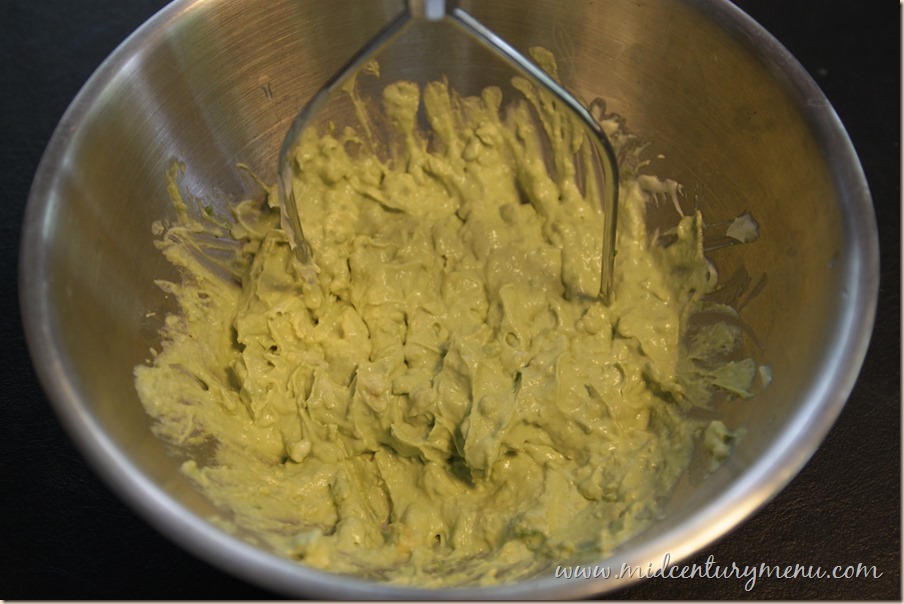 Not that I have dirty diapers on the brain or anything, but doesn't this look like a dirty diaper?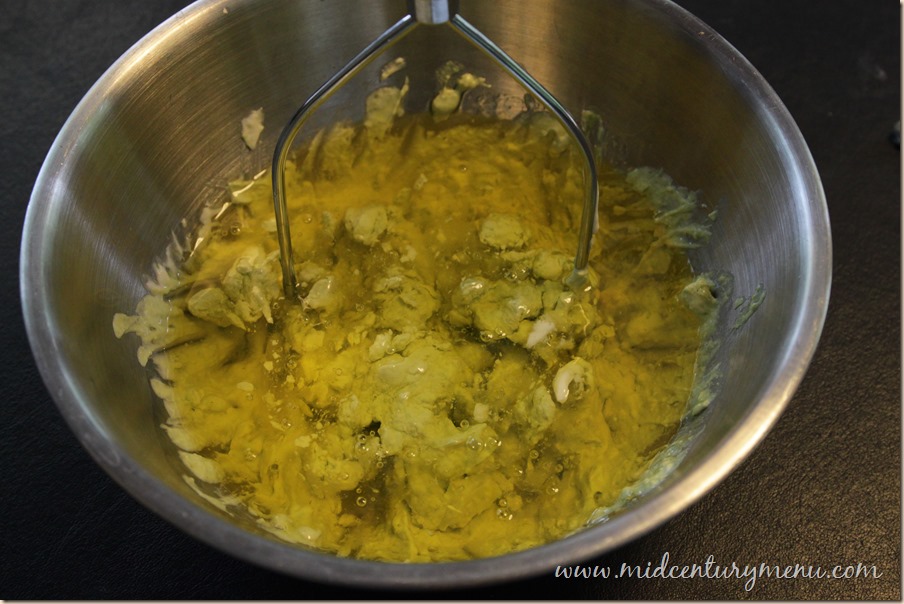 This one even more so.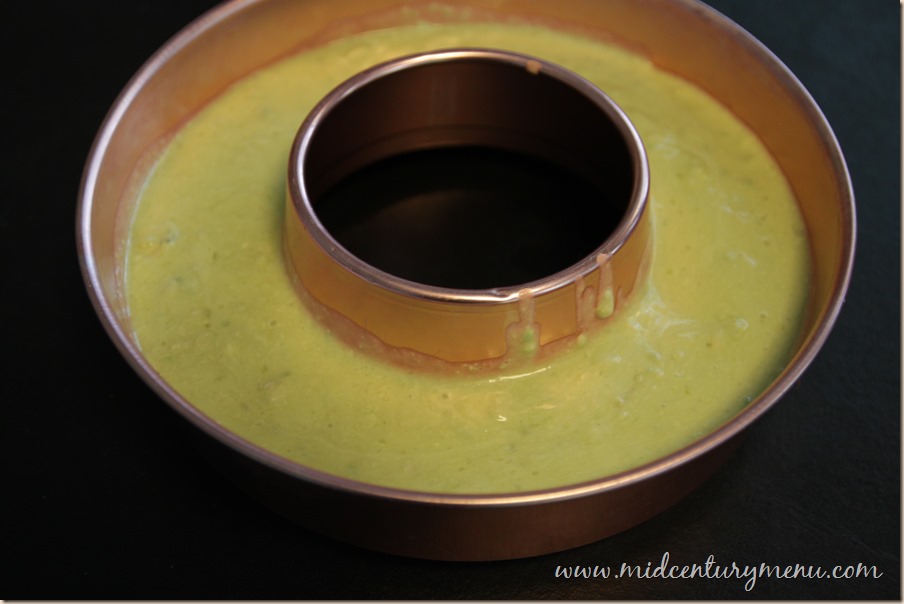 And now…slightly less. But still, not good.
*Snicker*
I'm sorry. I'm sorry. I know this is a family blog, but that "honey cream dressing" is just…I can't. I can't stand it. It is worse than the sauce on the liver gelatin.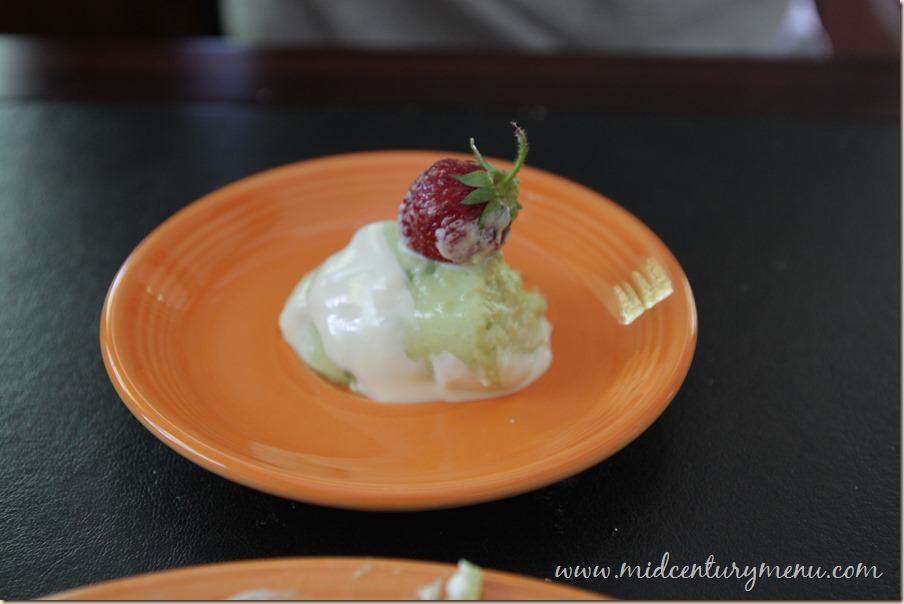 Okay…not so bad in single serving form. Whew. Okay…composure…aaaaand the taste test.
"How is it?"
"Odd. The lemon flavor is really strong."
"Is it bad?"
"No, not really. It is sweet. It doesn't taste bad on its own, but it tastes a lot better with the strawberries."
The Verdict: Good With Strawberries
From the Tasting Notes:
Despite its horrible appearance, it didn't actually taste that bad. Maybe if it would have been in a better mold it wouldn't have looked so bad. It was sweet and tasted good with strawberries. Would be interesting to serve at a mid-century potluck or dinner party!