Soooo…I normally don't do this here on the Mid-Century Menu. Usually we find a mid-century recipe, reproduce it exactly, and then we stuff whatever concoction that it produces in our faces, chunks of American cheese and all. That's the fun of this site.
But honestly, I have to tell you guys that a lot of the time I remake recipes, playing around with them  behind the scenes if I think stuff has potential. Normally I keep all this to myself since I figure no one but me is really interested in that, but I was playing around with the Bacon Muffins from last week because I had a crazy idea. This crazy idea consisted of making a muffin that when you took a bite out of it would taste like pancakes, bacon and syrup all in one bite. But it would still be a muffin. I am sure there are already recipes out there to make such a muffin, but Tom makes these amazing soft and fluffy pancakes that I love, and I wanted to capture the exact taste of those pancakes in these muffins.
I know, crazy, right?
To my eternal surprise and to Tom's joy, I succeeded!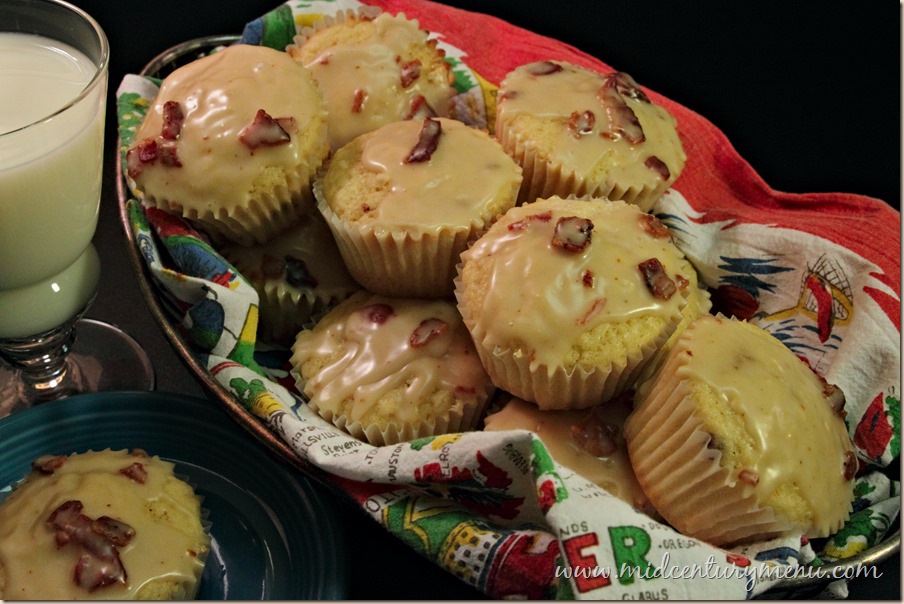 Behold!!! A muffin that tastes like a whole breakfast. Makes me feel like Willy Wonka. Except when you eat these you aren't going to turn into a blueberry.
Hmmm…I'll have to keep that in mind for next time…

Maple Bacon Muffins With Crumbled Bacon Glaze
Author:
www.midcenturymenu.com
Ingredients
4 slices bacon, cooked and crumbled
¾ cup sugar
½ cup butter (1 stick), softened
2 eggs
1 tsp. vanilla extract
½ tsp. almond extract
2 cups flour
1 Tbsp. baking powder
½ tsp. salt
1 cup buttermilk
3 Tbsp. maple syrup
For glaze:
1 cup confectioners' sugar
2 Tbsp. maple syrup
3 Tbsp. milk or buttermilk
Instructions
Cream butter and sugar. Add eggs one at a time, beating after each addition.
Sift together flour, baking powder and salt.
Whisk together buttermilk, maple syrup and extracts.
Add sifted ingredients and whisked ingredients all at once to the creamed mixture. Stir until flour is just moistened.
Add 3 of the crumbled strips of bacon, reserving the fourth for the glaze. Stir batter until bacon pieces are incorporated, about 4 or 5 times. Do not over mix.
Scoop batter into prepared muffin pans, filing cups about ⅔ full. Bake in a 350 degree oven for 20 mins, or until muffins are springy to the touch. Remove from oven and cool on a wire rack.
While muffins are cooling, whisk together ingredients for glaze until smooth. Add in reserved bacon and stir to combine.
Glaze muffins while still slightly warm. Refrigerate any leftover muffins. Yields about 16 muffins.
In a side note, I FORGOT to take pictures of Tom wolfing these muffins down!!! Tragedy! Probably because it was breakfast, I was hungry, and Tom had already eaten five before I even had a chance to finish taking a picture. I will have to snap a picture of him eating a record number of muffins next time I make these!
The Verdict: Yummy!
From the Tasting Notes:
Not an authentic mid-century recipe in the least, but still very good. These little muffins are definitely muffins, moist and sweet without being too cakey. They have a good maple flavor and the extra bacon adds a yummy, salty crunch. The glaze really puts these over the top. If you are really, really into glaze, I would recommend poking holes in the muffin tops before pouring over the glaze so that it can run down into the muffin itself. An ingredient note: The maple syrup we used was "Grade C" syrup, which is a darker, more maple-y flavored maple syrup that we purchase at our local farmers' market.