Even though I have an amazing cheese ball recipe already (and a reasonable backup one as well), I can't keep myself from trying new cheese ball recipes I randomly come across. Recently I stumbled on one in a church cookbook called The Queen's Book from 1967.  Is it scary to say that I was intrigued because it contained a lot of pasteurized, processed cheese?
Actually, the main ingredients that excited me the most were the Kraft Nippy Cheese and Garlic Cheese, which were products that Kraft used to sell in rolls (and maybe little glass jars? Am I remembering this right?) in the cheese section.  I remember liking those products as a child, and so I was excited to see if they still made it.
Alas, they do not. So, we substituted Kraft Old English Cheese, which they do still make, for both and added some garlic.

Cheese Ball
Ingredients
4 oz. pkg. Kraft Bleu Cheese
1 8 oz. pkg. Philadelphia Cream Cheese
1 6 oz. pkg. Kraft Nippy Cheese
1 6 oz. pkg. Kraft Garlic Cheese
12 oz. Wisconsin Sharp Cheddar Cheese
1 t. Worcestershire sauce
1 t. onion juice (Spanish. Cut the onion in half and scrape off juice with a sharp knife.)
Instructions
Leave above ingredients set for 24 hours at room temperature.* see note* Put everything together in an electric food mixer. Beat until smooth. Serve on crackers. You may put above in individual glass glasses, covered with foil. You can also roll into a ball, then roll ball in parsley flakes.
Notes
It is probably best that you DO NOT leave your cheese out for 24 hours! Bringing it to room temp. is just fine.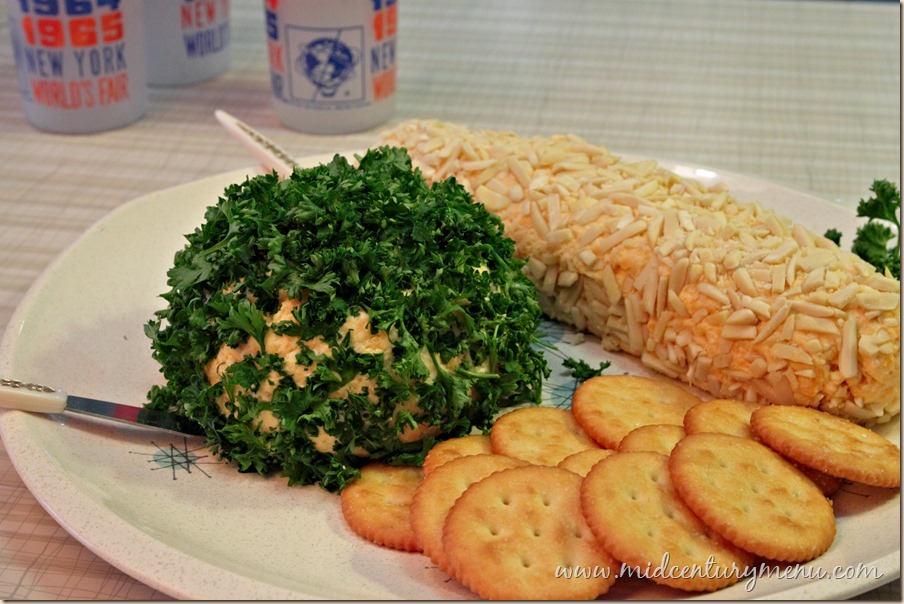 Turned out pretty, don't you think?  Oh, and I totally DID NOT leave the cheese out for 24 hours before mixing it. I just let it come to room temp.  I DO NOT recommend that you leave the cheese out for extended periods of time. Some of the recipes we post are bad enough without the threat of deathly illness.
But I digress.
A little note on cheese ball shaping: If you want a neat looking ball or log, put mixture in a piece of plastic wrap about three times the size of the amount of cheese ball you are shaping. Then you can just wrap it up and use the plastic wrap to shape your log or ball, then just stick the whole thing in the fridge to chill all wrapped up!
Tom was a little less than excited about this one. He is, as you know, not a big fan of fake cheese. But he soldiered on like…well…a good soldier and took one for the team.
How's that for a crazy metaphor?
"Yeck."
"Aww. Is it that bad?"
"This thing reeks like garlic. The only thing good about this is the cracker."
The Verdict: Not Good.
From the Tasting Notes:
Had a very pronounced processed cheese taste and the added garlic just didn't taste right. It might be because we had to substitute for discontinued products, or it just might be that the whole thing was a bad idea. I think this would be better with a real cheese spread type product, like Merkt's cheese. Or you could just steer clear of the whole debacle and make a ball with real cheese and fresh veggies, like the Party Cheese Ball, which has never been anything but completely delicious.