It's Barry Manilow!! It's Kraft Dinner!! It's Barry Manilow AND Kraft Dinner together in the Digital Library!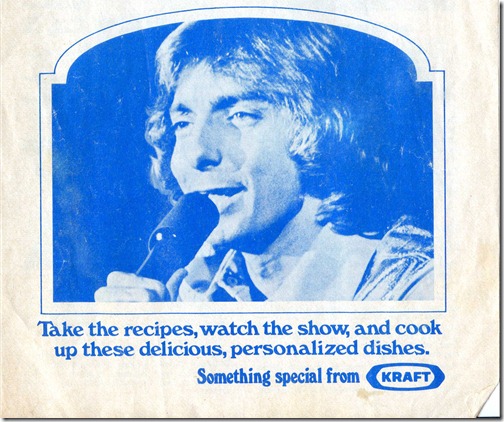 In this pamphlet you will find Easy Party Dip, Emerald Cream Salad, Savory Hero, Banana 'N Spice Cake with Easy Vanilla Frosting, Zesty Vegetable Soup (with BBQ sauce right in the soup! Yum! Or something!), Supper Strata, Patchwork Coleslaw, Anytime Variety Bars, Chef's Secret Salad, Gourmet Spaghetti (it's got shrimp!), Cheddar Quick Bread, "Philly" Chocolate Sauce, Starburst Salad, Fried Chicken Parmesan, Macaroni Vegetable Medley and Fluffy Fruit Desserts. 
It's truly something special from Barry…I mean…Kraft!
[book id=7/]