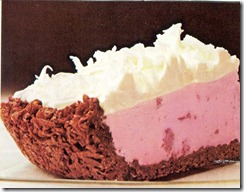 Introducing a fun new addition to the Mid-Century Menu!!! A digital library of vintage cookbooks and pamphlets. Exciting, huh?? Over the coming weeks (and probably more like months) I will be adding a new cooking pamphlet every week to the collection. This week is Proven Baker's Secrets To Bake Yourself Proud, a small pamphlet by Baker's Chocolate that was put out in Woman's Day Magazine sometime in the 1970's.
[book id=1/]
The Flipping book above may take a bit to load, but it is totally worth it.  You can make it full screen with the screen button on the far left at the bottom, you can zoom in with the magnifying glass AND you can PRINT this book with the printing button on the right. Enjoy, and if you have any scanned pamphlets you want to add to the digital library, email me at ruth@midcenturymenu.com
Oh, and don't forget to send your recipe for the ongoing tuna contest!! The deadline is June 15th!